Think this is the right section, not 100% sure. Anyway, I found this Renault F7R bottom end in my lockup the other day. I've had the lockup for nearly 15 years and I remember putting it in there the first time I visited, and then completely forgot about it. I'm gonna stick it up for sale when it's done, but thought people might be interested in seeing it get the full Cinderella treatment along with any tips I can think of.
This is the starting point. Can definitely tell its been stood for a long time. Luckily I'd had the forethought to stand it upside down so although the deck face is rusty there's only a tiny bit of surface rust at the very top of the bores and it wasn't seized.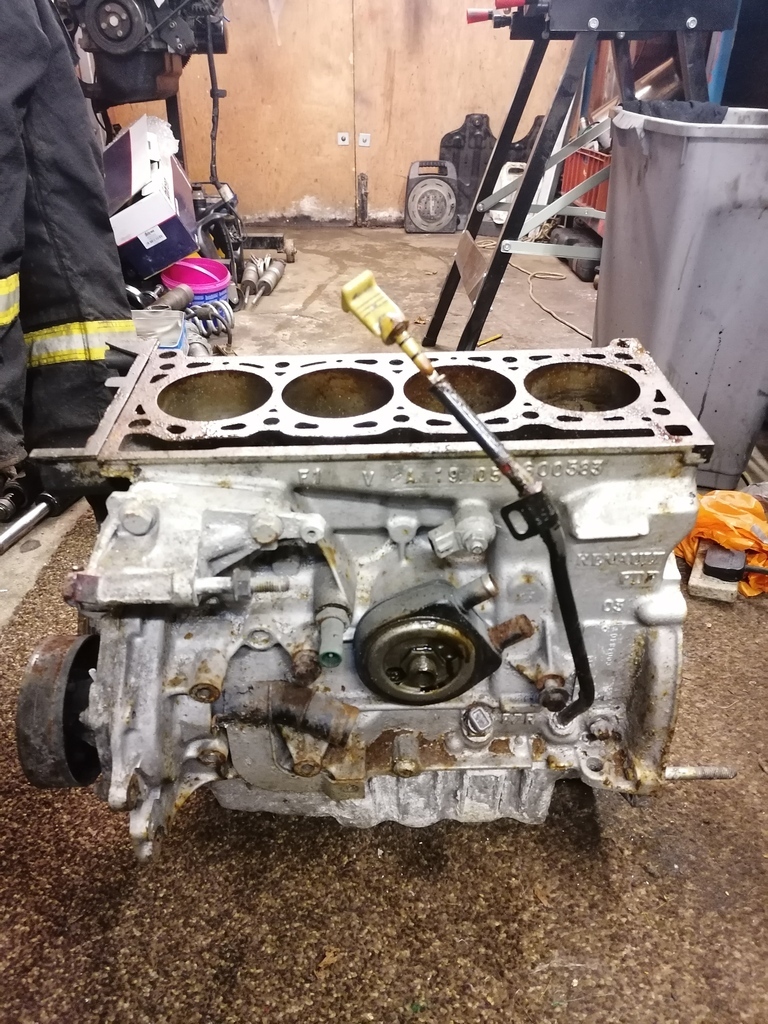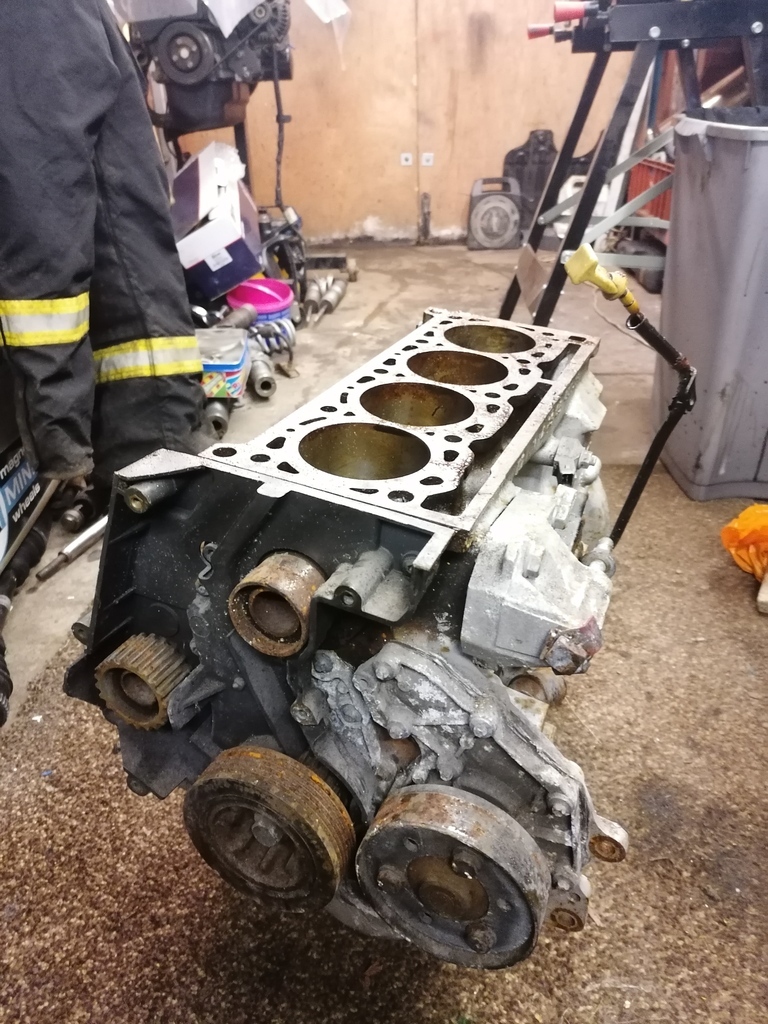 First tip I can give - most people have camera phones or digital cameras now. Use it! Makes it so much easier having a few reference photos to go back to if you're unsure of how things go together.
I then started stripping it. It's best to be careful at this point. It's a lot faster to strip it carefully than it is to strip it with a rattle gun then drill broken bolts out. Take extra care with aluminium parts, they tend to get seized onto any dowels that are present on older stuff.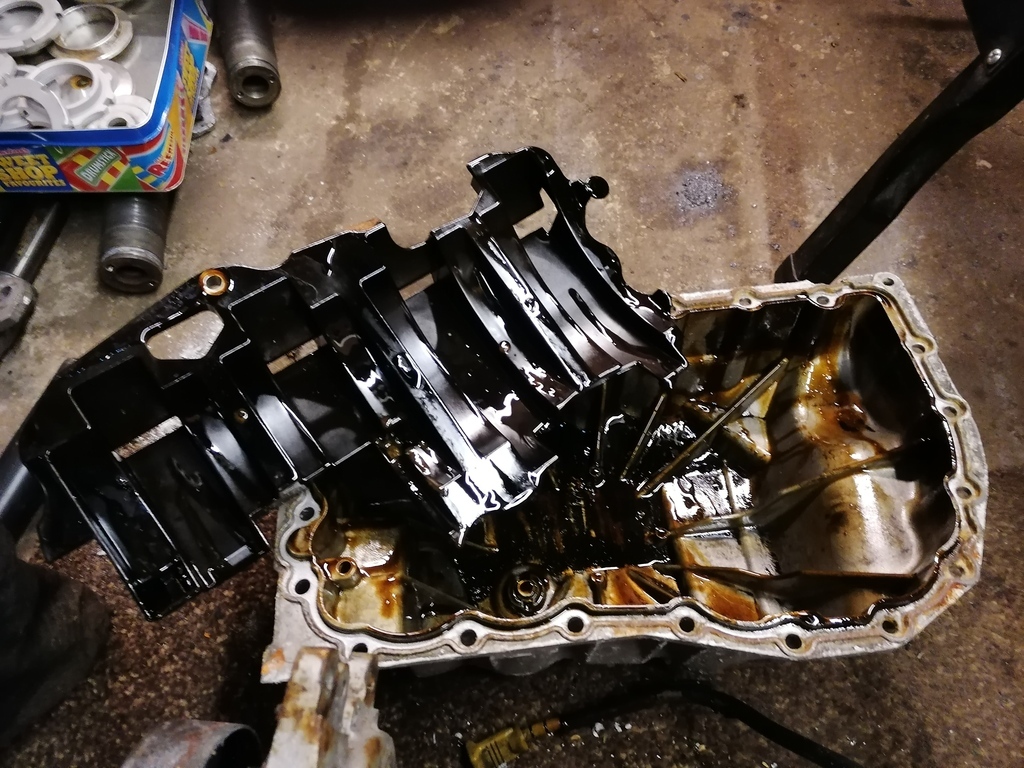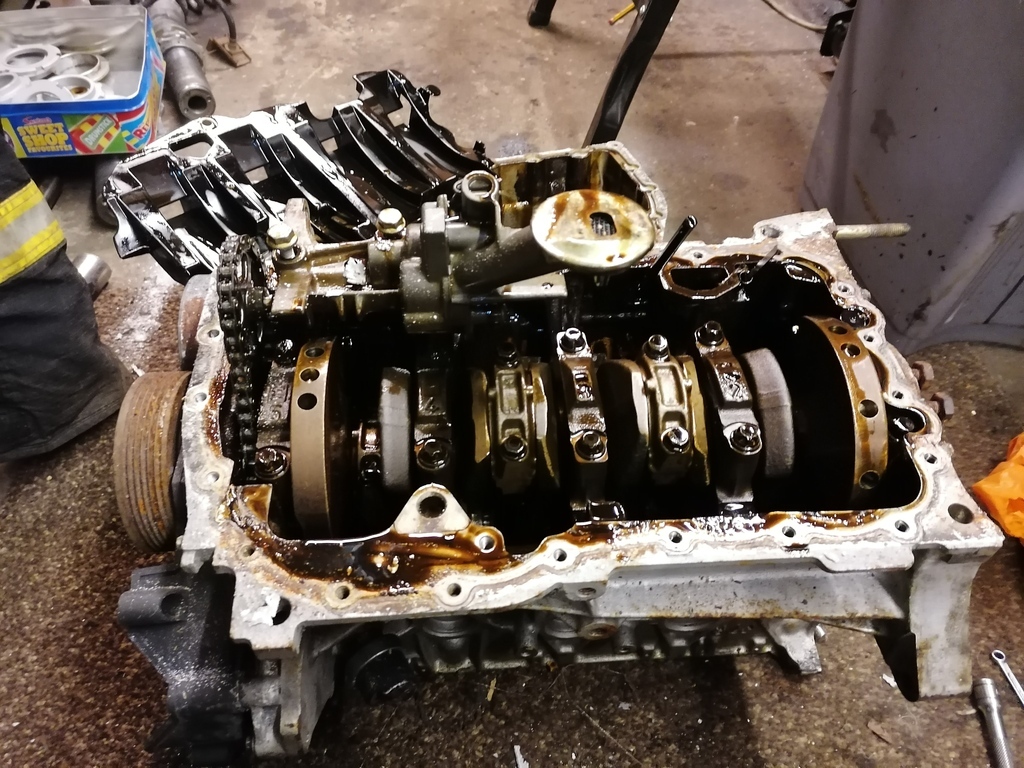 The critical thing to do when stripping a engine is to mark up the main caps (unless factory numbered), big end caps for both cylinder and direction, and in the case of heads the cam caps too.
In this case the main caps are numbered, but because Renault they number them backwards with 1 being at the flywheel end. With factory numbered caps I always mark the front cap (pulley end) with a single centre punch dot, placed towards the front of the engine on the cap so it shows direction. This then shows you which way up the numbers face so you can work the rest out. (I'll add photos of this once they're clean you can't really see on a dirty engine).
Big ends is similar, centre punch the corresponding number of dots to which cylinder the cap is from, towards the front of the block.
Another tip - if the engine uses tagged bearings (most older stuff will) 99% of the main/big end caps will have the tag cutout on the same side, so will be 'tag to tag'. Makes it easier to work out which way the caps go on if they're not marked.
Some engines (such as this one) had either tagged or tagless bearings depending on year. This one is tagless which means its from a Renault Megane or Spider.
Once fully stripped you'll then have a pile of manky discoloured bits. I usually to a quick assess at this point to check for damage, then it's time for cleaning.