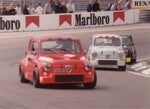 So when mounted on the car, it acted like a out of round wheel.
Glad yours checked out fine.
Mine must have been a bad batch...
Ah, now I see what you mean! These have been used before so I hope they are OK...

I will spin them when mounted on the car to see that they sit in the middle.
The rims have no markings whatsoever so maybe the were cast by some drunk amateur somewhere?
Cheers