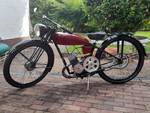 A French guy I know ended up putting a hot type 1 VW motor in his 912, simply because it was so much cheaper to make decent power that way.
You´re absolutely right, it was never cheap to have a really beefy beetle.
Five digit sum, and not at the lower edge!
That´s why watercooled engines became popular - ford v6, vag 4-in-line, subaru flat-fours,...
A stock gti engine was a cheaper solution than any tuning steps.
Maybe a subaru boxer would help here, too?
Beetles are great to tune, as they respond really well to a few mods - but only if you keep sane. The problems come when you want to try and be the fastest kid on the block with one.
I'm on the fence with Subaru motors in Beetles, or of course 912s. Depends what you want out of the car to a great extent. If it's ultimate power, then sure, but I cringe when I hear people say they want to fit one for the reliability of a modern engine. Good luck with the reliability of your home made exhaust and home made water cooling system, in a car that was never meant to have one and has no room for it.
Anyway, sorry for the thread derail!