Background
It all started in 2015 when I owned a sensible mk2 Skoda Fabia. It's Greenline diesel engine gave good mpg, it was reliable and had a great sound system. But it was white, felt a bit big compared to the 2007 Fiat Panda I had previously, and I didn't like paying finance just to own the thing.
None of these "issues" really compelled me to get a different car until one nightshift I was on a browse through Wikipedia and came across the Fiat 126. The design, particularly the front, piqued my interest. I also recall having a bizarre idea to buy a cheap small petrol car to make shorter trips. It wasn't long before I bought one and over the next 4 years self-taught myself (through necessity) engine maintenance.
I became quite involved in the UK's 126 community, had many adventures, came to discover the pros of driving something that was different and could probably now write an essay on why the 126 is a great car.
But you've already read an essay and I haven't even mentioned the subject of this thread yet! Bare with me.
The 126 was pretty reliable for about a year and then once I moved from central belt Scotland to the Orkney Islands it decided it didn't like me any more. Maybe it was the monthly 700 mile round-trips I did (earplugs recommended if driving for over 2 hours). Having spent thousands on it (mostly invested in my last-ditch effort of buying a new engine from a specialist in Germany) and still not idling right, the Fiat exploded and ground to a halt whilst on a road trip just outside Perth. Upon removing the first spark plug I found it's arc bent inwards. That was it. After 4 years I had lost patience.
The idea
The truck moved the 126 down to my mum's house in central belt Scotland and I made preparations to sell it. A guy from Cornwall later bought it for a grand.
It was 2019. I now wondered what car I should go to next.
By this point I'd realised my taste in cars was mostly 80s/90s retro, small, boxy and/or weird. In 2018 I had bought a Bedford Rascal Romahome as part of an experiment to see if I could live in it and save on paying rent (I'm not mad, I just have a sense of humour). I had sold that on, but now in a position of considering something 80s/90s retro, small and boxy… a standard Rascal van was an idea. After all, a van would be useful, the Suzuki engine would be a bit more reliable than the water-cooled version of the 126, I like the design and they're fun to drive. Plus Rascals are the perfect shape to do up as the Mystery Machine.
Yep, that was the plan
I bought one from a garage in Chester. Apparently a collector was selling his stock of Rascals and used the garage as a means to MOT them and sell 'em off on his behalf. Drove it all the way back to Orkney no bother.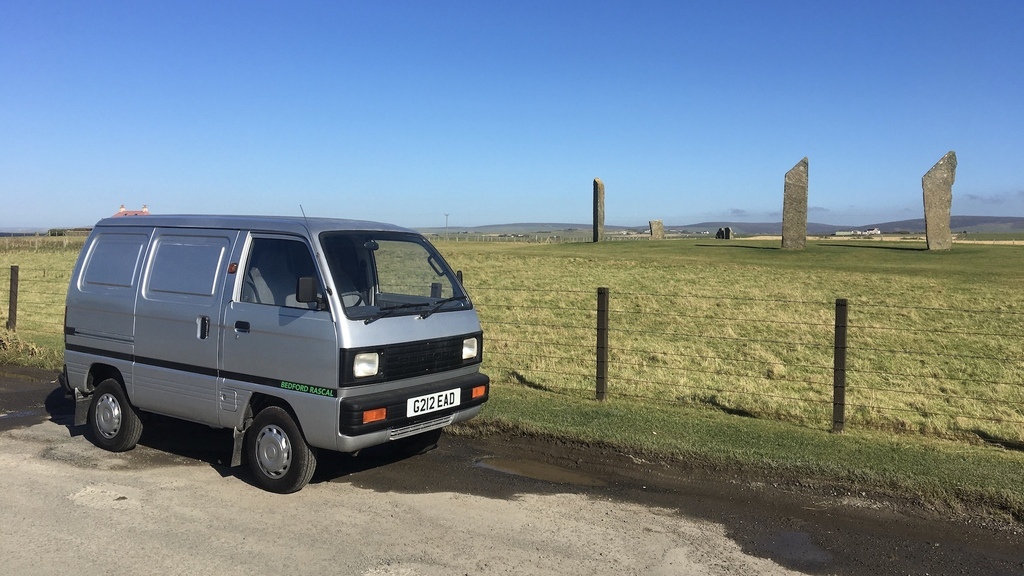 The design
Doing up your van as the Mystery Machine is not a new idea, plenty of people have done it, but I find that most of the vehicles they choose aren't the right shape. Furthermore the colours and curved lines aren't entirely correct. Granted, there have been a few iterations of the Mystery Machine in the numerous iterations of the cartoon… so I set about drawing up designs that were as true to the original cartoons from the late 60s.
First I took pictures of the Rascal from various angles, then used GIMP (poor man's photoshop) to draw lines around the shapes of the bodywork. I then filled-in these shapes to create a rough design: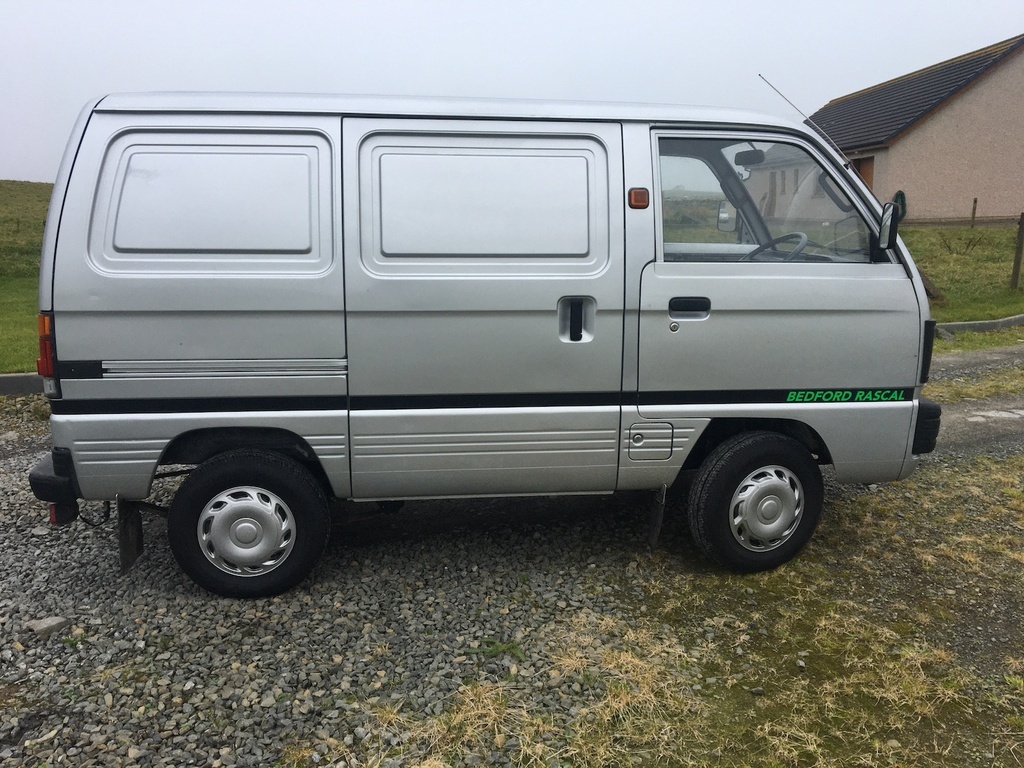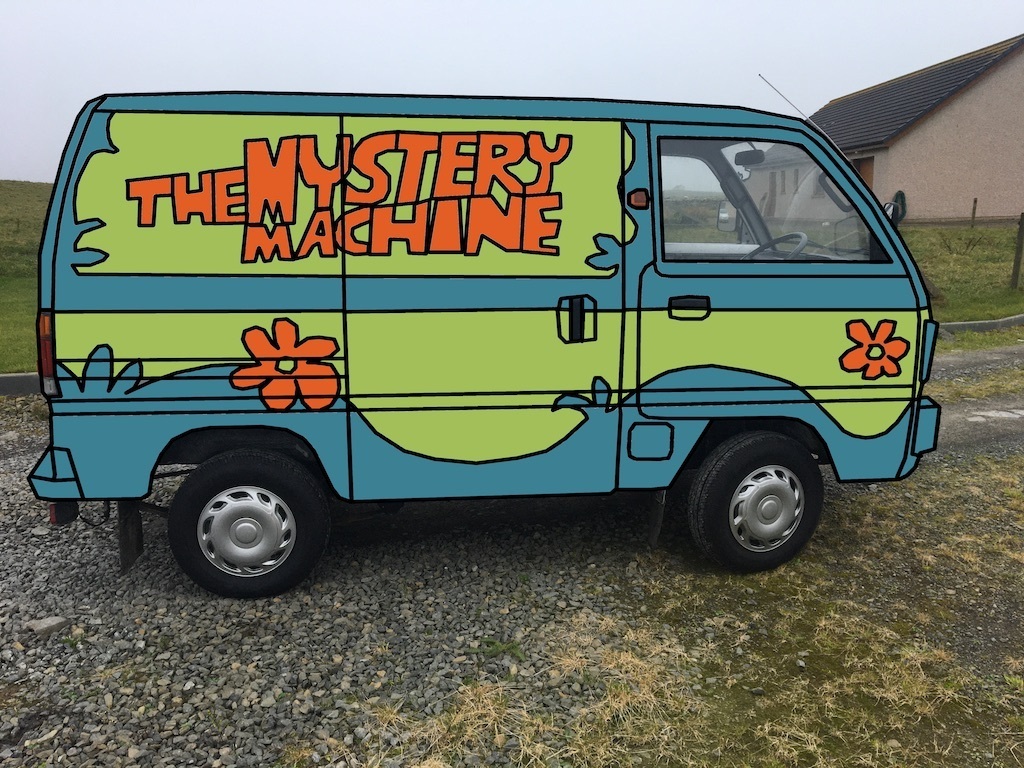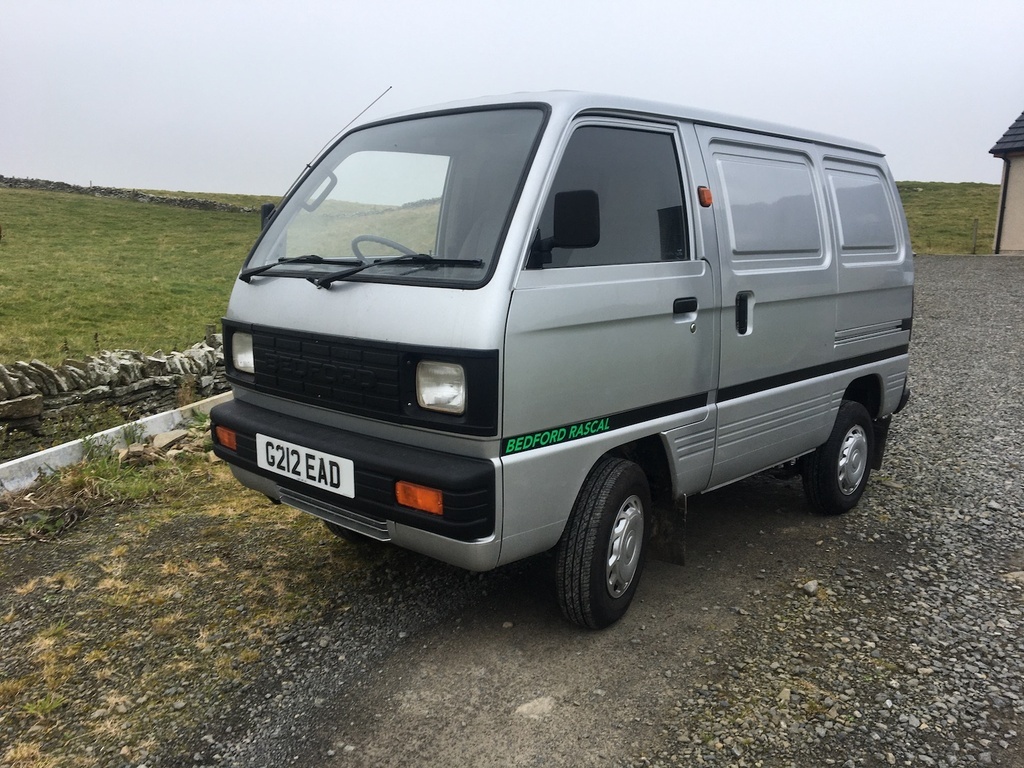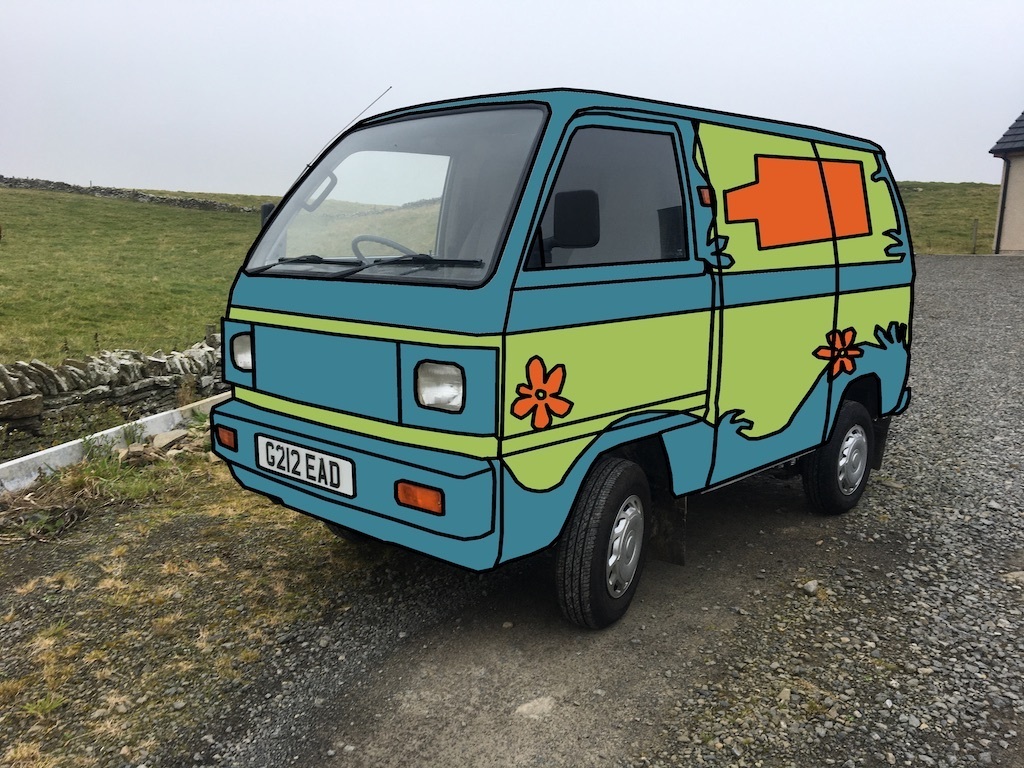 Finding the paint colours was the next challenge (I even created a
thread
here to see if there was a service or way of converting RGB/Hex colour codes to the equivalent paint mix). After colouring-in my computer drawings in various shades of RAL, I settled on RAL 3007 as the base blue/teal.
I know of two bodyshops here in Orkney. One belongs to a garage I don't trust enough to do a robust job and the other is a guy who'll do a good job but take a year or two to do it. I don't know if it's an Orkney thing, but half the garages up here have an odd work ethic. You'll give them the car, and instead of them doing the job then wanting you to come get it and pay, they'll take days, weeks sometimes even months if you don't keep chasing them up. I once had a Vectra in for an MOT that I didn't see for 6 weeks! Anyway, for these kinda reasons I found a garage down in Ayrshire that took it on, were upfront about their costs and seemed to always be working with modded or fancy cars (
Planet Performance
). Spoilers: they did a good job, so my trust wasn't unfounded!
Bodywork
The weak point of a Rascal's bodywork are the wheel arches, particularly the front ones. Luckily the van I'd got was sound there. When Planet Performance first looked over the van they pointed out various imperfections that I honestly didn't see unless I were to scrutinise really close from an angle. Maybe they're just used to fancy cars, one of the guys used to do body repairs on Astins I think... Once the paint was stripped, it became clear what they were talking about: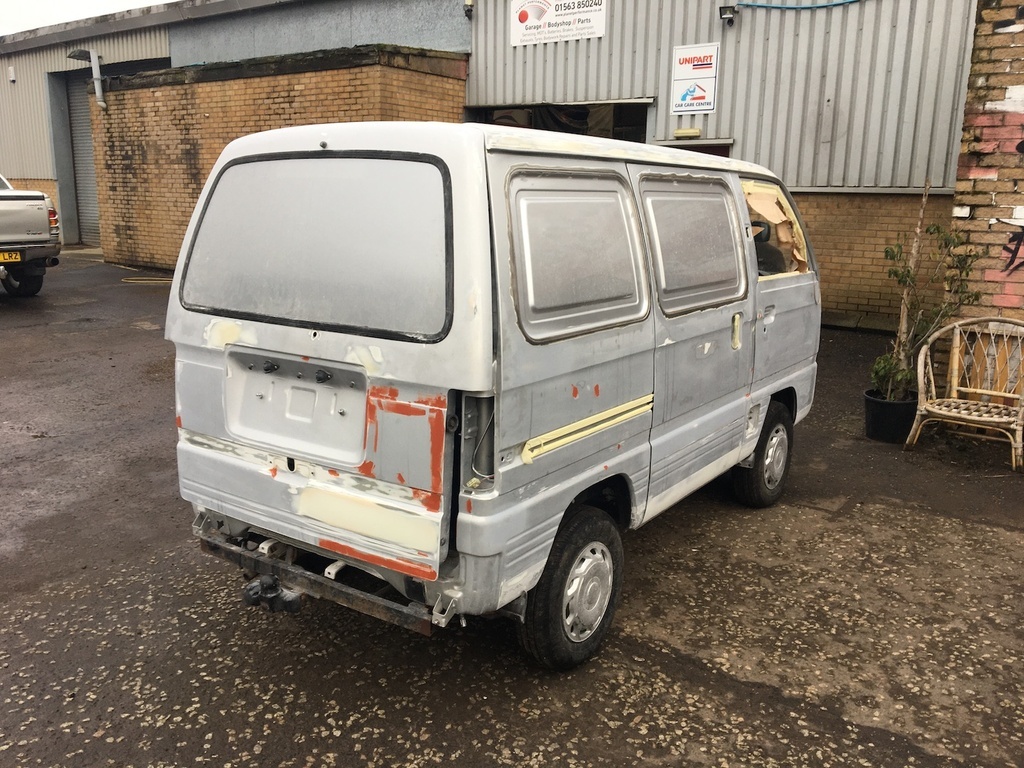 Honestly didn't seem that bad!
Planet Performance's strategy was to respray the Rascal in the blue/teal colour, the green/orange/black design would all be wrapped on then a final top coat would be applied over it all. I was a bit unsure about this approach and did wonder if it would be resilient as well as flat (or would the wrapped layers be bumpy against the main body). But it's came out well. You can feel a slight something when you run your finger across the change in colours… time will tell if anything becomes of it!
When I bought the van in September 2019, knowing that it'd be in a bodyshop for a while, I also bought a car to use in the meantime: a Fiat Cinquecento. Not as cool or fun as a 126 but certainly quieter and reliable. I drove the Rascal to the bodyshop in November 2019, blissfully unaware of the pandemic that was about to hit. As a result, I've been driving about in the Cinquecento for a year and half now, the bodyshop being closed and then held up by various things.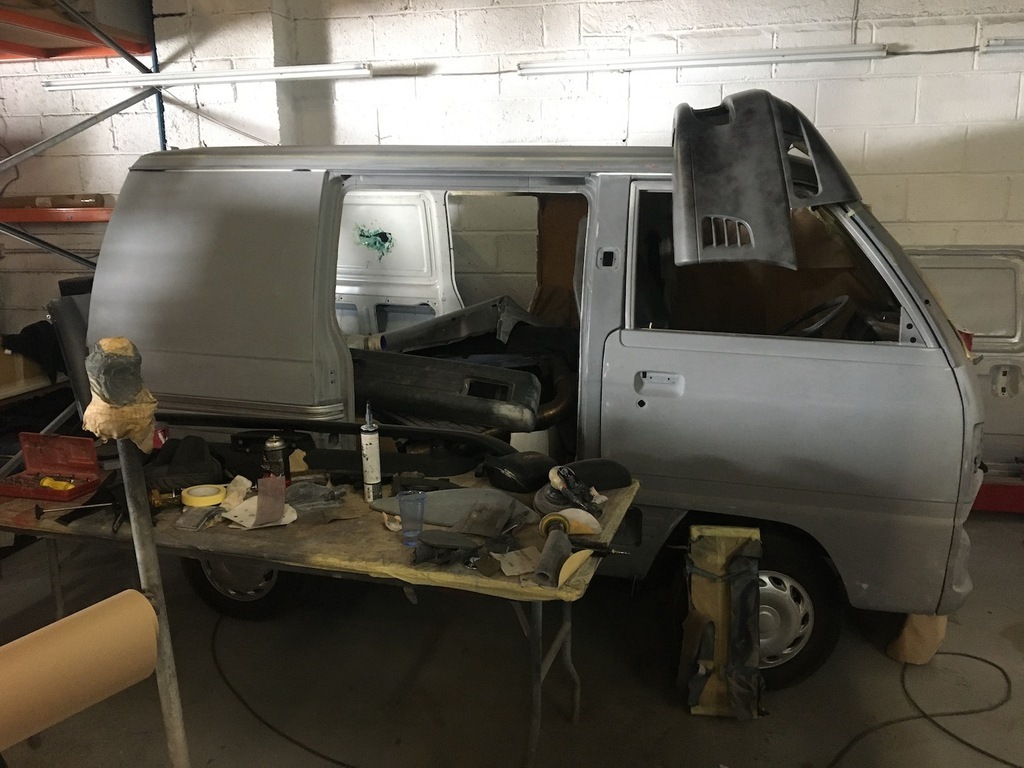 The Rascal's upper sides have indents. I asked the bodyshop to weld on a sheet of metal into each of these squircles so that the side of the van would be flat like the original van. The four sheets of metal were added in and the cavities filled to stop knocking.
Bodywork done
Here is the result of the respray and wrap. I was quite relieved to see this as I was worried the colour choices wouldn't be accurate/go well. I'm well chuffed. The inside cargo area hasn't been painted, as I intend to cover that with fabric.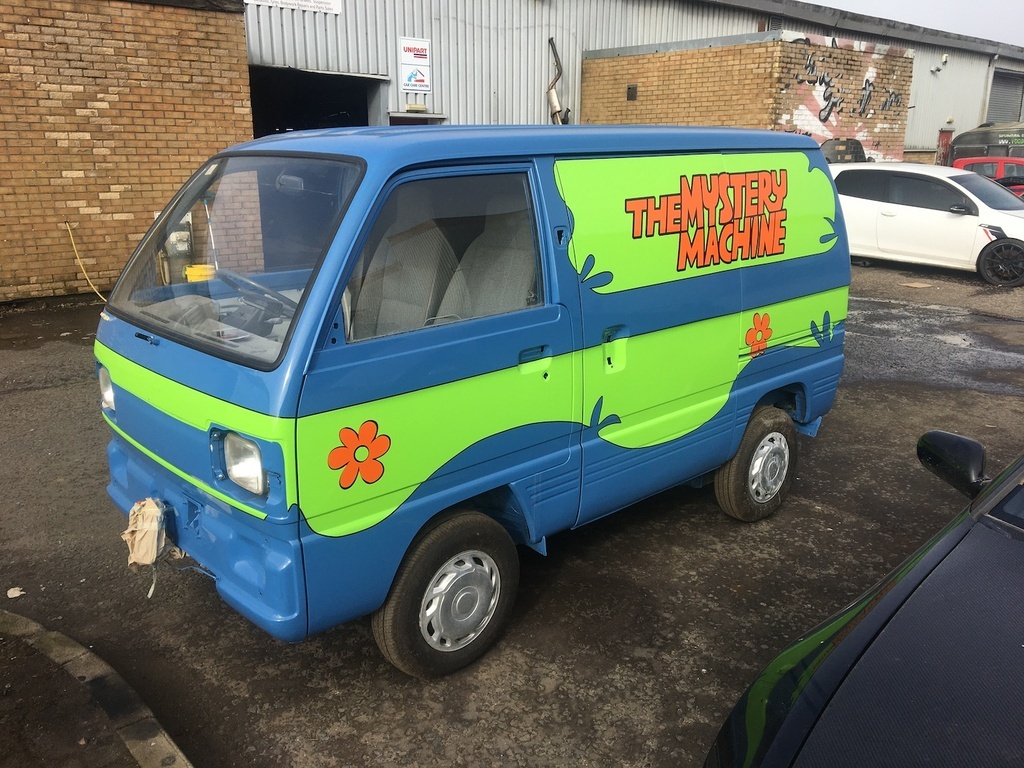 The spare wheel case on the front is the final part I've not sorted yet. Having seen another Mystery Machine Rascal
here
(in Mystery Machine's Rascal thread… there's a tongue twister in there somewhere) I'd found another picture of it on Google some time ago. It's not clear what they've used to recreate the wheel on the front, but you can see it's attached by a bolt into the front.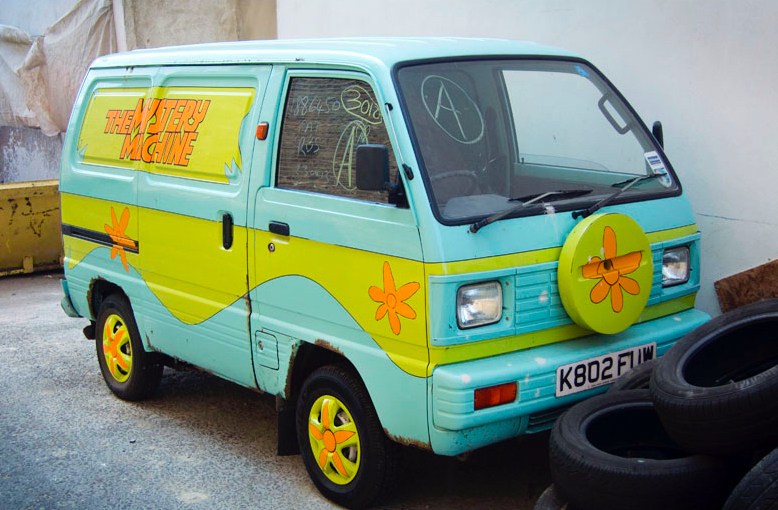 My search to find a 12" wheel case has, unsurprisingly, turned up nil. I've thought about 3D printing one, but I'd need to design it somehow in a CAD program. Planet Performance suggested they could fabricate a hold cylinder or perhaps I could get a plastic mould done. For now though, it was time to get the Rascal to Orkney.
The trip north
I wanted to give the Rascal a damn good service myself. So to get it here,
I used Shiply to move it from Ayrshire to Aberdeen (Big G's Transportation)



NorthLink Ferries rolled it onto the boat as freight (wish I got a photo of it coming off the ferry, but it arrived late at like 2am)
I had it transported from the freight yard in Kirkwall to my house
You might be wondering if it'd be cheaper just to get it serviced at the garage and then drive it back up, but I did the sums and it works out roughly the same. And as I'm sure many folk here can appreciate, it's more satisfying/reassuring/fun to restore and service it yourself. This wouldn't be a build thread if I didn't do any work myself would it?
I booked some time off work and assembled the parts and tools needed. After a year of waiting I'd had plenty of time to read the Haynes manual and choose which fluids etc to use.
What next?
I'm awaiting on the parts to arrive, and some obscure OEM bits come from Megazip in Japan! I've booked some time off work the week after next to get stuck in and give it a service and MOT.
In the meantime, I'll perhaps have a go at sorting the wheel covers.