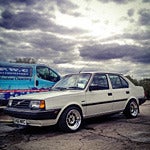 A lot of stuff does change hands under the radar before it's ever advertised openly. Once you've been into this stuff for a while you sorta become part of a underground network of parts hoarders 🤣
A lot of trading of those hoarded parts happens rather than cash changing hands.
All this sort of thing is as old school as the cars themselves!
Thanks Dez, I suspected your last point may have been the case. I guess often you grab hold of parts you don't need but know are desirable in the hope they can be swapped sometime down the line too!
I'll keep my eyes peeled, I strongly suspect I'll be going down a fibreglass route myself or chopping up something British! I can always transfer parts between cars later if the right things come up for sale.
I've bought and sold parts this week that I had no intent of keeping, but furthered y overall build by means of a few deals.
If you let me know what you want to build and why sort of budget you have I can keep an eye out, I goer offered stuff all the time.