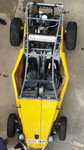 But I enjoy your explanations, as above, so that even I have some understanding of what makes a proper hot rod.
And, also your explanation of the aesthetics, as further above, on the details and the lines.... I can look at two different hot rods and like one and not the other, but wouldn't really have an idea why, your descriptions help to quantify that, so again thanks. (For the record, I'll never tell you which I like in case I'm wrong though
)
That's part of the way I write specifically for this forum. I try not to assume any previous knowledge of the subject, as most people on here don't have any, as you say.
There's a few people on here who have walked a similar line to me and know what's what (
metalshapes
, etc) but most people need a base level explanation that is missing in places that cater to such vehicles, so can make things hard to understand to outsiders.
Ultimately hotrods are a very subjective subject. I know 'traditional' hotrodders who don't like chanelled cars or anything other than flatheads. (They may get the p1ss taken a bit and referred to as restorers 😉) their cars are really restrained, and the people who build them tend to be too. . The other end you have your typical brash American 'rat rodder', all talk and attitude, who just does stupid, ugly, extreme things to 'git um terkin' or try to make a name for themselves. These are the type of idiot who usually end up on television unfortunately.
I know I'm somewhere in the middle. There's history and heritage behind what i do, but I like to modify things. I have an eye for overall aesthetic and proportions are important. I will deliberately tone down some bits to the point of being plain (like the discussion about wheels above) but then still really go to town on other stuff (more about that later). I like clever mods where it's not immediately obvious, even to the initiated,,what has been done.
I like to pass on what I know and I like when you get people are interested in stuff they really shouldn't be. Asking questions so you learn is no bad thing.