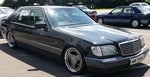 Aside from the modern Mercs all cars in this thread are right up my street. Need to visit for a weekend when the world is normal again.
Yea it was Phil's, he is pregnant so there is no chance of him doing it so i had it and sold it to replace the cash.
Your welcome anytime of course man but the modern merc will be gone soon
He's a medical miracle! Cool will sort something when rules allow then.