At least I can edit the title at any point in the future when I manage think of something witty and interesting to grab attention.
I covered a bit about this in the Stratos thread and I will drag some of the posts I made there over to this thread but as its my intention to keep the bench running and do more regular work on it I figured a dedicated thread is really the way to go - There are also a couple of other peeps on this board from the PTS board who may also feel inclined (manometer pun) to contribute to this thread. Some years ago now I built myself a Flowbench from the PTS flowbench plans.
www.flowbenchtech.com
one of those things that fascinated me and probably indicates too much time reading books and articles by David Vizard.
Looks like the photo's in the Strat' thread are PB hosted ones so will load new ones. I will aslo do a bit of cutting and pasting from the old thread to save repeating repeating myself myself. Reading below I already appear to be!
---
A while back I decided to build myself a flowbench, I had enjoyed modifying cylinder heads with a bit of simple porting following the guides on Pinto tuning by Mr Vizard and tweaking Rover V8 heads from information given to me by people who had vast experience in making good power from them, but being an engineer I was unhappy about not being able to measure the improvements being made even though I had no reason to doubt the information written or the advice being given.
There are generally two choices when it comes to measurement of modifications to an engine that have been carried out to improve power. Choice one is building the engine up complete and putting it on an engine or a chassis dyno and measuring the power produced - preferable against an original datum so that direct comparisons can be made. The other measurement is with a flowbench. And engine being an air pump its ability to pump air has a direct relation to its ability to make power and therefore the cylinder heads ability to flow air is also directly related to that ability to produce power.
Buying a professional flowbench for the odd bit of home porting is prohibitively expensive so the amateur head fettler has a couple of options - do without or try and build one. Lucky for me I started to get interested in flowbenches just when a chap in the USA was offering plans for sale on a bench design he had designed.
www.flowbenchtech.com/
Armed with a set of plans delivered in the good old method of paper in the post from the USofA I got stuck in with the build.
Somewhere on an old PC or laptop there is a file with all the flat bits of MDF on it so you are sped along to the ones I can find with part assembly already complete.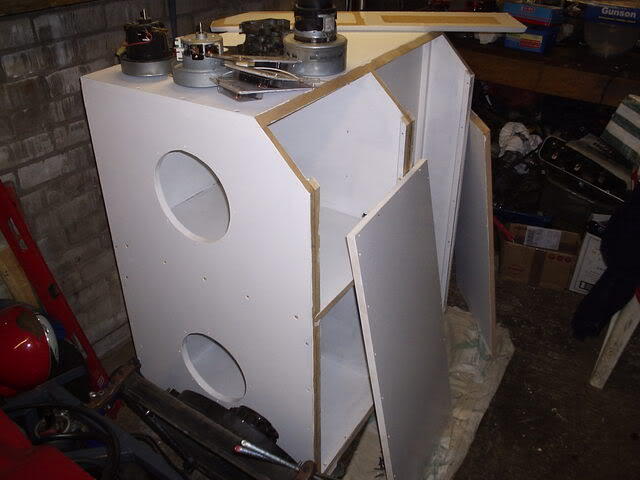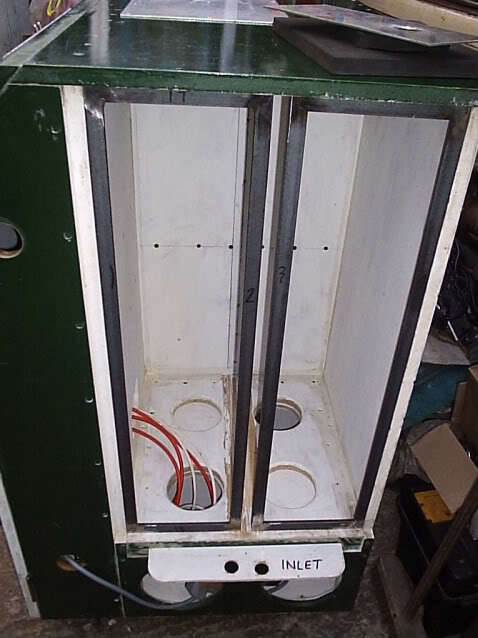 The PTS bench is an orifice bench and a ratiometric device which basically means that it measures flow across a calibrated sharp edge orifice and that as the air through the head is at the same temperature as the air through the orifice it is self compensating so all you need to do is allow for the atomospheric temperature in your calculations. Other types of bench need a bit more effort in the calculations. I am being brief as everything you would need to know is out there to find.
I liked this bench design as it also has the facility to flow the exhaust ports in the direction of flow of the gas in the engine by reversing the bench flow. Typically you would just take the exhaust flow in the same manner as the inlet port but with this you can check the measurements you have and see if any anomalies crop up.
I built the bench to the full specifications of 8 vacuum motors - each is about 1300 watts so flat out its drawing a fair bit of power - single phase 10.4kW or 13HP or about 42 Amps (again a simplistic calc) so a bit of a draw on the garage socket

At 8 motors the bench can pull over 40" inches of water vacuum at a flow rate of 450CFM - you will have to take my word for it that its moving quite a lot of air and that's quite a pressure drop. The Rover heads I was playing with have a maximum flow potential of at the very best 200CFM at the standard 28" pressure differential so with that I blocked off 4 motors before I had to find a way of putting the smoke back in the house ring main. Getting it back into Heated rear window circuits in old Fords is hard enough.
Wonky picture showing the orifice plate in the settling chamber that sits under the port any fixture sit on. The studs hold a baffle and the chamber is there to slow the air once its been rattled past a valve and give it time to sort itself out so it can pass nice and orderly through the orifice - chambers and baffles are mirrored because of the ability to reverse the flow.