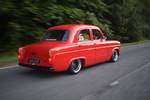 Quick question. When you say you picked in up from Helston, would it have been from a dealer in a little village just outside helston by any chance?
Thanks. It was a little village called Gweek. In fact that is what we named it. The guy dealt in tractors. He said it had been dry stored but with the amount of "green " on it I feel it had sat in his drive for a good while.
As I thought an old friend of mine.
Been dealing in old classic for probably 30+years.
Worked for him some years ago. And some of the interesting types I got to drive, the list is endless!
Did you get to look in the shed at the types that he has in his collection..?