The frame should definitely halt any further movement. Roof structures are often the strongest parts of a house. My uncle worked in demolition back in the fifties, and cleared a lot of bomb damaged properties and their neighbouring undamaged ones to make way for new estates. He's always said the roofs would end up sat on the floor complete, on top of the rubble from the walls!
Are you going to tender to do your neighbours roofs now? There might be a tidy profit in it!
Now you say that - there are plenty of photos of bomb damaged houses where a wall is missing and the roof is hanging above. Not sure I'd go wandering around underneath though. Don't care how strong they are in theory!
Will I be doing the other houses? I doubt it. There are couple of houses that may fall into the DIY category but not for a while. Still, we are a friendly lot down here and if any of the neighbours are interested I'm happy to help.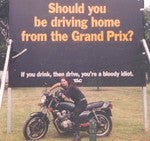 I wouldn't be shocked if you had closed the gap a couple of mill just putting them all under tension - did you go back and check the first ones were still loaded once you got to the end.
I couldn't actually check the tension of the ones I'd put in. Once the they were tight they got bolted together and became permanent. One of my old ideas of stabilizing the roof had a length of stud at each rafter so they could have been retensioned. But it was way too complex and I'd have spent the rest of my life with a spanner in the loft. Much better this way!
James