Here is my Mk2 Fiesta that I recently purchased after selling it in 2008. I will copy across the previous build to here and what I have done upto yet.
I have got a 1979 1275GT build thread on here which has took a back seat for the last 6 months but will be back on that once this is done.
Here is the link
retrorides.proboards.com/thread/160746/1979-mini-1275-gt
(10/8/2008)
Hi I won this fiesta on ebay in the week. I picked it up today and its quite clean with 58k and 2 owners. 5 years ago I put all the running gear form an xr2 in my 1.1l that I inherited from my dad, unfortunatly the shell wants some work on the other one after 12 months sitting on the drive so I am going to transefer everything on to this one. Will update when I start.
Done a bit today.(10/8/2008) Started with taking the bumpers and lights out, gave it a good clean.
Then fitted lights out of the doner which were new about 2 years ago.
Also fitted the xr2 shocks and -60 springs on the rear
Also swopped steering wheel and clocks and wired the rev counter.
A couple of pics of the doner car.
Done A bit more today.(17/8/2008) I removed all the old running gear and cleaned the bay.
Got the cvh out the other one ready to go in.
Got a mate round to give me a hand.
Finally fitted the engine and box.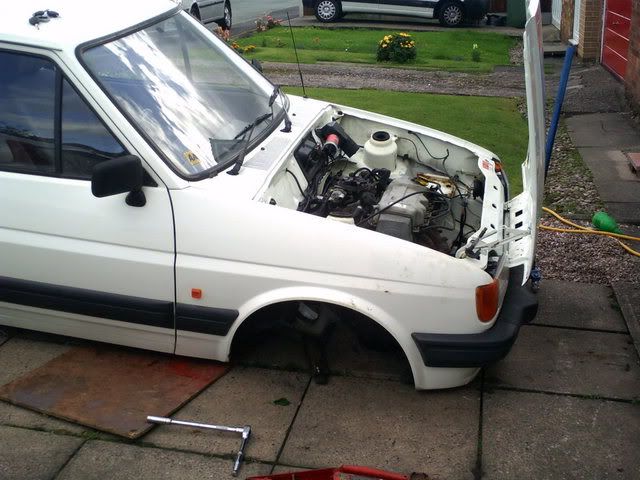 Thats all for today. Anyone got any xr2 driveshafts complete? My inner cvs are no good.
(7/9/2008) I finished bolting everything back in and moved it to my house, it was at my moms and don't think she was impressed with the scrap yard look so I weighed in the doner car and got £111 for it.
I also picked my wheels up from the powder coaters last week, £100 for 5 powder coated and laqured.
Got my recaros out the loft and fitted them. I might strip the rest out and just have front seats. Carn't decide?
I picked 4 of these up today for £70 with unused 175/50/13s on.
I have also fitted some euro type plates
Think it is going to need lowering some more with the 175/50/13s on but will see should get them fitted next week some time. Had it running to day but there is a fuel problem, I had to put an elec pump in to get it to run.
Not updated this for a while(5/10/2008). I got it running fine with a new fuel pump. Fitted the xr2 steels, needs lowering some more. Should be good for an mot next week.
(20/10/2008)
Well I got this MOTed and taxed last week and gave it a clean up the weekend. I fitted a new set of springs to get a little lower and gave it a service and cam belt change.
Yellow lights gone for now.
Need a standard exhaust I am attracting unwanted attention with this 1 on.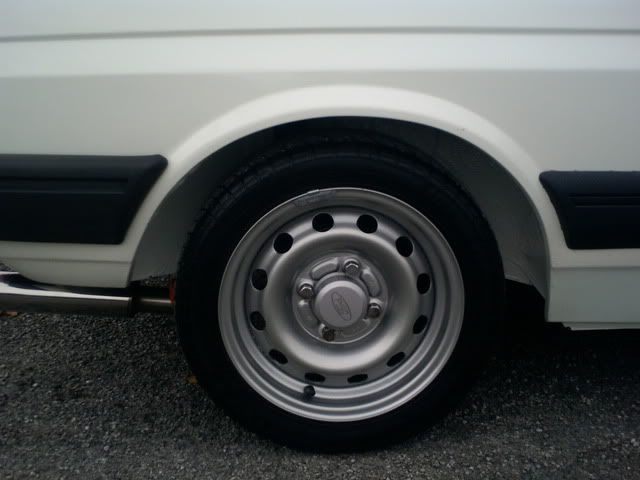 Sits a little better with the new springs but could still be a little lower.
Current ownership
Well it is just over 6 years ago I sold this to a young guy from London, when he drove away in it I thought he would smash it up on the way home as he was only interested in how fast it was and I have heard or seen nothing about it online since which I thought strange as I sold it via an add on this very forum.
Well fast forward to last Sunday evening and I was looking on my news feed on facebook and there was a story of a big ship drifting out at sea with no one on board. I thought this may be interesting and clicked on it. On reaching the bottom of the write up there was a gumtree add you know the ones get everything you need on gumtree etc etc. Well there it was my old fiesta instantly recognisable from a postage stamp size photo on my phone. I never look on gumtree so this was pure luck, the add had been on 10 days but I phoned the guy up straight away and it hadn't sold yet but he was having lots of interest. So I find out he has had it 5 years and brought it off the kid I sold it to who claimed he had put all the work in and got it how it was! I then explained to him the true story and how much I had sold it for which was about a third of what he had payed. So the young kid got a nice payday out of it.
Anyway I explained that I wanted it but couldn't get there till today and after a bit of texting etc the deal was done and I have my car back in sorry looking state.
Here it is sitting where it was for the last 18 months.
I got let down the day before picking it up by the recovery guy who was charging me £160 to collect it(130 miles) so I needed a plan and a pretty quick one, straight to ebay and I found a dollly in Kent and a deal was done on that. So off I went this morning and after 400miles and 11 hours all is good apart from I lost a centre cap off the xr2 steels on the way home but its parked in the garage awaiting some tlc. It may have faired better if they guy hadn't paid some cowboys to stretch the arches to cover the starmags? I could have done a better job with a blindfold and nail file, so that and few bits of welding are the main areas requiring work. There was an old repair on the sill 6 years ago that was ok then but has gone in a hole now which will need a repair and the the inner wings where they normally go may need some fettling if I have a poke at them. I was just thinking of repairing the lips of the wing by letting some pieces in but if the inner needs work I will just put the full panel on.
I need a pair of wings if there are any knocking about and some rear arch repair sections along with a passenger side outer sill. Also a centre cap.
I am hoping to just paint the sides and the bonnet boot and roof should polish up. After the welding repairs obviously.