A new project, not that I really needed one as I've been hoping to get my MGB back on the road this year but can you have too many projects really?
I've done things all a bit backwards really, people usually go from bicycles, to a project moped or scooter, then big bikes, then cars. While 2022 marks 10 years since I got my MGB, my first proper project bicycle was in 2020, and now here is my first project motorbike!
I only got into biking a few years ago, which is odd because my dad, grandad and uncle have always been into bikes, and since pretty much as long as I can remember, November has always seen a yearly pilgrimage to the Motorcycle show at the NEC. I think some reluctance from my mum meant that dad didn't really push for me to get a bike as soon as I was old enough, then being at uni in Coventry meant that I didn't need a bike, and if I did have one, it would no doubt be nicked in short order.
Once I got over the age for the Direct Access scheme, I went and got my CBT, nipped around on a Honda CB125F for a bit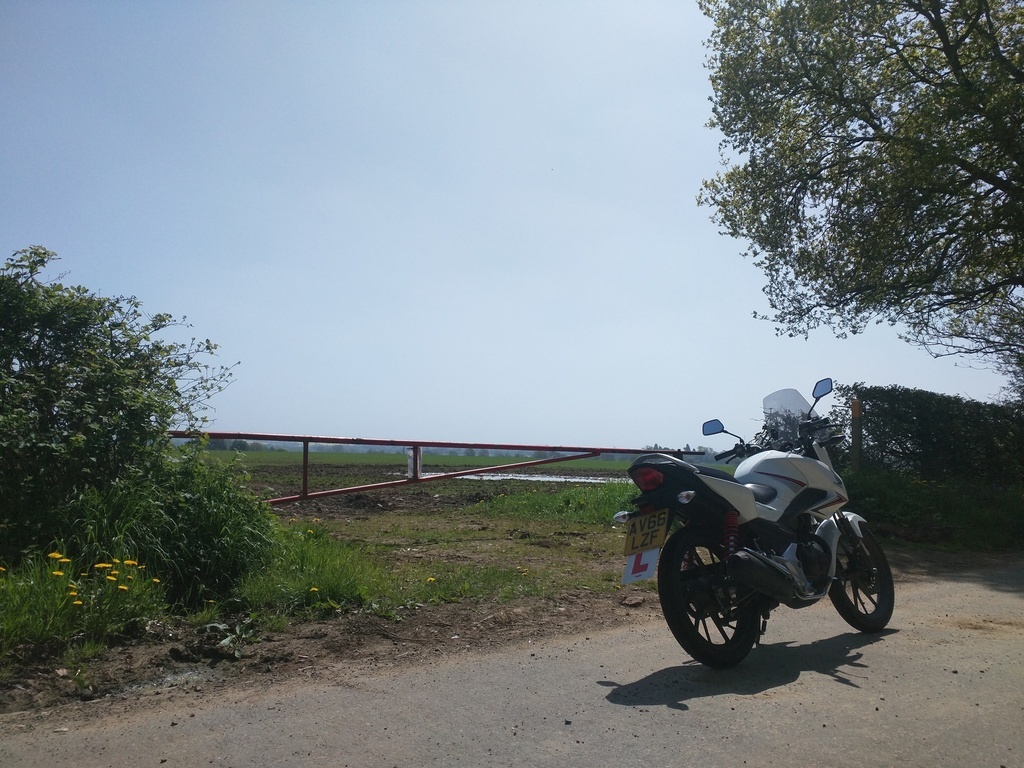 Did a weeks crash course and got my full bike licence on New Years Eve 2018, after which I bought my Suzuki GSX600F, a sensible starter big bike, with enough power to scare myself and enough practicality to go on a little biking holiday to Scotland with my dad in 2020 when there was a bit of respite from Lockdowns.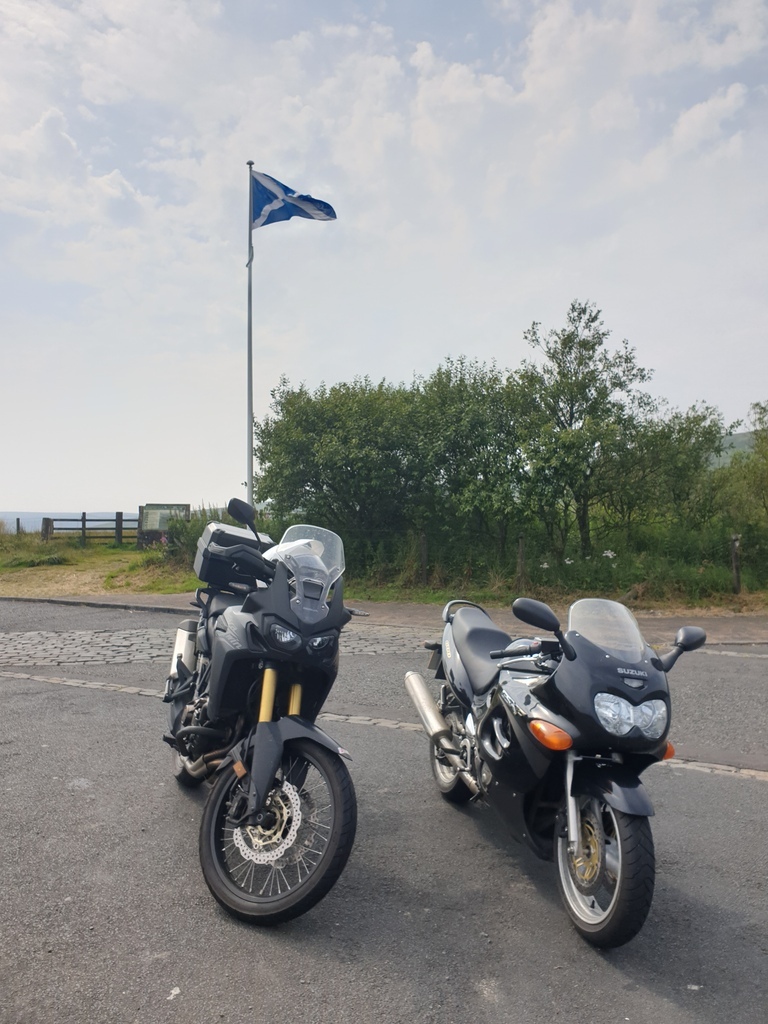 As nice as the Suzuki is, it's a bit too sensible and I was getting the itch for a change. Plus while it's a fairly simple bike by modern standards, I wanted something a bit classic that I could spanner on. As I was growing up, my grandad had a BSA Thunderbolt and a Honda 400/4, the sound of him starting the BSA is something that has stuck with me, to a child it sounded thunderous! Prices of BSAs and Hondas are a little more than I wanted to spend for a first project, so I found myself not looking for a specific model but for whatever I could get, pre 80 for not a lot of outlay.
Which brings us to the 1979 Kawasaki KZ400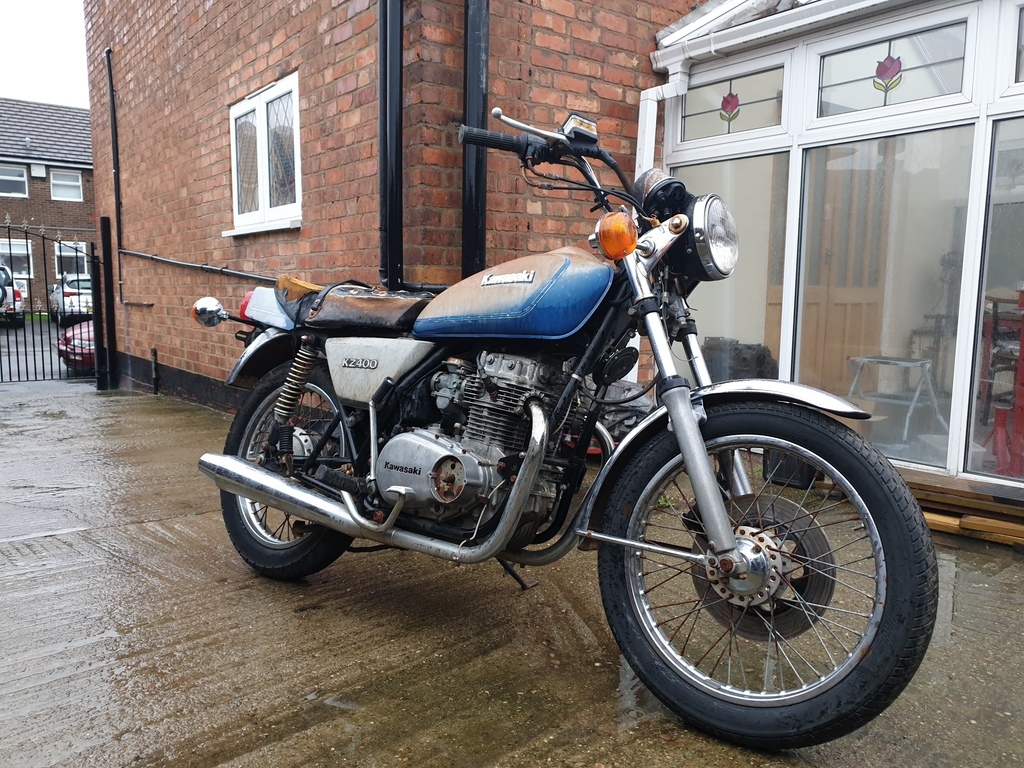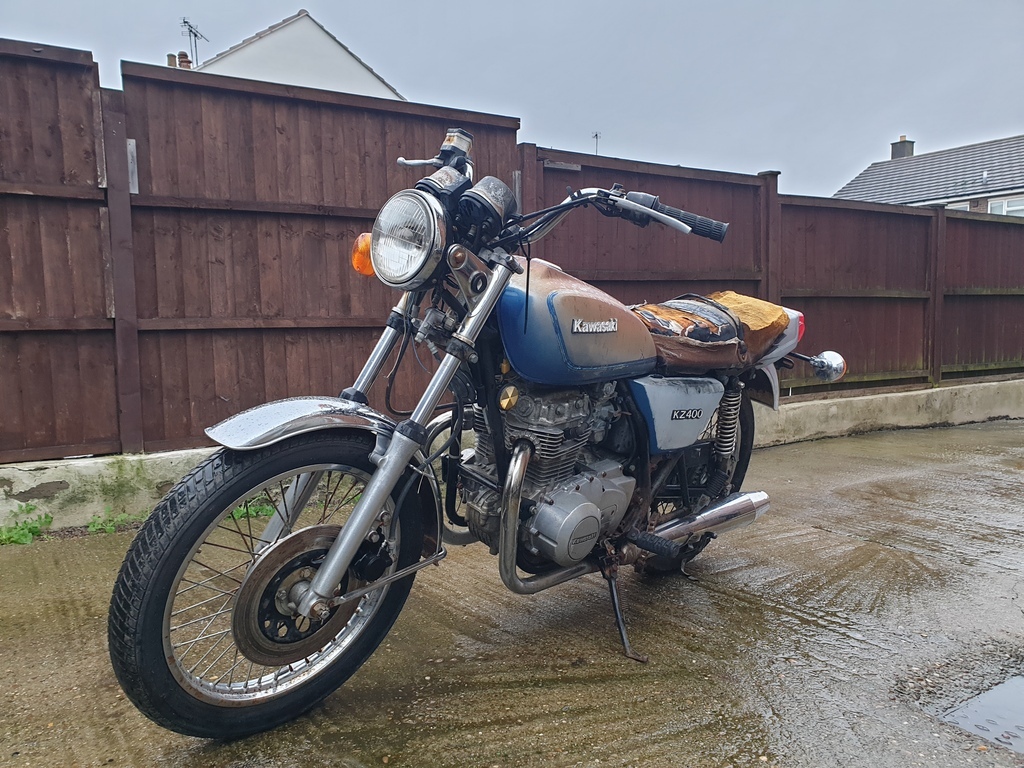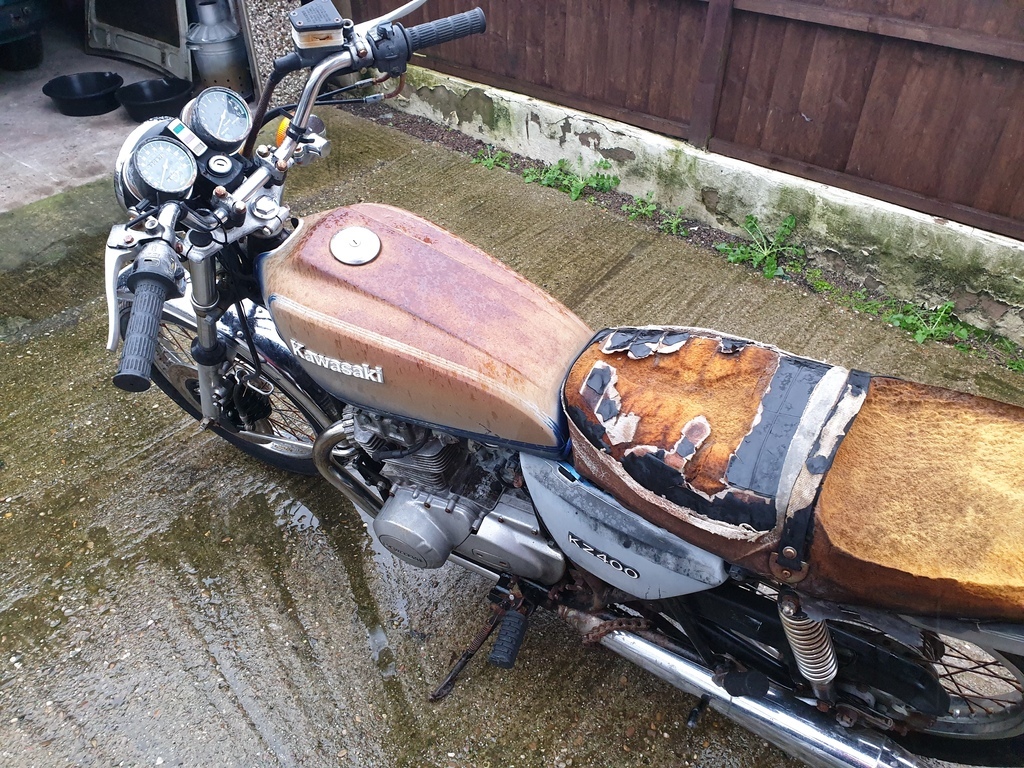 It was cheap, and fairly local, so before Christmas I nipped over to Mallory Park to have a look. I'm a novice but could see some bits were missing/damaged, went away and spent the evening researching parts availability and prices, called back the next day and bought it. It got delivered this morning which meant I've had a few weeks to do some reading about the model.
Being a "K"Z400 means that it's an American import. Here, this bike would have just been the Z400. They were made from the mid-70s to the early 80s as a commuter bike pretty much. I think the engine is rated at about 35bhp, so no rocket ship but should make for a nice classic/retro that will keep up with traffic no issue.
As a 1979, mine is a later model which had some changes to the badging, the bodywork and seat amongst other things. It does thankfully retain wire wheels for that classic look rather than the cast wheels which appeared a year or two later.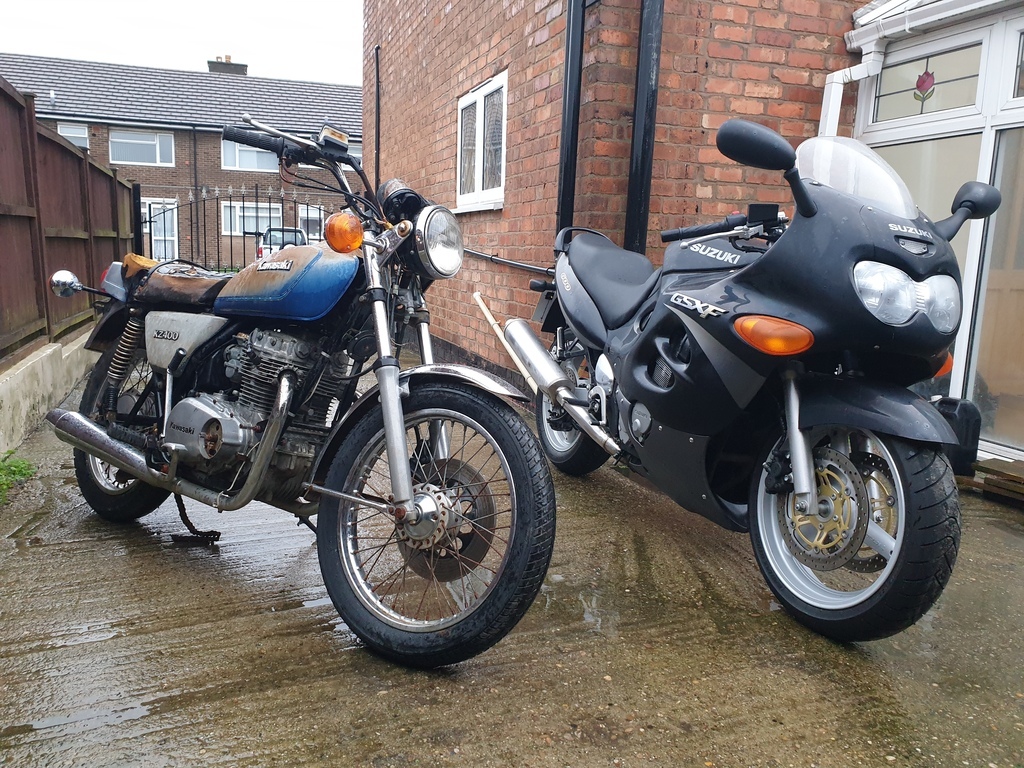 After a little shuffling, the KZ is in the garage ahead of the Suzuki, so I can start looking more closely at what I've bought. I bought it knowing the engine is seized, so I got on with whipping the spark plugs out and spraying a good dose of penetrant spray and ATF in the bores, hoping that I can at least get things moving a bit after a soak.
One of the HT leads snapped in my hand, so the first of many items for my shopping list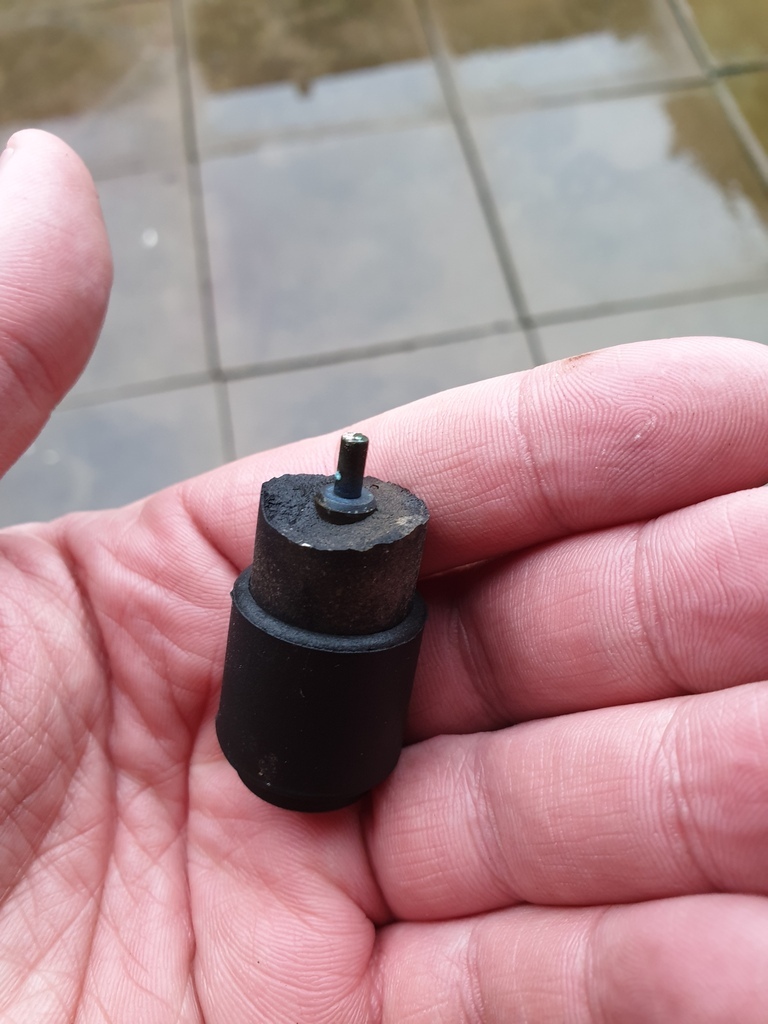 Spark plugs don't look awful, I am running this project on a bit of a budget, time will tell if I just give these a quick brush to get the thing running when the time comes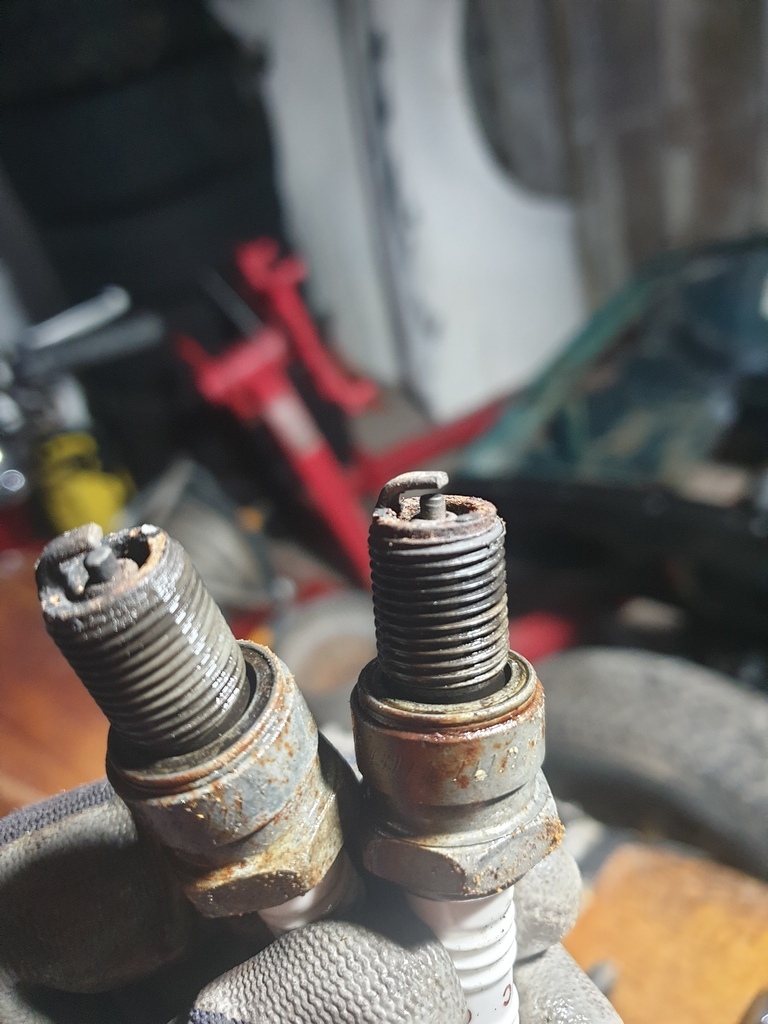 The Seat base is rotten as well as the cover/foam, so will need a whole replacement seat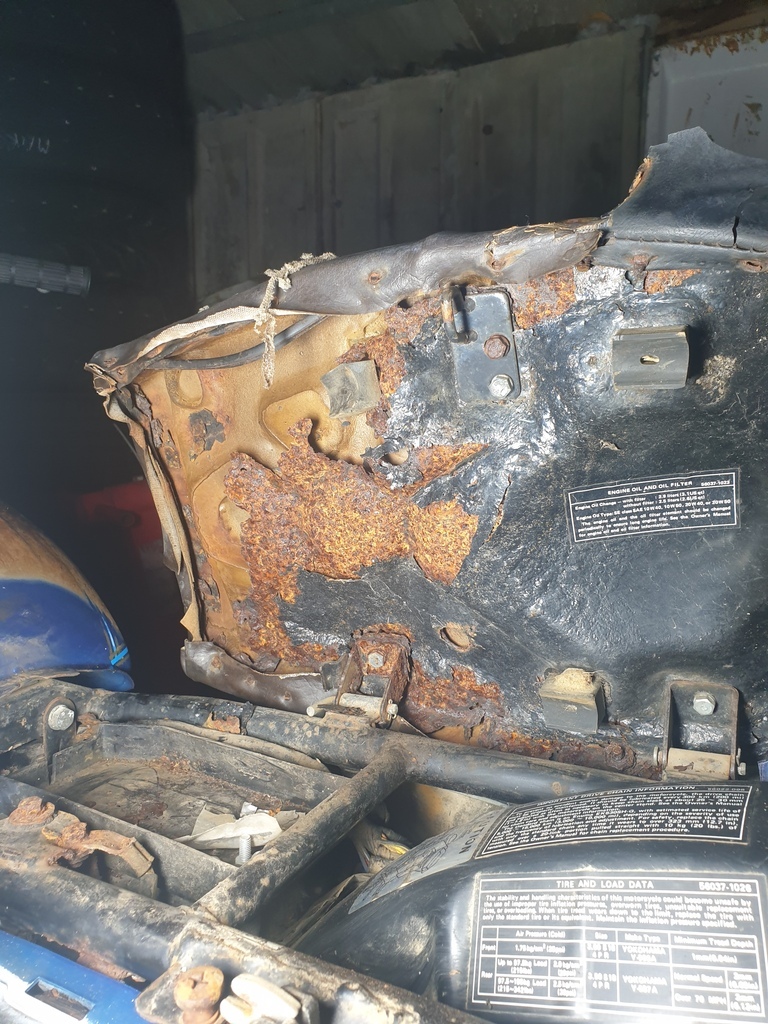 Looking up to the controls, the throttle and carbs are free which is nice, the choke lever moves also. The brake master is stuck solid and clearly the UV light has destroyed the plastic reservoir so that will be replaced.
The master switch is fairly stuck and the light switch appears to have been snapped off. I'll either see if I can get parts to fix this or just replace with another unit.
On the other side, the switchgear is similarly sticky or broken, in addition to a snapped clutch lever.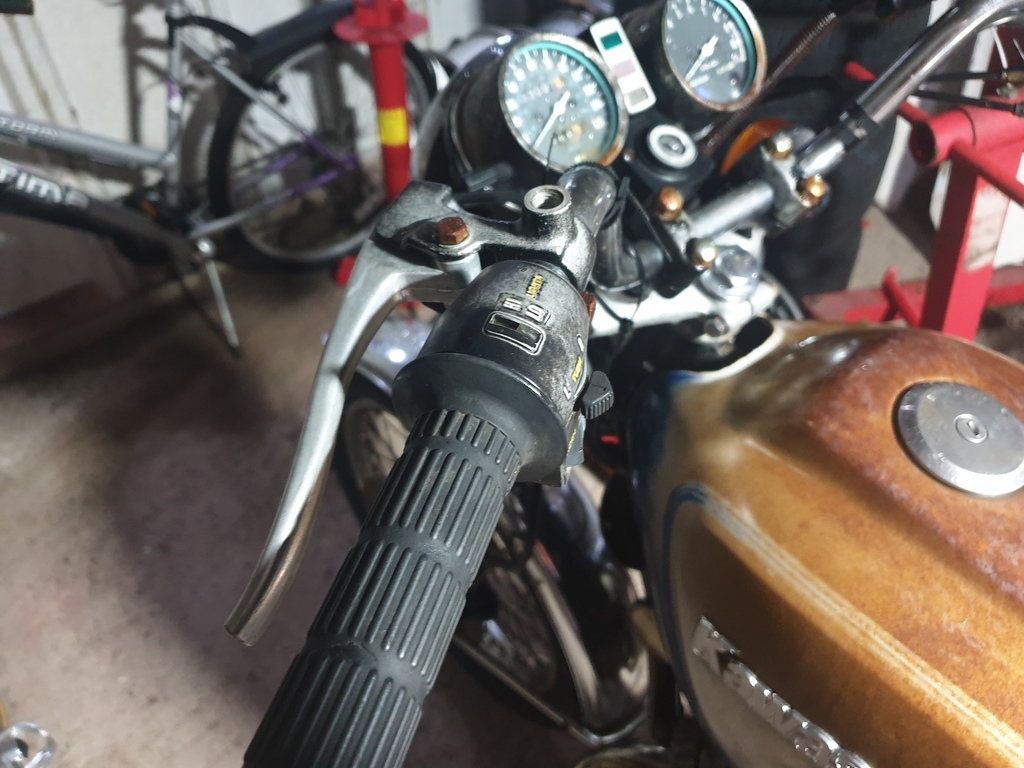 The rubber grips on both sides are in decent condition though. I think the odometer reads only 20 something thousand miles so that could tally up.
I only have a loose plan of attack for this bike, I don't want to blow it totally apart like I have with the MG for fear of creating too much of a hurdle to get over. So I'm going to attack it in smaller chunks. With that in mind, I set about removing the seat because it's junk and would allow me to remove the tail fairing and rear light assemblies which seemed like reasonable fist small "chunks" to tackle.
With the seat removed, the tail piece is held in by two bolts and then two pins on the fairing (cowl?) slide into rubbers on the frame. The cowl had some items hidden inside that the importers hadn't seen. Firstly is the original owners manual, it's quite chewed up either by mice or the (thankfully dead) wasps that had been setting up small homes in the cowl, but is actually readable. I will get another in future thats a bit better condition.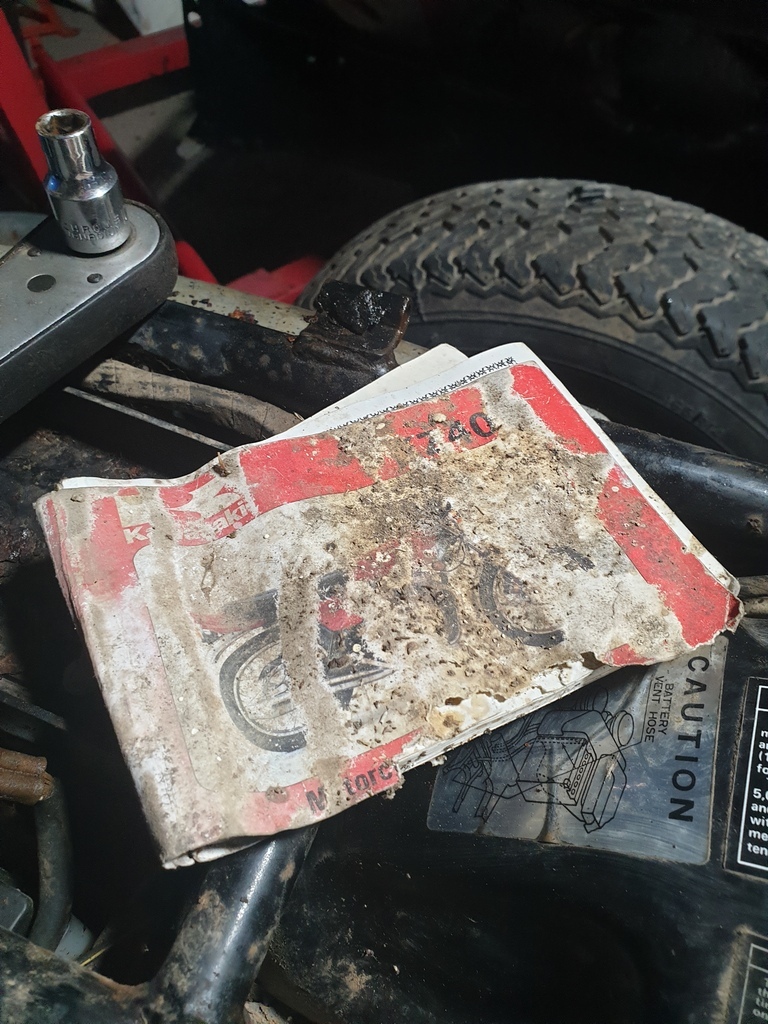 Now, in addition to a glove in there (which I initially thought was a sock) there was another bit of paper tucked away. This appears to be the bike's most recent registration from May 1997 in Sonora, California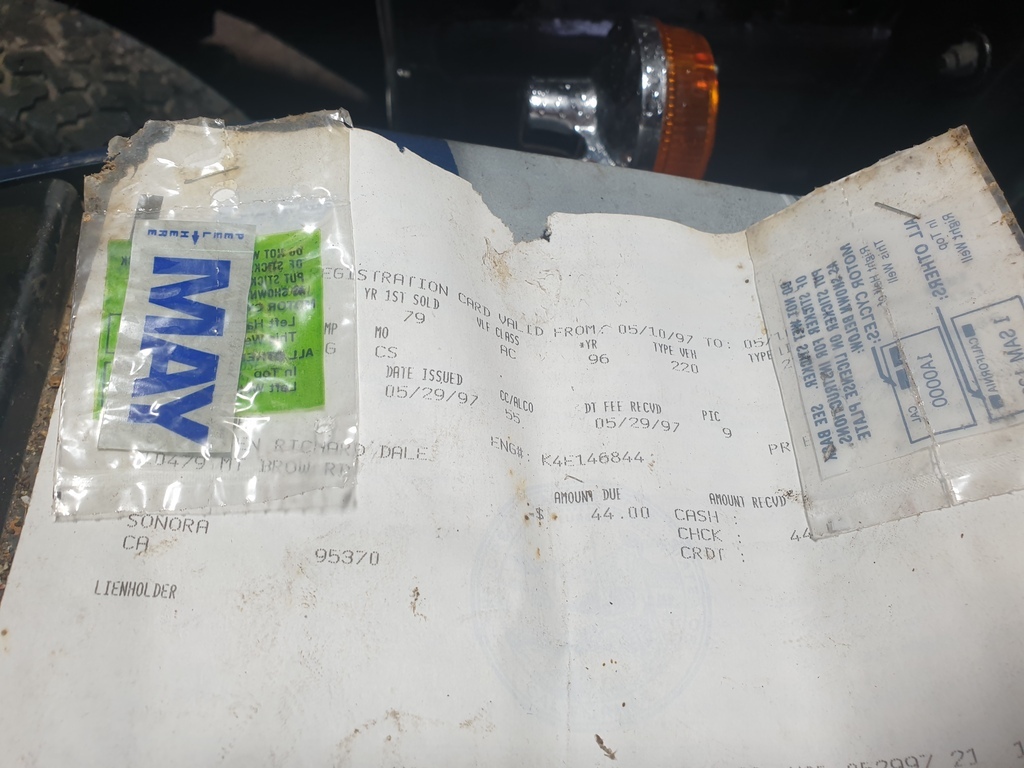 While this is my first ever import vehicle, even when buying UK vehicles, I love little bits of documentation like this that help piece together a vehicles history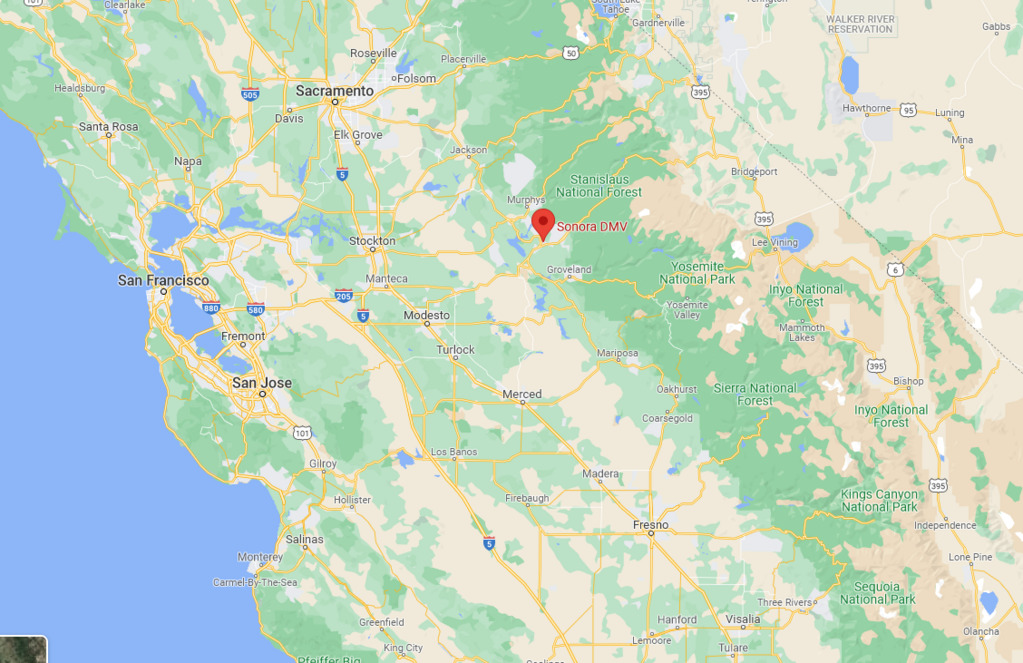 In a previous life it could have been blatting around the Yosemite National Park for all I know!
With the tail section removed, you can really see the effect of the sun bleaching on the paint, the blue bit was covered by the seat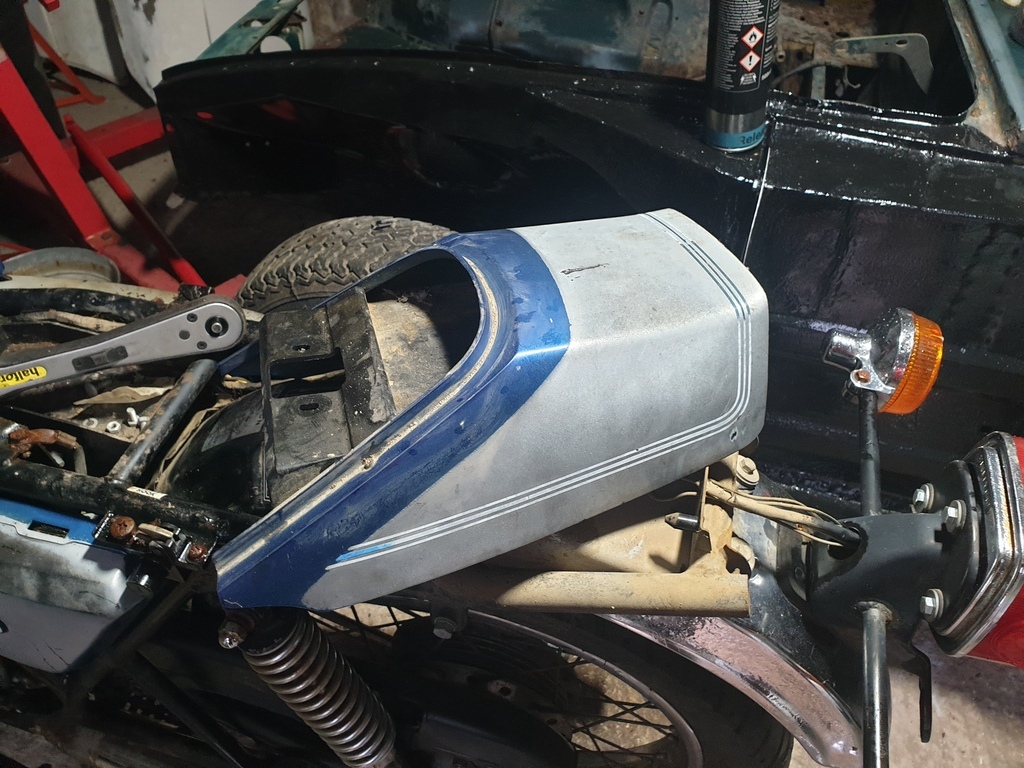 At first, to keep costs down, I suspect I'll run with the "Patina" look, but the bike will eventually deserve a full repaint. The rear lights were removed after undoing two bolts (should be three but one had snapped in the past it appears) and undoing some very tight bullet connectors. It remains to be seen if the wiring can be salvaged, if I'll have to add any bits or if I'll just start from scratch.
And there we have an introduction to my KZ400

My overall plans for the bike are a sympathetic restoration to make it a rider, I'm not going all concours spec, nor am I going to turn it into a cafe racer or a scrambler, should just be a nice retro rider