Well, somehow in the few months since I last had bodywork to repair my brain had glossed over the the trauma of days getting showered in hot sparks, burned by weld spatter and covered in filler dust, and so it decided it was time for a new project.
I have quite fancied the idea of a 'real' Fiat 500 ever since I first really became aware of them properly and learnt a bit about what makes them special, probably 5-6 years ago. It's a car very ingrained in culture, and while having a car that's an icon is one thing, that side of it doesn't really cover the side of it I find fascinating. It's the pure bare bones motoring experience, and the beautiful simplicity of it's (cost saving) minimalistic design that really appeals to me.
Until fairly recently it seemed you could still pick projects up very cheaply, and there was a constant stream of Italian imported projects on the usual sites. Since Brexit/Covid that seems to have dried up, projects seem much fewer and far between and the price of both projects and finished cars is definitely rising, so having sold my Mx5 to a friend and finding myself with a bit of space on the drive and some money I the pocket I decided it was time to get one before they ended up out of my reach.
A couple of months later I had this small vehicle in my possession!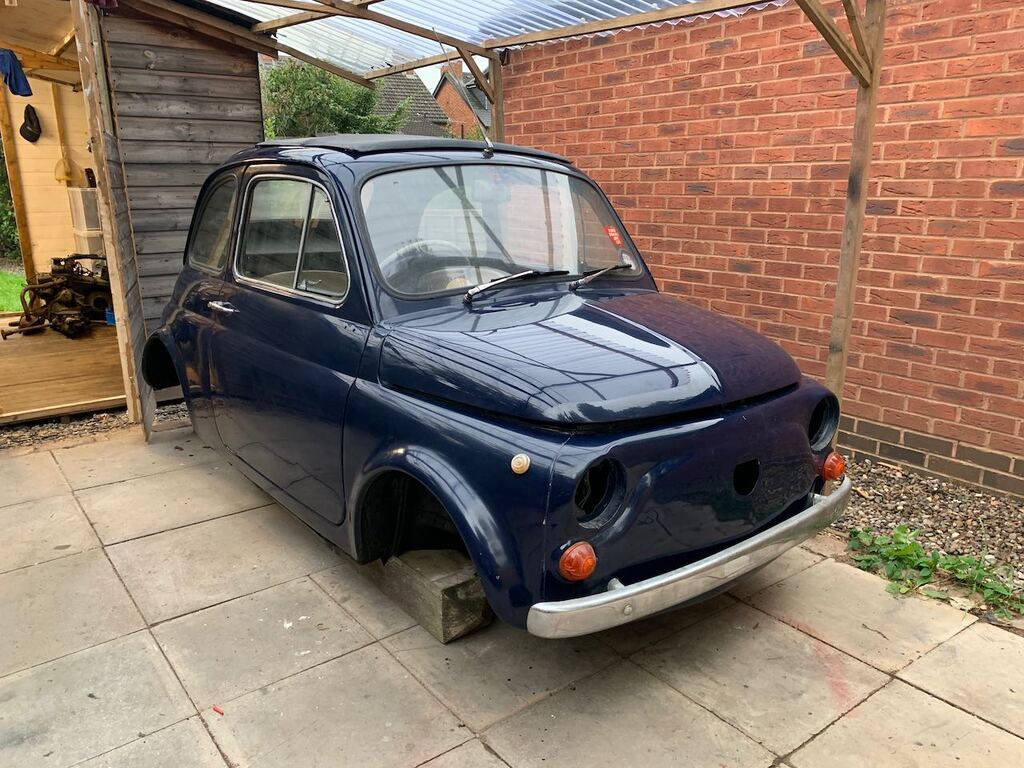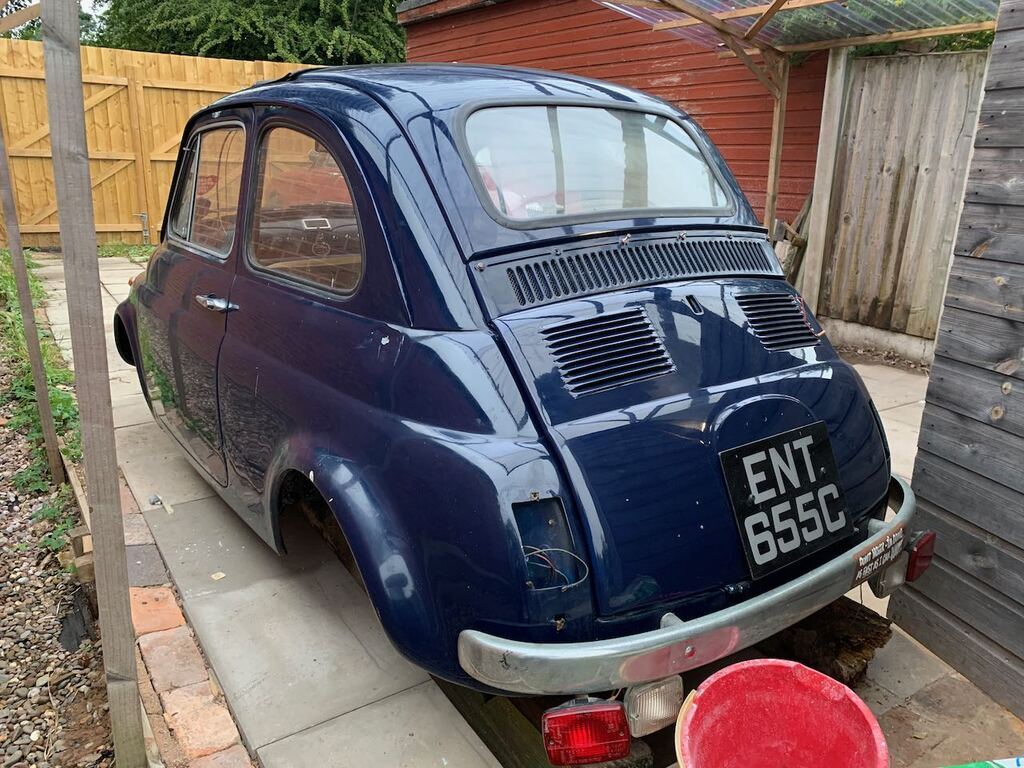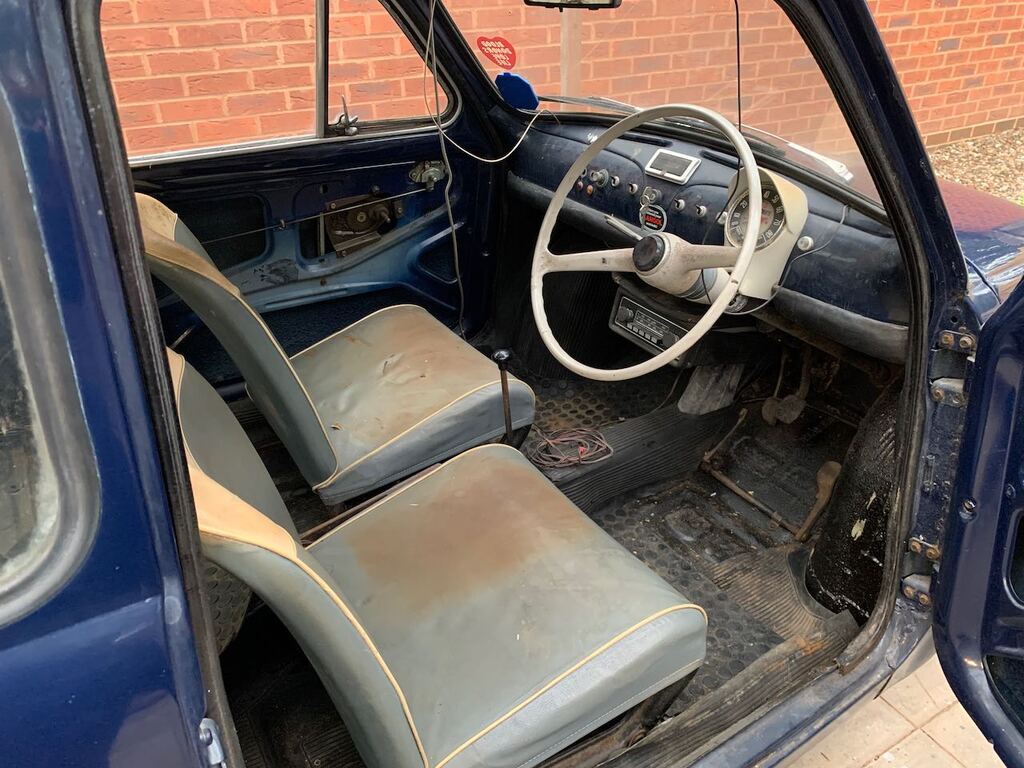 Trust me, it looks much better than it is, the shiny paint is hiding many horrors!
She's a 1965 Fiat 500F, a RHD Uk car that's been off the road since the mid 80s. It's a 'more desirable' car than I had started my hunt looking for. I was perfectly happy with the idea of LHD version of the later 'L' spec car, probably the least desirable/valuable 500, but this was the right car at the right time and I'm really placed to have an 'F' as to me the round speedo and painted metal dashboard (replaced by a perfectly pleasant black plastic dashboard and oblong speedo in the L model) is part of the iconic design.
In theory it makes a widow making 17hp from its 500cc air cooled parallel twin OHV engine. That wild race car engine is mated to a 4 speed 'crash' gearbox (so better be double clutching not granny shifting). Braking is by unassisted 4 wheel drums. So it's going to be quite the experience to drive!
It arrived to me already partially dismantled, which I knew was a risk as you can't be sure all the bits are there! The previous owner was a trader who I imagine had bought it with the intention to wake it up from it's long sleep, give it a quick mechanical once over and get it sold for a profit, but soon realised more major work is necessary. Having done my Daimler project from a similar starting point, I like to think I know what I've got to await me! Thankfully parts are cheap and available, and there's very few jobs that I won't be able to tackle myself. So it's just going to be a case of time and effort.
The plan is to do a straight forward restoration on this one. After that I can always look at mods but, unlike the Daimler that's getting some more modern influences in the pursuit of performance, anything I do I will be keeping very much 'period correct'. There are plenty of engine mods out there if(!) I feel it needs a bit more!