I'm finally getting round to doing a thread on my retro vehicles a well as my girlfriends. As we've got a few and they are quite wide ranging in size I've decided rather than doing a thread on each I'll do a thread for the light ones and a thread for the heavies. Will also make my life a lot easier as we are working on multiples at the same time. Due to having moved around the country in the last two years for new jobs and still hunting for a suitable property to store them all on (as well as needing to find a job at the moment) they are scattered around the country. In 2018 we were in Gloucestershire, then new job in Coventry so moved up to Leicestershire. Then job loss and end of rental so back to Gloucestershire as most of our big vehicles are down here.
So this thread will be for work we do on the light vehicles. We'll start with an intro for each of them.
1960 Landrover Series 2 SWB owned for over 20 years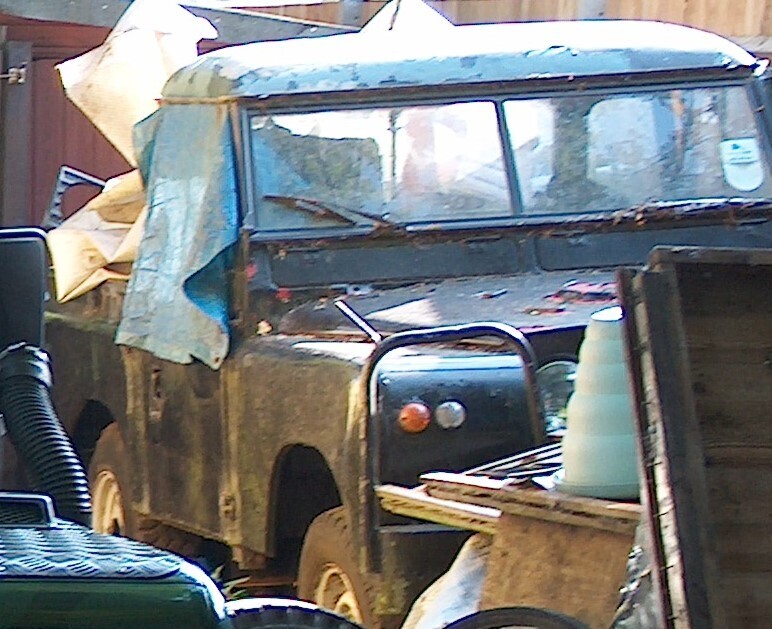 My first car and the one that taught me a lot about driving. Nothing like a 2.25 petrol series landie to teach you about maintaining momentum, racing lines and how to change gear!
Used as my only car before going to University. Used for transporting mountain bikes and all sorts of other things. Then replaced by a Hillman Imp which did a few more mpg. Then brought back out and driven for a couple of years. It has been sat in my parents garden ever since. In need of lots of work - probably new chassis, engine rebuild, bulkhead etc... But it's at the bottom of the list and will be used for any hard to get parts for the 1962 Landrover prototype. It's not very original and we think was used as a recovery truck so will always be a bitsa. Might be bottom of the list for restoration but near the top for ones we won't get rid of.
1962 Landrover Series 2a LWB prototype owned for about 9 years
My girlfriends pride and joy. Possibly the worst condition Landrover I've come across. Every bit needs rebuilding! Example being steps worn in to every single leaf of the leaf springs. It has had a very hard life. Currently a rolling chassis with rebuilt suspension and axles. Also on a new chassis for first build. Bulkhead and front panel off with an expert being repaired. The rolling chasis with engine & gearbox fitted but not rebuilt is at my parents, remaining parts in Gloucestershire. This one we are very picky with and everything has to be as original. It's going to take a while hunting for parts and rebuilding it but it will be worth it.
1983 Landrover 110 CSW owned for over ten years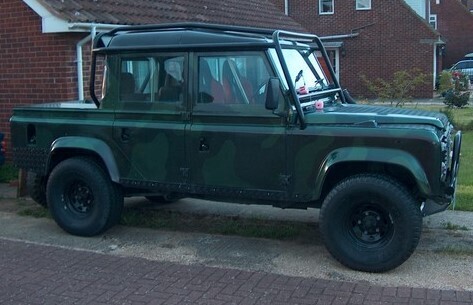 As we got it.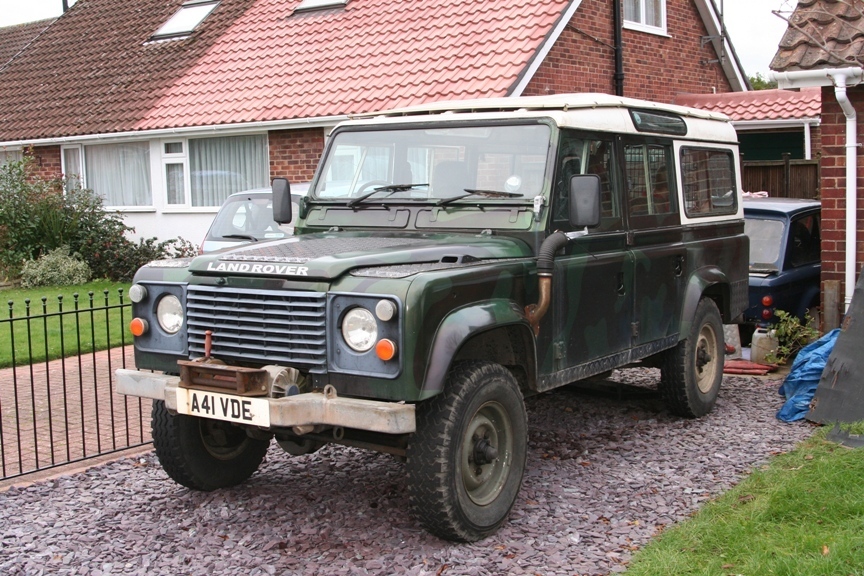 As it is now.
This has been the work horse ever since it arrived. Has had many changes and been used & abused. Bought as a double cab with a very fancy flip and glitter camo paint job. Looked stunning and with lots of carpet stuck on the inside. But underneath the shiny bits a lot of bits that either hadn't been done properly or just not done. For instance bottom of the passenger doors rotted out, roll cage badly mounted, fuel system incorrectly plumbed etc... but on a new chassis. When we bought it it was relatively cheap and it is a Landrover so at least parts are cheap. Plus it has a 200tdi engine and unusually gearbox out of a discovery, one of the toughest engines around. Highlights of it's life with us - freezing the engine as it came with no antifreeze in it, heat seized the engine due to temp guage not working and a broken hose. Ended up pouring cold water in to it as it was blocking a gateway with accompanying crackling sounds. Then keeping it topped up as it was the sole tow vehicle for moving most of our stuff to a new storage area over a weekend. Ended up having to replace the radiator immediately and then the head gasket a week later. Also has done a lot of towing, picking up vehicles and parts for us and friends. Including a couple of house moves. Pulled a sunken boat out of canal as part of the canal restoration work, also moved a dumper based winch vehicle for the same.
Off the road for two years due to clutch breaking and house move. Now has replacement engine due to the old one being tired. Rewired along with rear floor and seat box area being replaced during lockdown. Then mot'd and back on the road in time for us moving to Cam, Gloucestershire.
Photos show how it has changed visually as we have owned her. From double cab with roll cage and wide tyres to county station wagon with sensible tyres. Has had all the seats replaced along with lots of other bits along the way. Problematic for a lot of parts as it is the first year of 110 production so has some series bits, some general 110 bits and some bits only fitted for the first 2 years of production.
1985 Landrover 110 Ex-military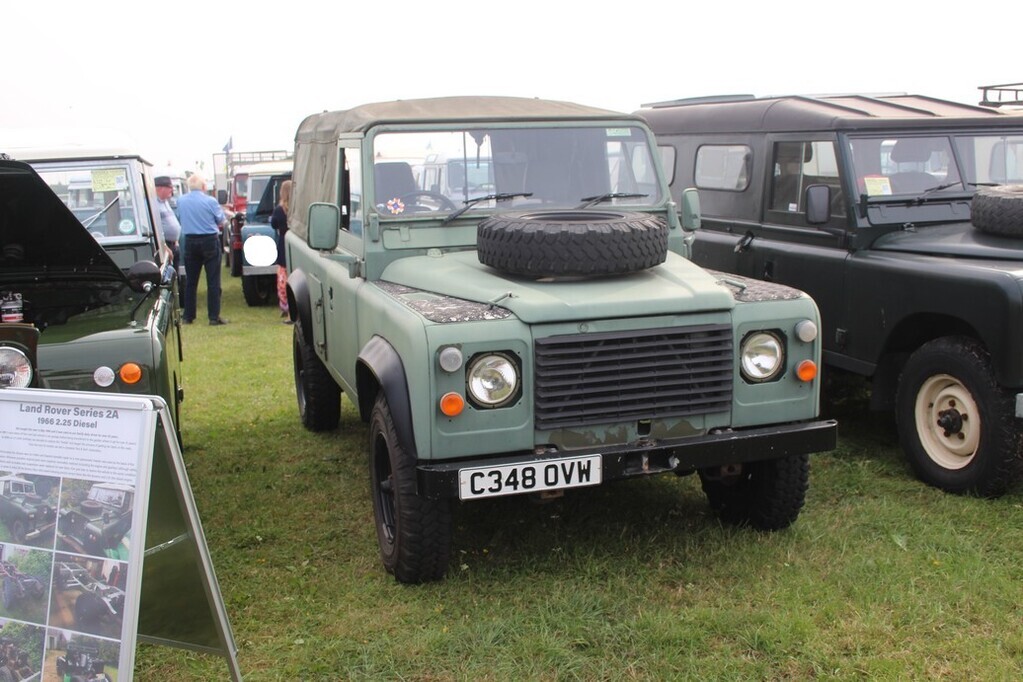 My girlfriends other Landrover. Owned for a bit over two years. Used to be owned by a friend of ours and we bought it when we moved from Gloucestershire up to Leicestershire. Fun bit is that is now on the driveway of our rented house about half a mile from the house of our friend we bought it from.
It is original and has the 2.5 N/A diesel with big bore exhaust - dependable but it is slow! Plus it has an LT77 gearbox - hated by me but my girlfriend and everyone else who drives it seems to like it. During lockdown it has had the side lockers rebuilt and a few other odd jobs. It was part of a military upgrade program (Tithonus) which included the fitting of a roll over hoop and the wolf wheels. Used for load lugging including camping gear, workshop equipment, parts of all the other vehicles and my girlfriends vintage bicycles. Decent size load area and 1 ton carrying capacity along with Landrover off road ability makes a very useful tool.
Other light vehicles are all 2 or 3 wheeled. Including a BSA bantam, 1890's tricycle, multiple tradesman's bicycles and my mountain bikes.
Previous light classic vehicles have included, Hillman Imp's, Clan Crusader ex-works rally car (400kg ready to run in hillclimb trim), Modsports Davrian (one of the only race cars I've ever come across that have done a 100% season, winning it's class every time out), Hillman Husky's (Imp based), Hillman Imp 850 race car completely original and heavily drilled out. All of those have now gone as we changed to the larger vehicles. May put up photos of some of them during the thread if anyone wants.
During this thread the 1962 and 1983 Landrovers will be the most likely to appear.