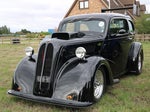 Stormguard door seal
to seal the gap on the bottom of the doors.
What blinds did you use?
PS get those gutters up

I reckon I will get one of those seals, it's so cold lately! Little oil filled rad struggles a bit.
The blinds are just cheap ones from Argos, they're a bit plop but fine for a garage.
I am flabergasted at how expensive guttering is! Need to investigate a bit more thoroughly and see if I can get the price down. I will definitely do it though.
Still need to seal and bitumen the bearers. Got the next two Wednesdays off using up holiday so I might have to get on that. I've got the bits.