&nbsp
Brilliant, thanks Nick. That's what I did with the bonnet - gently heated it with a heat gun, and slowly and progressively bent the wheel arch end inwards and rear outwards. Worked a lot better than I was expecting, thankfully, and looks so much better!
I will have a look at the re-enforcement strip, and see if it can be crimped a bit more if needed, thanks for the tip.
In terms of the door, both the bottom and the top needed to come in more at the front. I loosened off the 4x bolts of the hinge that affix to the door, and the 2x cross-head screws, and then bolted the door back on to align. It seems that even at full push, I couldn't quite get the door close enough to the body/tub to close up the gap as much as I'd like between the door and the side of the scuttle panel.
Looking at the door hinge where it bolts onto the door, there are three tabs (2x horizontal, 1x vertical) that stick out around the hinge, and these stop the hinge from adjusting past them. Technically, it I could remove the vertical tab (horizontal one ringed in blue as vertical one not visible), then I could gain the last few millimeters I needed to get the door close enough to the body/scuttle: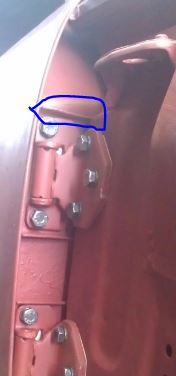 So I did remove the vertical tab around the top hinge, but the door still didn't adjust in as much as I hoped for. It looks like the (floating?) metal plate in the door itself that the hinge bolts bolt into doesn't move quite enough to give me the best panel gap. So I'm thinking some more! It'll do for now, but not perfect. I know my GT6 won't have anywhere near perfect body-work, but I still want good panel gaps!