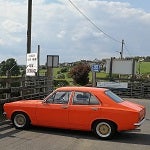 Interestingly those both sound similar when ticking over and in normal use. The Brazil engine felt good, revved well - even taking into account the weight of the crank and was a very quick engine although it didnt feel 'quick' probably because it didnt increase its revs as quickly as previous engines.
The BRM however feels completely different to the Brazil block engine and actually more like my original 1730. The 1730 was quite an 'Angry' engine to drive at all speeds and the BRM is less angry until it gets up on the cams and then it is a completely different story. The BRM feels a bit more drivable and has a much wider power band - or so it feels.
It is definitely quicker though and i think even with a 4.44 diff it will pull max rpm in 5th.