Well it all started some time ago, I could not decide what to do with the imp and I would always end up thinking the same thing
"I have reached the limit of the gearbox, so a stronger one is needed, if I do that then I might as well put a bigger engine in too, but if I do that then the suspension will need uprating and brakes too, then the chassis will not be able to cope so I need to spaceframe it"
Basically I need a whole new car that looks like an imp, and due to the DVLA laws, it just isn't viable for me and my facilities. Even if I decided to keep the imp as it was I could not do the bodywork on the drive and did not have the cash to hand it over to a bodyshop to get sorted.
So I knew a totally new approach was needed and the imp was sold.
The thinking is this –
I eventually want to build a hillclimb car, single seater, motorbike engine, 6 wheels and four wheel drive. However first of all I need to work out if I can actually drive and make it worth my while!
My thoughts instantly turned to karts, cheap track time, cheap to buy, cheap to run, and the ones I was looking at have gears and speed, lots and lots of lovely speed
To address another issue, I needed more space to be able to work on a vehicle inside independent of weather conditions, my workshop is only small so a kart fits this criteria well. To make the working conditions even better my wife realised that a partition wall in the workshop was not even attached to the ceiling, meaning it could be knocked down, effectively doubling the space available!
To run on my local tracks I could not use a 125cc or 250cc kart, they are just too quick, especially for a newbie like me (and my wife who will be sharing this kart with me!). So further investigation uncovered an 80cc gearbox class, able to run on most tracks and excellent for novice drivers like us.
So I did what you are not meant to do and dived right in and bought a rolling chassis! Then and engine, then bits to re-build the engine etc etc
So this is where we start, one wall being knocked down –
And the space created was instantly filled with toys! –
The engine is an Aprilia RS50, and was bare until I started buying shiny bits

First up was a flat slide carb, I started to eye up positions of all the parts so that I could fabricate inlet manifolds and engine mounts –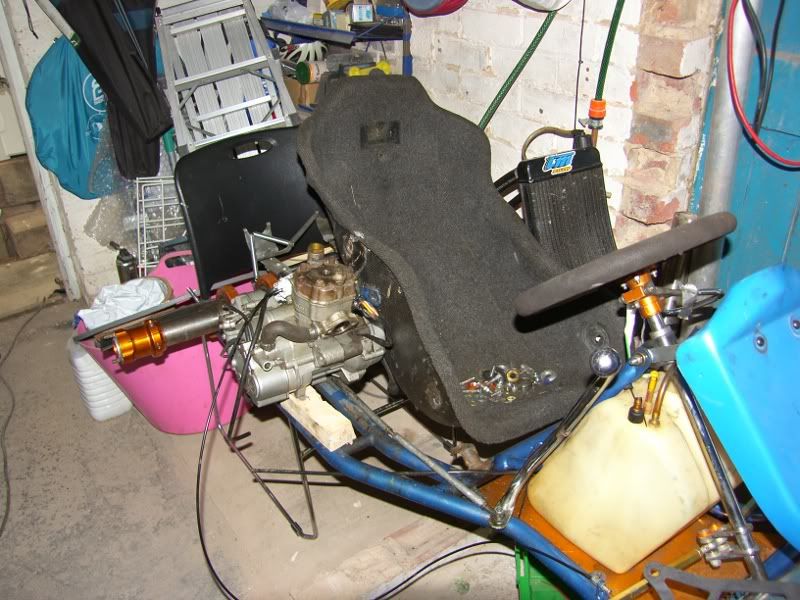 The first item needed was a flange to match the reed block, this was fabbed out of 5mm aluminium plate, basic tools, chain drilled and hand filed –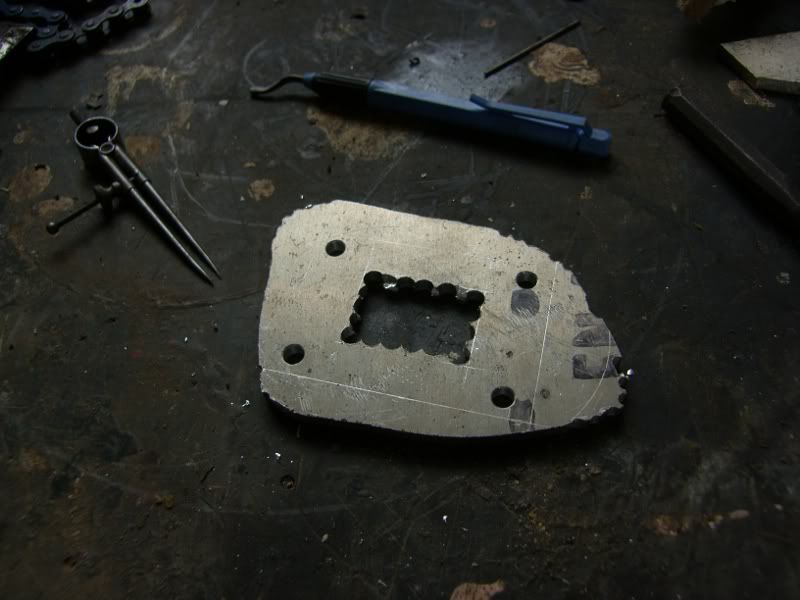 The pipe to join the carb and flange was a tougher prospect, large square to small round, I had some 5mm wall pipe, and the diameter was prefect for the circumference of the of the square hole, this was duly bashed into shape after annealing. This was done using fairy liquid and a blow torch, when the fairy liquid goes brown, it is at the correct annealing temperature!
The reduction in diameter was calculated to be a linear distance of 40mm around the circumference of the pipe, this would bring it down to the 35mm OD of the carb, a slice was cut and the pipe re-bashed to suit –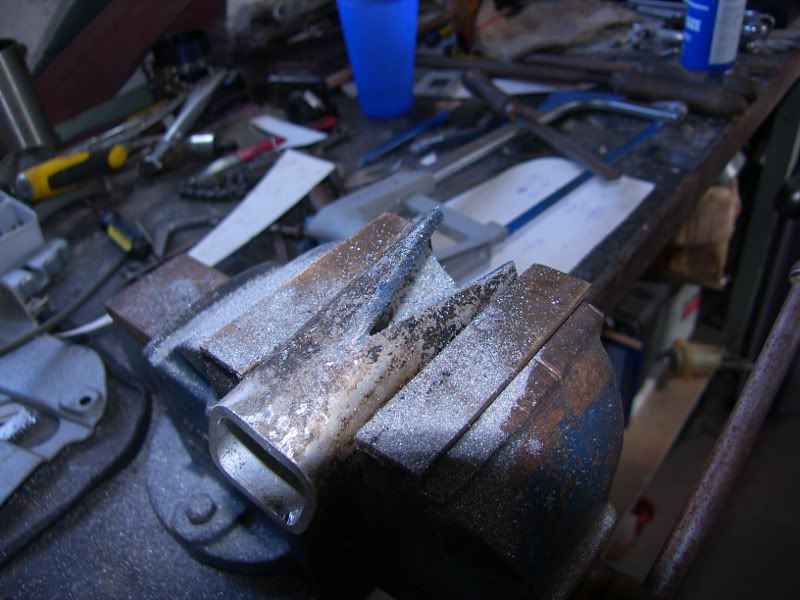 Now at this point I realised that I had not calculated the inlet tuned length, so I got my calculator out and realised that my shaped pipe was waaaaaaay too long, in not used to these high revving strokers! So I started hacking up all my hard work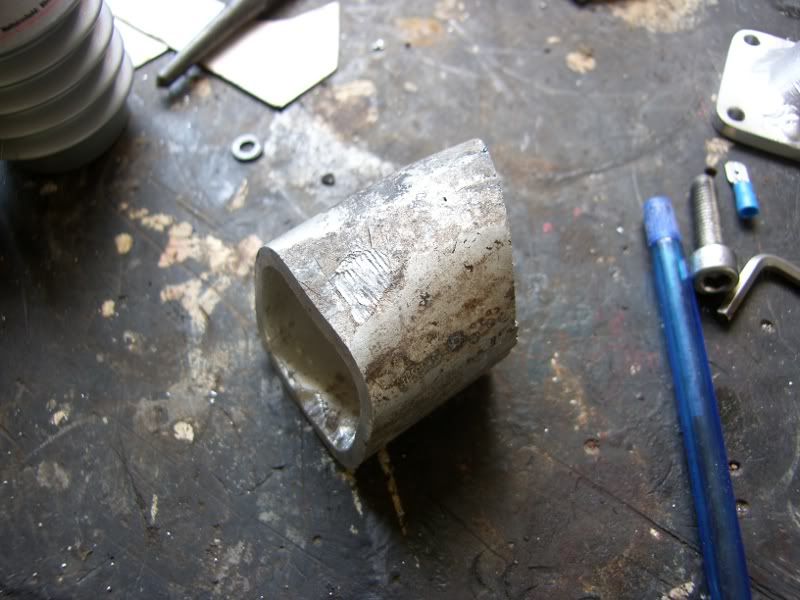 A few steps got missed at this point, not much happened really, I drank quite a bit of coffee and made a large amount of ally filings, the bits created were taken to a good friend to TIG together (My TIG is DC so will only weld steel titanium inconel etc). This is the result –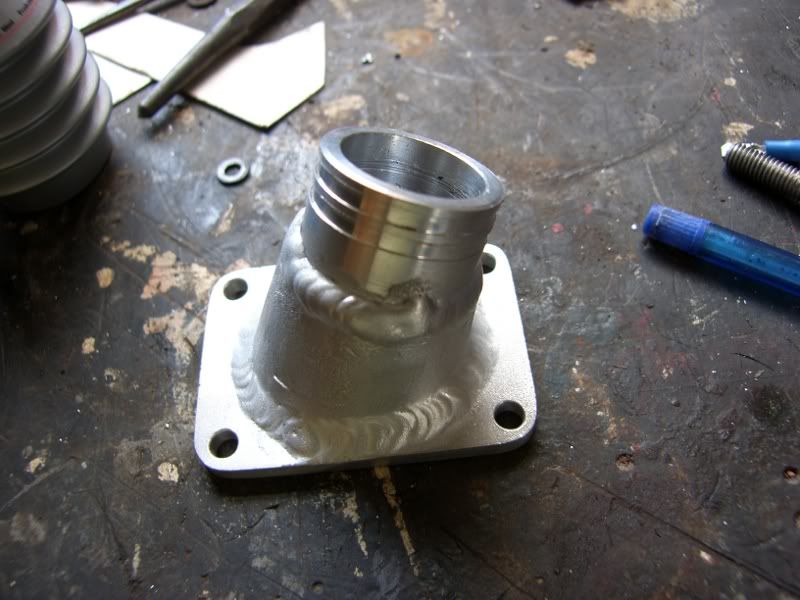 Needs a bit of fettling with the dremel, but look how much bigger and better flowing it is compared to the stock inlet!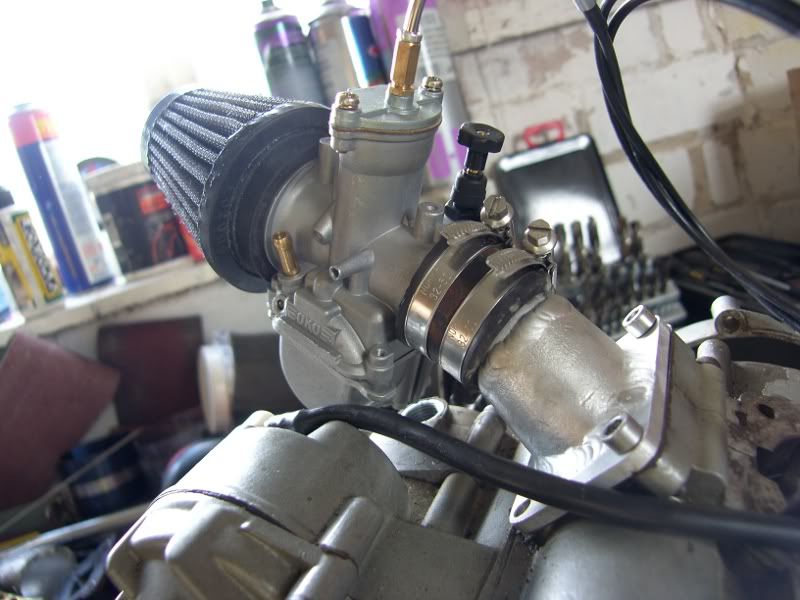 A few more bits arrived and I decided to balance it all on the kart to see how it would look (an essential motivational tool for me, I need to see those shiny bits in place, all in one big shiny pile, a bit like a magpies nest)
Polini 80cc race kit and carbon reeds –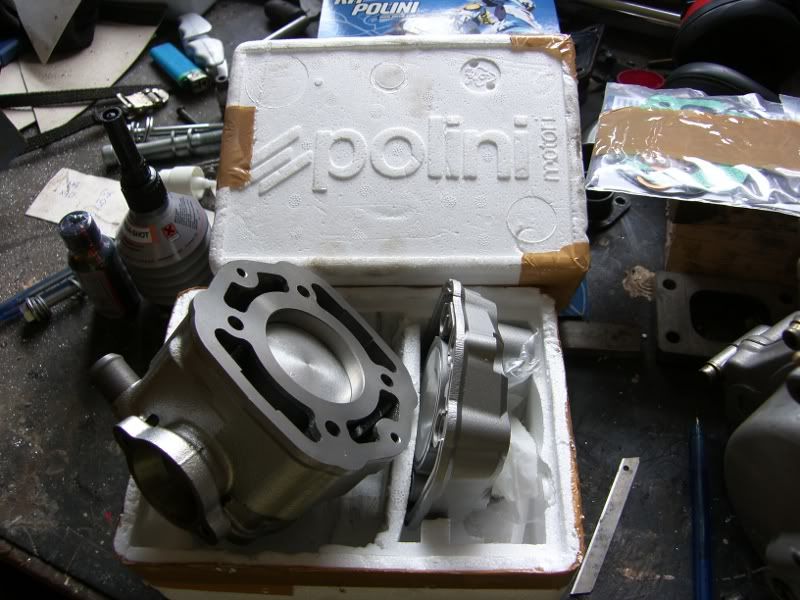 Yasuni carrera 21 expansion pipe –
And all in place –
I will be making lots more progress over the weekend, so expect updates!
Tomorrow will be exhaust fettling, engine mounts and general engineering shenanigans.
Cheers,
J