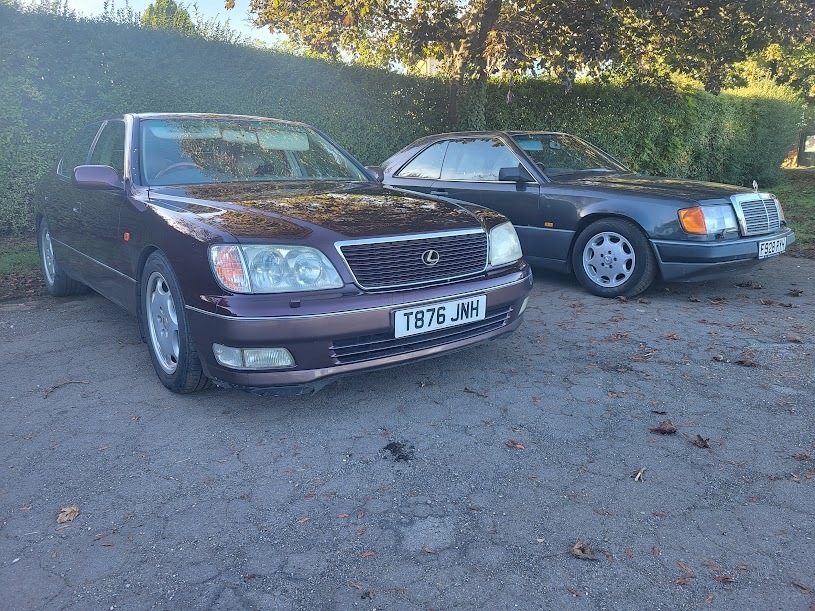 Lexus LS400 DHP
290BHP 1UZ-FE VVT 4.0 V8
Automatic
Dynamic Handling Package
MoT to March 2024
£325/year road tax
Very cheap to insure - £140/year for me!
A very lovely Lexus LS400 with the Dynamic Handling Package
An absolutely astonishing motor car; when Toyota set out to make a luxury car that was better than a Mercedes S-class, they really nailed it.
This old thing has done 190,000 miles yet there is not a single squeak or rattle from the interior and there is nothing on the insides to suggest this is a 24-year-old car with a hefty mileage.
Everything works as it should, and the interior is a deeply lovely place to be. Incredibly comfortable and relaxing, the ideal car for long-distance cruising.
The boot is enormous and the space for passengers in the rear is fantastic.
Amazing quality sound-system with integrated radio, cassette and multi-disc CD changer.
The 1UZ-FE V8 engine is smooth and quiet and the changes on the gearbox are barely perceptable.
AND it's not as thirsty as you may think - I have just done a measured run from Scotland to Bedfordshire where it's averaged over 34 mpg at a fair old lick in terms of speed (honestly not more than 70, your honour*)
Handles very well for such a massive car (that'll be the DHP options)
And look at it! Just a beautiful bit of design that has aged so gracefully - can't say the same for the S-class of the era.
Champagne motoring on a lemonade budget!
Full disclosure of the 'bad bits':
There are some minor rust blebs on the N/S/R arch
There are some rust bubbles on the leading edge of the roof
There is some lacquer damage to the paint on the N/S/R wing near the boot
There is a vibration through the pedal on hard braking (I will endeavour to get this fixed before sale, but my 'to do' list for the car collection is quite extensive)
I don't have any service history for it.
Price = £2995
Location = SG18 Biggleswade Bedfordshire