—NOW SOLD—
Welcome to the advert for my 1995 Jeep XJ Cherokee 4.0 Limited. A lot of you will know this truck well, if not, here you go.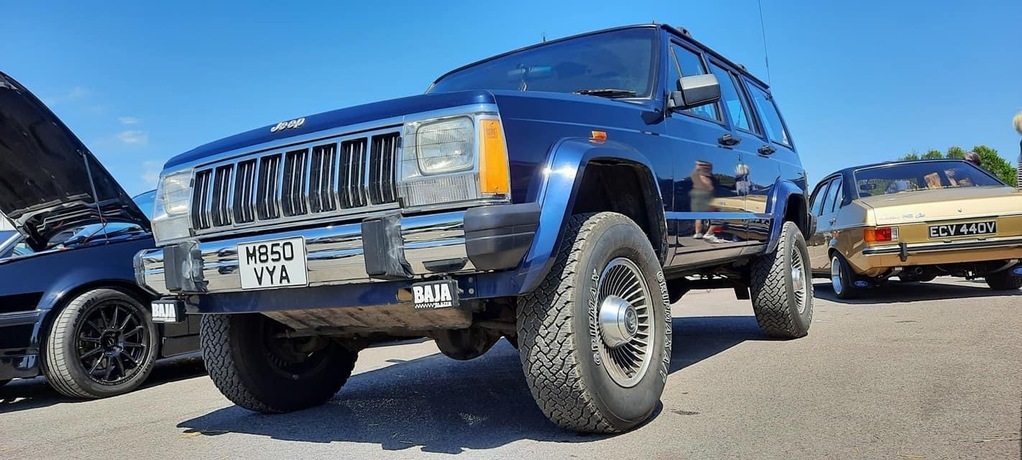 I've owned this Jeep since 2017 and I'm sad to see if go but I have bought myself a Dodge truck and the Jeep is now surplus. I wouldn't hesitate to drive it anywhere, it's been utterly dependable and maintained to a high standard. It's a 1995 M/Y so 1994 built. No factory immobilisers, and being an OBD1 model it has the self-code read option via the CEL which is dead handy, no need for any diag kit. Not that I have ever needed to use the function as it's been turn key every day for the past 7 years. Yes, it is pictured with one of the micro-caravans I've owned. It's not been flogged to death towing, the most it's pulled is my current 'van which is a MGW of 800KG, and it only does that 4 times a year at most, 2 times to RR events and usually the New Forest or Savernake.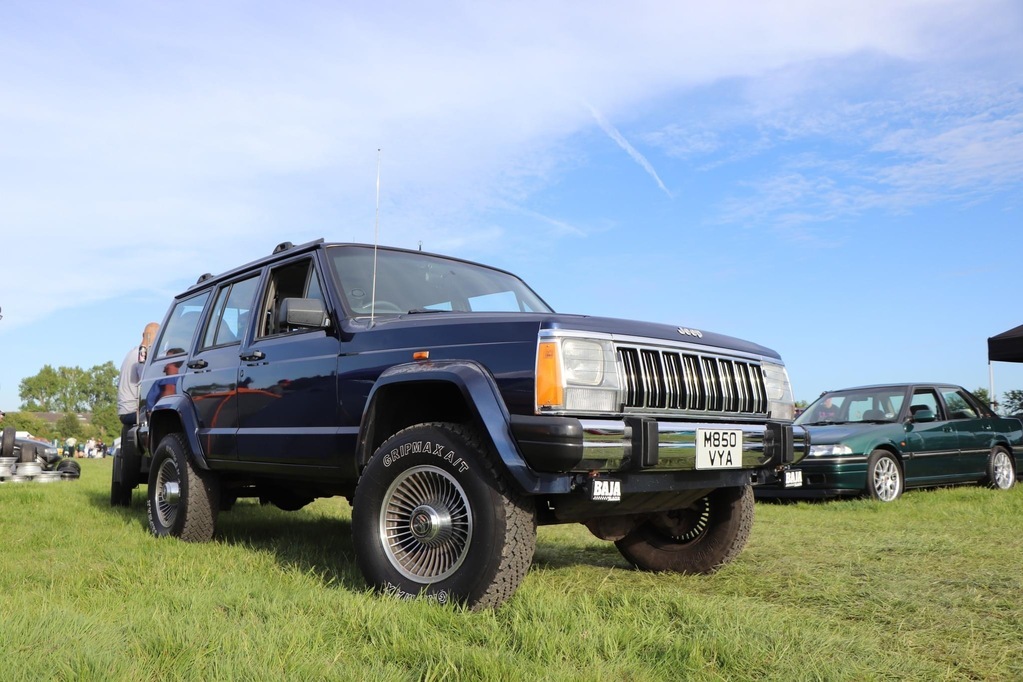 The standard 'LIMITED' spec includes:
4 litre straight 6 'High Output' Chrysler MPI (Making about 187HP depending who you ask)
AW4 4 speed+2OD automatic transmission
Selec-Trak full and part time 4WD transfer case
Trak-Lok limited slip rear differential
Factory tow-pack (Curt towbar and upgraded transmission cooling)
Factory Skid-plate pack (front steering guard and transfer case skid [Not currently installed but is with the car])
6 way electric seats
Cruise control (working)
A/C (working)
Sentinel headlights (working)
4 wheel ABS (working)
Rake-adjustable column
Electric mirrors
Tweed/Vinyl seats
Remote locking (Aftermarket alarm/CDL/IMMO installed)
Time delay wipers (Control module was recently rebuilt)
Maintenance items include in my ownership:
Regular oil/filter changes
New Distributer cap and arm and mag-core performance HT leads with regular s/plug changes
Regular A/T fluid and filter changes
H/D rad fan coupler
New E-Fan
New radiator
New valve cover gasket
New oil filter adaptor O rings
New A/T selector shaft seal
New half-shaft seals
New brake callipers and hoses
New Drums and shoes
New O2 sensor (part of the service schedule on an XJ)
Probably a tonne of stuff I've forgotten
Upgrades include:
Super-Rare acrylic genuine headlight protectors
Chrome USDM bumpers and over-riders
Chrome USDM grille
USDM tail lamps with stainless guards
USDM clear front turns with switchback turn/park lights (very cool)
Corner markers wired for USDM operation (normally dummy units on EU Jeeps)
Ring front driving lamps
Stainless steel glass-pack muffler. Not loud, not brash, it's just right
HD springs (2-3" lift)
Ranchero shocks all round with Ranchero steering damper
Transfer case drop brackets (exhaust flexi has been fitted to avoid manifold stress)
Azzy's design transfer case lever upgrade, T-case shifts really nicely
Hidden subwoofer in spare wheel
Interior-matching early 3 spoke steering wheel modified to fit late column with hidden cruise control panel
Cup holders
Upgraded speakers all round
Silicone radiator hoses
Mag-core HT leads
Mercury Grand Marquis 'Turbine' wheels shod with A/T OWL's as per OE
Dog guard
Genuine Jeep load area rubber mat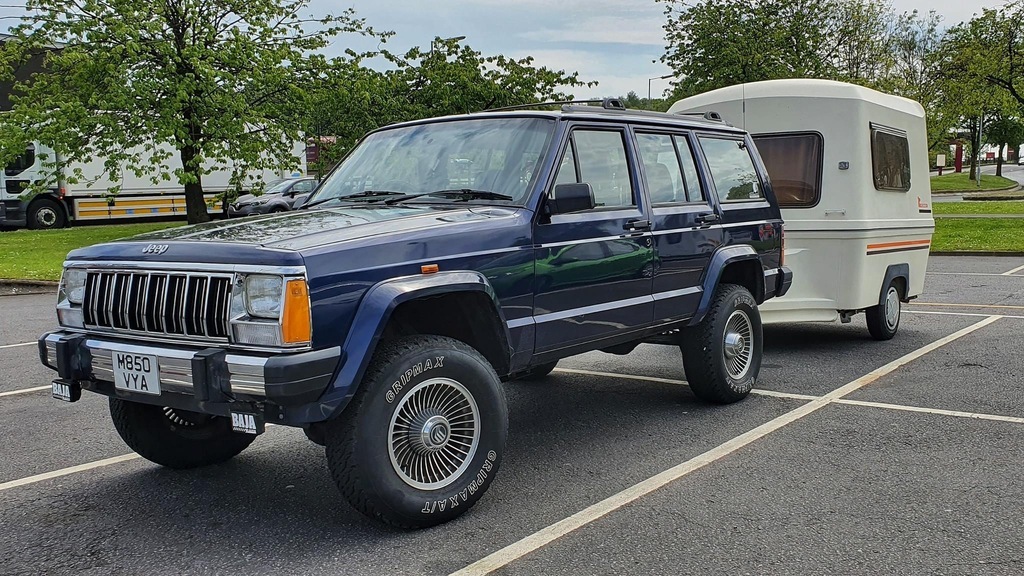 I've removed the 'later' Ph1 side planking trims as they visually clash with the chrome bumpers and make the car look 'newer', my goal was to visually age the car back to the earlier 80's XJ's that weren't sold here. (Fun fact: The RHD Cherokee became available in 1993 as part of Chrysler's takeover of AMC was to introduce a 'factory' RHD model for rural mail carriers who favoured the XJ immensely due to its versatility) These are available with the spares for the car. There are marks and little dings. There are also a few areas of lacquer that need attention but the Jeep polished up nicely as a whole and it doesn't detract massively from the overall look.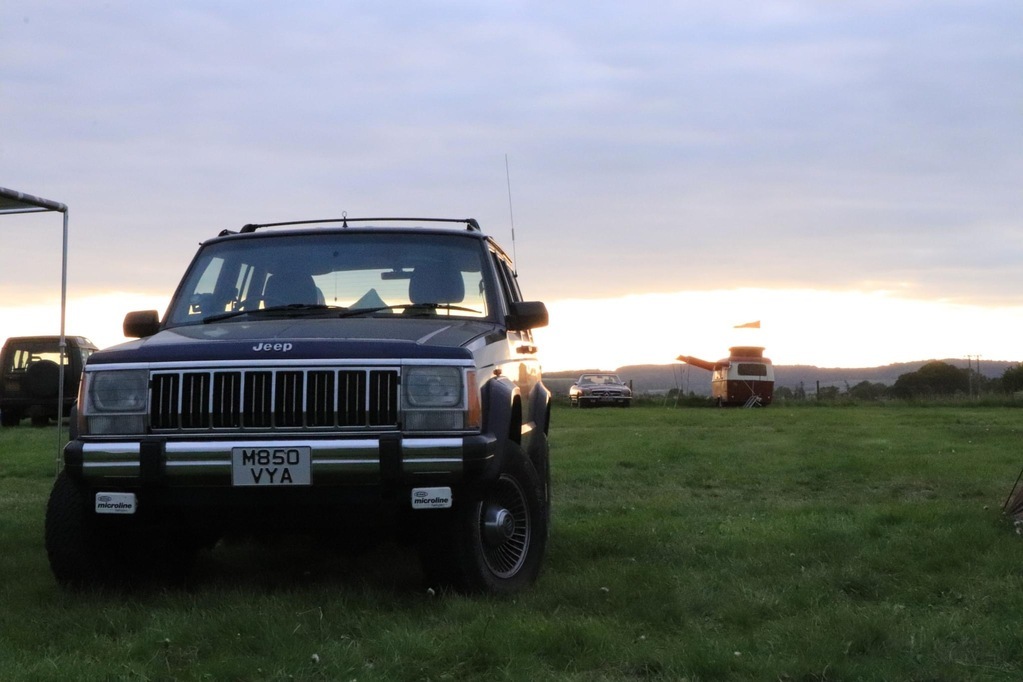 Comes with a pile of spares including stock mesh wheels with a spare set of the same-as-fitted tyres, body coloured bumpers and various mechanical and trim parts.
A wonderfully inexpensive way to get into US car ownership while retaining everyday use-ability on size and RHD as well as parts availability.
The photos here are pilfered from various RR events, I will be taking more this week when I get 5 minutes of nicer weather.