Hi guys, how are you?
I'm really not a car person, but I've inherited this car that I really love. It was T-boned in a parking lot many years ago (well before I had it), and recently I've noticed how dodgy the fix was... After getting a hole in the floor fixed and being able to see the amount of water accumulation after power-washing. And after getting the car repainted while the hole was being fixed

Oops, but there's a saying where I'm from, the only people who don't make mistakes are the ones who don't actually try and do anything...
The water is leaking through gap(s) between the front door and the body of the car. I'm pretty sure it's because of the B-pillar being deformed in the collision. I'm definitely no authority on saying if the deformation is significant or not, but I do hope not, the doors close properly and all that. But then again, there is a thin spacer between the car body and front door catcher thingy, haven't tried if the door still closes properly without it, and... It's difficult to take a photo where it's possible to see clearly from the outside that there's something wrong, but can you see the sun shining through the gap??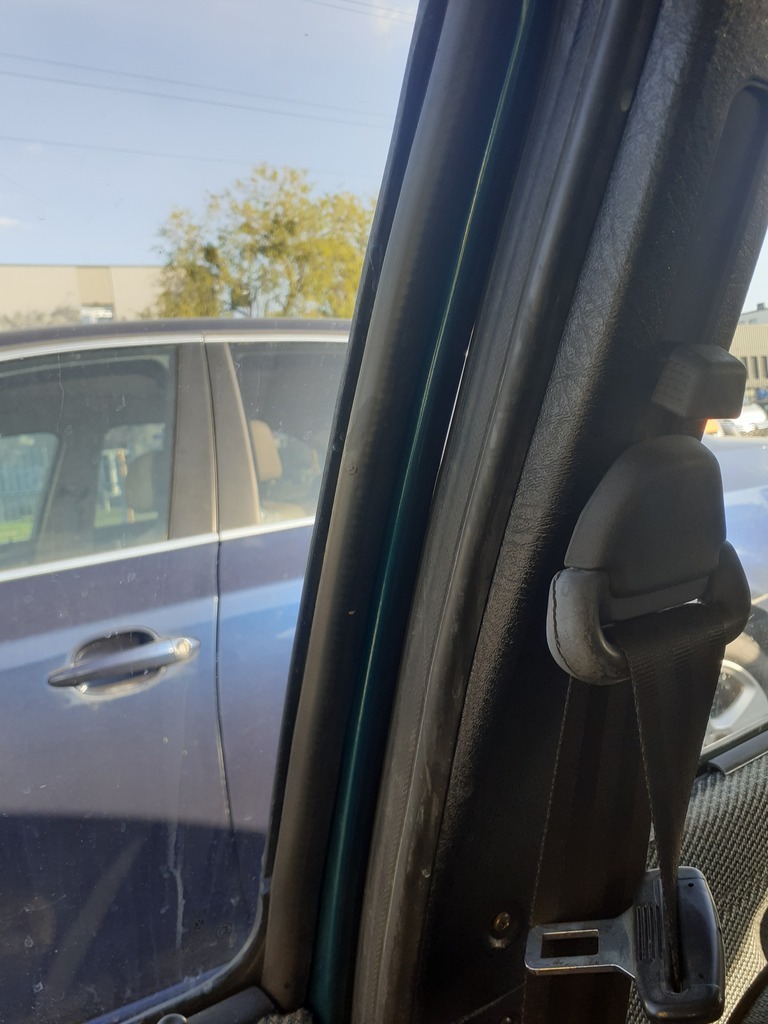 I figured out I have this issue just before parking my car for the winter last year, but I've been paralyzed about actually doing anything about it, mostly because... I don't really have a clear mental picture how this is repaired, or if it can be properly repaired at all. Would you please be kind enough to dumb it down for me and explain how (or if) it would be repaired?

Can it be sort of "pulled" back into place, or is the only possible way to replace the B-pillar (if either is possible at all)? If the B-pillar can be "pulled" back, how much of the car would have to be repainted again afterwards? And by far the most important question is - how difficult is it to get a B-pillar repair right, how much am I risking to end up with no improvement or even a worse situation after taking it to get it repaired? Is it possible to get all those millimeter gaps right again?
So basically, any information that could get me on track with this issue would be greatly appreciated...
P.S. Car is a 1991 VW Golf Mk2 4-door. Might sound like a cheap car that's not worth it, but I really like it and feel determined to try my best and keep it for at least as long as diesel is still available as a fuel
Thanks in advance!