I used to own a 2002 SLK 230 Kompressor - it was a little treat to myself that I got cheap through someone at work. It cost me £1200. I loved it. It was fun, fairly rapid, the roof came off, it was my first auto and it was a lovely colour. Like all R170 SLKs of that era, the front wings were a bit crispy. I wasn't sure how long it would last. The MOT was fine about it, but it was starting to look a little bit scruffy. It was a great car to drive but most definitely was not a keeper.
Said 230 in its usual pose - roof off.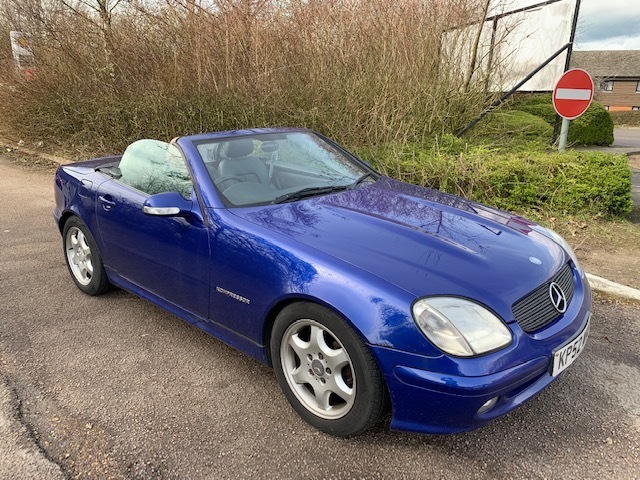 I had a few savings but I didn't really want to touch that. Mrs Bounce had long badgered me to do the PPI thing and although I thought I wasn't eligible, being a typical bloke I chucked my application in at the last possible date then promptly forgot about it. Fast forward 10 months to June 2020, and I got 3 letters, all in similar envelopes which I didn't recognise. They were from Natwest Bank. The first one I opened was a cheque for just over £60. "Better than a kick up the butt!", I thought. The second was for £232. Nice. I then opened the 3rd letter and had to sit down. I now had more than enough to buy a new car, tax and insure it and still have extra cash in the bank. The reason the amount refunded to me was so big was not the size of the loan I'd had (which wasn't that big), but the fact it was over 15 years ago, so the interest payments were more than the refund itself. Lovely.
I knew exactly what I wanted: An R171 SLK in Benetoite Blue (darkish blue with a green tint) with a lighter coloured interior. And "Airscarf". I had 3 choices on engine size: 1.8 Supercharged (bulletproof, but not the quickest), 3 litre V6 or 3.5 V6 (both potentially high tax, and depending on mileage, could have a very expensive issue lurking). The V6 cars were quickly crossed off the list due to most being out of my price range by about £1k and I didn't want a dog. So I settled on looking for a 200 Kompressor. I started with Auto Trader and put a search in for a 200 Kompressor with less than 80k miles in my price range. I got 142 hits. One thing I don't like are silver cars, and I didn't want black either as my old VW Bora was black. So I took black and silver out of the search field. I was left with 5 cars, none of which fitted the bill. Typical! However, I also used ebay, Gumtree and Faceache. I found 2 that fitted the bill on Facebook. One was a private sale in Basildon (about 60 miles away) whilst the other was at a dealer in Wellingborough, almost twice the distance away. So I emailed the dealer first. It was the spec I wanted, the colour I wanted, was low enough mileage (72k), 2 owners, FSH and looked clean. He also said he'd gladly take my old car in part-ex.
So one Saturday after the first lockdown, my friend Shaun and I went on a road trip to Wellingborough. The car was immaculate for its age with only minor blemishes as you'd expect from a car that age. The tyres weren't brilliant but I always budget for a full set anyway "just in case". The dealer was extremely pleasant, easy to talk to and about as honest as a car dealer gets. I was probably his first customer in about 3 months! We were able to reach a mutually acceptable deal where I drove off with a gorgeous SLK and left a scruffy one there.
I christened the car "Helga" - this is her just after getting home. I forgot to put a hat or sun cream on and burnt my bald head...