I've got a RR thread going on where I work through all my terrible decisions and broken sort-of-retro-a-little-desirable-but-not-much chode over here:https://forum.retro-rides.org/thread/216257/paul-misadventures-out
My new ride, however, felt like it deserved something better...so here I am to showcase the new wheels.
A little context...
I've been a fan of Americana for some time, having spent many holidays there, some with family in the US and even got married in California. The straight roads and the big, lazy V8 land yachts and pickup trucks have always held a fascination. I'd even flirted with buying a pickup truck of my own recently - I narrowly missed out on a 5.7 V8 Stepside Chevy Silverado a few months ago. However pickup trucks are by definition highly utilitarian on the inside. Big and brash, but generally without creature comforts. I'd settled on a sweet spot of 80s into the early 90s. Any older was likely to be unreliable and parts even harder to source...younger and it would hold little interest to myself or the retro interested among us.
Lazily browsing FB marketplace and the assorted American car groups I came across a recent advert for this car. A few pictures taken on a potato, very few details, being sold for a 'friend'...I was intrigued.
Further investigation revealed that it was being sold by James, a retired US Army veteran who had previously been stationed at RAF Alconbury, near Cambridge. My interest continued, and I raced up there straight after work last Friday.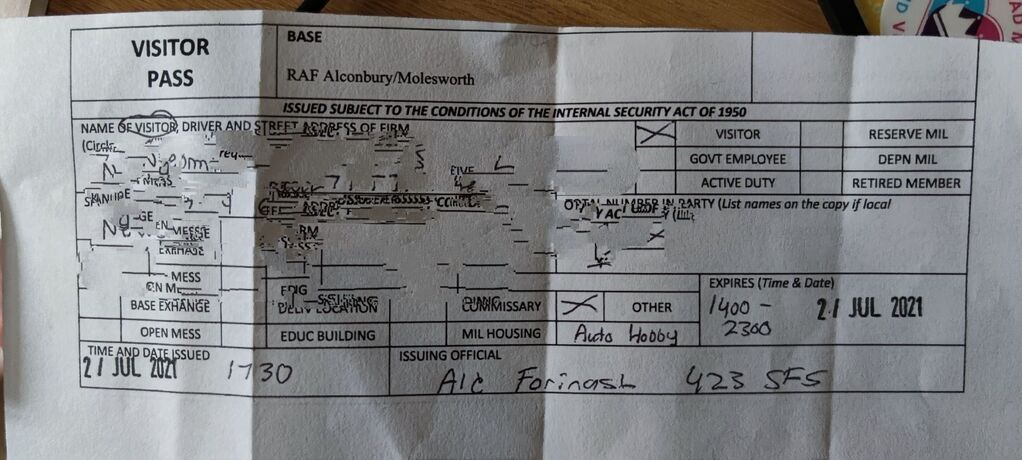 As it happened James, 72 but could easily pass for 20 years younger, has a car problem like the rest of us. Once he had me signed in through security we toured the base (it used to be an active airforce base, but the runway and associated buildings have all gone - it's now a 'support' base) and he pointed out a wide range of cars that belonged to him - a Saab, a couple of Hondas, a very tasty looking Chevy Suburban. He even has a container with all his spares stored.
We rounded a corner to the living area and there she was, sitting pretty.
A deal was done quickly - it gave me what
hairymel
would call the 'tingle' right away, and as we lazily lolled around the base I knew I had to have her.
Head full of thoughts on how I was going to hide this 18 foot long behemoth from my wife, I headed for home down the M11 to ponder.
Which leads us to part 2...