I should have started this a while ago, but I've been busy doing, planning and day-jobbing...
Background:
(feel free to skip)
Family MLT have a holiday fund which we put a little aside every month into. Last year, we went on a cheap road trip to family second home in France (very fortunate) and camped half way with the in-laws who have a motor home. MLT Jr and MLT Jr
2
also enjoy a day trip in said camper; lunch on Ashdown Forest, Wittering beach, etc etc.
Following our trip last year Mrs. MLT decreed that a camper van could be a good idea and we could use the holiday fund seeing as we didn't take one. We had many discussions over what we wanted, what we'd use it for etc. We decided a full blown motorhome would just be too cumbersome for our first foray, we would primarily be using said vehicle for beach car park shelter, cup of tea, lunch and any longer camping trips would be supplemented with a tent.
It should also fit on our drive, which is 6m long.
This decision pretty much coincided with everyone wanting to buy one and the price of converted vans has skyrocketed, so paying £5-6k for a ropey old transit with some hodge-podged plywood cupboards felt wrong. Also, the number of conversions that won't accommodate 4 belted seats is incredible.
I managed to talk the missus into American day vans as candidates, partly cos they're equipped more like a car to start with. Idea being that we could remove the rear seats and create something a bit more to our liking, without the bother of lining the whole thing.
I put out a few feelers to people I know who have experience of American vehicles and it seemed to be a goer, then a well known Welsh RR'r piped up with "why don't you buy mine?"
Cue a bunch of photos of an Astro that's sat parked up in a yard for 2 years - IDEAL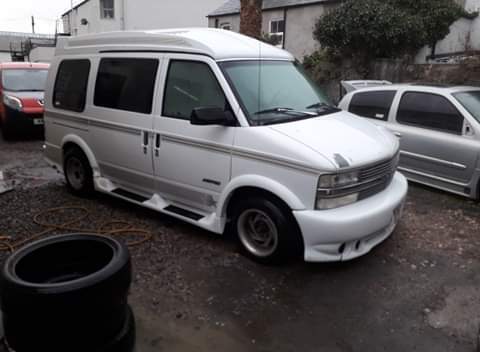 (that's it AFTER a clean btw)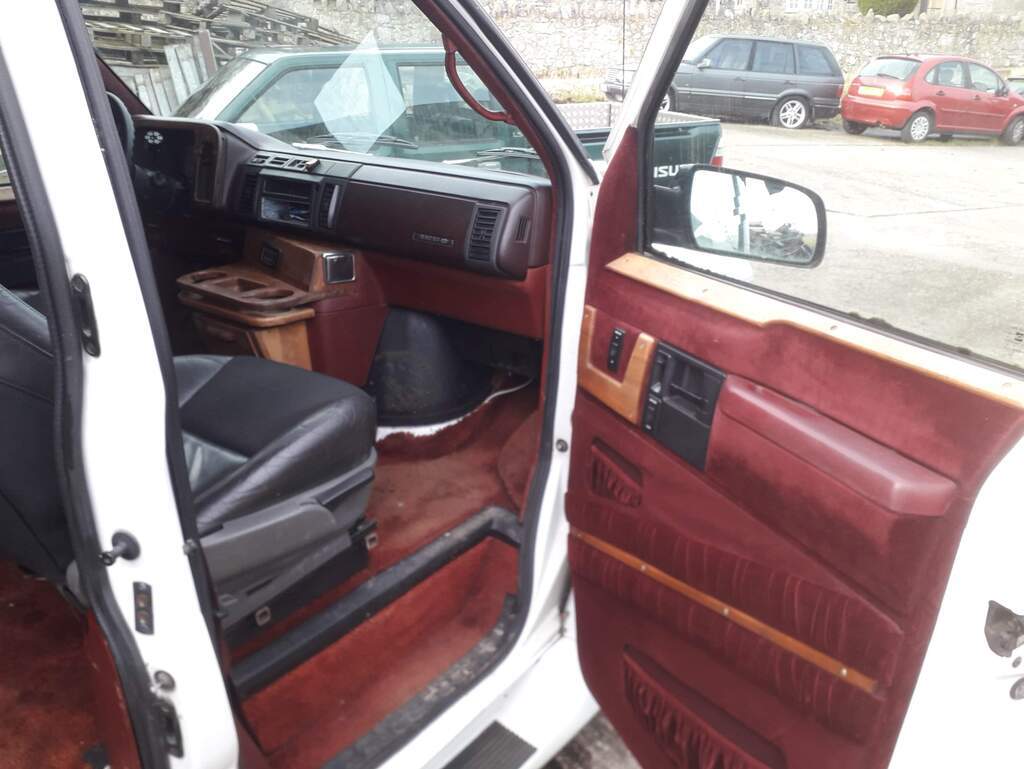 RED!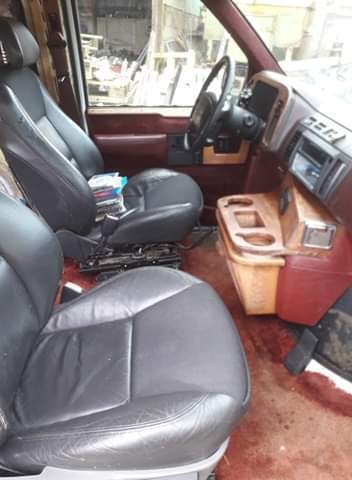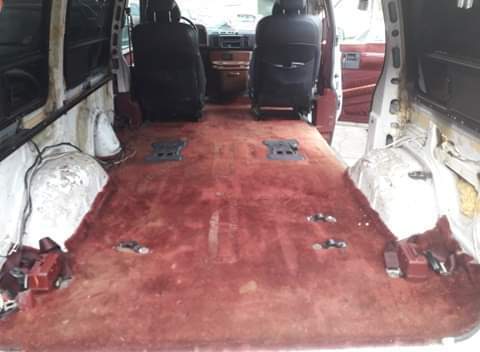 Oh yeah, it's been stripped out in the back...
hmm, ok, well we were going to strip it out anyway... Lining it can't be that hard right?
We struck a deal and just had to wait for an opportune time to get a van from North Wales to the other side of Gatwick!!
In the meantime a LOT of planning went on.
I wanted the most versatile van possible; I didn't want the kids sitting right at the back as per the usual rock and roll beds.
I wanted front swivel seats as the Astro is smaller than the bigger vans and we'd need the front seats for lounging/eating.
It needed to sleep 2 adults and 2 small people, not necessarily in utmost comfort, but occasionally at the very least.
So I sourced a pair of Ford Galaxy front seats with swivel and a Mazda Bongo bench seat with rails. I managed to find these in similar grey velour, close enough to not be a problem anyway. The Bongo seats slide into a LOT of different positions and can fold both in half forwards and virtually flat backwards. Idea being we have 3 configurations:
Driving - bench seat close to front seats, like a conventional car. Food/games/toys can be passed backwards
Eating/Chilling - Bench seat slid backwards, front seats swivelled, table in between (or not)
Sleeping - as per eating, but with seat folded flat under the rear bed
Current plan for the rear bed is a platform at a height the bench can slide mostly under. This will be a box across the back of the van that can be extended forward, with a blow up mattress (probably a foamy one). I'm considering a removable platform to maximise vehicle usefulness. Under the box, accessible from the rear doors will be storage boxes for camping things.
Current plan is to sleep across the van, although this remains to be seen, I'm 5'11" and it's going to be tight. Mrs. MLT has stated she wants some standing/changing room, hence this direction.
The boys will either sleep one on the base of the bench (he tends to climb in with us anyway, just pre-empting) and the other in a bunk arrangement on/above the rear-facing front seats. Jr
2
sleeps like the dead so he'll get that one. The alternative is a bunk beds arrangement over the front seats, but we'll see.
Trial fit of Galaxy front seat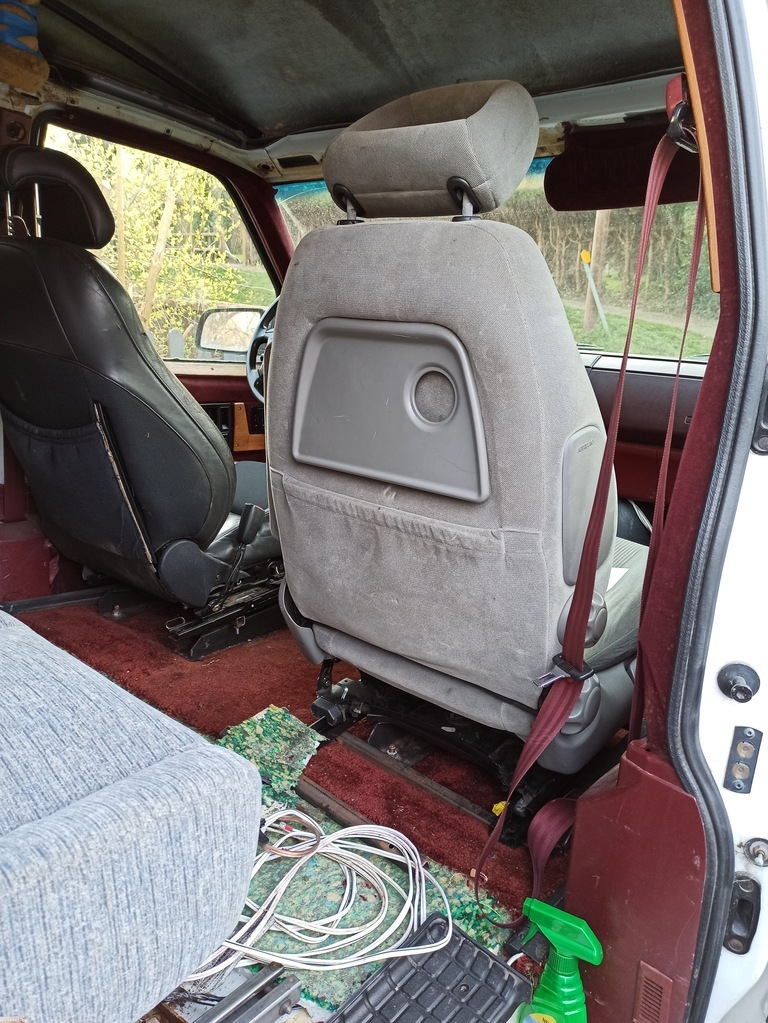 These are now fully fitted with some nice 1/4" plate adaptors and new hardware. New seatbelts required as 1 didn't come out and the other didn't catch when tugged.
Bongo seat going in
In the air fitting a silencer - straight through 3" was a bit much...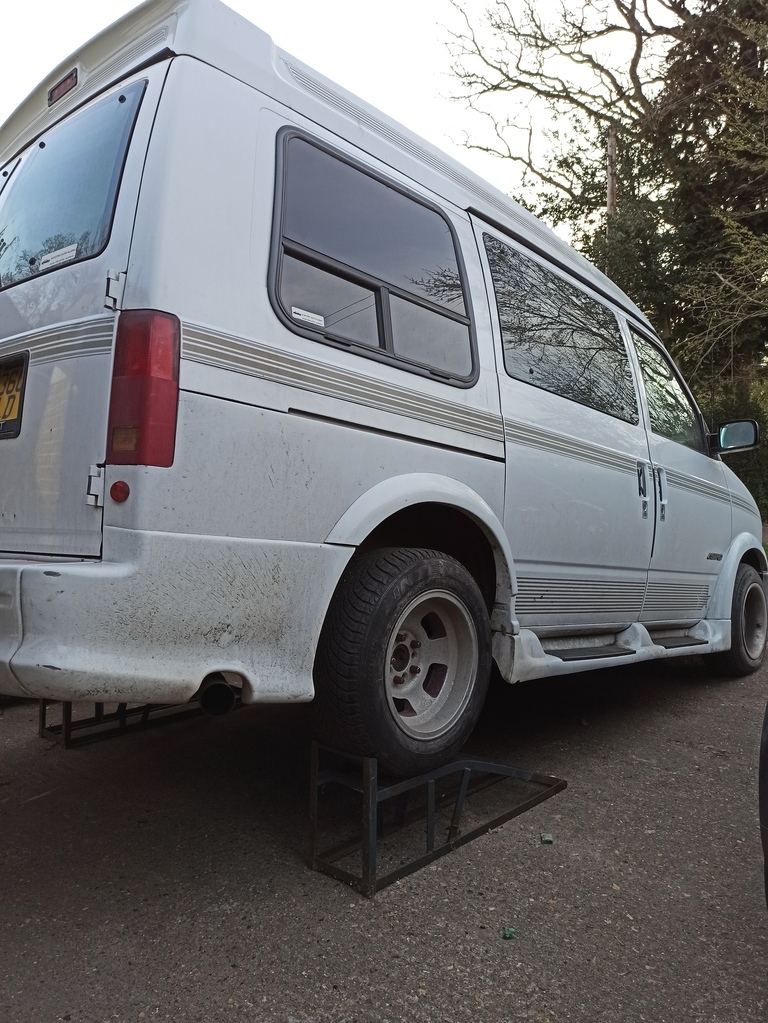 I also spent an entire day on my back checking where the seat rails can go and miss things like the frame rails and fuel tank.
I had a right old palaver coming off the ramp - she's a big girl with a jazzy skirt that doesn't agree with my current driveway ramp - the driveway is getting sorted.
Matching set of wheels whose tyres don't go flat fitted. Slightly less rad than the MEGADISHU ones, but I couldn't find a 4th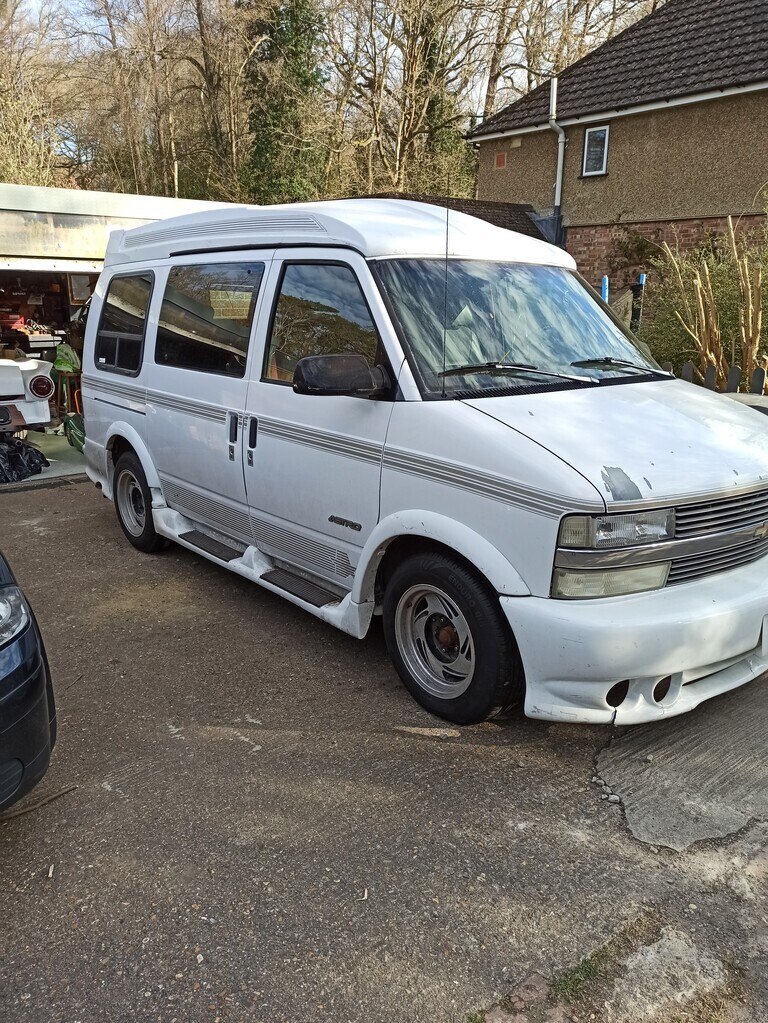 Styling wise, I don't really like the kit, this is much more up my street: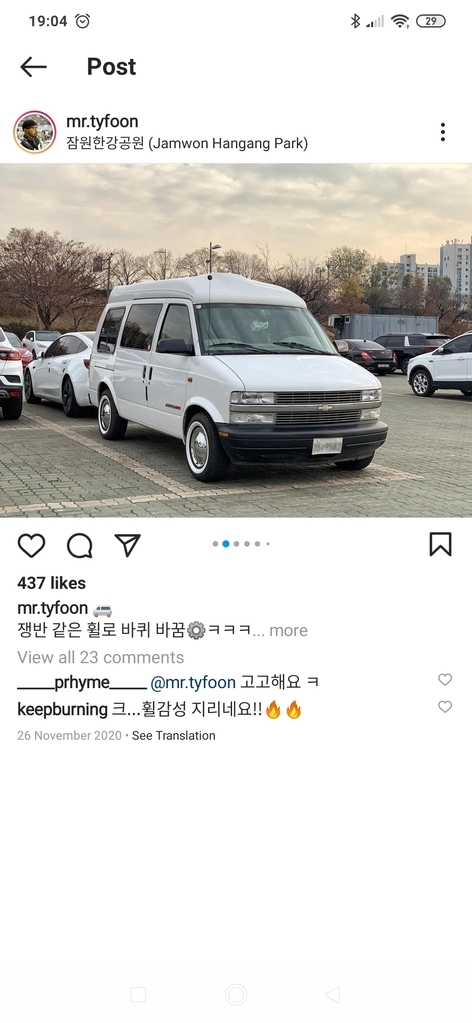 However, Mrs. MLT has decreed that the steps are required for little legs, so until I accidentally smash it off on the aforementioned driveway ramp, it's staying.
We are going to embrace the 90s and go for white, with stripes and probably some more colour coding. I'd love to lower it, but driveway. Also the rear needs a flip kit and the budget is firmly in the "what's needed for camping" zone, rather than "make it badass"
Today's little job was sticking down some baton to board the rear. It's getting some 20mm celotex equivalent under 12mm ply and vinyl, which should be flush with the top of the rails, if I've done my sums right. Mrs. MLT specced vinyl to sweep out sand. Oh yeah, the carpet came out too, it was smelly, dirty and a little wet in one spot - possibly due to a window leak, or condensation - TBD
So in short, I've bought an American van to do a complete conversion on. Before we go camping at the end of May!! No pressure then!
This is why the Fairlane has stalled...