I've been a bit radio silent on my other threads lately, but I've not been sitting idle.
The story starts way back in about 1998/9. I'd been racing my mk1 Escort with the Hot Rod boys from Hednesford at Pembrey Circuit for a couple of years, but it suddenly all came to an end. Having been bitten by the racing bug I bought an old Mk2 Escort class 2 Autograss car. I raced this for a couple of seasons but the rules had changed allowing FWD cars into the class and they performed much better (not as much fun though) so I sold that and bought a mk1 Fiesta class2. I raced this and even made it to the 2001 Autograss Finals. I'd not built the car, but I had built the engine. My 15 mins of fame were let down by 2 things - the wiring and the driver. In the first race I was in 3rd place and kept it flat whilst blind through the dust (just like Days of Thunder) and smacked into the car infront rupturing it's fuel tank. I fitted a new tank in the pits but the wiring kept cutting the engine out so that was that. A rewire and the season was finished with my wife racing it and blowing up the engine.
Class 2 cars were only 1300cc standard cars and I know wanted more power. I toyed with putting a bigger engine in the Fiesta and entering class 6 (FWD anything goes) but decided the easiest route would be to build a car with a big engine as standard. The best standard engine at the time was the Vauxhall Red Top so I put an add in the Adtrader (remember that) and for £250 I was the proud owner of a standard mk2 Astra GTE 16V. This was sometime in 2002.
I don't have any photos of it from when I purchased it , or from when I was building it. From what I remember it wasn't in terrible condition. The rear arches were a bit frilly and the rear of the sills were also shot. The front toe boards were also shot, one had been badly repaired (I left it as is) and I welded a patch on the driver side. The interior was nice but I ripped it all out, sold the seats and dumped the rest. On ripping out the interior I noticed at some point it had had a roll cage fitted. The plates on the wheel arches, floors and inner sills were still there. I think there was bonnet pins on it too. I thought perhaps it had been in a one make race series or something. My brother said you'll regret doing this to this car one day. Oh how I laughed.
I paid a fellow racer to build a cage , I fitted a seat , made a new loom, cut out any metal not required including the rear chassis rails and inner panels, welded the diff, fitted carbs, a limiter set to 8000rpm and off I went.
Here it is in all its racing glory.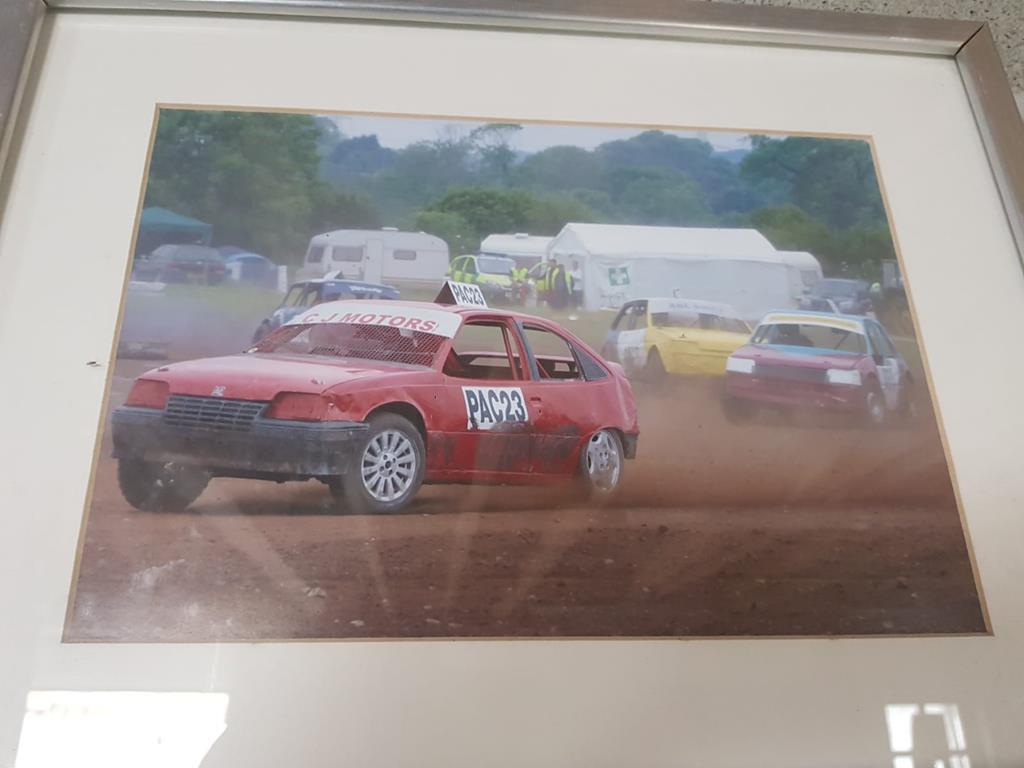 For what it was it went really well and could beat some expensive cars. It was bigger than all the other Class 6 cars which were generally Novas or Corsa with expensive Red top engines, but I think being bigger and only having 40's instead of 45's helped it come out of the corners better. Anyway, I raced it for a few years and fell out of love with Autograss so stopped racing it. It sat in the old garage with a leaky roof since about 2005.
Roll on about 7 years ago I bought another shell and a cage to put the engine from the grass car into to make a rally car. That never happened so a couple of years ago my nephew asked to buy them so I let them go. He then changed his mind when he found out the other shells bulkhead was rotten so I bought them back. Then last Autumn he wanted them back as long as he could build them at my house. I agreed. This is what we dragged out of the corner after all those years.