I walked into the office at South East Coachworks (hereafter called SEC).
"Hi, I'm James, I'm here to meet Ian from the Friends of Chatham Traction."
"He's in the garage, you can't miss him, he's really tall."
So I signed in and they took me through and introduced us.
I'm 6 foot or there abouts and Ian is notably taller than me. Allow me to introduce him to you all…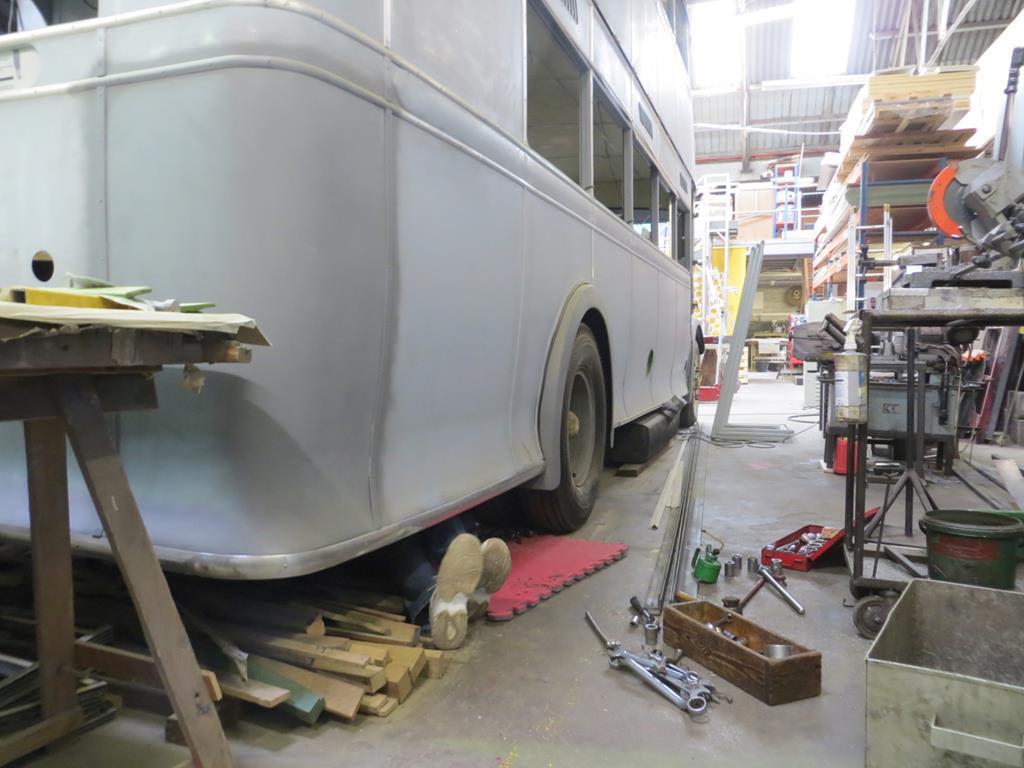 Well that's his feet. He's so tall he's actually working on the clutch at the front.
Before we move on I'd like to point out a couple of things in this photo.
Firstly, if you get involved with a vintage bus this seems to be a common, fairly unpleasant and extremely filthy position you'll spend a lot of time working in.
Now, look at the profile at the bottom of the sides. It's got that beautiful Coke bottle curve and flair at the bottom. Eastern Coach Works bodies of the period were more straight sided. The curve seems to be a feature of the Weymann body. You might not be able to see it but there is also a convex section running under the windows that ends on the last bay (the one without a window because that's where the stairs are.
Anyway, because of the curve in the bottom of the panels that corner panel isn't just a flat panel bent round the corner. I have no idea how they made it but it's really stunning. See, buses can be beautiful too.
Anyway, this is supposed to be a moan about spanners…
Ian said "Oh it's all Whitworth bolts by the way."
Fair enough. Part of my inheritance from my late farther was his old tool box mostly full of random imperial spanners. They've sat in the loft in the garage for years (I'm so posh I have a loft in the garage) but now they could be useful. Great. For a lot of reasons it seems appropriate to use his old tools again. Better sort them out and see what I've got.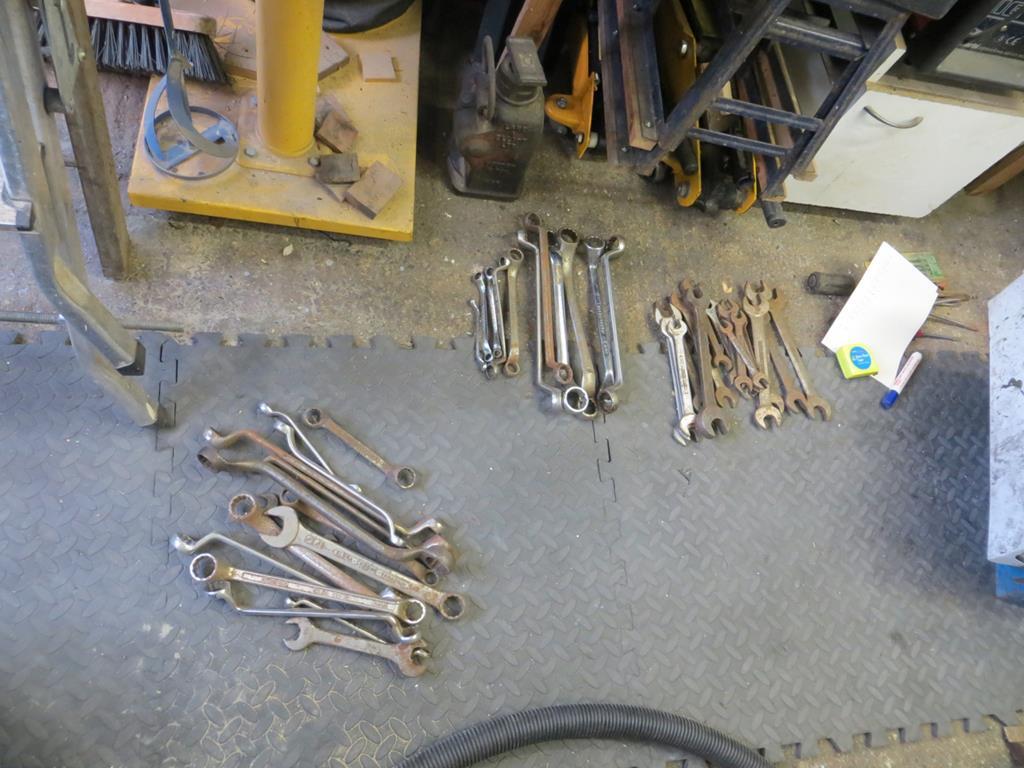 I should point out that I'm of that age where I learned metric at school but dad used imperial. So I'm in the happy position where I can use Meters and Centimetres or Feet and Inches. Or occasionally a perverse mixture of both - "3' 7" + about 4mm". It's one of the great joys of being however old I am.
What I've never practiced is fractions. So I know without thought that 16mm is bigger than 13mm but I have no innate sense of whether 3/16" is bigger or smaller than 1/4". I can work it out but I don't just know.
And then we have Mr Joseph Whitworth. Before about 1840 there were no standards for nuts and bolts. So while one manufacturers nut would fit his bolts God help you if you tried to put it on a bolt from somebody else.
Whitworth came up with the first national standard. Thread pitch, angles, even how big the nut would be for a particular diameter of shank. So spanners were marked with the diameter of the bolt shank because from that you'd know how big the nut was across the flats. It's in the standard. The man was undoubtedly brilliant and should be celebrated with an annual day off work.
However, my dear children, then it evidently went a bit wrong. Somebody decided that you didn't necessarily need a nut that big and started making them one size smaller. And then during WW2 the idea became almost standard apparently to save metal.
So some of dad's spanners are marked Whitworth (big nuts) and some are marked BS (small nuts). Some are marked with both. Sometimes they don't tell you what the markings are. Some are perversely marked AF (across the flats). Some are marked in imperial and mm for goodness sake! And one seems to be marked with something totally random 'cos it doesn't marry up with any of the above.
Damn it Janet! How's a man supposed to put together a set of spanners when you don't know what all the numbers mean… And I have no idea if any of them are 'bus sized'.