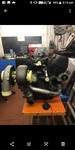 7
/
8
"...
Yeah my maths aren't great but I realised after I posted 2 2 inch pipes don't add up to 4 inch. So I'd end up running twin 3 inch pipes so not a great deal of help.
I have seen in the states oval tube. But it's expensive.. however if I only need a little short section to go under subframe it might be an option. Especially considering I've come this far with it now (if I'd have been staying standard management and sticking a chongy chingy turbo on I'd have stuck it through bonnet and dealt with the consequences..
I just make my own oval tube when needed, split along its length then weld flat sheet in to whatever width is needed. Time wise it doesn't cost anywhere near as much as buying the proper stuff.