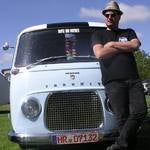 Guten Tag!
My mate is well again...!
He's back to work and soon some progress ahead overhere.
Meanwhile i removed the glas from the headlights...
The reflector is dull....so i will send them to a company to rechrome them.
Better than any repro-ones from Argentinia.....the will only light sideways!
And NOS headlight are dirty expensive and rare!
Recycle is the way to go!
Greet
Is the difference in price that much ?
I know nothing of these processes.