&nbsp
Hello all

I have been stalking the forum for a while now and decided to finally sign up

I am a big enthusiast of the old British invalid carriage, and I have spent the last year or so researching them heavily, I mainly focus on the Model 70 but I also research and gather info the other types
after a long search period I finally acquired an Invacar Model 70 for myself and this thread will be detailing my exploits with it and my general Invacar Rambling

before I jump into my own invacar ill first ill debunk a few myths and misnomers about invacars in general
the name "invacar" is actually the name of a company founded by bert greeves that was well known for building invalid vehicles, as such "invacar" became known a a colloquial term for all invalid vehicles, like how people refer to all vacuum cleaners as hoovers, however many different companies made invalid vehicles over time
"all invacars where banned from the road in 2003" No, invalid vehicles was never officially banned from the road, it just so happened that the government owned 99% of the invalid vehicles on the road at the time so when the government decided to withdraw and scrap them all in 2003-2004, it gave the impression they were banned from the road, but they never officially banned them
its like if a bus company decides to withdraw and scrap all of a certain type of bus they own, it does not suddenly mean that bus is now banned from the road
(the last Model 70 in government service was withdrawn on the 14th of October 2004 for those wondering)
"all Invacars where government owned" No, while most where government owned, if you wanted to you could buy an invalid vehicle privately, however as you could also lease one from the government for free, most people just did that, as such private invalid vehicles where very rare even when new
(and worth mentioning that the government only started supplying invalid carriages to disable people starting in 1948-1949, before that, all invalid carriages had to be bought by a disabled person themselves)
there where even about 50 Model 70's that where sold new privately but more on that later on in the post

"Invacars are banned from the motorway" this is only partly true, for the laws that govern what vehicles can and cannot be driven on the motorway, the ban only applies to invalid vehicles which weigh 254Kg or less, if an invalid vehicle weighs 254Kg or less its classed as an "invalid carriage", but if it weighs more then 254Kg then its not classed as an invalid carriage in this regard, and depending on other factors its either classed as a "Motor Cycle" or a "Motor Car" both of which are not banned from the motorway in any regard
Most full bodied Invalid vehicles like the Model 70 weigh more then 254Kg (the Model 70 weighs between 406-414Kg depending on year of manufacture)
as such they are not and where never banned from the motorway despite what most people think/say, and you can legally drive one on the motorway if you so chose to
"when returning an invacar to the road you have to register it as a tricycle right?" No, this is another common misconception, before the Historic tax class was a thing, you had to change the Tax class from "Disabled" to "Tricycle" however you did not and do not have to change the body type from "invalid vehicle" to "Tricycle"
these days you just have to change the Tax class from Disabled to Historic vehicle (unless you are actually disabled)
anyways with the "Q and As" out of the way

heres a brief overview of the Model 70 in general
the Model 70 was the final invalid vehicle design to be produced for the DHSS, it was in production from 1971 to 1978
the DHSS gave the contract to design the Model 70 to AC, (AC having gotten into the invalid vehicle business as a means of stable income for the company via government contracts a few years earlier) as an invalid vehicle to be the end all and be all of invalid vehicles, and be much better then previous invalid vehicles, all of which had could trace their origins to before the war and where quite crude and slow machines
the DHSS also contracted Invacar to build the Model 70, but Invacar had no input on the design of the Model 70
as such the Model 70 was quite the departure from previous invalid vehicles most of which had 197cc Villiers engines with 4 speed manual gearboxes (or an electric motor and batteries) and a basic back bone chassis
the Model 70 in comparison had a much more powerful 493cc Steyr puch Flat twin engine, driving a centrifugal clutch that then coupled into an AC Designed and made gearbox (AC supplied gearboxes to Invacar) for selecting reverse neutral or drive which then sent drive to a a Salsbury 795 CVT pulley transmission setup, which was fed back into the gearbox via a triplex chain then finally into a Fiat 500/126 diff and out to the rear wheels
with the drive line and body being mounted to a Strong welded steel chassis, with leading arm Parallelogram front suspension and independent semi trailing arm rear suspension, fitted with coil over spax shock absorbers all round
the body is of fibreglass construction, it takes the majority of its design from the earlier AC Acedes Mk14/15 (Model 67) (but as mentioned above, under the skin the Model 70 is light years ahead of the Model 67)
all in all allowing for a reported top speed of 82Mph!, while I have (Sadly!) not seen a confirmed 82Mph myself, however I have seen a couple different Model 70's hit 70Mph without issue

(compared to the 45Mph if you were lucky top speed the earlier villiers powered machines topped out at)
the Model 70 had 3 main control schemes, the most common being a handle bar type arrangement followed by either right or left handed tiller control and then Steering wheel control, every control scheme could feature foot or hand operated throttle/brake/parking brake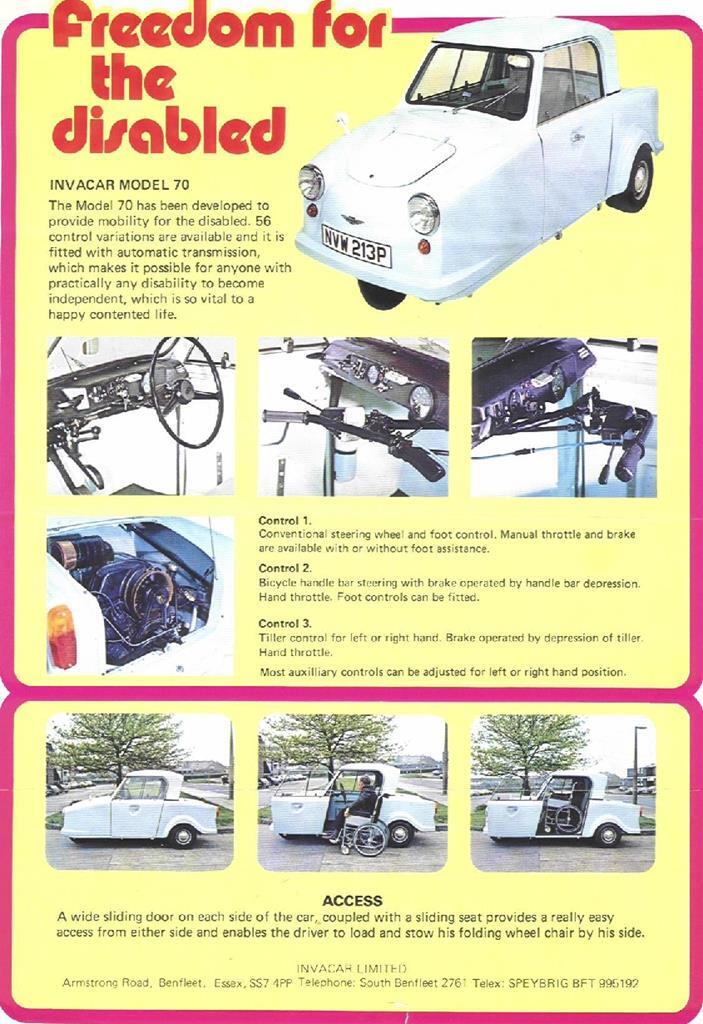 this is my Model 70, she is a 1976 Example and was one of the very few Model 70's that where sold privately when new and not to the government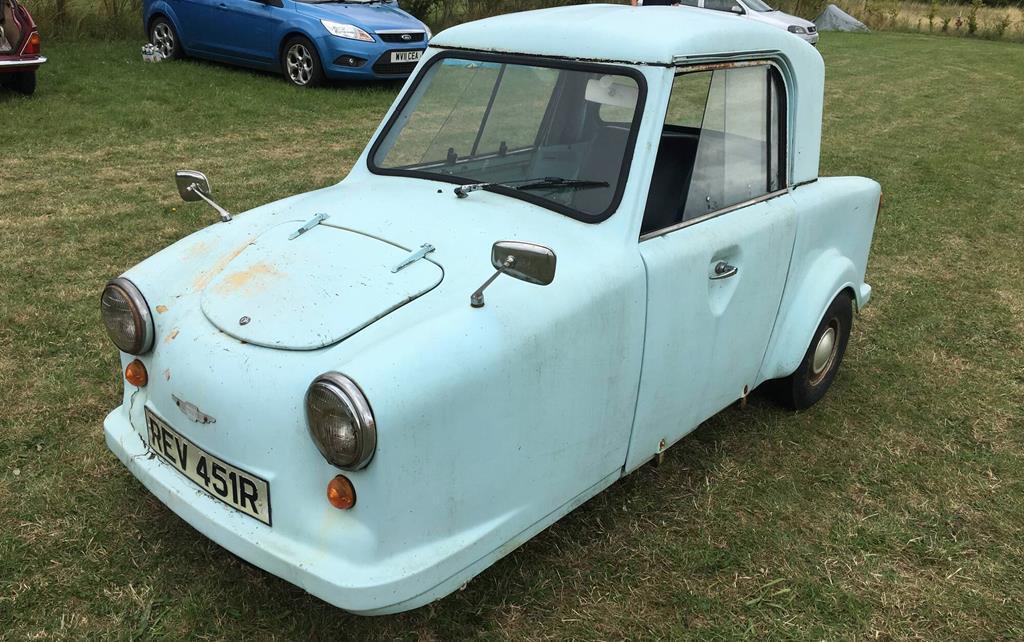 (Both Invacar and AC sold about 25 Mode 70's privately, for a total of about 50 private Model 70's between the 2 companies, compared to about 19 thousand Total Model 70's made for the government)
there are about 80 known surviving Model 70's with about 5 of those being private examples mine included
I did not set out to buy a private example specifically, but thats just what I ended up with

(finding a Model 70 is much harder then it sounds and I was just chasing all the leads I could get, and thats how I ended up with mine)
some of you might recognise the registration number, and indeed REV451R is the Model 70 they used in the Film Ali G in Da house, in this case it being a Private example not being owned by the government was how they where able to get an Invacar for the scene it featured in

her paintwork is a bit rough on one side, and there is a crack/hole in the front bumper, but otherwise her body work is intact and she is mechanically quite sound, hopefully she only needs minor work and then I can take her out on the road for the first time in many years, she does move under her own power quite well, and I have already clocked up 10 miles just running around a small section of field off road

(she was last on the road for the movie role so about 2002-2003ish)
heres a few more pictures of her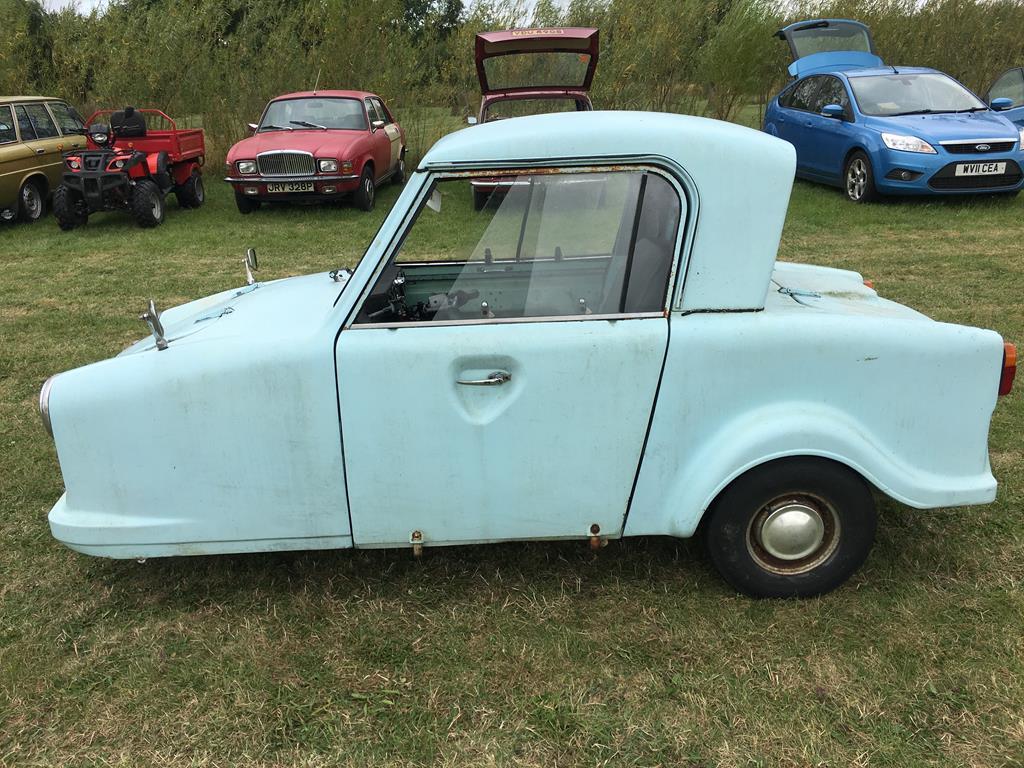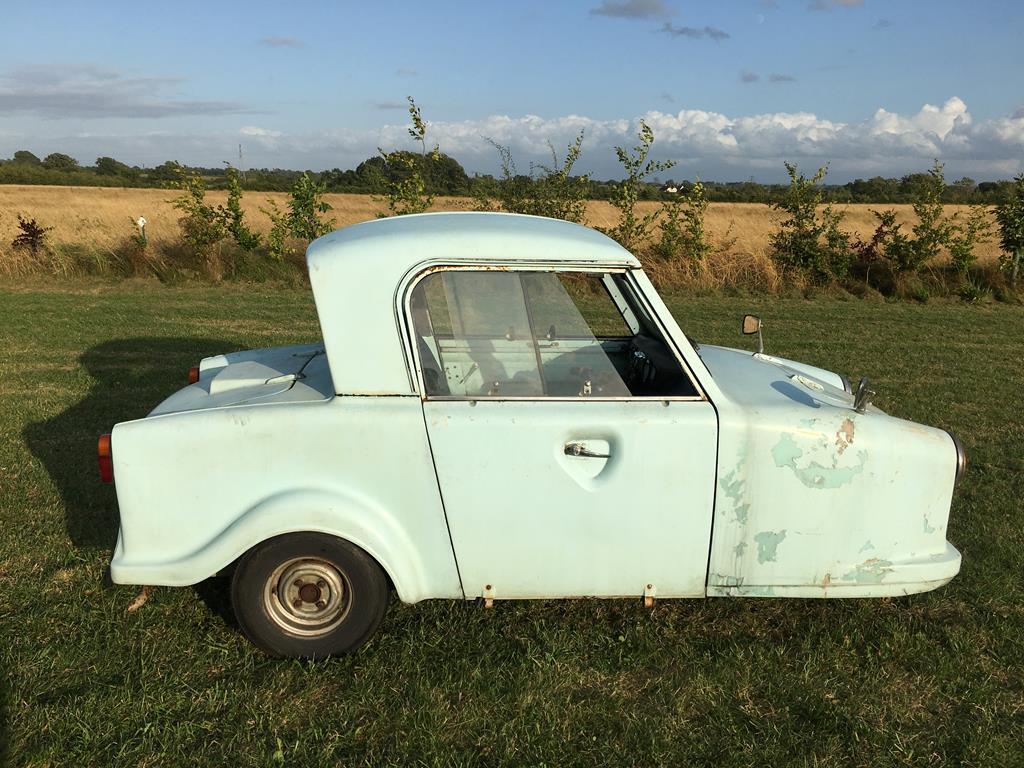 she has a fairly normal for a Model 70, Bicycle control scheme layout with a right hand throttle, the clock was added by her second owner, Dennis webb who was Married to Marion webb, who was the user of the last Model 70 in Government service (TJN352R which is now in Coventry motor museum)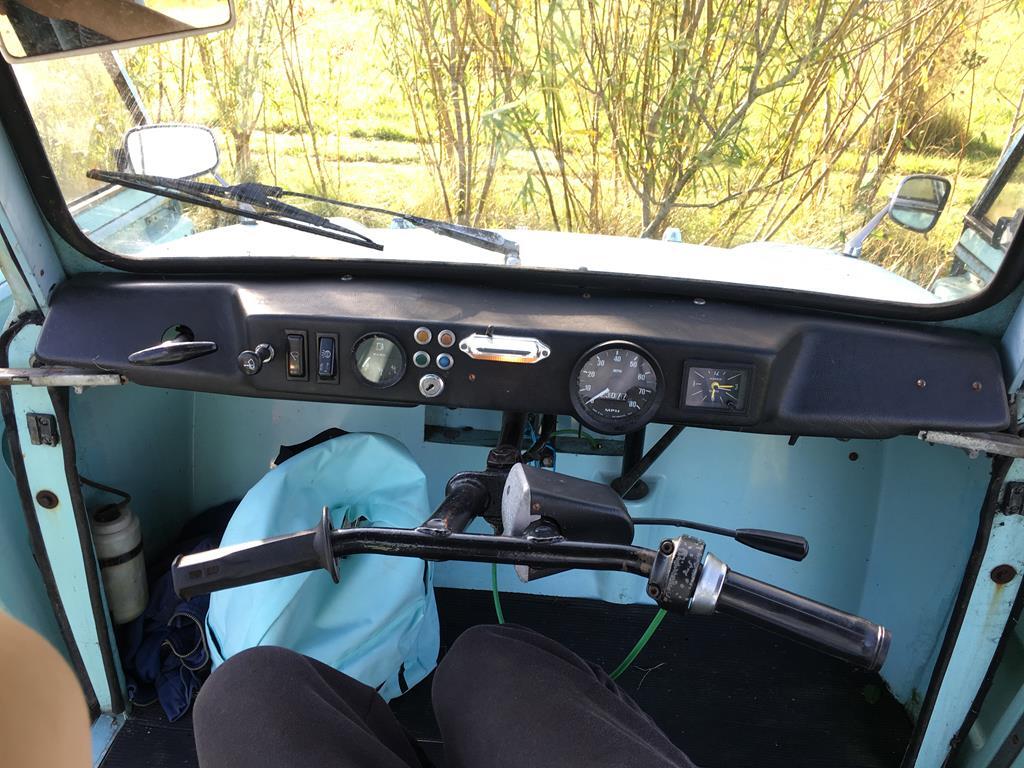 heres an engine bay shot

(that very crusty air filter was replaced after the photo was taken)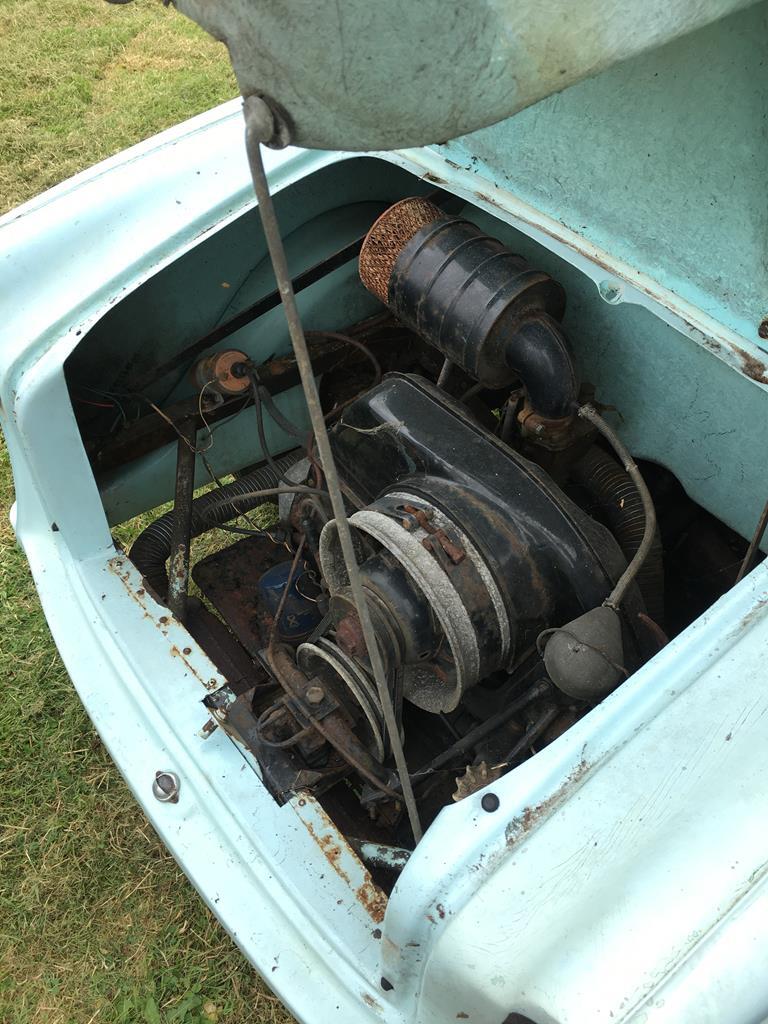 and a shot of the CVT pulleys
so yeah this is my Invacar

to add to the fun of it all, its also my first car full stop! so its going to be a fun learning experience in regards to cars in general!
I hope you enjoyed this (almost) first post of mine on this forum and if you have any questions etc about Invalid vehicles or my invacar specifically feel free to post them and Ill answer them to the best of my abilities

and if you have any pictures of invalid vehicles yourself feel free to post them, especially if they are of a Model 70 with its reg number in shot