Well, what can I say? All shows should be like this, really. Perfect mix and a guarantee that even getting there will make sure the day is an adventure and truly memorable. The move from the old venue at Prescott Hill near Cheltenham to Shelsley Walsh near Worcester spelled a long old trek; I live a few hundred yards from the English Channel so everywhere's a long way away anyway, but on this occasion I think France was nearer than the Gathering. So, this meant my 400-mile-plus roundtrip began at four thirty with the death knell of the alarm. In fairness, this was actually a lie-in compared to the start times I get at work, so it wasn't all bad news. Leaving at five meant I could pick up Madame le Jo hanging around in a car park just off the M25 (true dat, but she's not normally that kinda girl, honest) and still get up to the Oxford Services on the M40 for our agreed meet-up with the other RX-7FB and MazdaRE.eu crew.
...or as it turned up, not. Dave missed the junction and decided to keep going and James turned the start of the trip into a Red Arrows style manouvre by conking out on the hard shoulder (becos rotary) and leaving MR TOOL and I to get lost navigating the most complicated motorway junction this side of M6 J6... just in time for James to get going again and pass us back on the main motorway.
*sigh* having all met up again at Warwick services, we carried on round the mercifully quiet M42, down onto the M5 and into rural Worcestershire. James then proceeded to try to run out of petrol, despite having stopped at at least two filling stations already that morning in our company. Becos rotary...
And then, finally, we hit THE QUEUE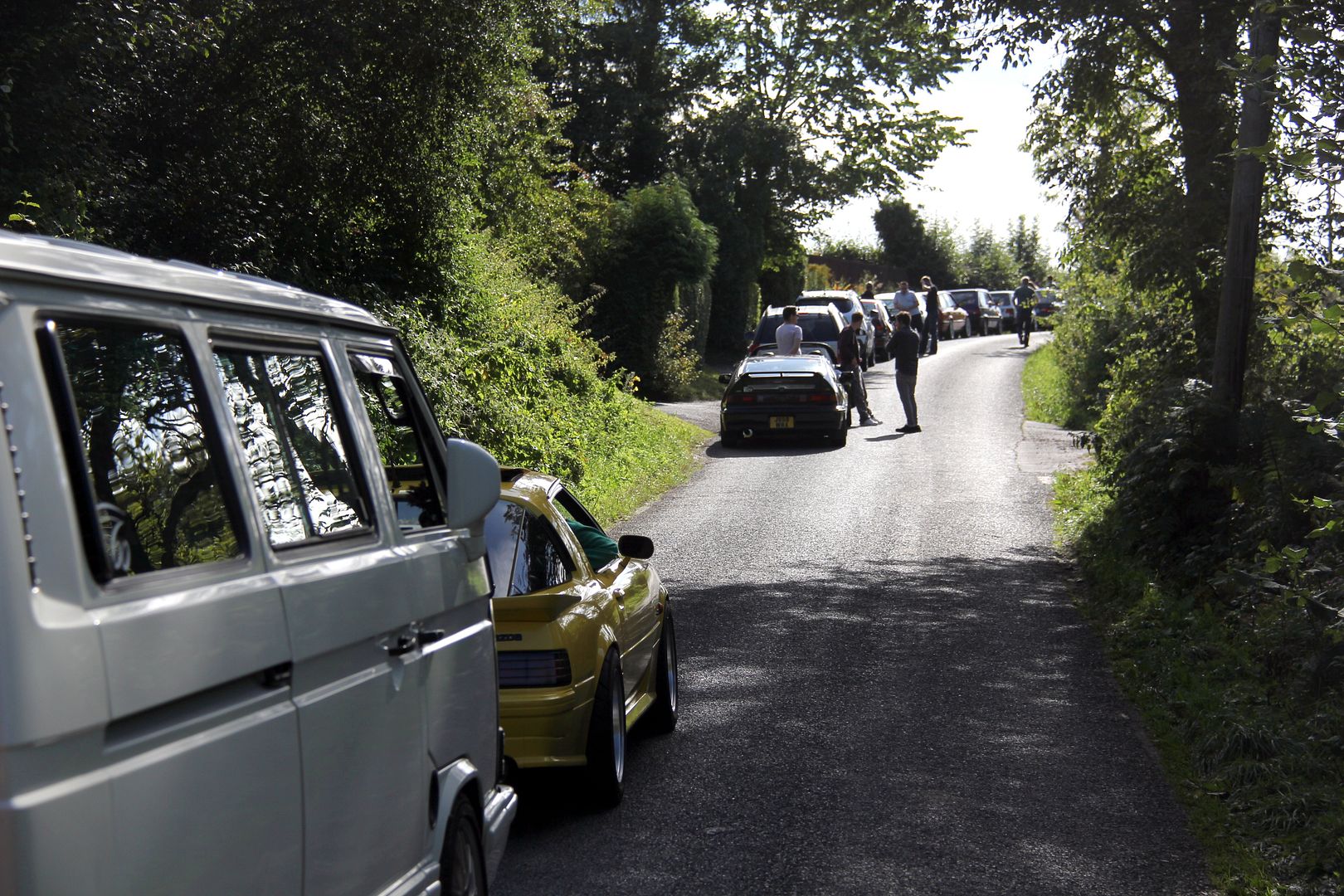 What a thing of beauty it was; the Great British national sports of queuing and tutting all rolled into one magnificent ribbon of winding high-octane niche vehicles. By now about four hours into a three hour journey, we had no option but to join in the British National Sports and hope to score extra points by adding some quality moaning about curse word phone reception. James went the extra mile by throwing in the Queuing equivalent of a double pike and somersault by alternating foraging for blackberries in the petrol-fume-drenched hedgerows and crawling under the car to hit the fuel pump with a spanner to get it working again (Becos rotary). That's right, he hadn't run out of fuel, he'd just run out of fuel pump. Typical of these Kiwis, come over here and thrash us at our national sport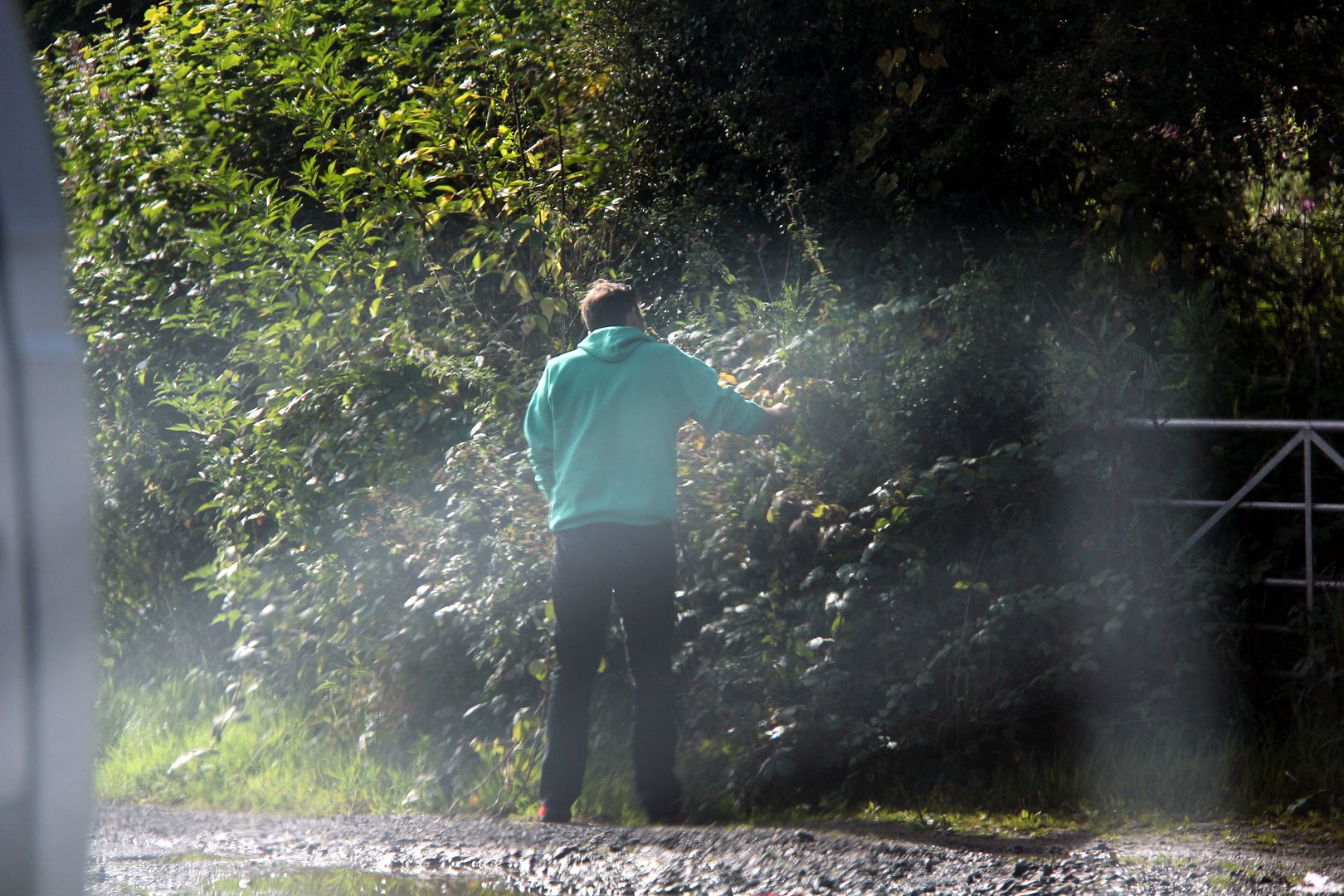 Still, at least it was an undeniably picturesque neck of the woods to spend quality time in. And hey, I've been to Legoland this year (well, I took the kids as a cover story for my being there) so queues no longer hold any terror for me... BUT, I was in the FD because the FB was still being fixed, becos... ahhh, you get the idea... and the feeble calculator battery was struggling more and more with every engine start. If I left it running in deafened everyone nearby and filled the air with very expensive and eye-wateringly unpleasant V-Power fumes, not to mention steadily rendered me sterile through heat exposure. If I turned it off, it then sulked and threatened not to start again. Becos... yeah, you've got it... To CROWN her achievements in waging war against my good humour, she decided to start gawping oil out as often as possible, leaving an embarrassing shiny trail up the road like a King's Cross pro with no legs.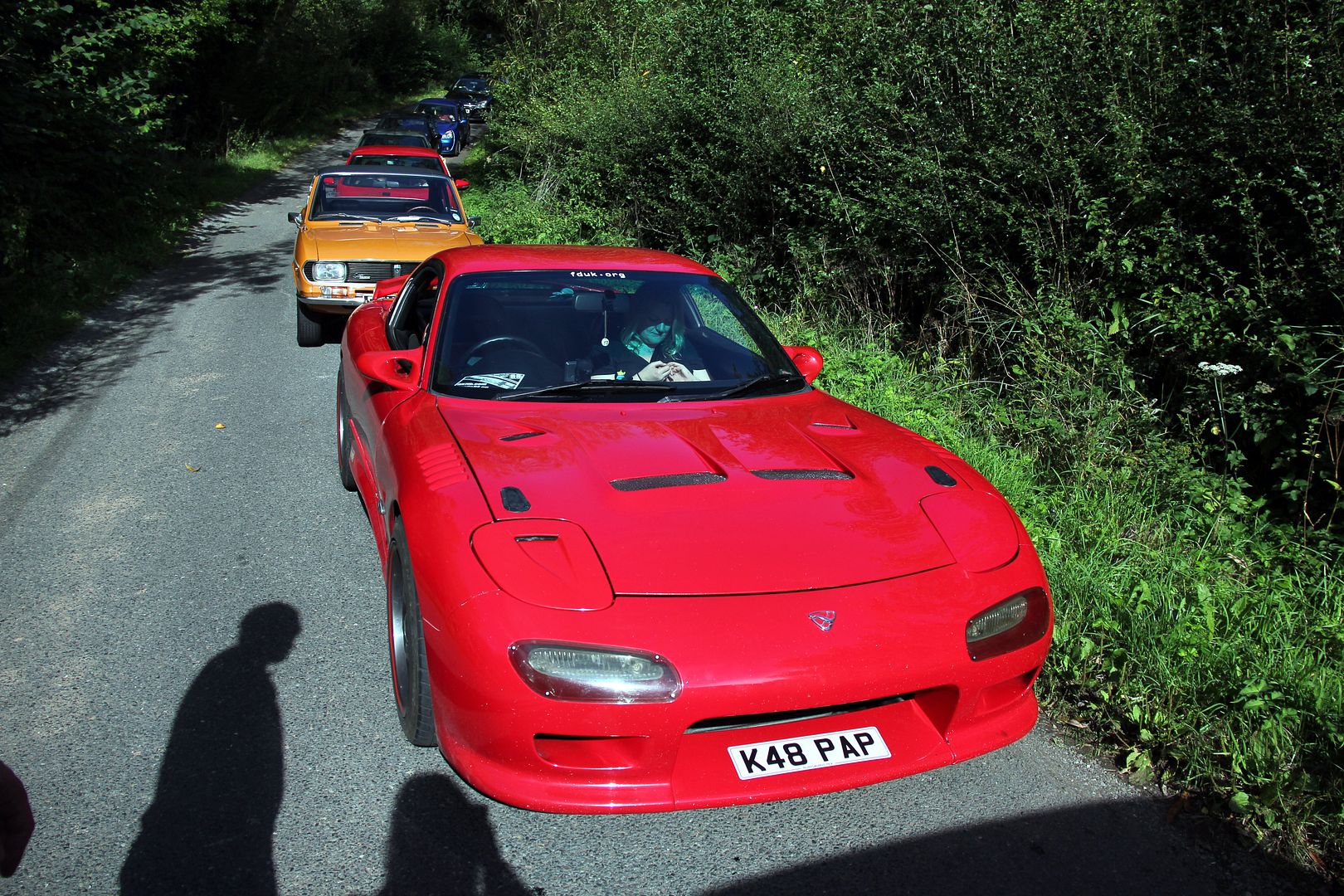 Anyway, five hours into a three-hour trip we got to the entrance. And the irritations and trials of the morning so far immediately and seamlessly became a backstory of adventure and derring-do en route to one of the best shows in the country. As we all know, life's a journey not a destination and all the best events need a story to bracket them. When even arriving is an achievement, you know you're in for a good day
So, having got in we found the Rotang stand, handily located right near the entrance, thus enabling us to scoot under the barriers there. This enraged the marshal on the gate but did save yet more love-spud-boiling queue antics. Anyway, once on the stand I could get on with the act of letting down the greatest collection of First Generation RX-7s by...errrr... not actually bringing one. Normally I'm fairly proud of my FD...no, that's not strictly true. Normally I'm slightly proud...no...ummm... normally I'm a bit tolerant of my FD but on this occasion I had to be a little embarrassed of my plastic vulgar modern car. So we might as well get it over with, if only because of all the Gathering photo threads on the whole of Retro Rides there isn't a single photo of it. *sniff*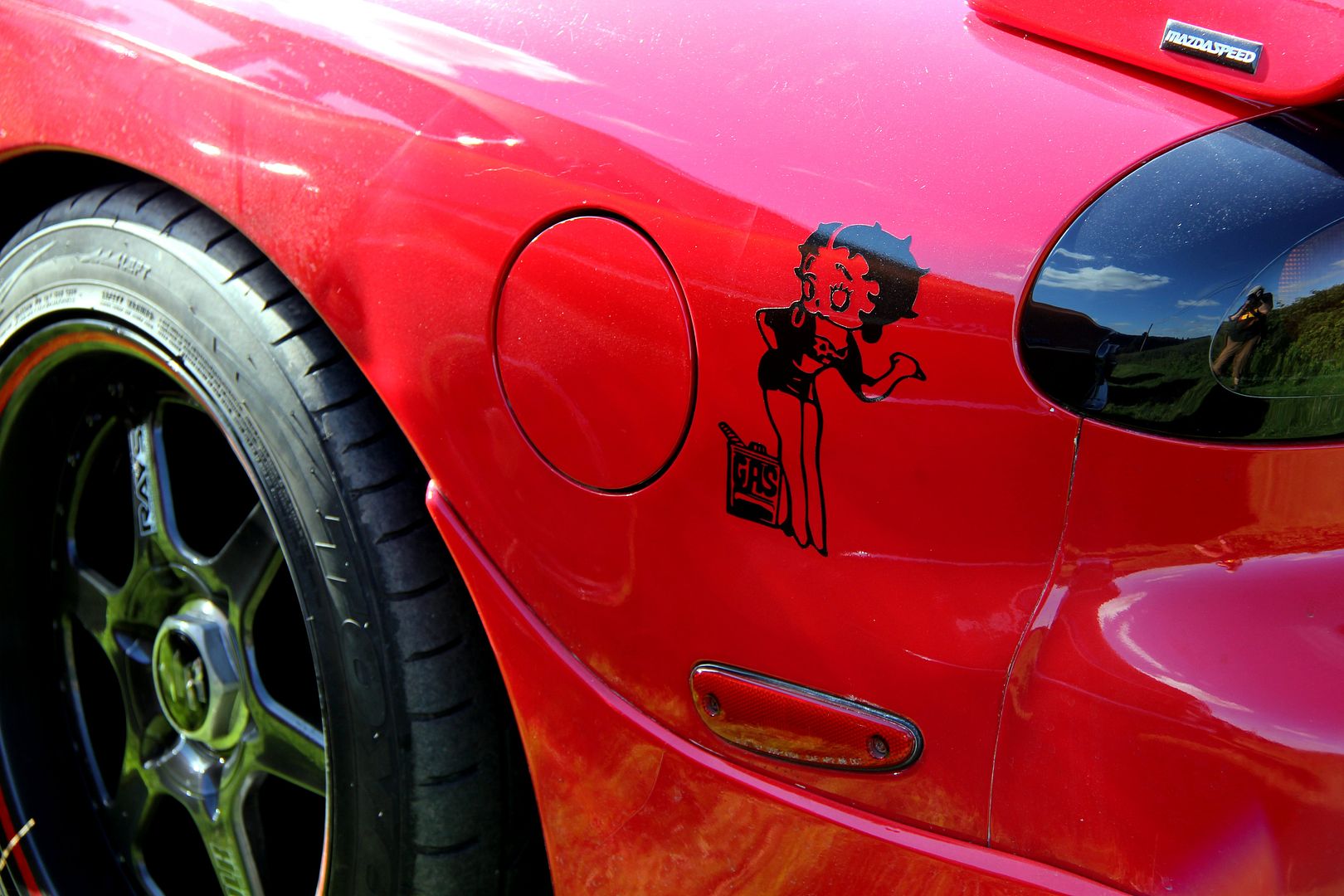 New sticker. Seems appropriate, especially given it cost me about £100 in gas for the day!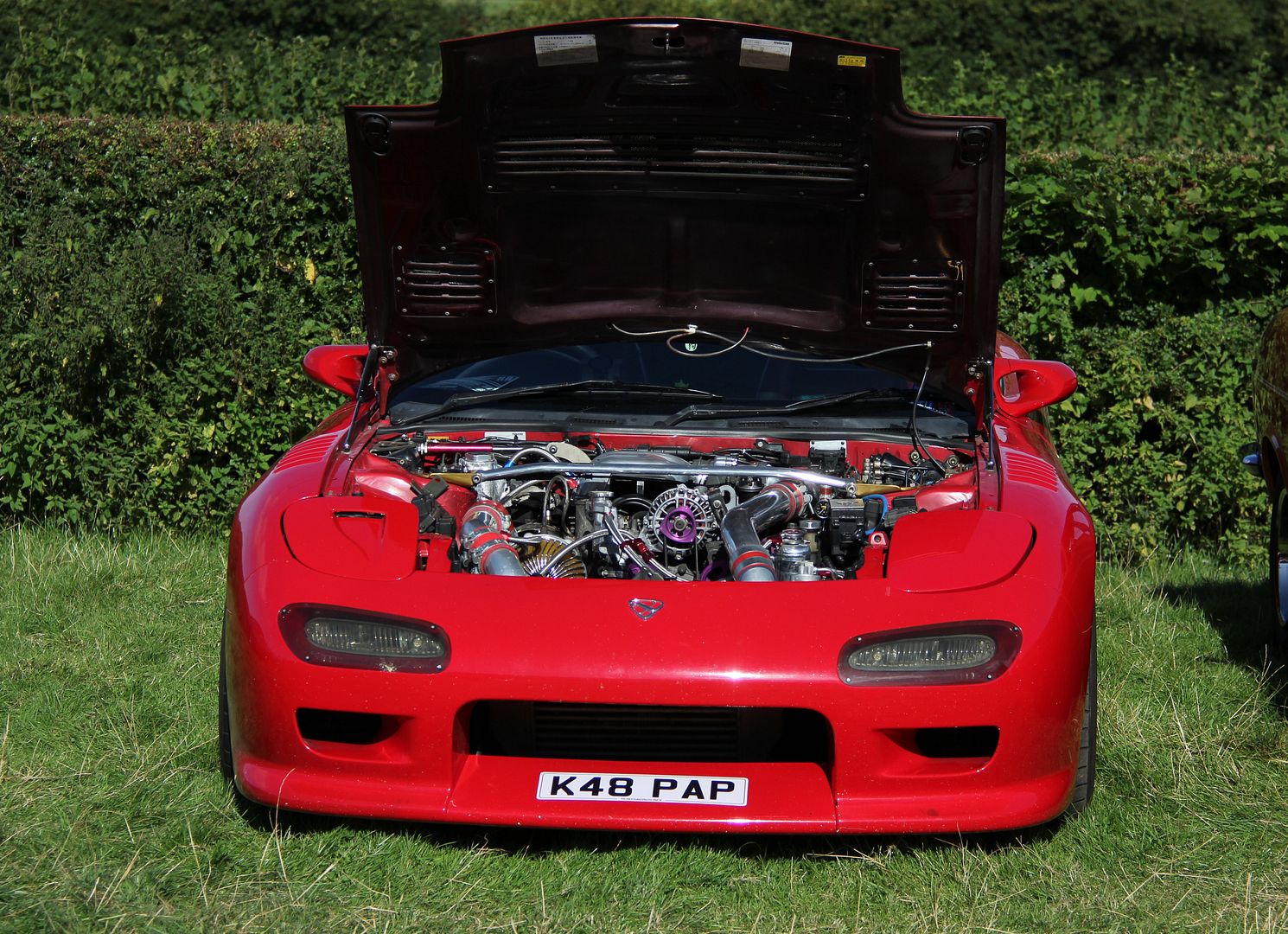 Right, that's mine over with. Now down to the proper business of representing the rotary Gods...
See? even my bonnet opens the wrong bloody way and spoils the lineup. So ashamed...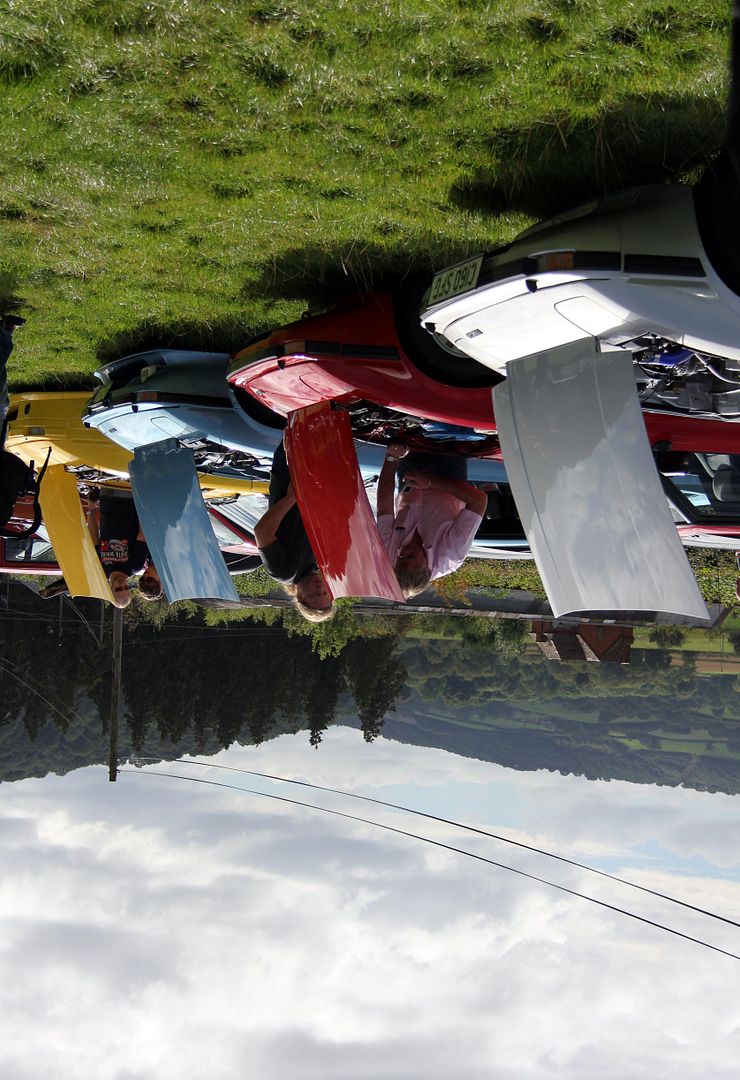 Ian's path to getting this gorgeous Elford Turbo on the road has hardly been smooth; getting to the point of the finishing touches of the previous car only to find the rot in the A-pillars was so bad it pretty much wrote the car off is a patience-tester hopefully most of us will avoid! Still, it's now finished to his usual impeccable standard and provides a fascinating twist on the Elford setup by deleting the Blue Box of God and neatening everything up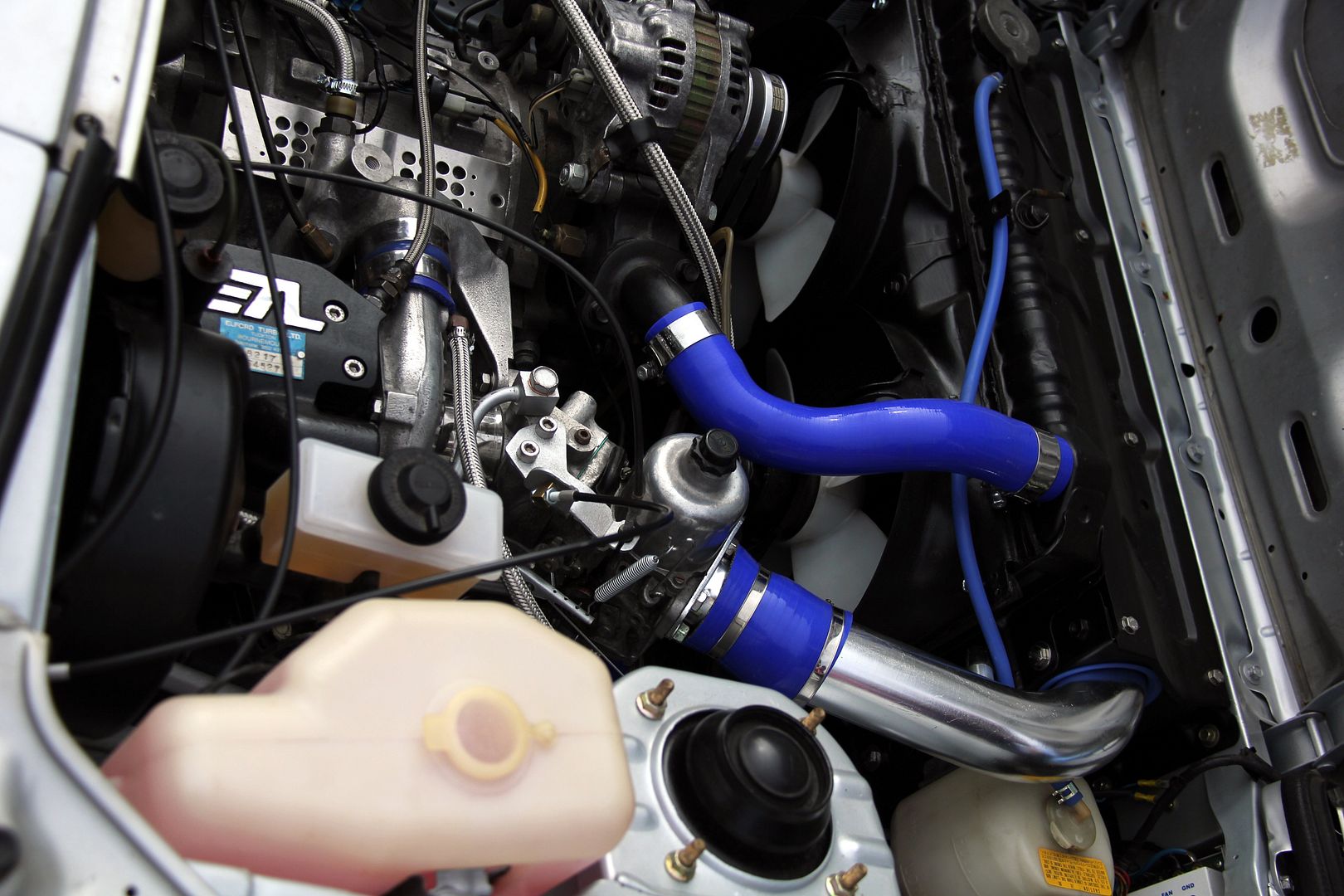 Fair to say it wasn't the only attention-holding Elford on the day, mind you...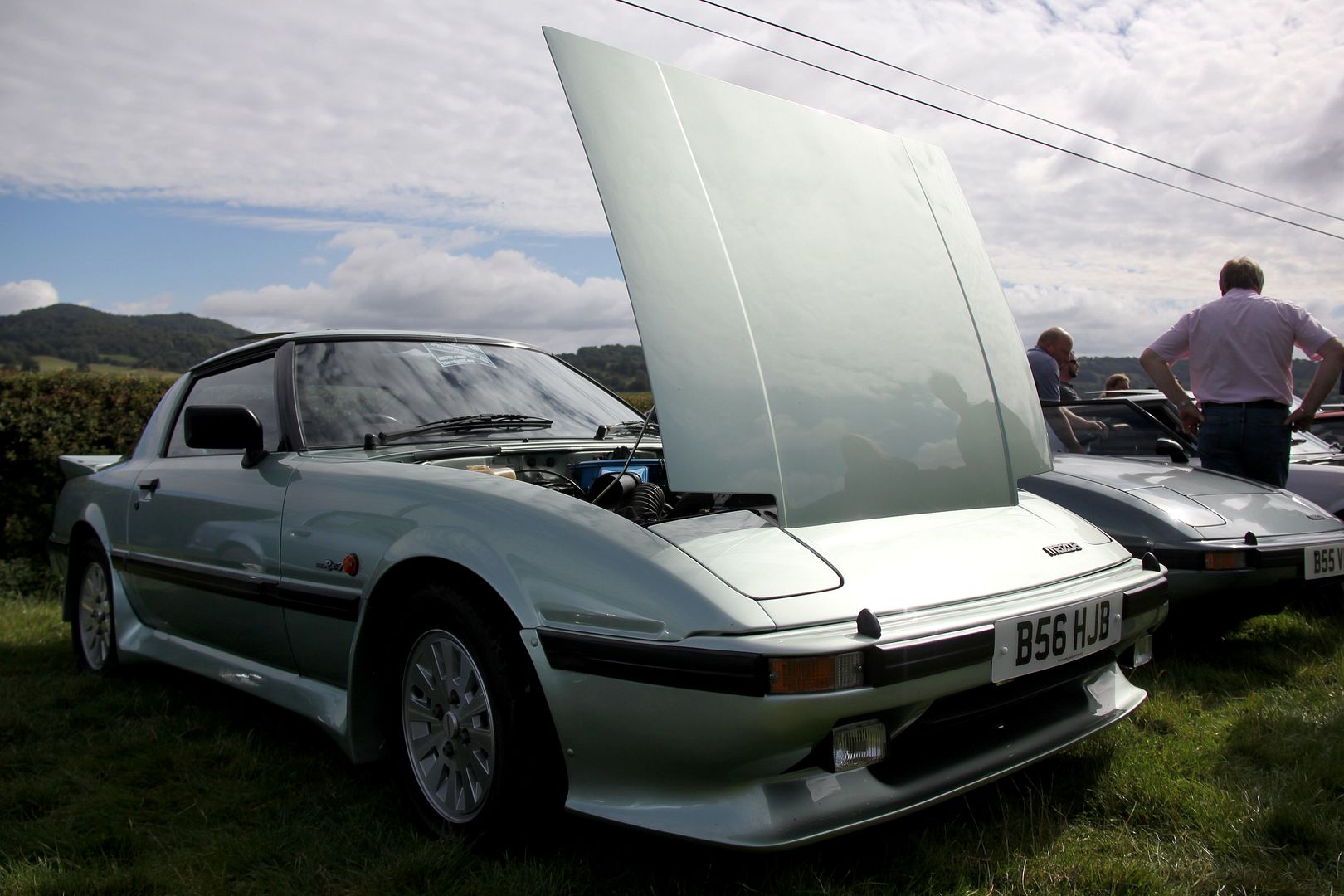 Rare enough to see one of the things, but to see five in the same line-up might well be some kind of record. And in the bragging rights sweepstake it's hard to compete with Cliff's indescribably perfect ex-Patrick Motor Museum example. A car with a genuine 4k miles from new... it's like it's never been used, like someone just pulled the cellophane off the seats and put it out on the lot with a windscreen price sticker last week, not thirty years ago. Simply stupendous car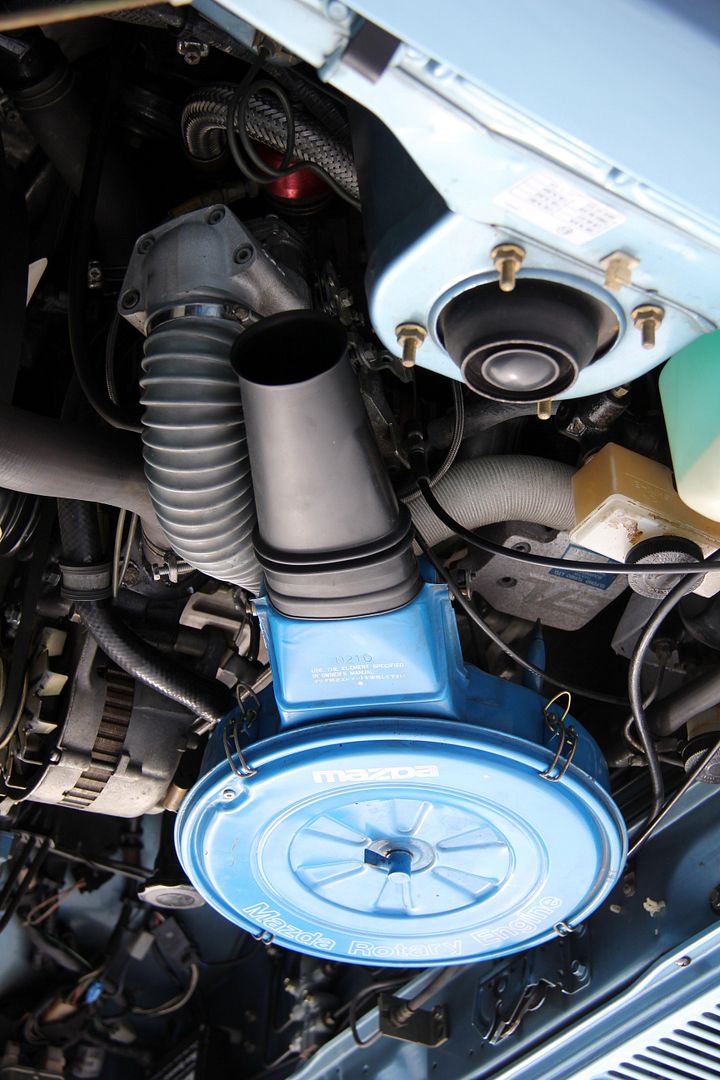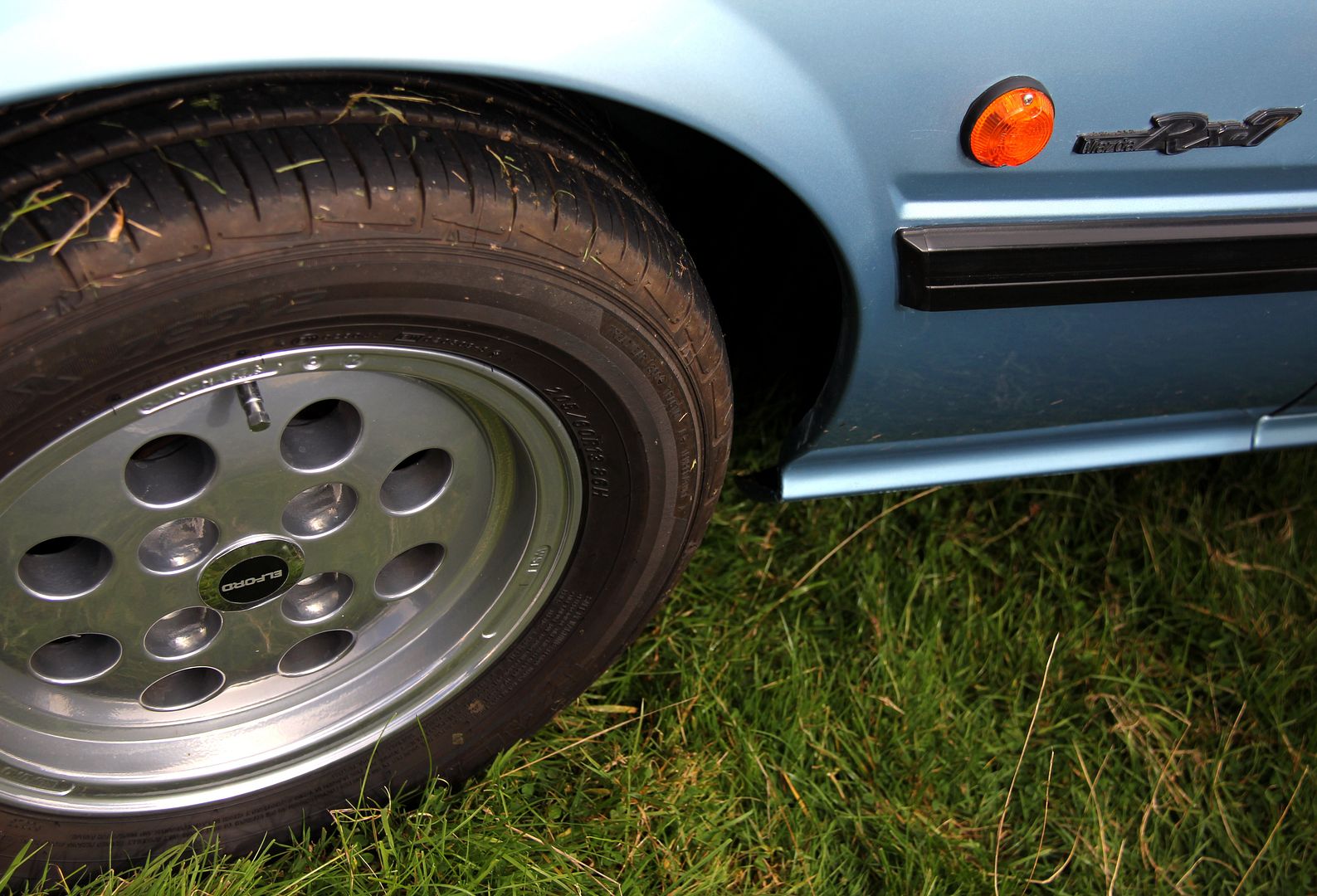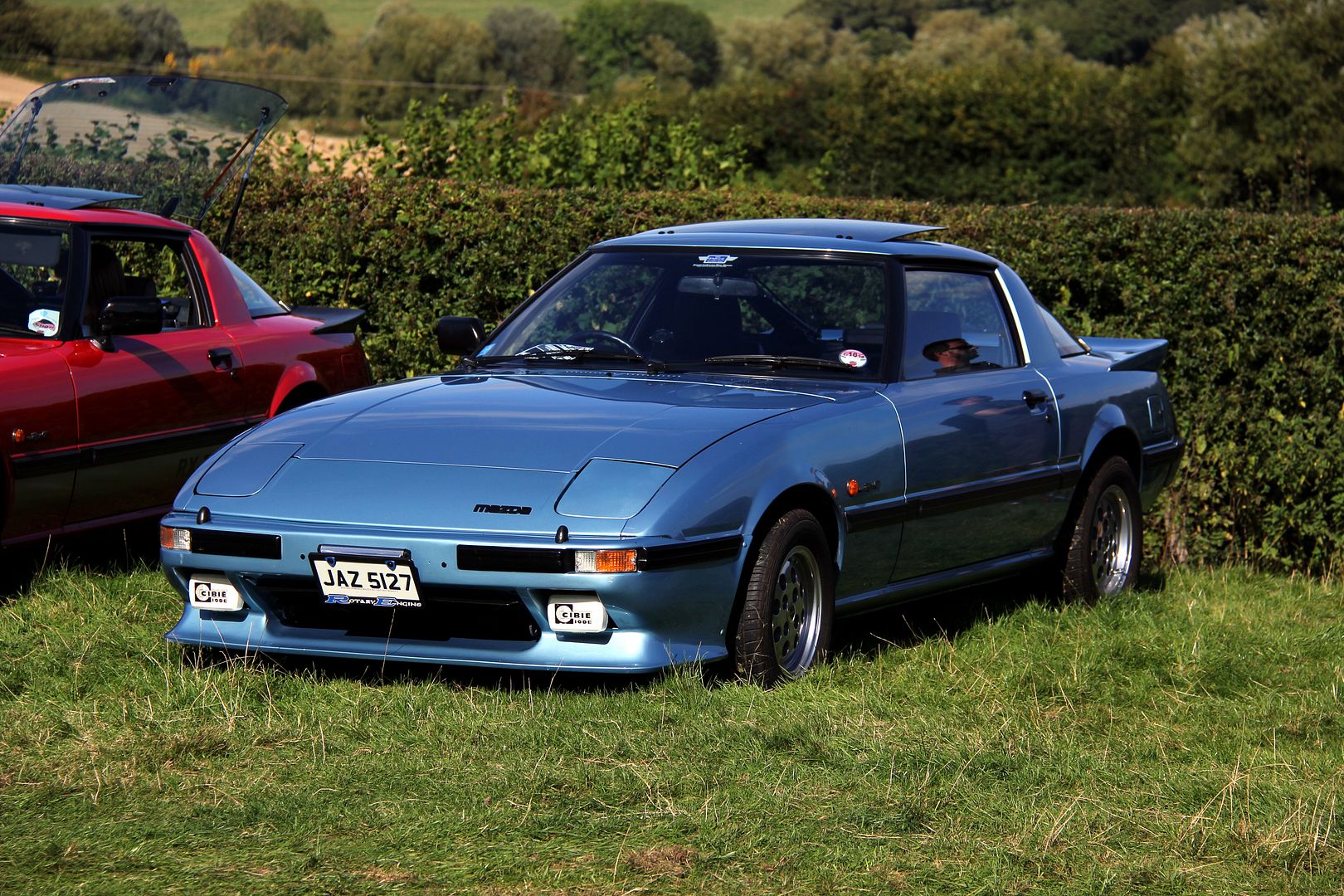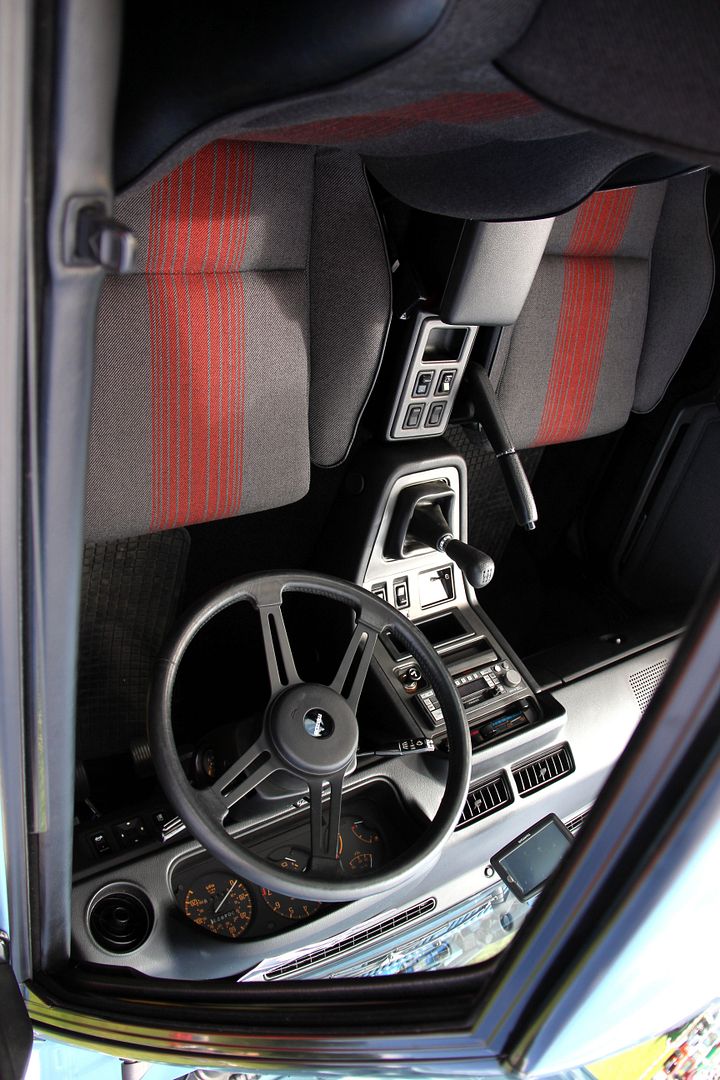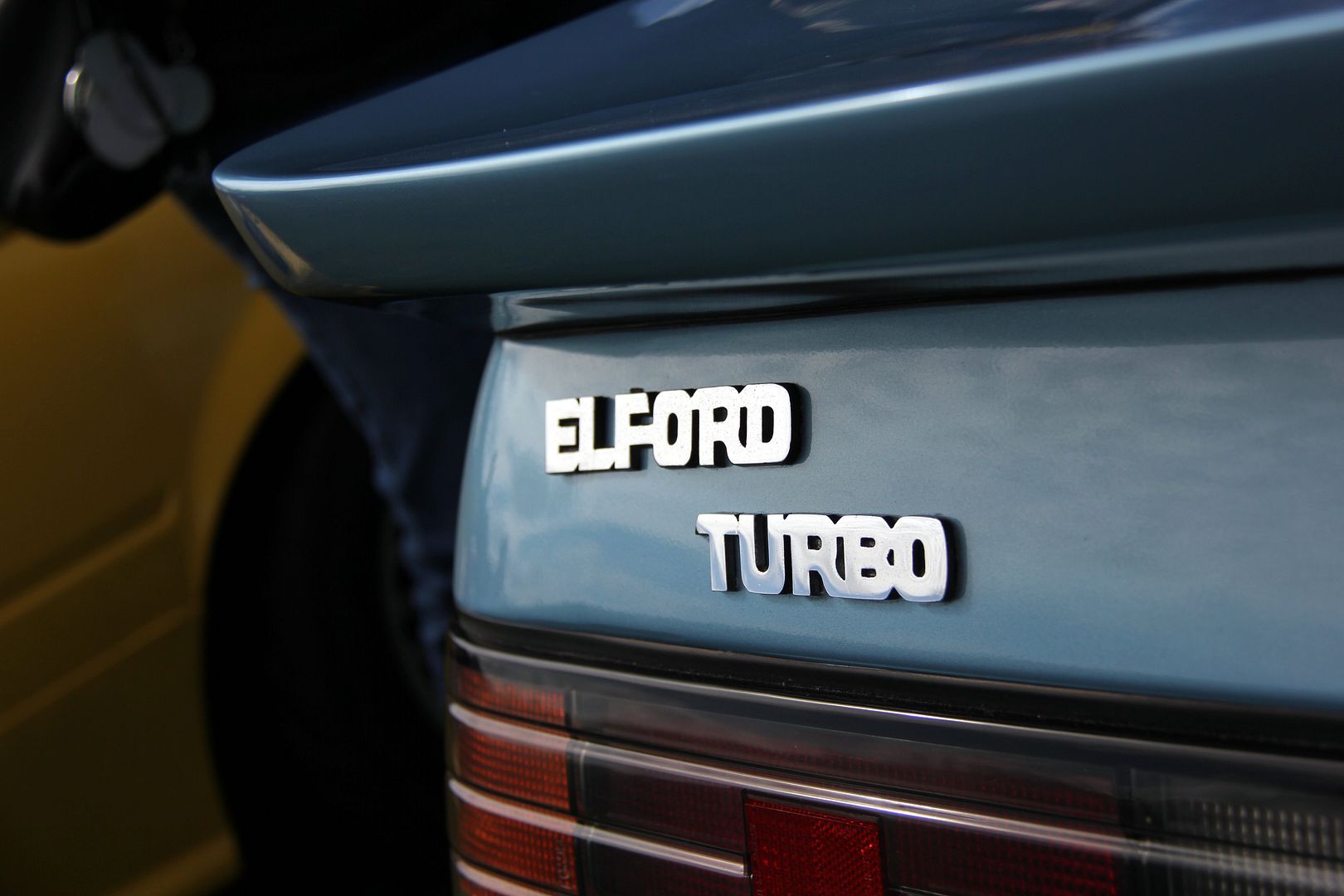 James has made Mark's old car very much his own with some simple styling changes and righteous wheels shod in semi-slicks. Changes the whole look of the car and dare I say looks all the better for it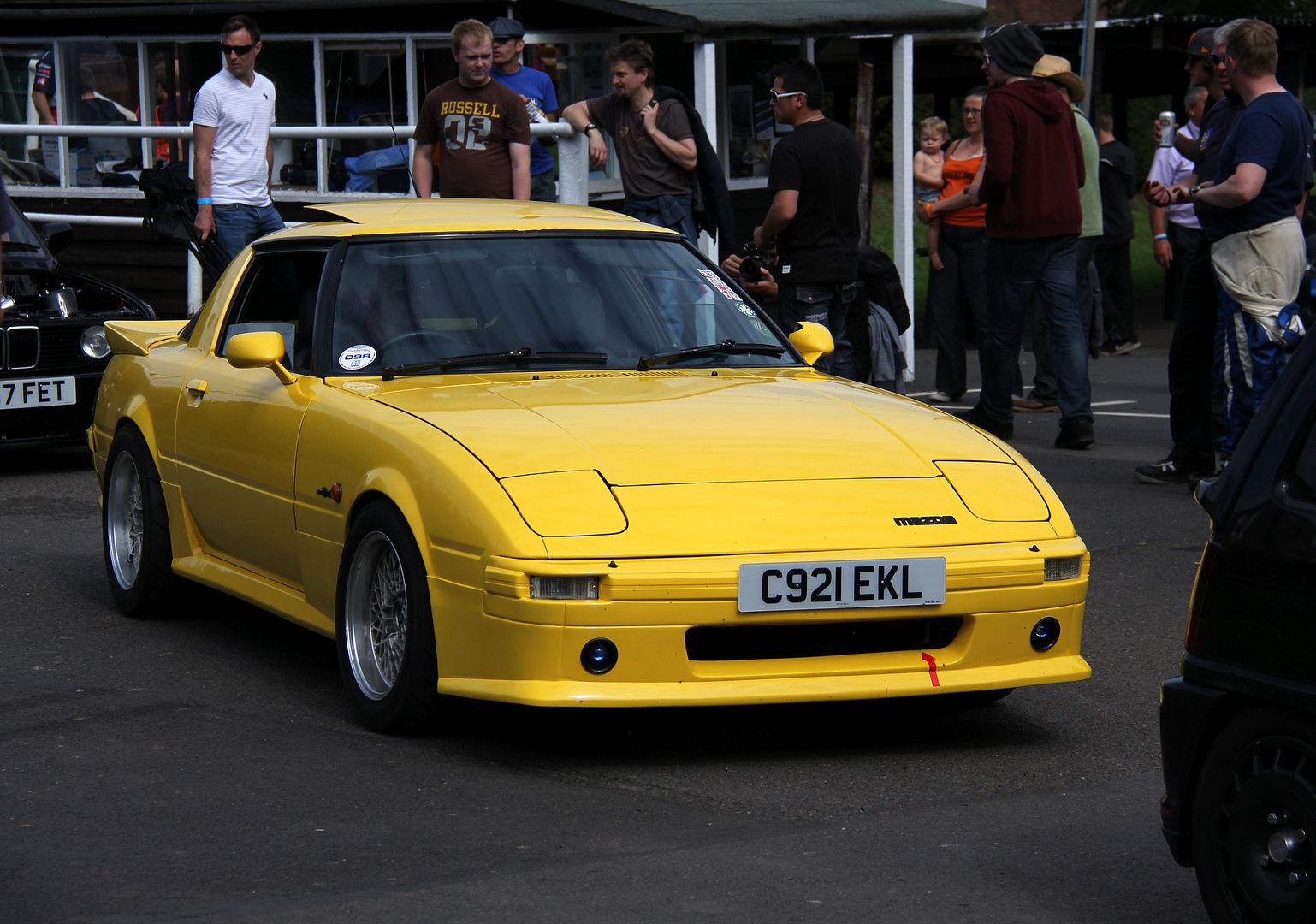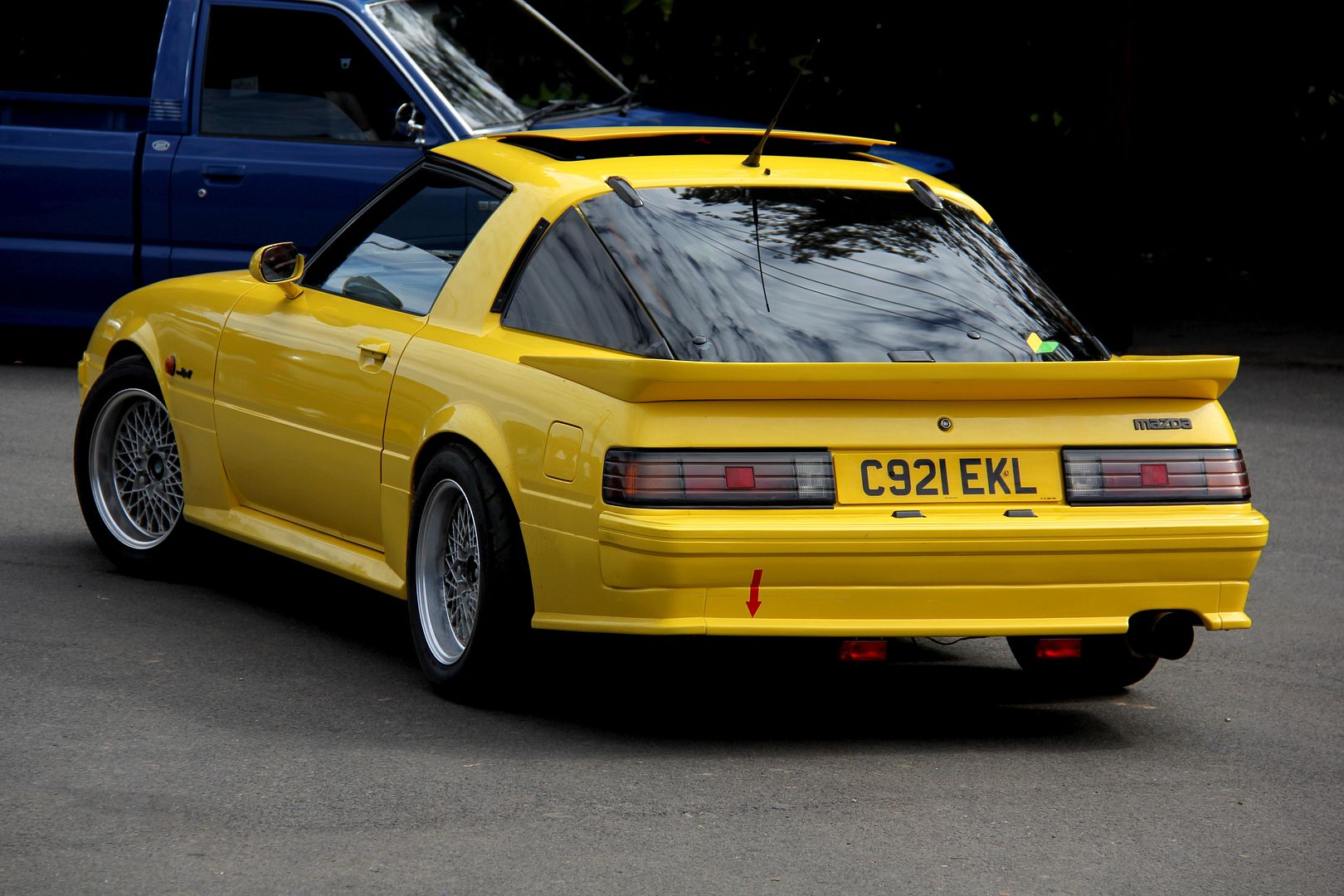 Dean has likewise put his own spin on Ian's old Elford with the addition of some suitably old skool J wheels in contrasting
rosso
. (would have worked better if I knew what Japanese was for "red"... or could rely on anyone else to. Let's give it a go; Dean has likewise put his own spin on Ian's old Elford with the addition of some suitably old skool J wheels in contrasting 赤. Nahhh, it's just not the same, is it?)
And Adam's always looks da bomb. Sorry to miss you, guys. I had one of those days where I seemed to go round in ever-decreasing circles and end up neither getting enough photos nor really get enough conversation done. Or maybe too much, depending who you ask. Hope the cat still has its own FB hulk to sleep in?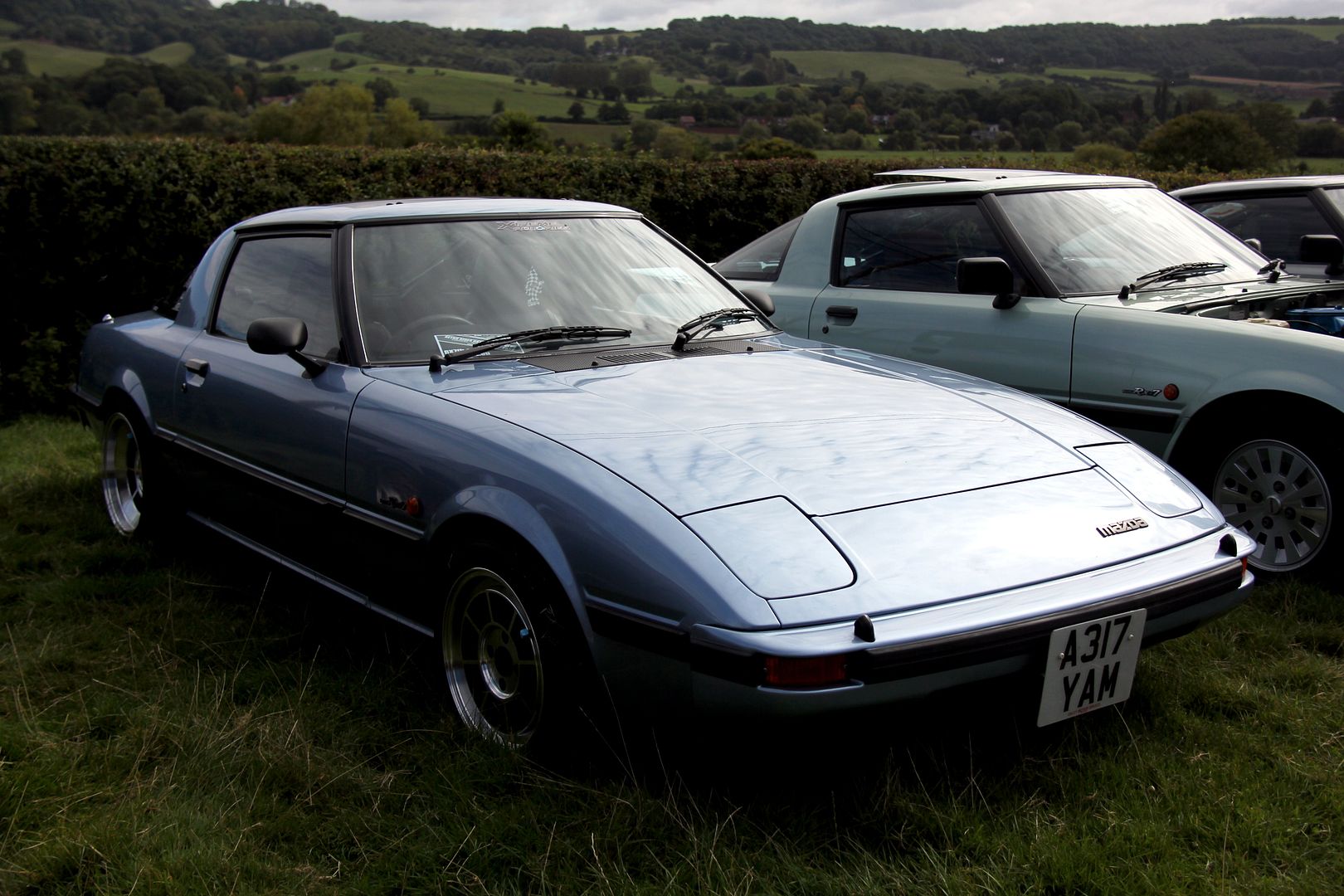 Marc (and Karrissa's) looks great with the new satin colourscheme. Hope the wedding went perfectly for you two, best wishes!
I wasn't the only one to buck the trend of FB RX-7 ubiquity, however. Dom Turned up in his excellent Cosmo. I've always had a deal of affection for these big ol' barges, even in 13B twin-rotor form. He's done great with the mods; sitting low on big wheels is never easy on a stock body and the quad exhaust suits perfectly. Needs paint now and it'll rock hard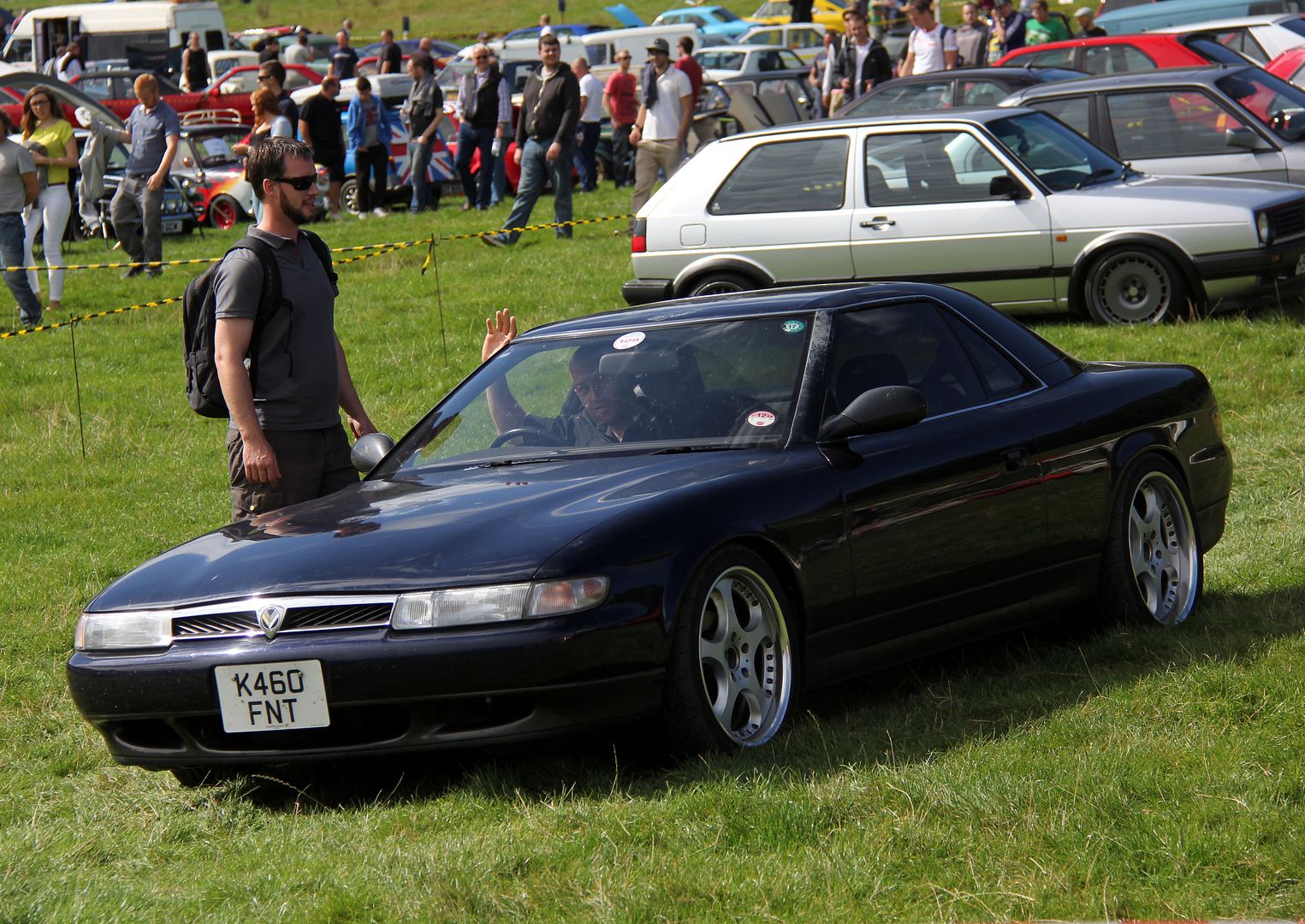 And we already know about MR TOOL's RX-2... or should I say his more show-quality RX-2. No, it's nothing to be jealous of is it, him having TWO of the damned things? what can I say, sometimes life just ain't fair!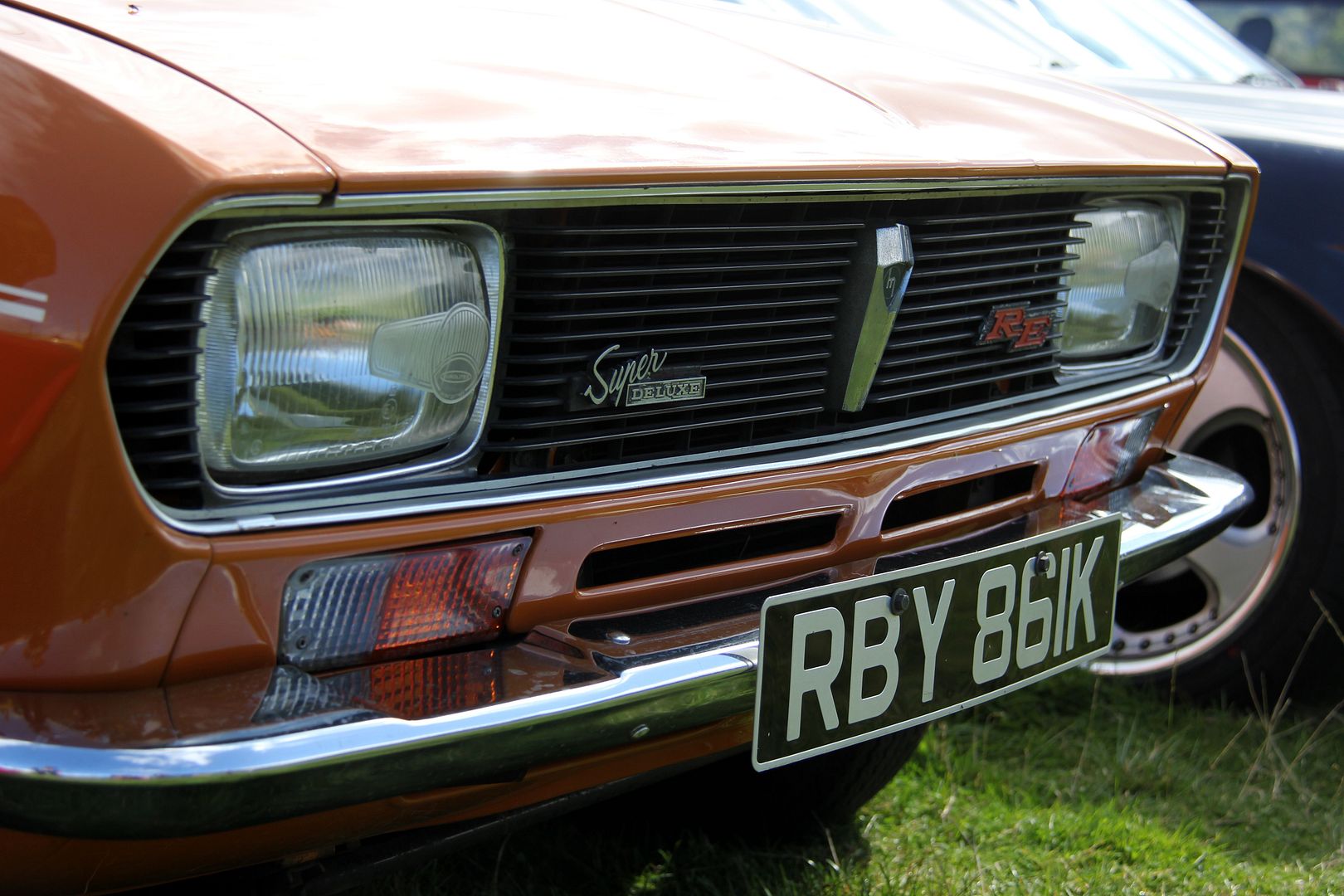 So, with the serious business of the Rotangs out of the way, we were free to potter around the show field and take in the sights and sounds of the Gathering itself. I don't think there's anywhere else you can get such a diversity of modified vehicles, from mild to wild, from bonkers to brave, from form to function. The whole gamut of cool old cars is here before you. So, in no especial order of things that caught my eye, here are some things that errr... well, caught my eye, really;
Two mates but only one seat leads to this kind of thing. Ginger dude on the bottom bunk seemed to be enjoying this entirely too much!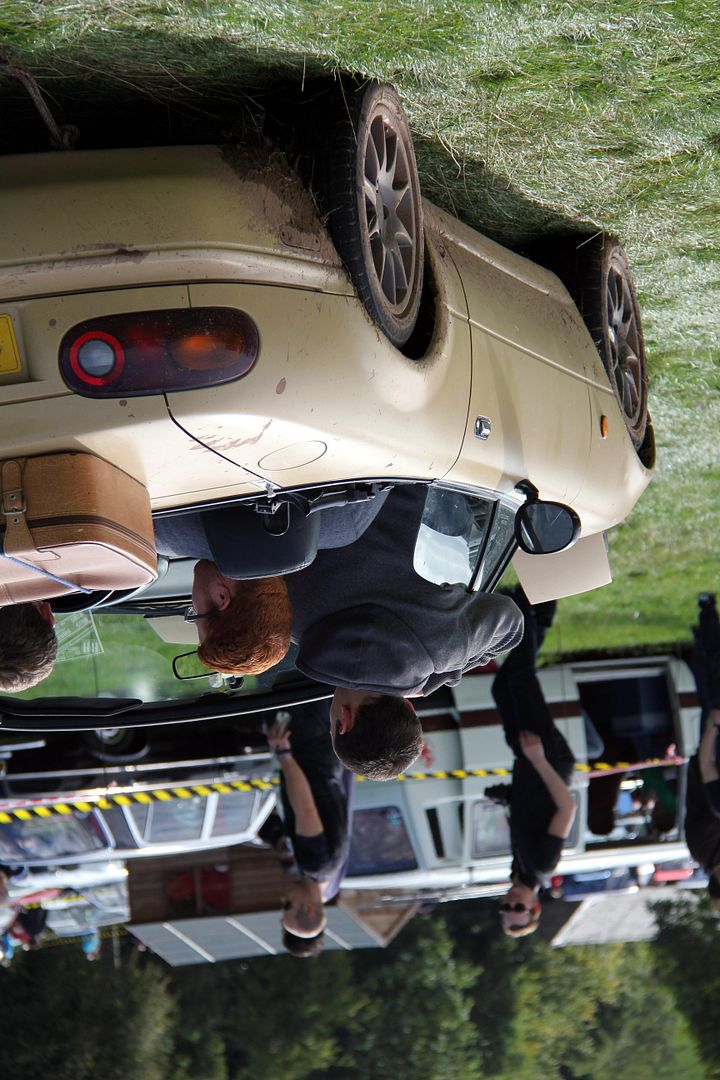 Several years and forty in the name separate this 240 and 280Z. Same colour, same ethos. Just fatter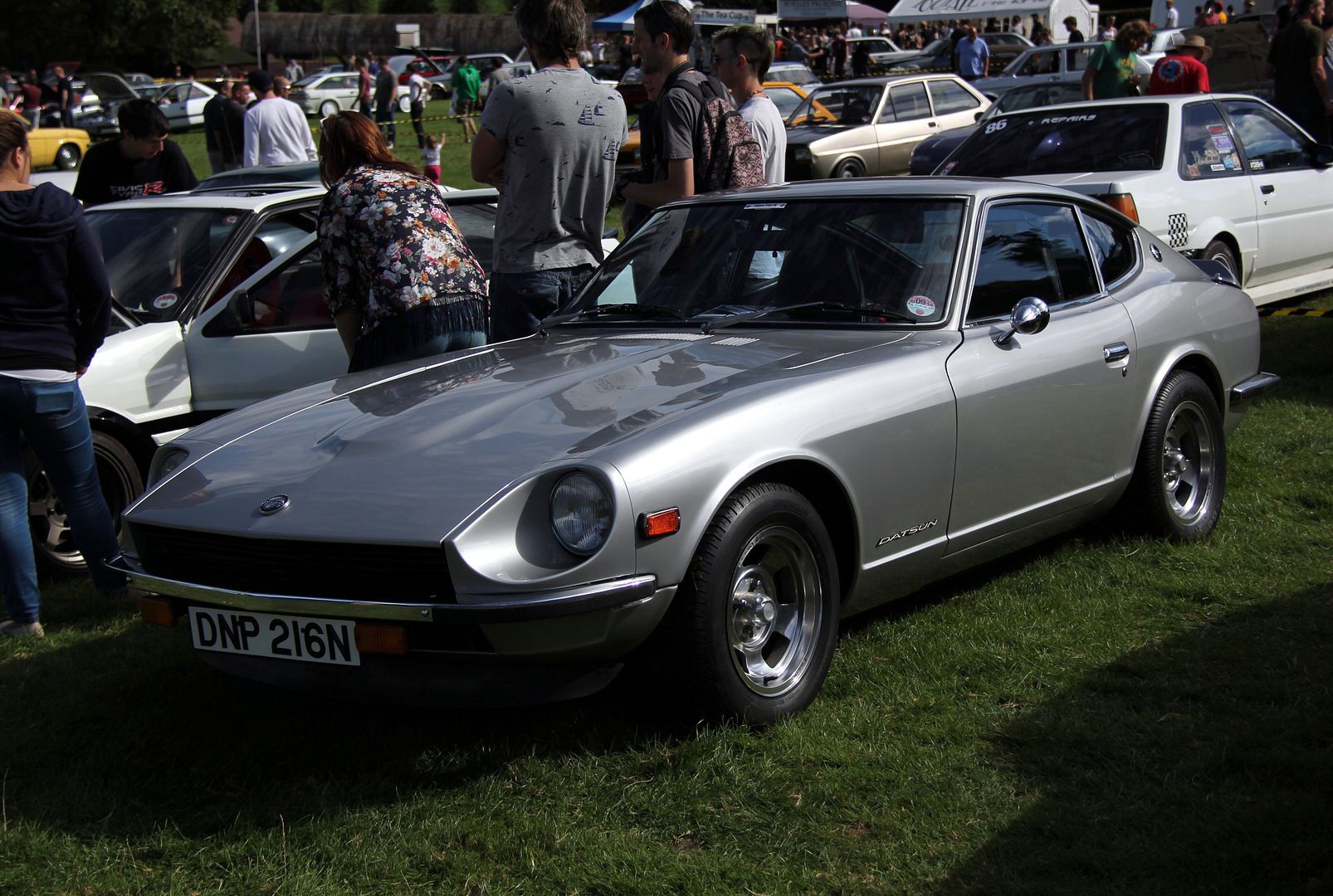 Mazda 323 wagon sacked on Minilites. What's not to like?
I managed to get a snap or two of the Bosozuku-inspired Mazda 626 (despite the best efforts of the RR marshals to photobomb me, lol). I like almost everything about this car, though if it were me I'd have left the exhausts on the scaffolders' lorry. As if my opinion matters...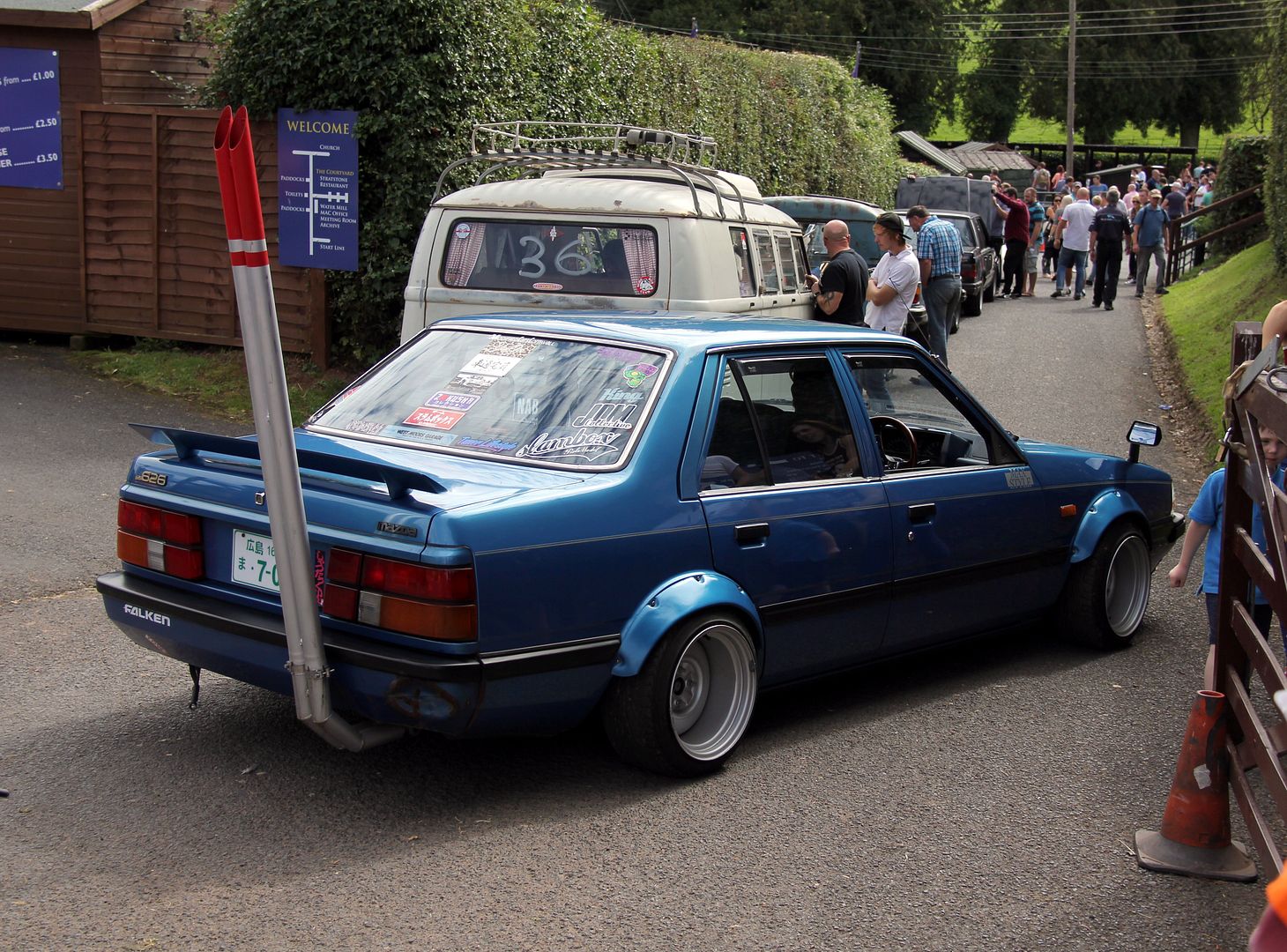 Several cool examples of Bavarian Murder Weapon around, especially this ...ahhhh...murdered out 2002 Auto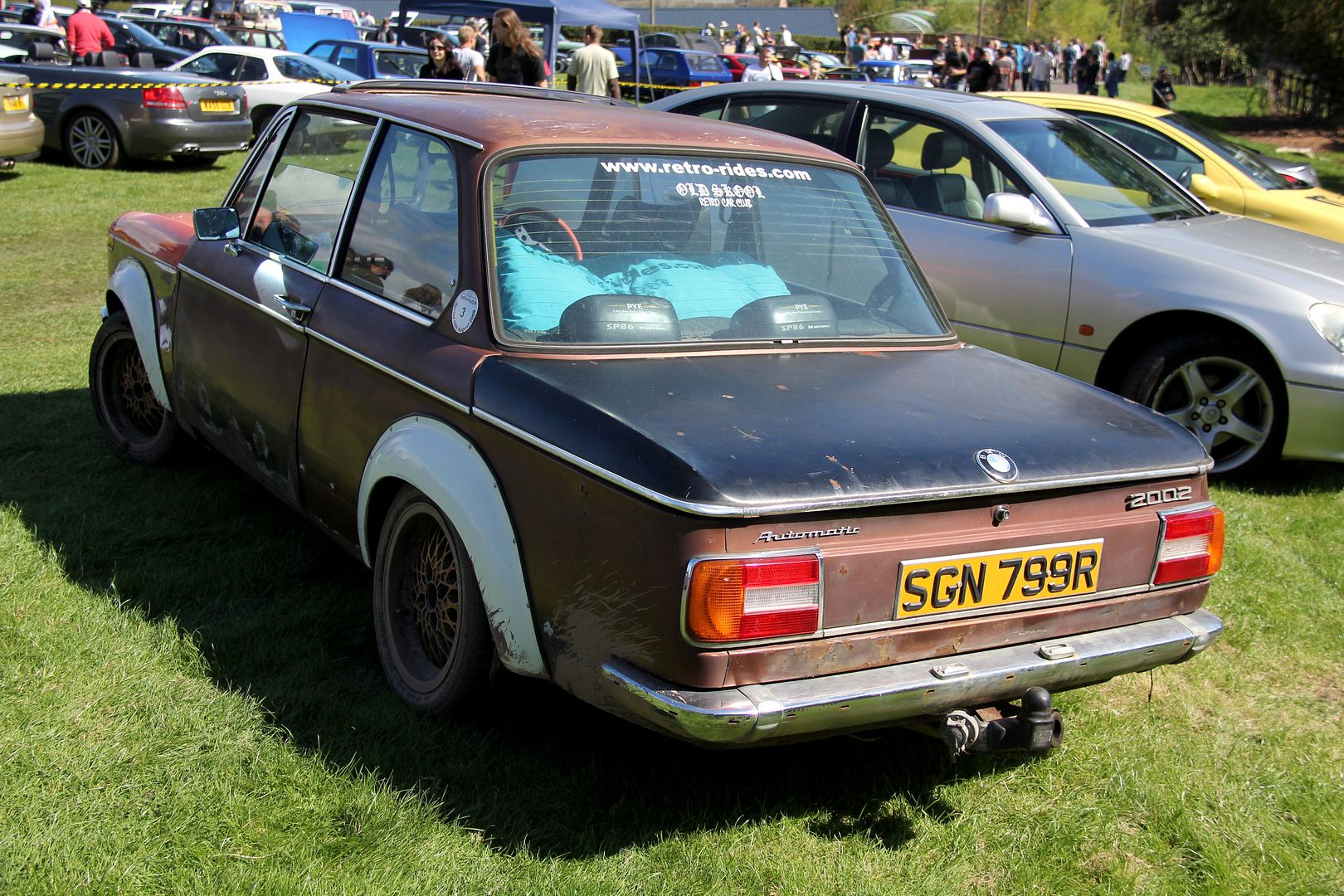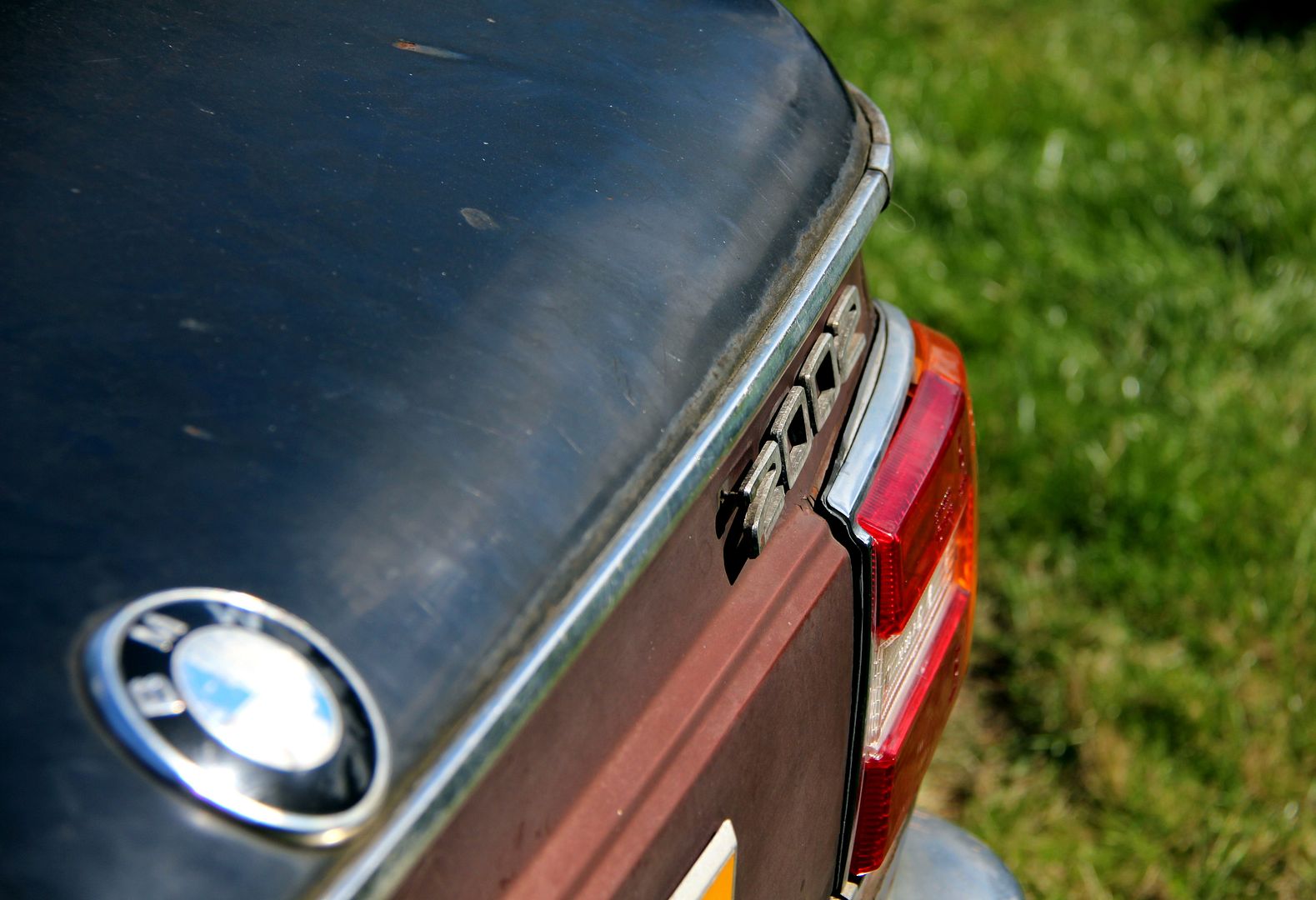 Fruity Yamaha-derived Toyota twin cam plus bike quad-carburettor setup plus stylish old Anglia equals slight amount of sex wee seepage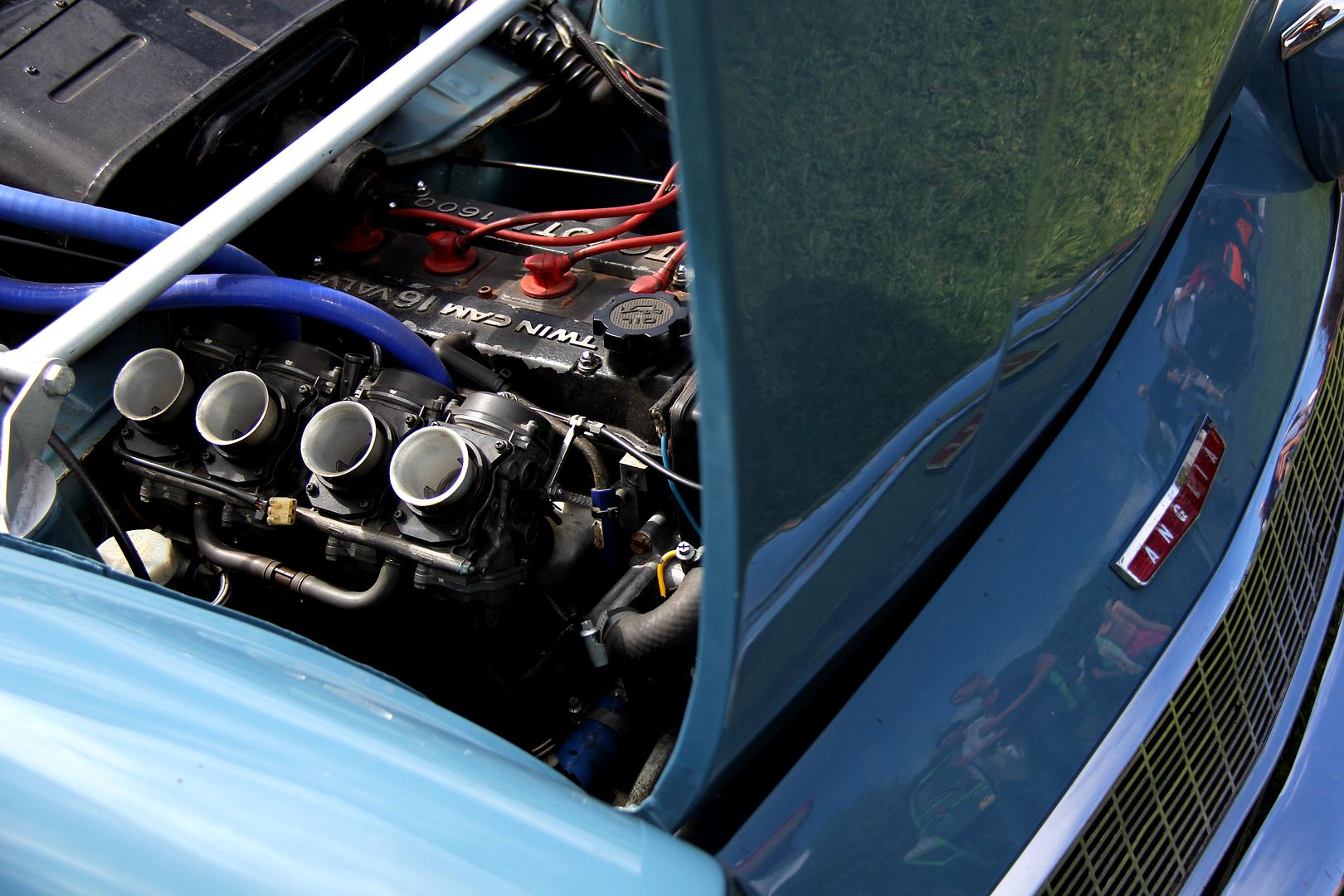 My waff had one of these Astras back in the day (Kadett? whatever). Only it was bloody terrible, as you'd expect from a £300 motor. These are rather more nicer. Hers went by being TWOCed to death. The kids who nicked it must have known their stuff, it was almost impossible to get the damned thing to start even with the key and even then one millimetre out with the choke and it would die or run like a three-legged dog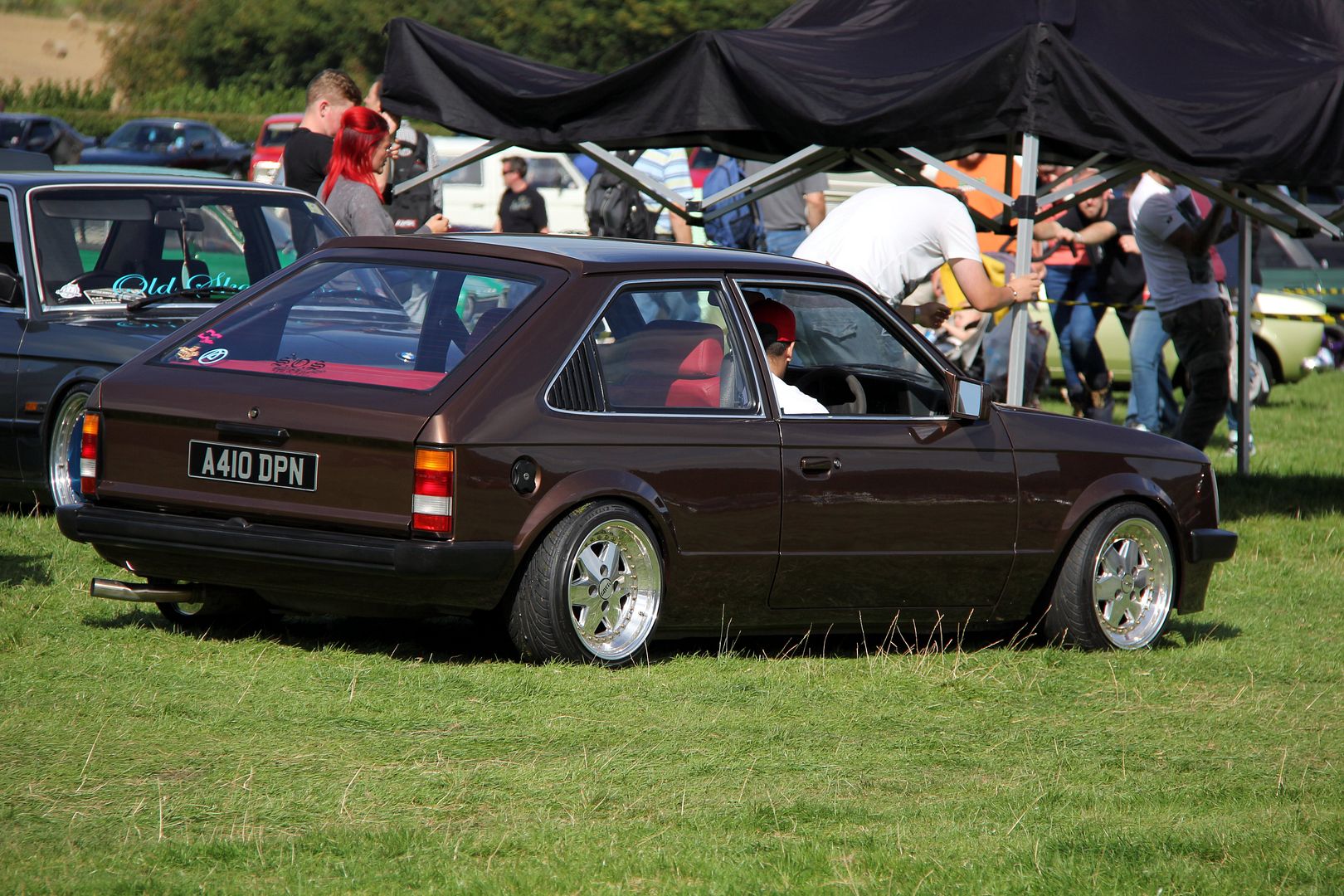 Li'l Austin A30 (I think) was adorably cute and rocked just the right amount of patination
This thing, despite looking a bit like a Dino (if you squint) seems to be a Dino-shaped thing draped onto a Beetle. Which is pretty unusual. And also unusually pretty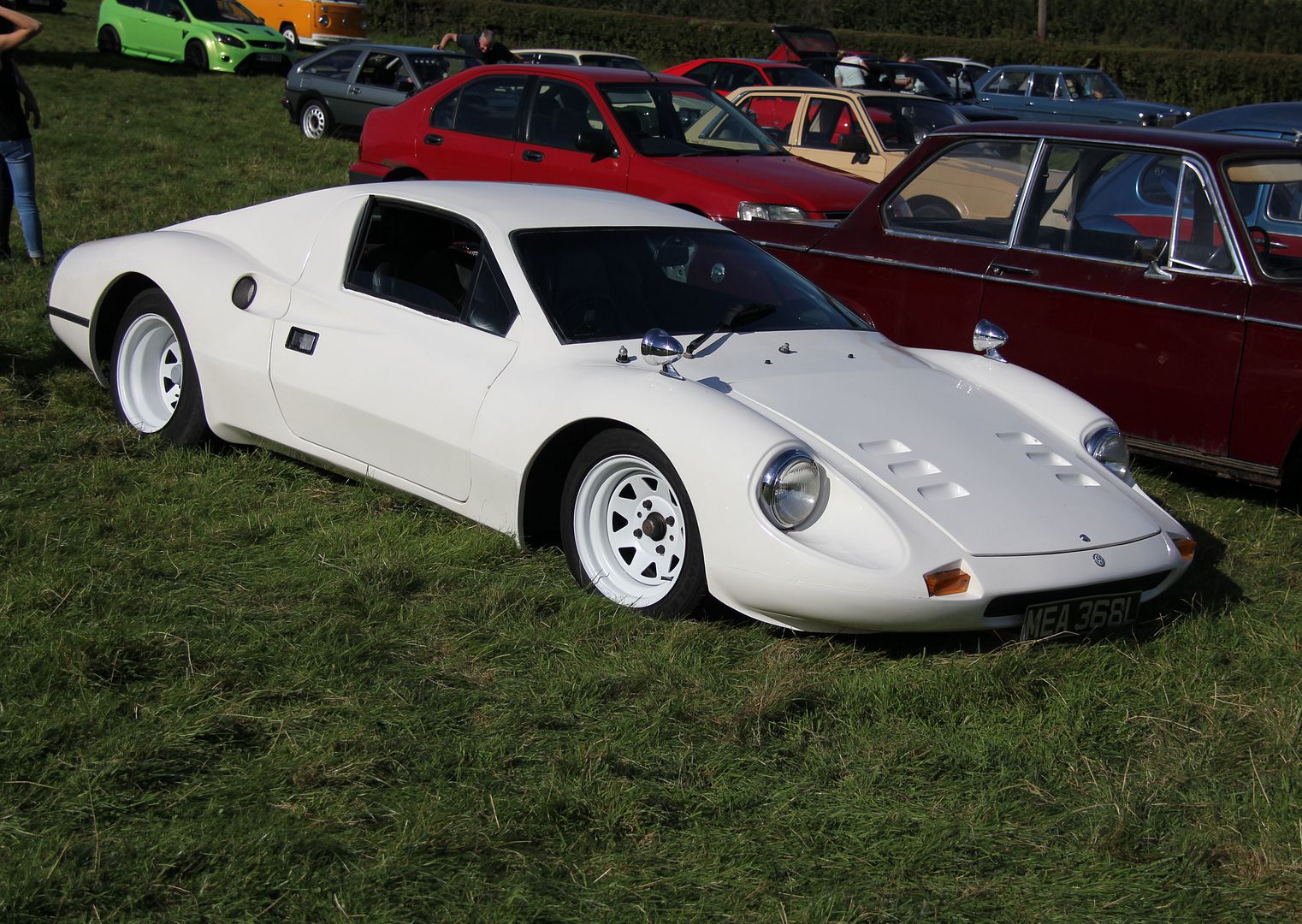 ..and this is a Beetle-shaped thing that's actually a Beetle. Hey, why complicate matters?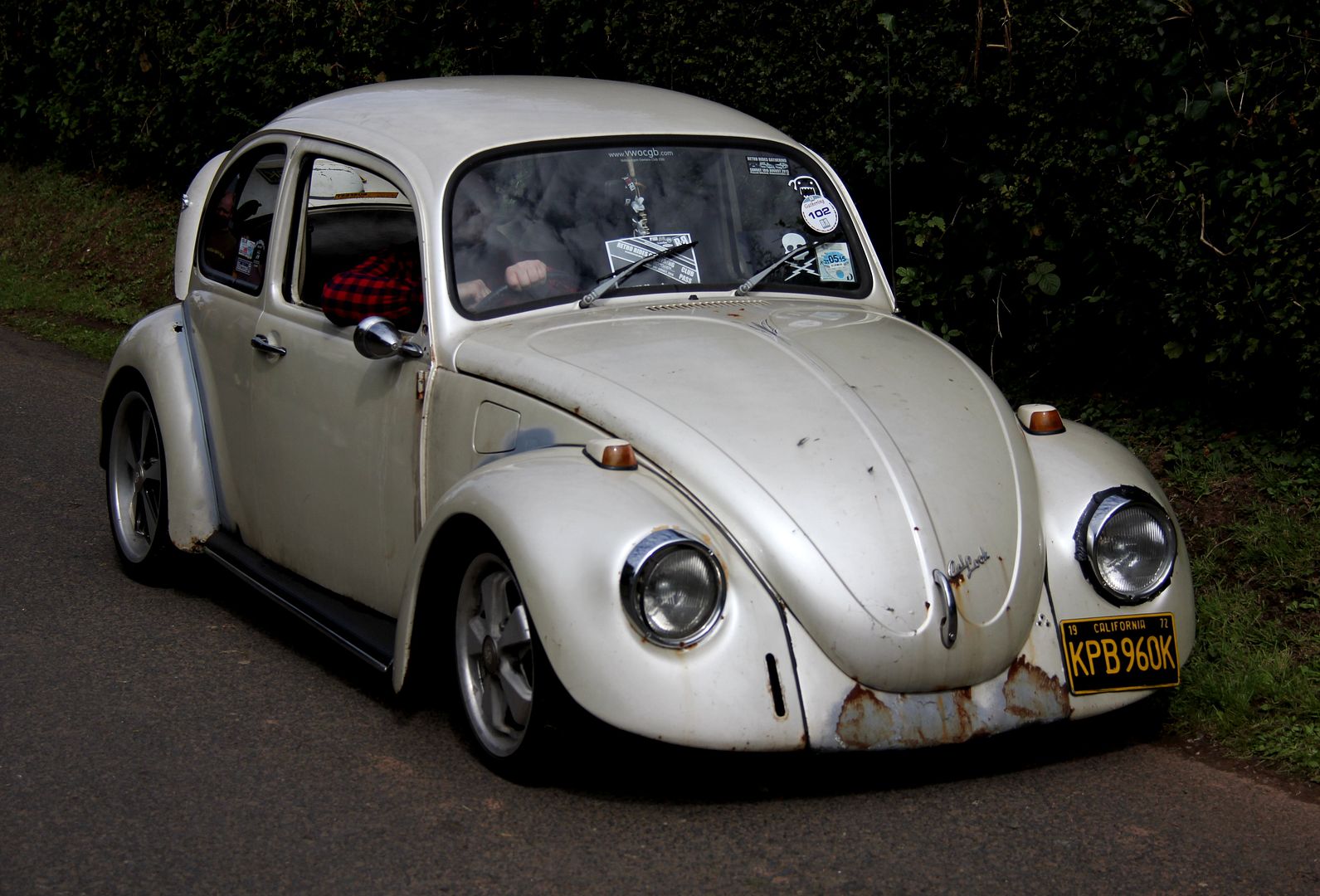 Caddy had its own camo tent thing. Slightly higher quality than your average Libyan armoured vehicle, in fact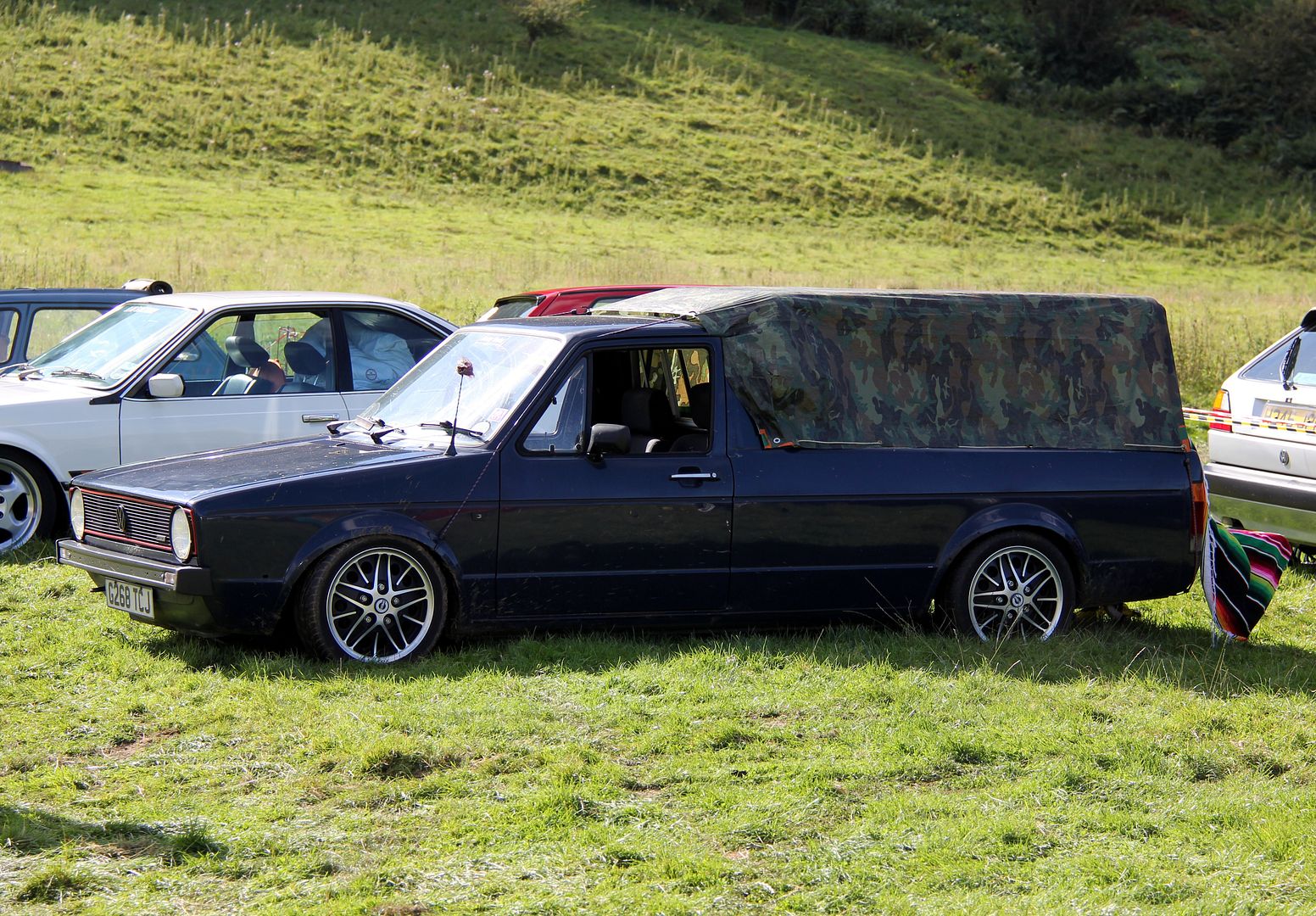 Lots of Capris. This is a Good Thing, as Pooh would say. Here's a blue one. This is also a Good Thing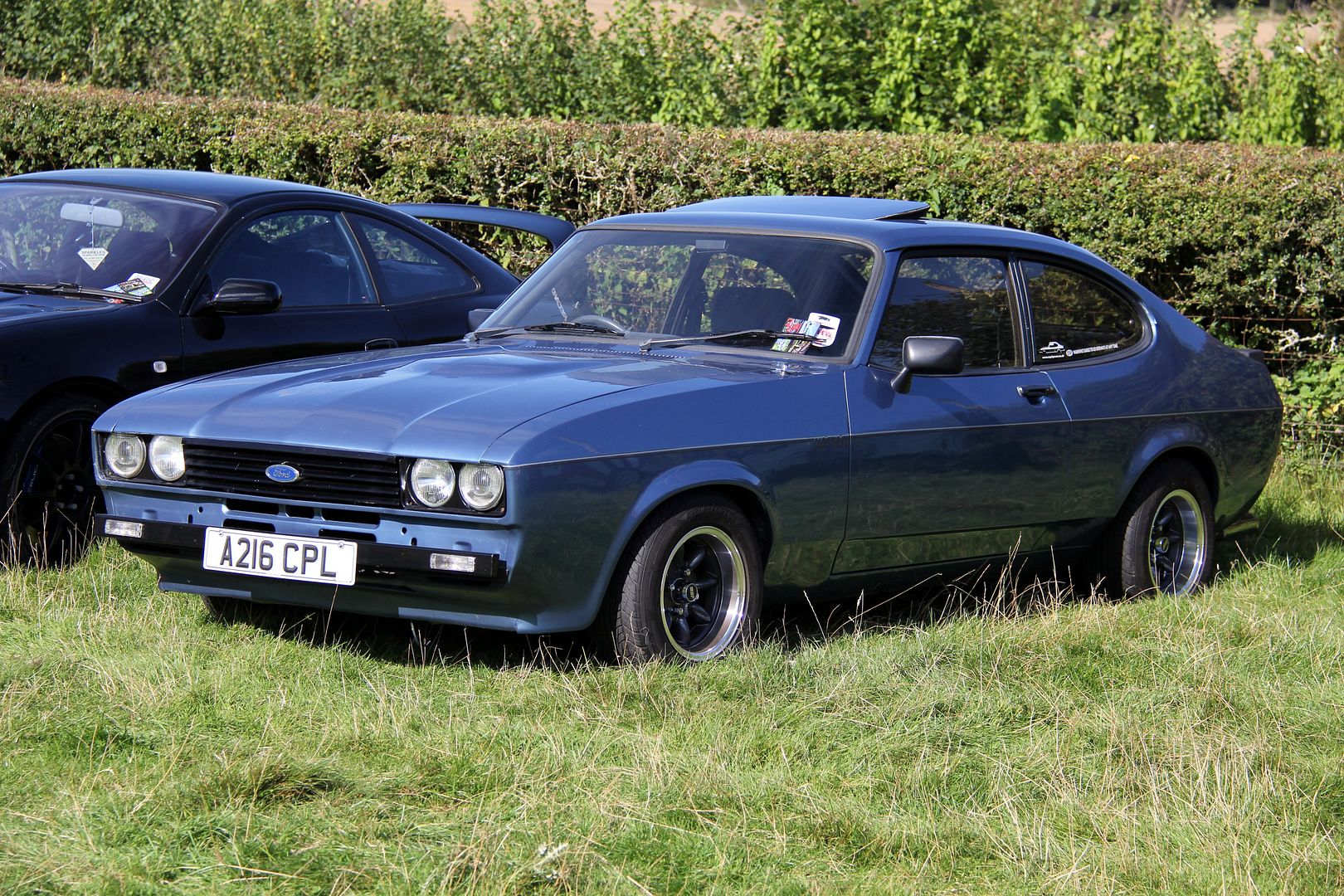 As usual, the quality of the demo cars put on by the RR Powers what Be were of fascinating and superb quality. Berg Cup-stylee Golf no exception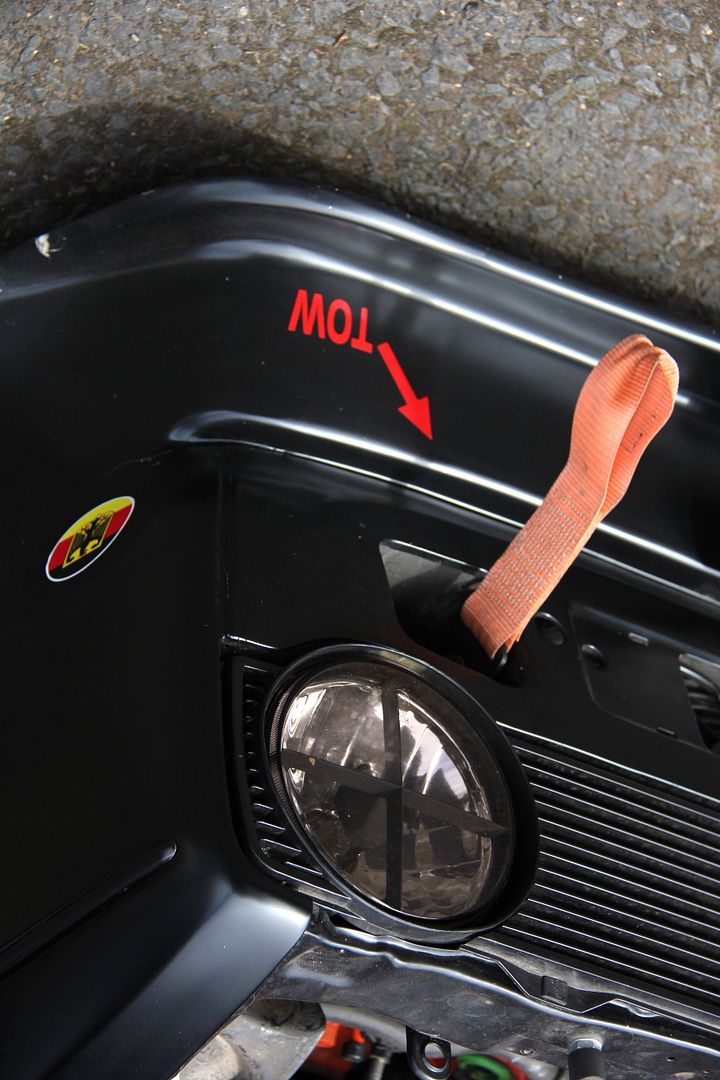 Here's an Orange Capri. In actual fact, it's orangier than a flubbery Tango man singing the old Kia Ora advert whilst wearing a Dutch home strip. Which is a Good Thing.
Too orangey for crows. It's jest fer me an' my dawg...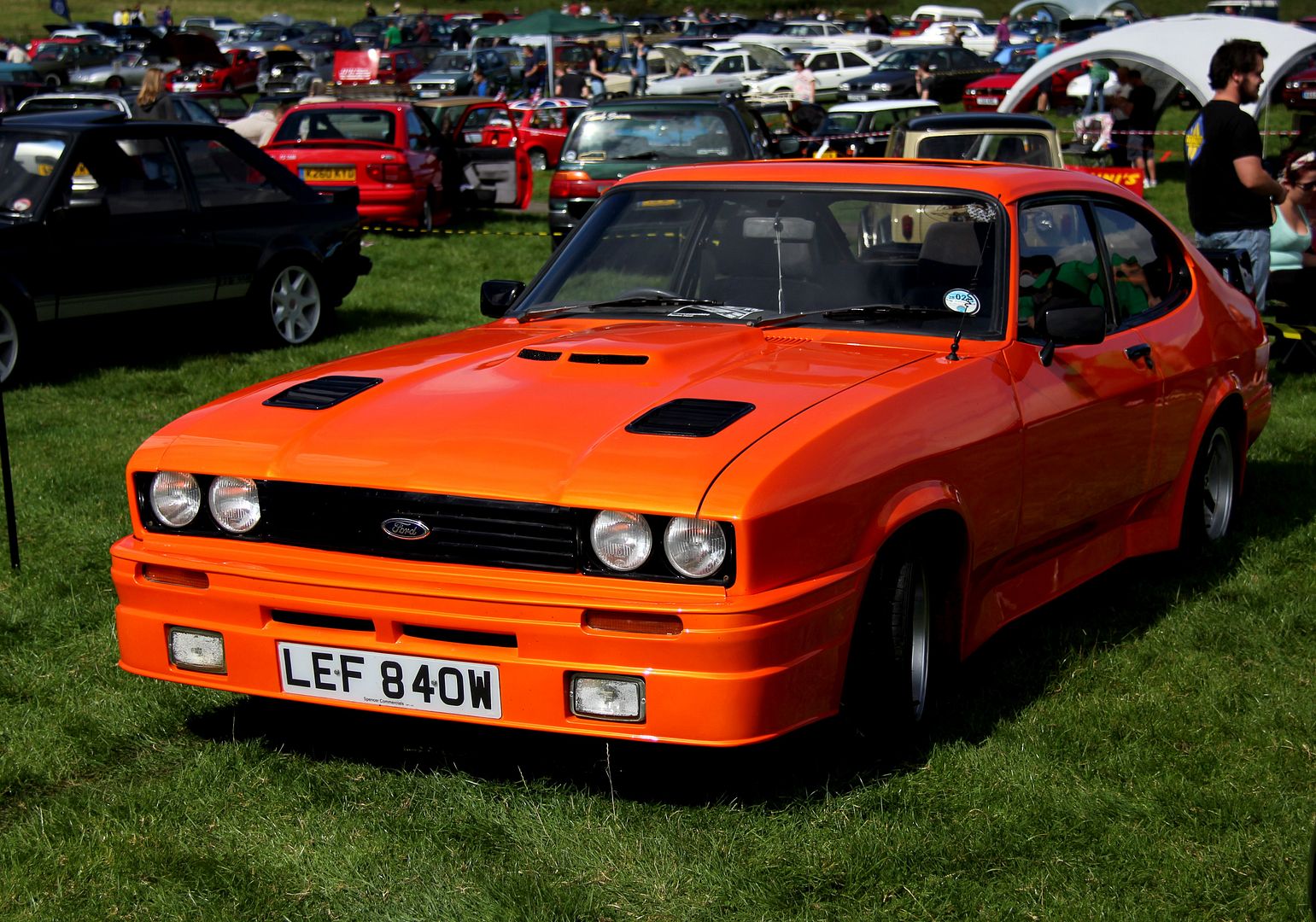 Here's a less orange Capri. And also less of a Capri. Just one wheel, in fact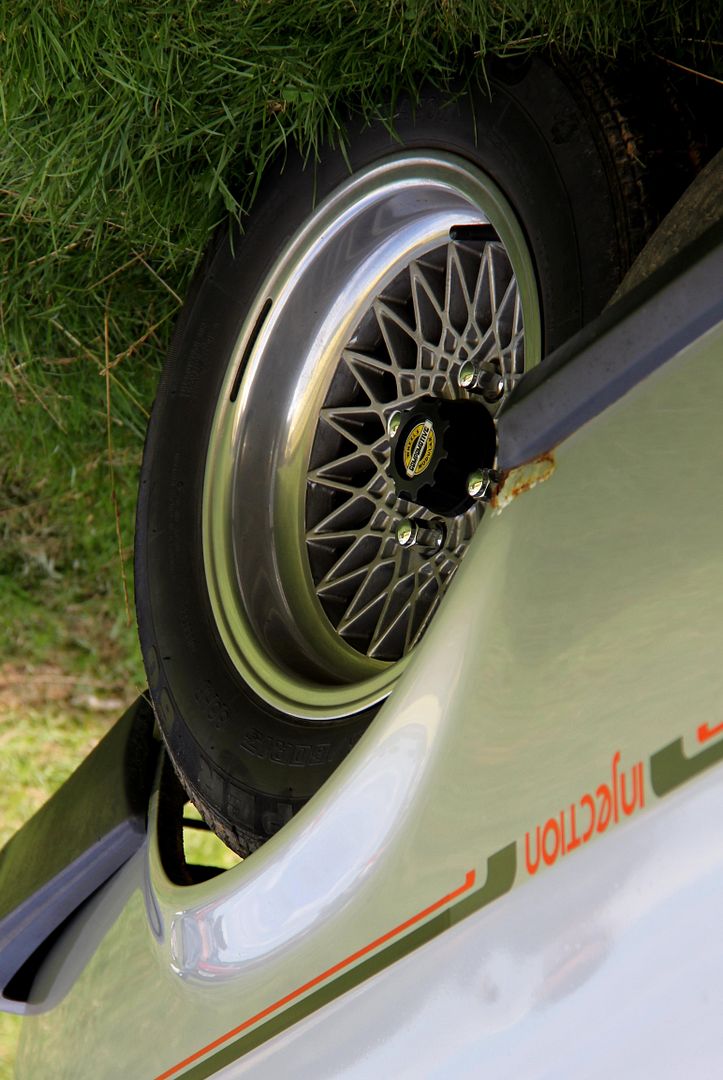 Celicas, then?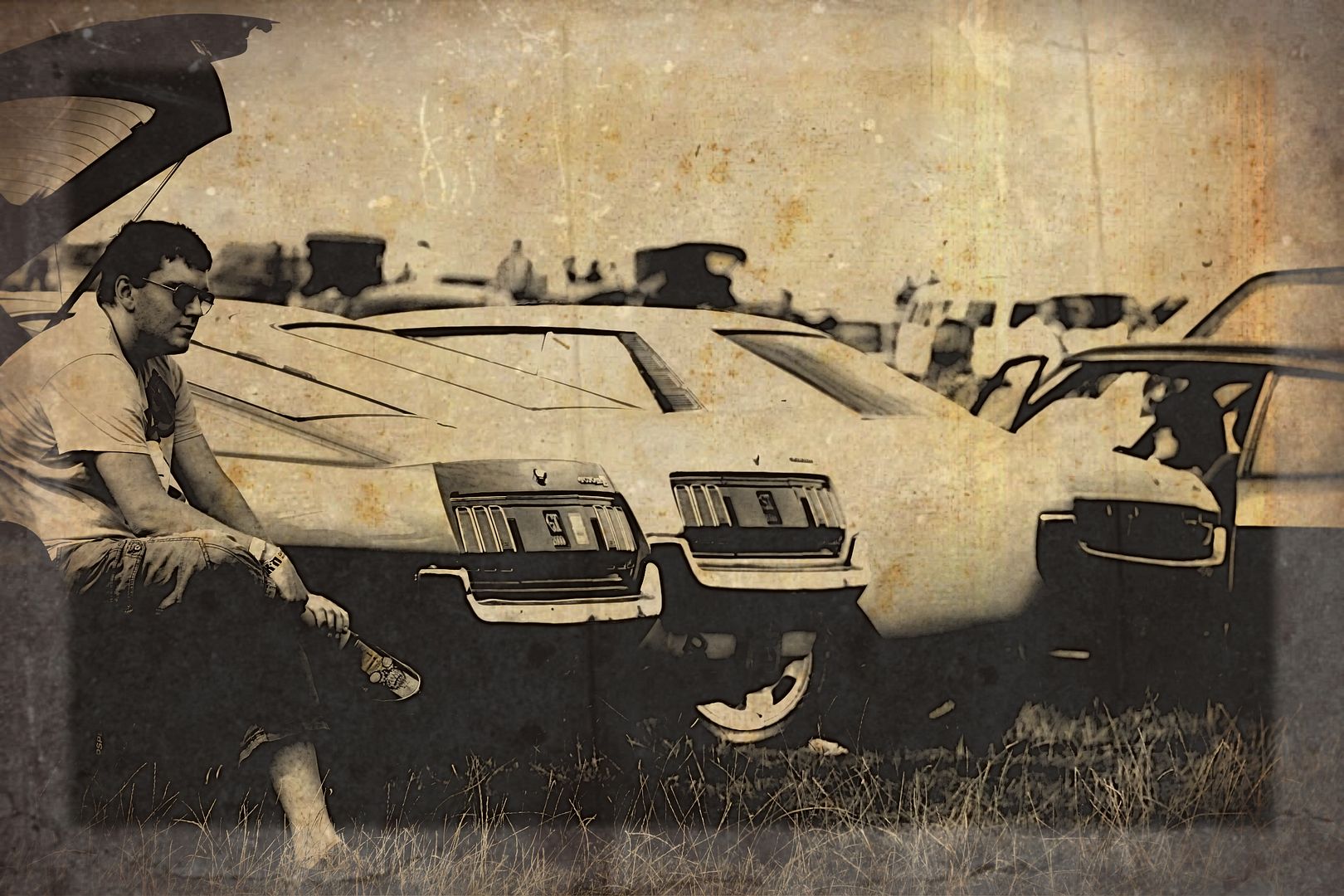 Quite a few around, in different flavours. I think this ST185 was the model Toyota caught cheating with in rallies and had to return home to sulk, writhing in corporate embarrassment. Or did I make that up? Not this exact car, obviously. This one's lovely and honest as they come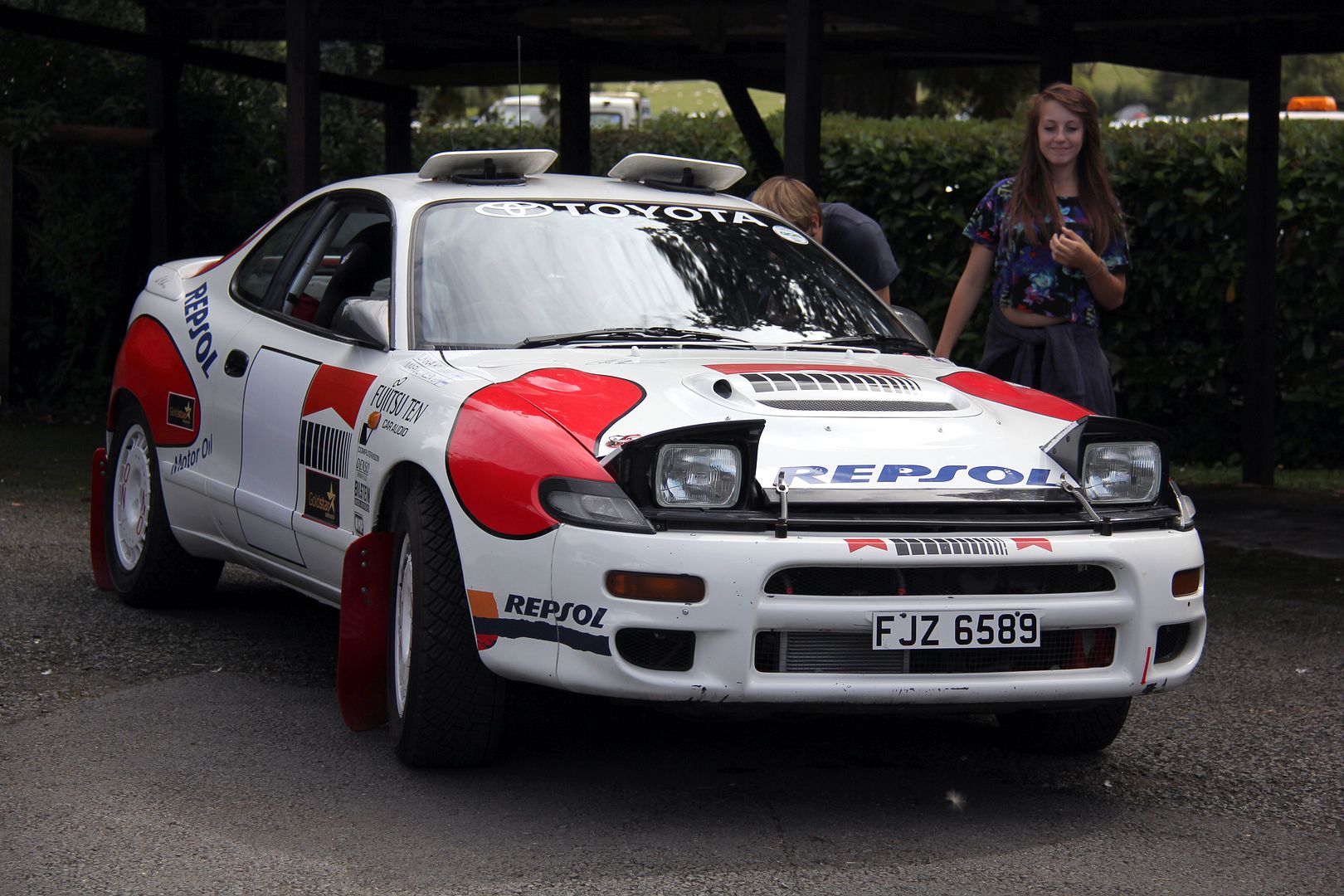 This liftback is the pick of the bunch for me though, and judging by how crowded it was round it, for most of the showgoers too. It's pretty much spot-on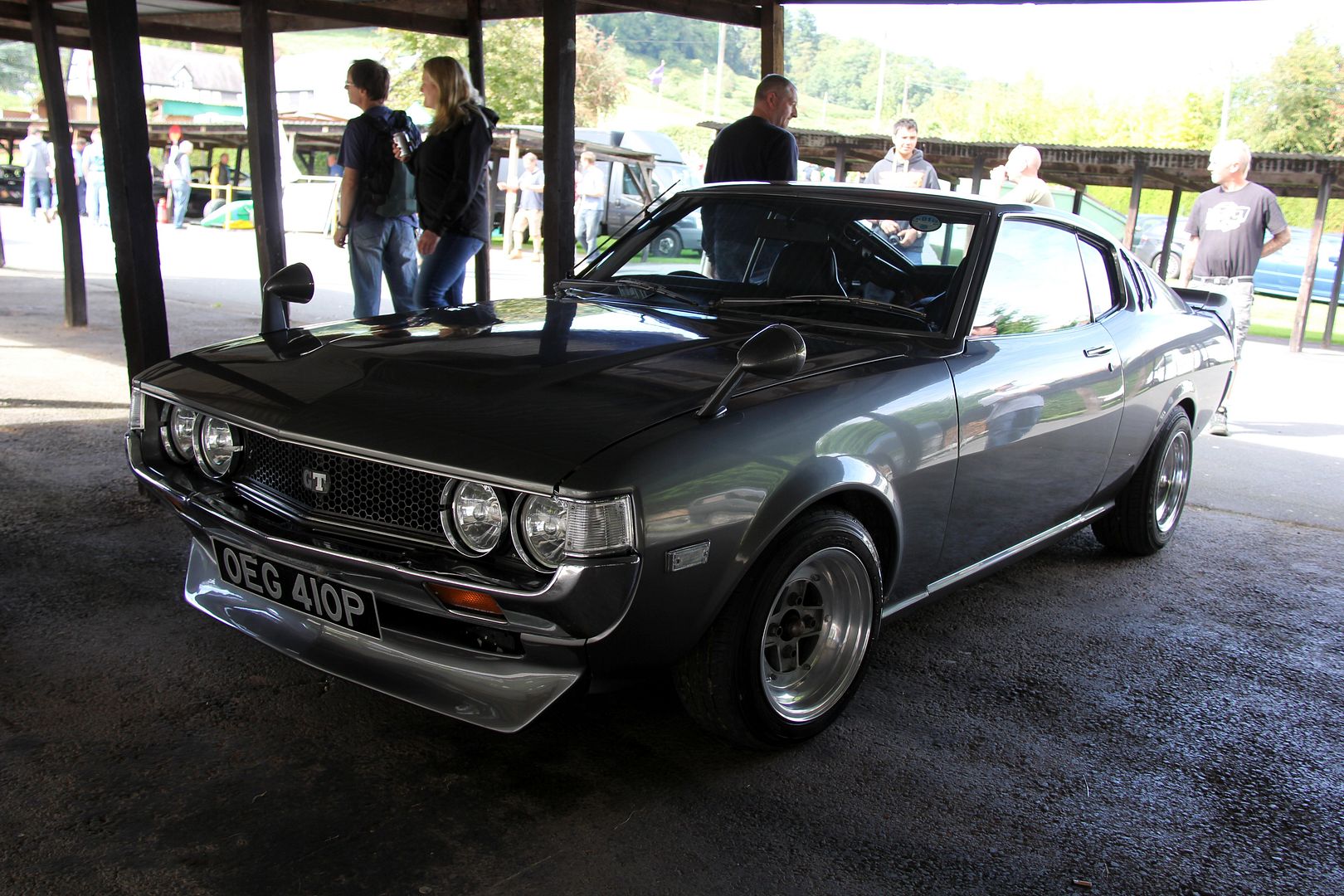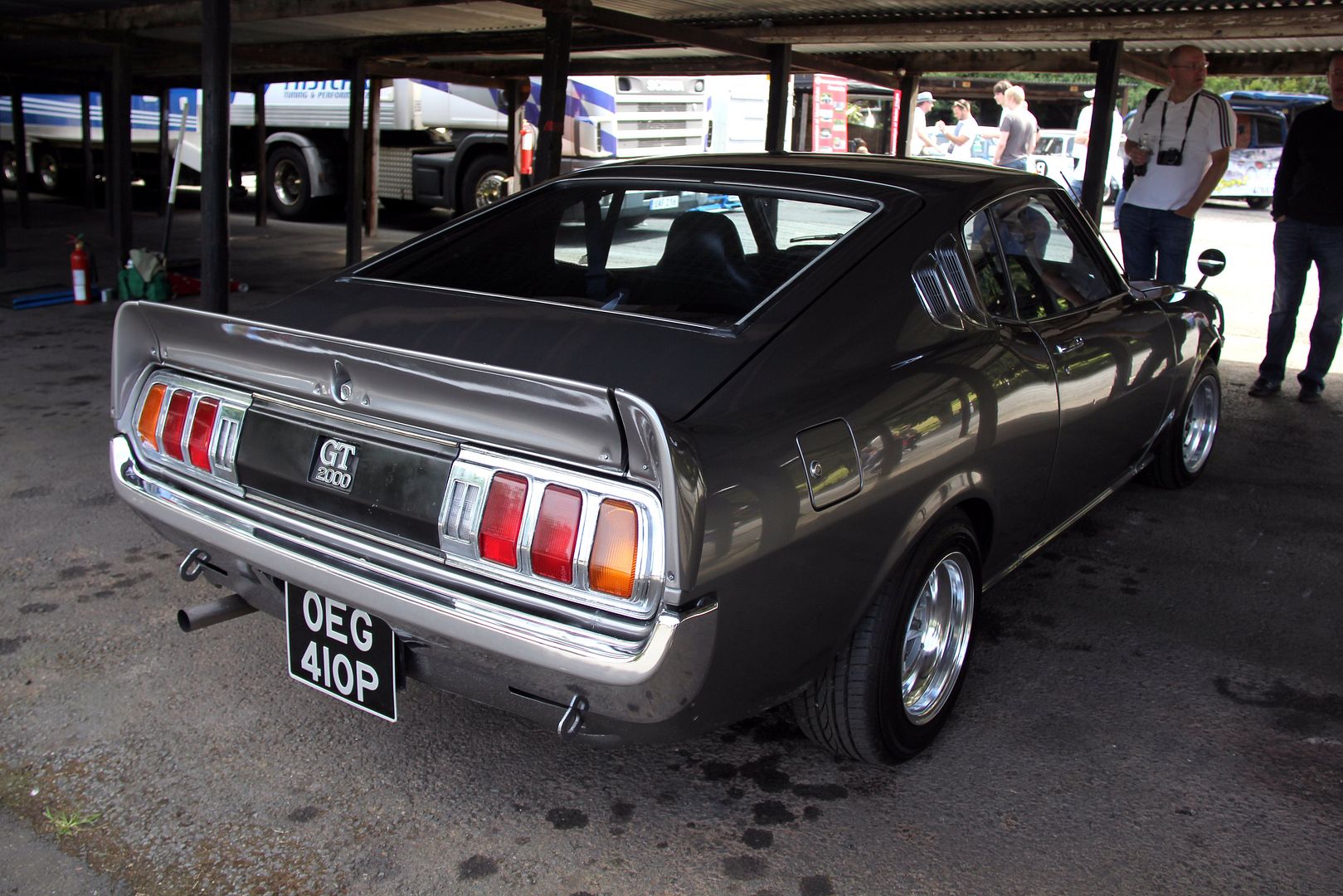 There's a reason Nature makes all her most dangerous things bright colours that are easily recognised as danger signals; hornets, poison arrow frogs, that orange bird from TOWIE, etc. This Cerbera is no exception. The lurid wasp-yellow is there to shout "stay away! If this thing takes an exception to you, it'll do the automotive equivalent of sex-murdering you before munging your still-warm corpse". But you'll enjoy every second of it...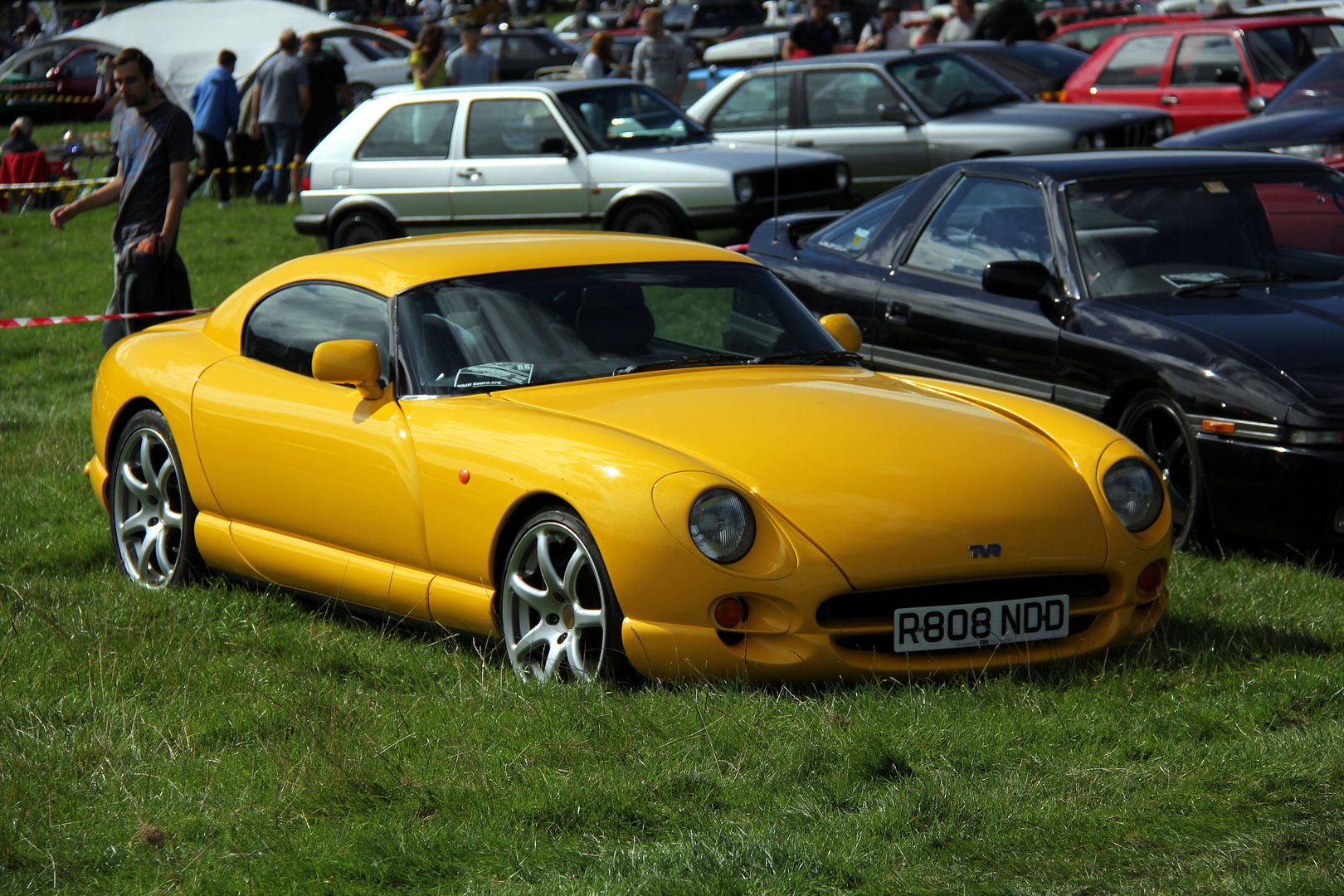 It's not an Imp. It's a Chamois. Apparently it's a class thing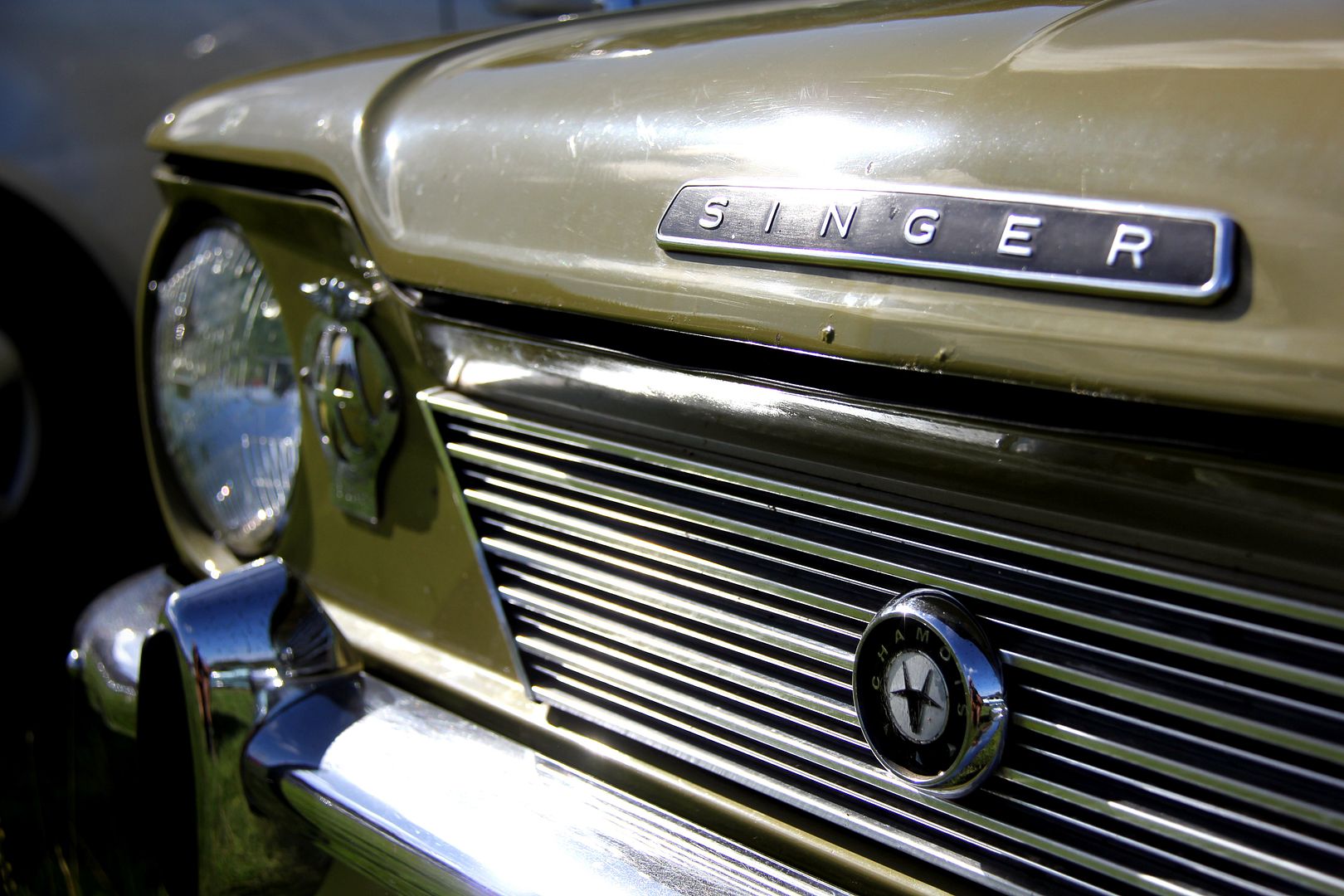 I hope it was the bike's owner or a good mate who left this beer bottle here. If it was just some random and they did that to my vehicle frankly no jury would ever be able to convict me, even after the perpetrator was buried in four separate counties.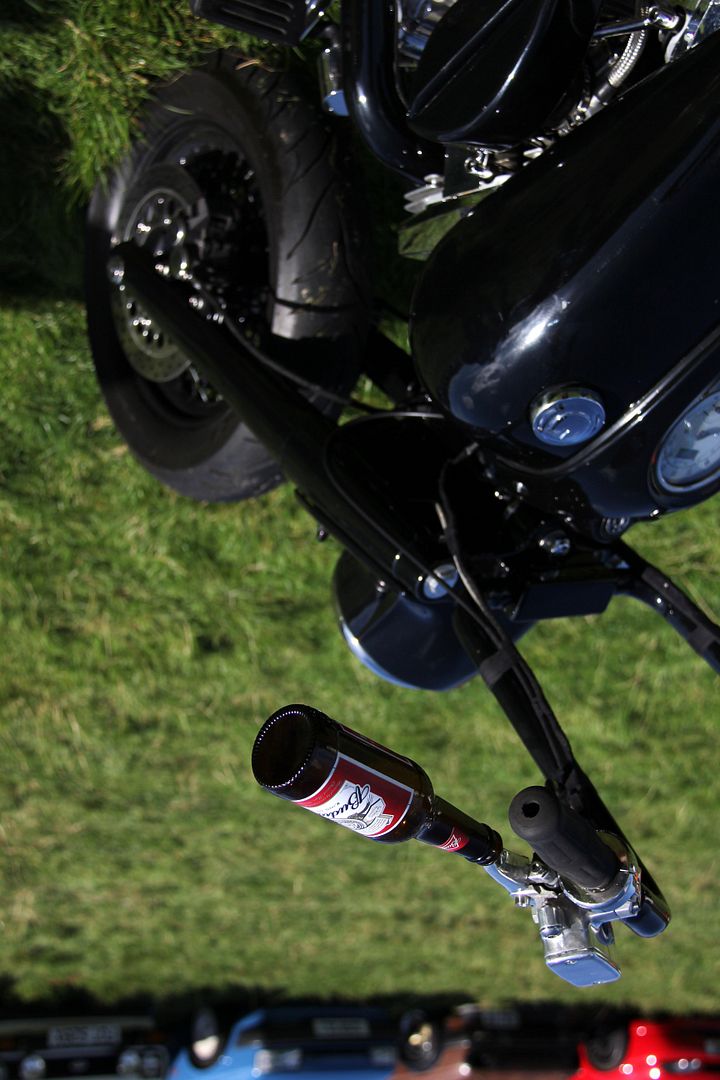 Chevette thing not only rocked J-style wheels but a J-style engine. Seems to have an MX-5 lump in there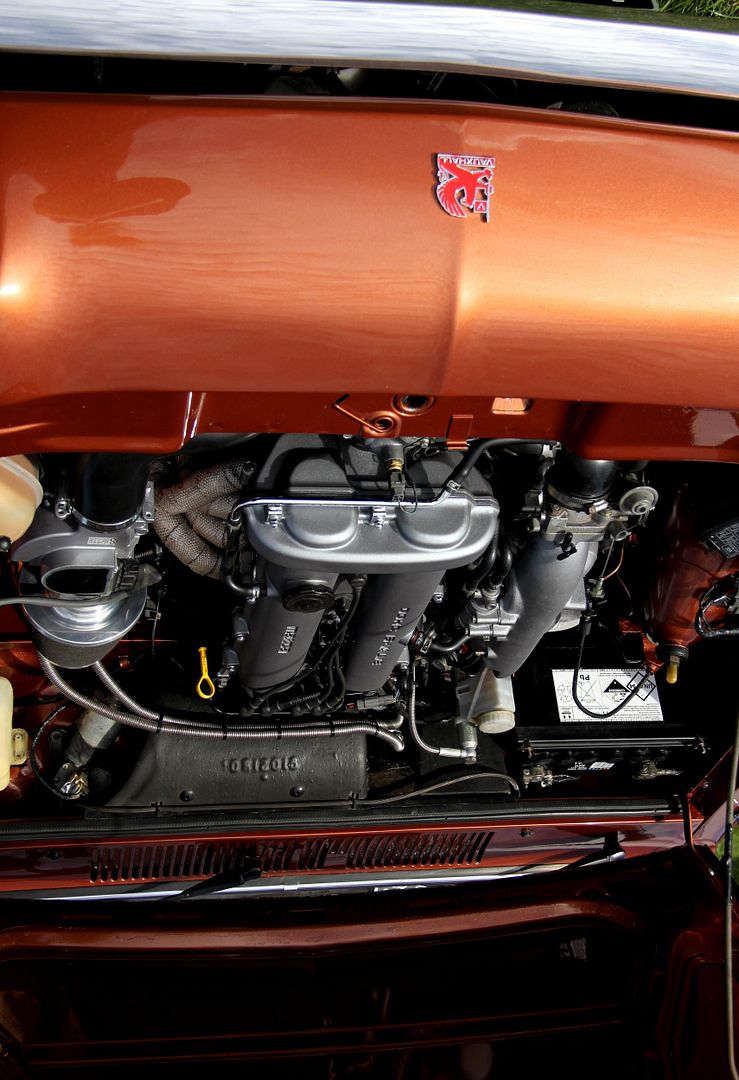 I couldn't decided if the tiny wheels on this Metro were styling genius or utterly whack. I'll go for neutral ground; a lot of people seem to have taken pics of it so they must be working on some level. Even if that level doesn't include giving the Metro's no doubt humble rev ceiling an easy time
Got a lot of love for this old Colt Sigma... bizarre really considering it's a very brown car. Guess it's both the styling... which reminds me of my youth...and the fact it's brown and as I've mentioned before, everything in the 70s was brown. Except my teeth, which have bucked the trend by heading in the opposite direction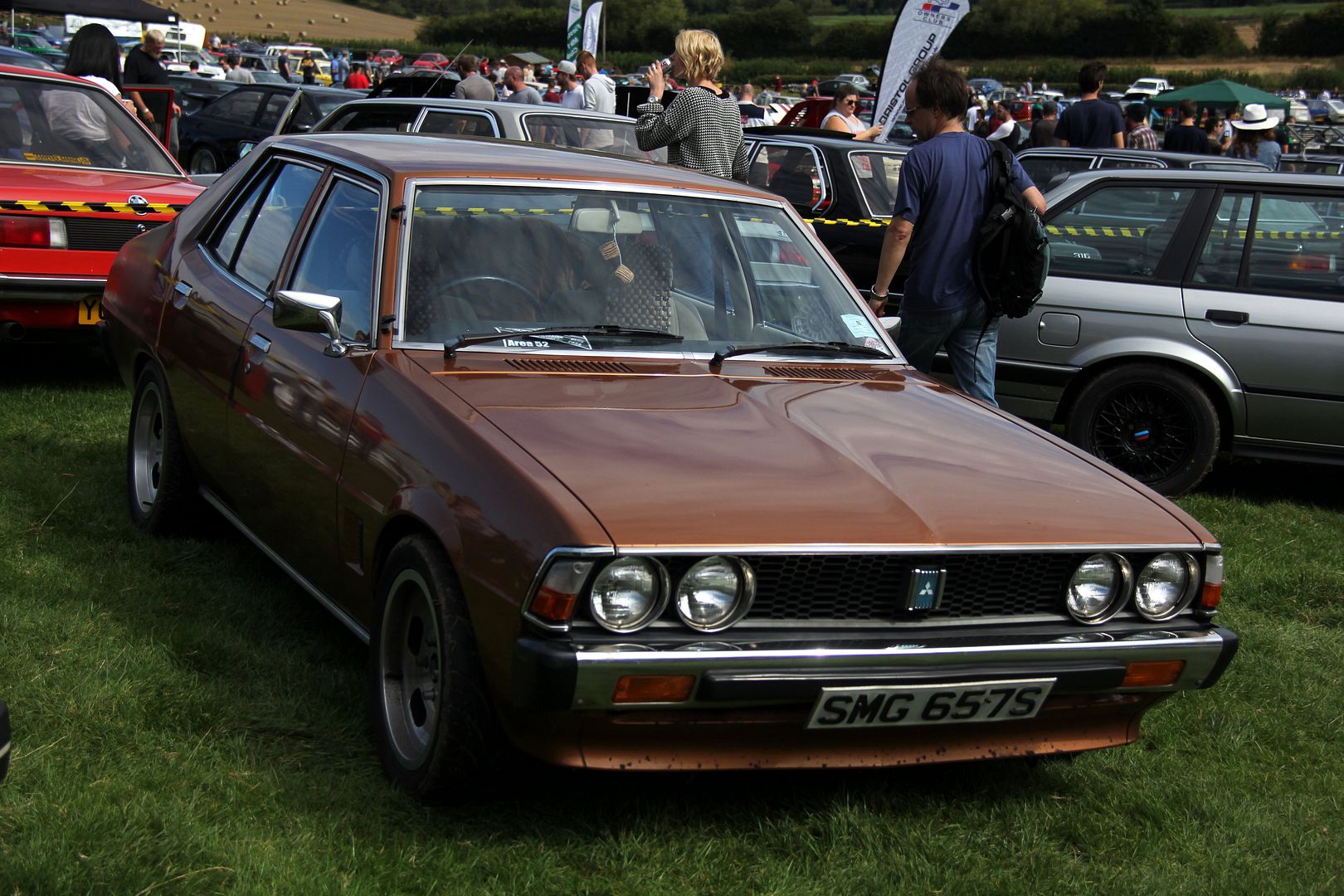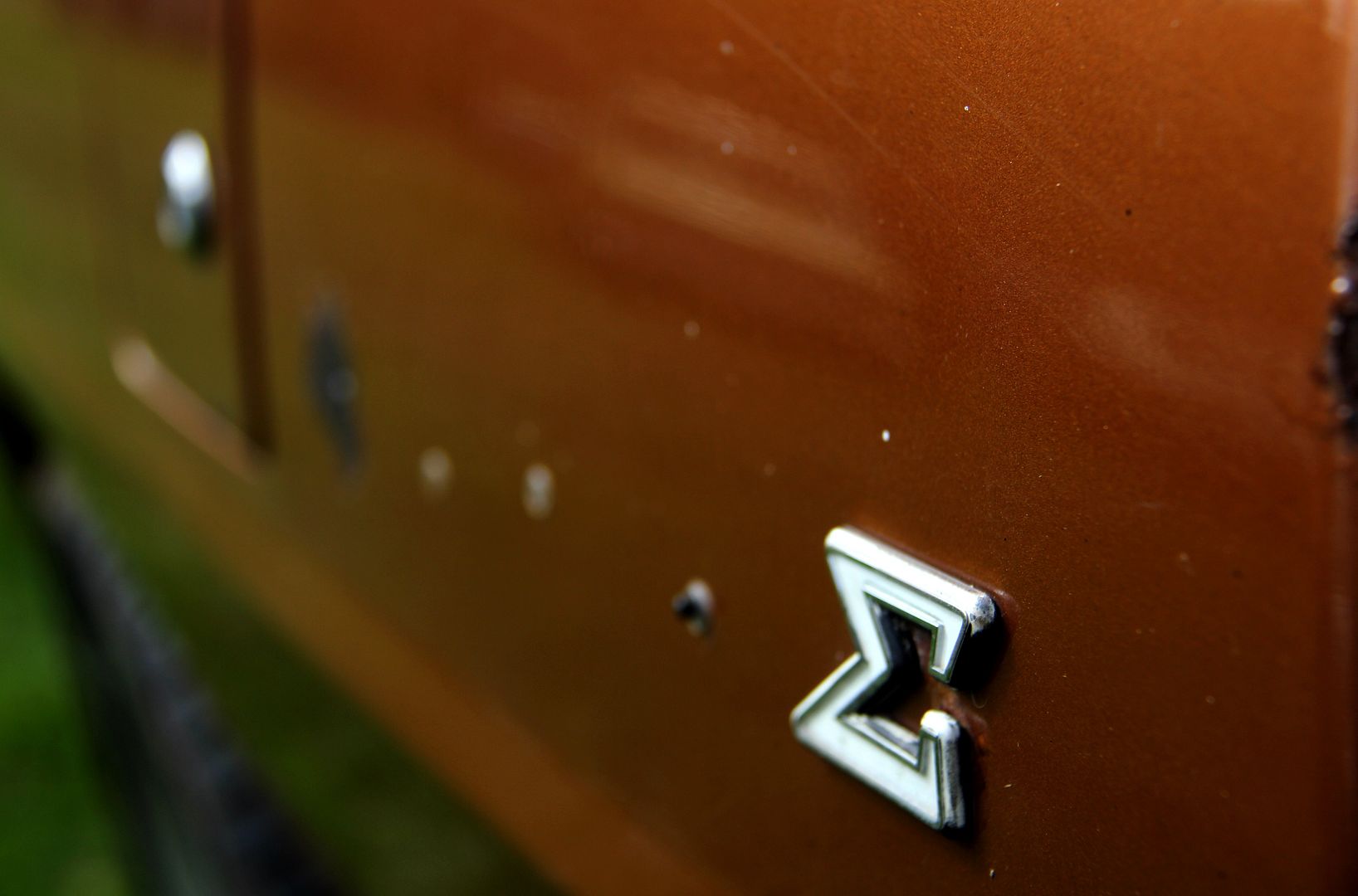 I think this was another of the demo cars, and anyway was certainly one of my cars of the day. Even without the zesty citrus paint, you were always going to notice the immense insanity of this 1950 Studebaker Commander. Unless it's a Champion, not 100% sure. Anyway, it's superb and funkier than Huggy Bear at a loon pant convention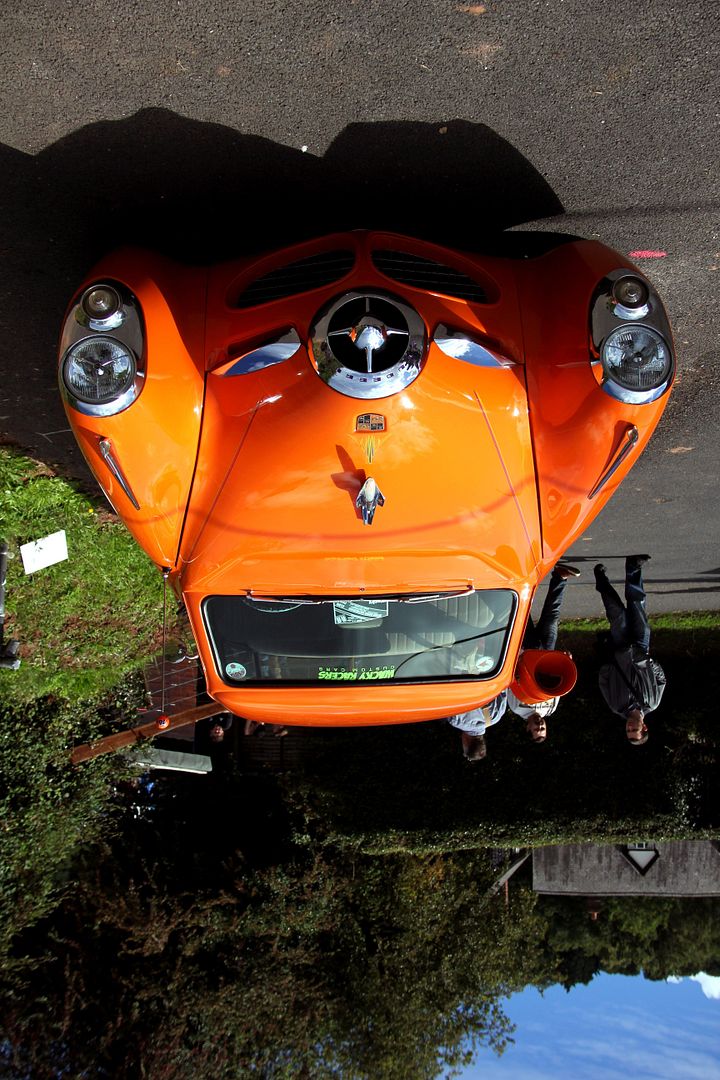 Corrado wants to go easy on the meths. That shiz'll make you go blind.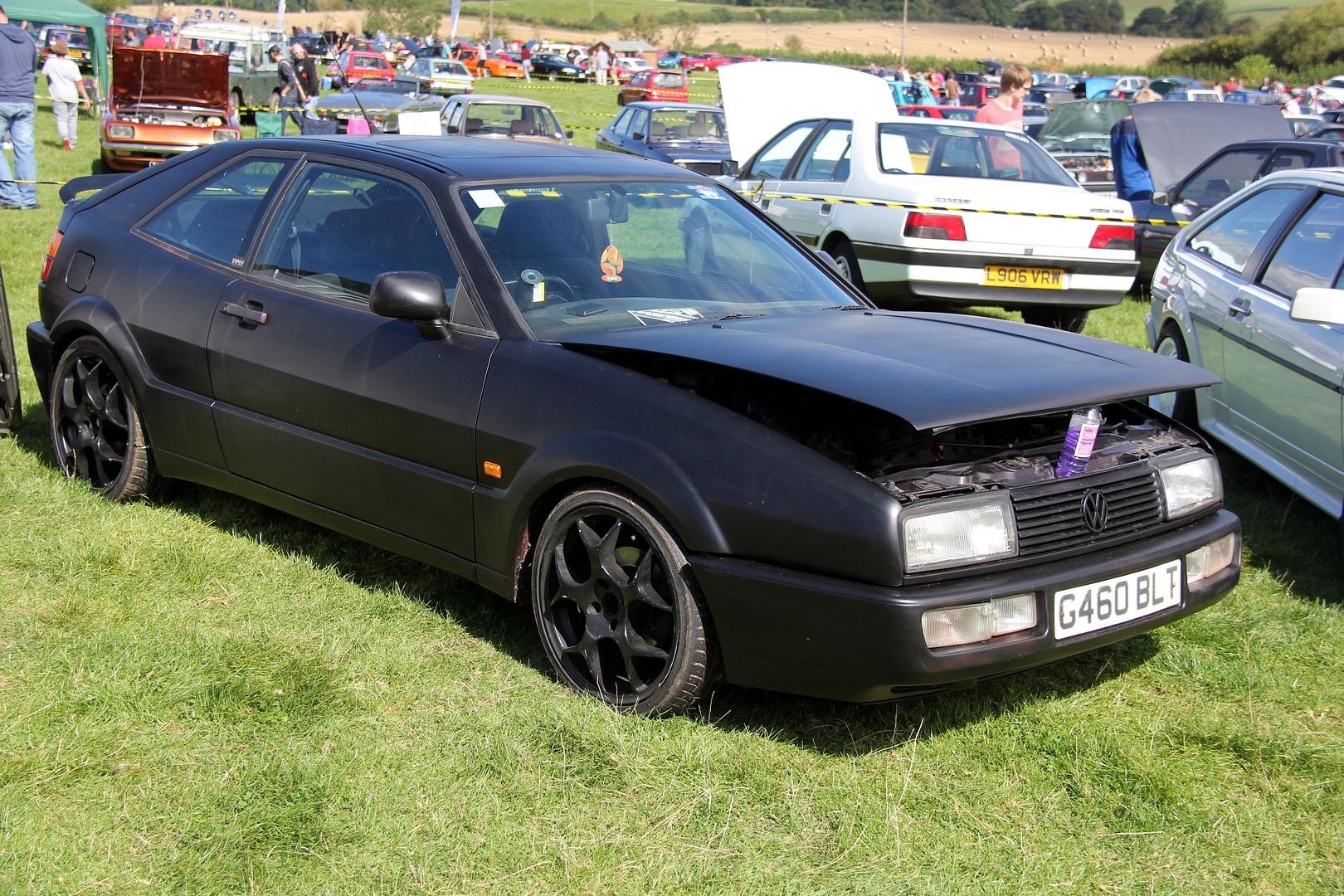 Crew cab looked brutal in worn and chipped paint, and was capable of a surprising turn of speed on the Hillclimb, too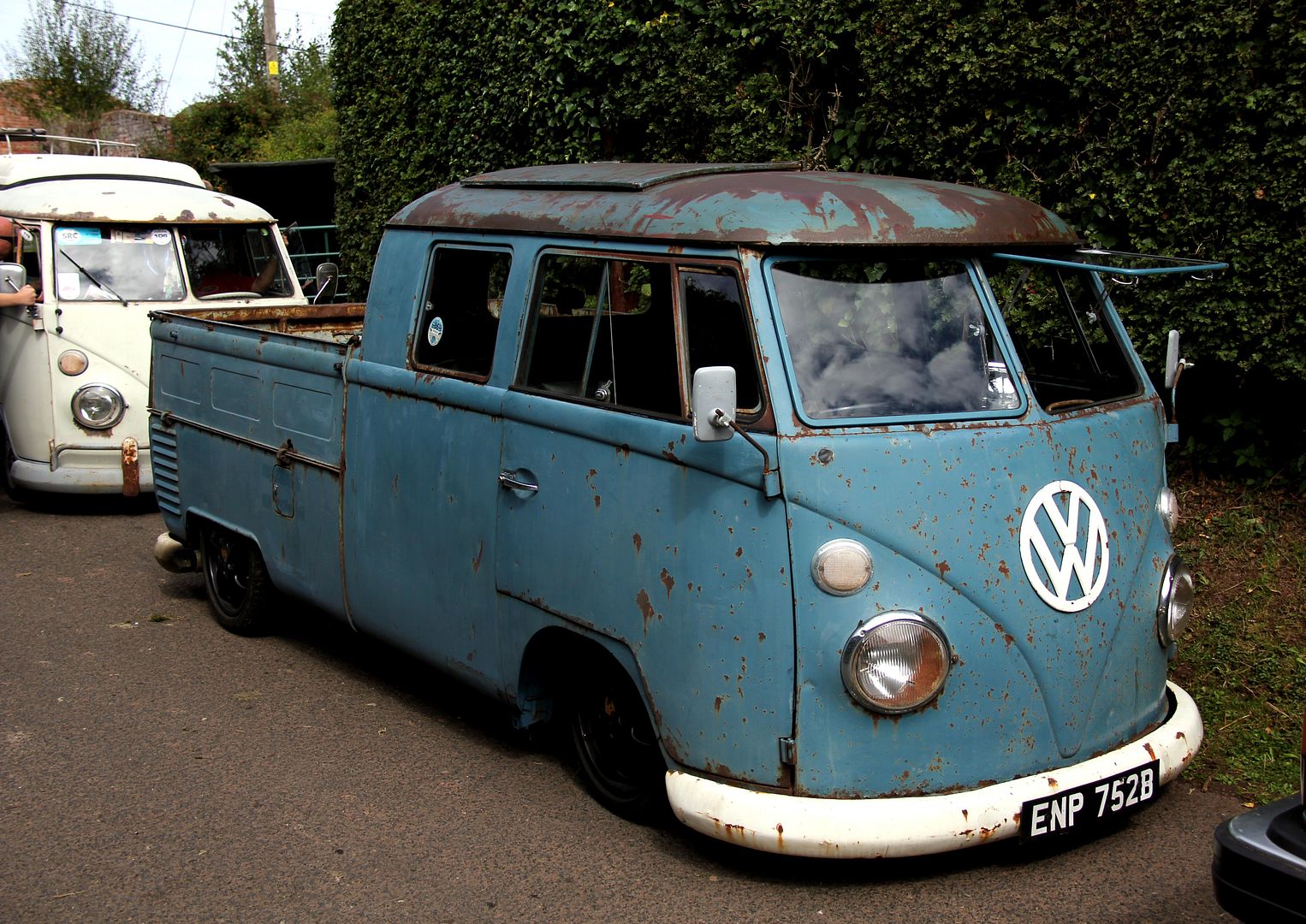 Moar to come, soon as I can persuade the kids to stop bouncing off the walls for a minute