First a bit of history,
Even tho I'm totally retro obsessed now back in '06 I was more into moderns after having had an earlier spell owning retro cars, id noticed this Cortina had been on the Autotrader site for 3-4 weeks whilst window shopping but was ideally looking for a nice Mondeo. However one random bored Saturday afternoon I went to have a look for something to do, it was only about 20 mls to the small car lot where the dealer had it for sale. Well what can I say, I walked up to the car and started grinning like an idiot and the deal was as good as done before the dealer had even walked out of his office. Half way through the test drive I pulled up at a cash point and drew out the deposit, the brakes were sticking badly and there was a less than a healthy blue plume from the exhaust but I was in love, crucially it had only 40k on the clock from new and was completely original and having very little rust.
First job was to fix the brakes which was nothing more serious than collapsed hoses and were swiftly replaced with stainless braided ones. I also had new valve stem seals fitted which stopped the blue smoke allowing me to see who was following behind,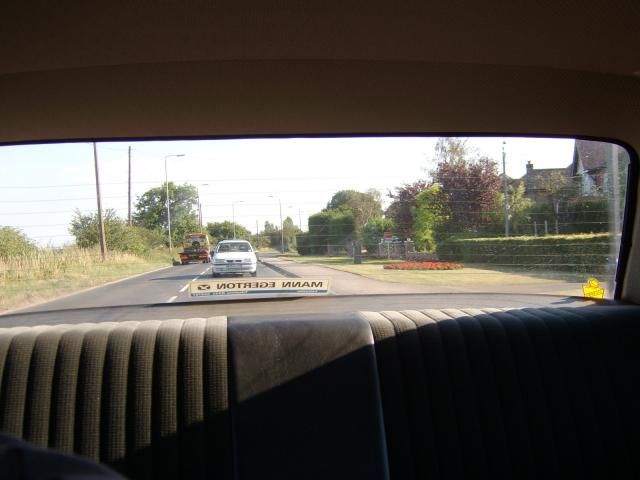 Then I added some 15" Mondeo steels to replace the original dartboards with ancient rock hard tyres. I also added a cut down Granada chin spoiler.
Next up I took one of these to the springs,
Which resulted in this, roughly a nice 3" drop.
Next job was some Granada front seats with headrests unlike the scary originals, added a polished knob (ooer missus) a Mountny wheel and a pod tacho on the A-post.
I drove it around for a few months like this loving it but starting to get a bit annoyed with a constant hesitating and mis-firing every time it rained, I decided fitting electronic ignition would cure the problem.
The electronic ignition came fitted to this, a Granada 2.9i from an '89 model.
Which swiftly went in with a Granada v6 type 9 and a new 2.8 clutch, Cortina v6 mounts and a auto x-member. I used a re-cored Cortina v6 rad and the Granada down pipes and first silencer. I bought a new fuel tank and had it modded with an internal swillpot/baffle, all connected up to a Granada filter and a new Bosch pump. I used the Granada engine loom too.
This is where it started to go wrong, I had it turning over on the key fine, the pump was running but it wouldn't fire up, life was getting in the way too and I was finding increasingly less time to work on it. Shortly after I lost the use of my lock up and parked it up on the drive at home at the start of winter. Forgetting there was no anti freeze in it one day I also noticed there was no water in it either so i topped it up only to see the water disappear in the radiator and hear the gentle sound of splashing underneath
I didnt touch it for a couple of months due to not having time and reluctantly decided it was highly improbable it was going to get finished. At this point I decided to sell it as I couldn't bear to let it rot on the drive.
So I traded it with my mate for his Granada mk3 which I had always wanted, all it needed was a tax disc and nothing else so I could just get in and enjoy it.
Ive been using the Granny since, (the 14th ive owned) but still missed my Cortina which had been parked up ever since my mate got hooked on motorbikes. For the last 3 yrs ive been trying to buy it back but no dice, my mate wouldn't sell, eventually after finding my self in a position to do a project I upped my campaigning.
Eventually after loads of this,
Some of this,
My mate reluctantly caved in and said this,
Result, I even gained another lock up.
So this is how she stands today, first job is to find where the water leak is, I'm hoping its a core plug and not the block. Then try and find why it wont start, I have a few ideas to start with but any suggestions would be welcome