One of my favorite rally cars was a star of the 1988 Paris Dakar race: the DAF 95 X1.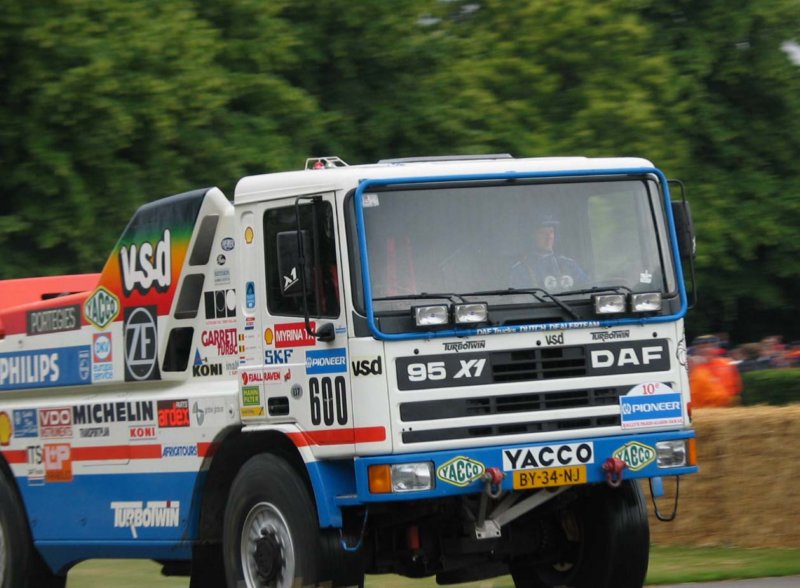 Though it's all about fancy equipment and big money now, Dakar didn't really start out that way: in the early 80's it was more of a makeshift adventure in which privateers could run their bikes, cars and trucks halfway across the globe in an epic adventure, as the brainchild of Thierry Sabine. In 1981 Jan de Rooy, a Dutchman that ran a trucking firm decided it'd be fun to enter, and got a DAF. He was very competitive from the get go, and with relatively standard material won his class. He ran a truck every year from then.
By 1988, though it was only the 9th time the race was run, Dakar had become a rather professional affair. Porsche and Peugeot had been running their Group B spinoffs, the 959 and 405 T16 Raid (essentially a rebodied 205 Raid), and big money was spent. With stars like Ari Vatanen and Jackie Ickx being contracted to drive it had become a high stakes game.
Jan de Rooy wasn't up for that. He was backed by DAF Trucks, but he was neither rich, nor a man for sophistication. He was a trucker in the true sense: rugged, overweight, and an absolute chain smoker. On the preplist for his trucks the final item was always to mount a holder for his pack of cigarettes on the driver's side door. He was down to earth as well, so Dakar was fun for him, but he had work to do. He'd stop working the day before Dakar, do the rally, rest for a day, and then go back to running his business.
After winning the truck class pretty consistently he wanted a challenge. He thought it would be possible to win overall. Trucks tend to be rather heavy though, and underpowered.
He devised a concept in which a light spaceframe was made up, and two engines would be used to run the truck.
These engines were located midship and beside eachother, one powering the front wheels and the other powering the rear wheels.
A truck cab was put on for form, and a bodywork to fair in the oily bits.
By 1988 the spaceframe was made of aluminium, the car ran 24" allows, and each engine was compound charged, with one huge turbo blowing into two slightly less huge turbos to produce a net output of 1220 bhp. It was mostly stock components, engineered marvellously to produce a rudimentary but capable machine.
It was entered in 1988, along with its sister, the DAF 95 X2. De Rooy fared exceptionally well. The brute machine was rough enough to withstand the gruels of the desert, and powerful enough to put the factory cars to shame.
This video of Jan de Rooy overtaking Ari Vatanen in his Peugeot 405 shows how competitive the truck was. In the earlier stages of the rally he was first overall several times.
The later part of the video shows why the X1 never reached Dakar. Sadly the second truck, the X2 hit a rough patch at speed (ca. 200km/h), got into motion and flipped several. The seatbase of the on-board mechanic came loose, he was flipped out of the truck and died. DAF Trucks instantly pulled out of Dakar, and out of rallying in general. De Rooy was 3rd overall at that moment.
All that's left now is the X1 left in the museum in Eindhoven, and the stripped wreck of the X2, left to rot in the desert.
The X1 in numbers:
2 engines
6 turbos
8,5 seconds 0/60
12 cylinders
23,2 l capacity
1220 bhp
4700 Nm
10500 Kg