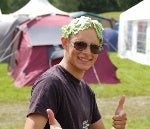 Thanks Lew, Mint Sauce, what gets me is the wasteage, and remember the guy who is having the job done has PAID for those materials being skipped.
Yesterday I picked up a plastic wheelbarrow...... (looks like it was used once to mix a bit of render or concrete in) perfect for when I start building my Brick built BBQ, which will be made from recycled and used/Free bricks.
My other wheelbarrow which was free too, came with a couple of dents, rust and a hole in the bottom made by something that pierced it.
Barrow looks like this..... and is about £65 on the web.