Hello all,
This is not a car I accept. But its old and its a project. And where else can I post it up- the plastic motorhome brigade wont have me! So I thought it might be of interest to you lot....
I have been posting this up only on Oldschool.co.nz so far where it has had a nice response. Housetrucks are a common sight here in NZ and part of our way of life- happily accepted. But mention you live in a vehicle in the UK and it can go two ways- your either a traveller or a dirty hippy...
well I'm a dirty hippy ;D
So after living in various vans, then our ex BBC broadcast lorry for the ten years I resided in Oxford UK I'm now back in NZ with Hannah. We are on a mission to build our next home and hope to sometime buy some land. But Home first...
I'm going to copy and paste what I had put on oldschool. Then I'll do my best to keep posting up on here when I post on oldschool. The reason I'm bothering to post up about this build is because its something that keeps me focused and driven. I also love reading my old threads on past projects and seeing the progress for myself plus what I began with.
This also may just inspire some of you to have a crack at building something like this- I think the idea of just living in a house seems odd... I love the idea of being able to pack up and shift off to a new location. Living in a truck keeps us from accumulating to much junk as well. OK- I accept that it does not make playing with cars as easy as owning your own house but if you get a nice landlord and get a good parkup like I had in the UK its still poosible.
There are so many great cheap trucks in the UK to build on- trucks are fairly expensive here- I guess they have all had to have been imported a long way at some point so that never helps eh.
anyway- heres the thread so far....
Oh- best you put a the kettle on...its fairly long all in long shot eh...
alex.
Well as this Hino is 1985 and I think pretty classic looking now-a-days. I'd have posted it on a housetruck forum but there doesnt seem to be one. Anyway its a vehicle build on an an old truck that I just thought might be of interest to you guys. I'm gonna start a discussion thread as I am really hoping you guys might spot faults, alternative methods and give me some ideas. I'll post it on NZ motorhome forum too but mainly its plastic things on there and that's not my cup of tea!
So I sat my truck license last week and now this is the view from bedroom window....
I was living in various vans and our truck the whole ten years I was in england so now its just the way for hannah and I - until we buy some land. This housetruck build will be our biggest yet and we intend to use a lot of ideas we have thought up over last few years plus ones nicked from others (finest form of flattery eh)
Its gonna have 2 push outs and 2 separate main rooms on bottom level of which one will be a workshop. This I have always wanted! We will have a big bedroom over the cab. Over the back will be a entertainment dvd watching, book reading room.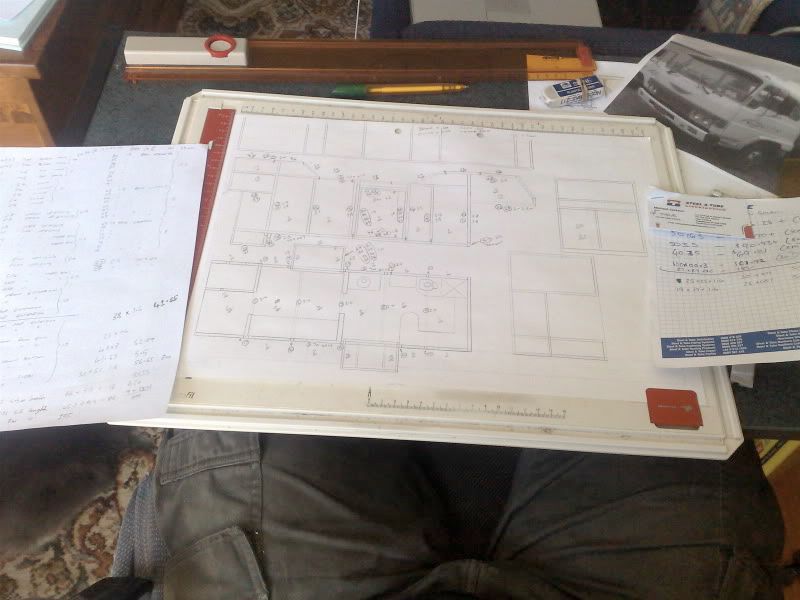 The deck is 6 meters long. wheelbase is 5 meters so we can go back 3.5 meters from back axle. We are going to stop at one meter back from deck otherwise the rear swing will be excessive.
I found it on buy sell swap nelson. Its really solid and has had the engine reconditioned at cost of $10,000 in 2000. Its rare to get a long wheelbase and rarer to get such a rust free Hino.
After we mucked about dealing with the old sod selling it who insisted we went with him to AA in Richmond to change ownership we went to a timber yard called Plankville and bought a load of amazing varieties of wood slithers to clad it in. We are going for a proper old rustic Oregan housetruck look on this one. No plastic, no ply, no metal.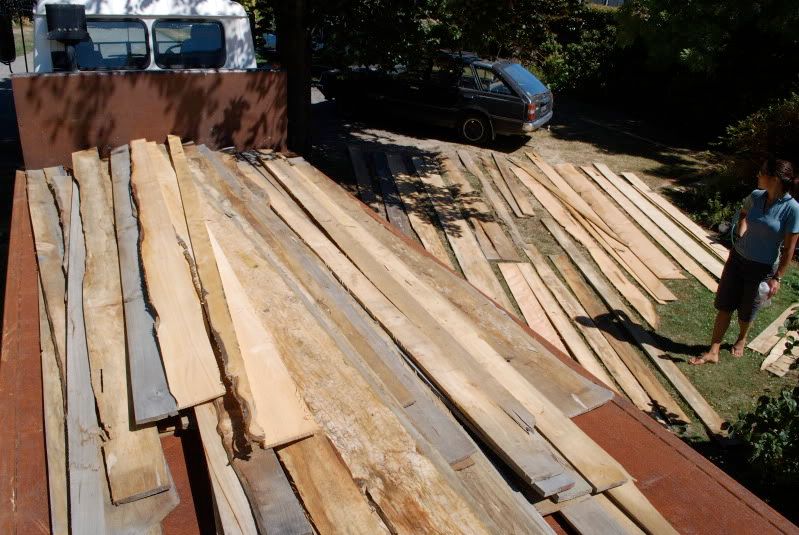 Drives well (not that I can compare it to much...) and was quick on trip back to blenheim- faster than the hiace up the hills. That'll change...
I could only just turn it about in our front yard. Mums on holiday and hasn't seen it yet- shes gonna hit the roof!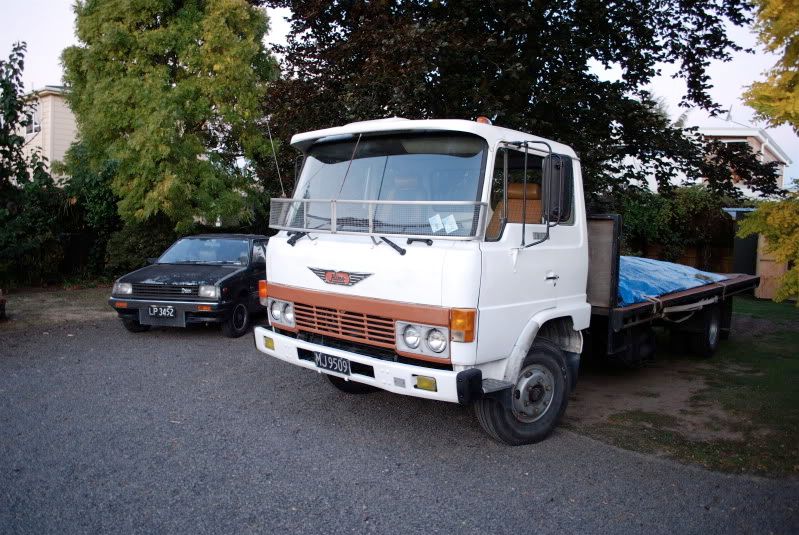 Yesterday we stripped the cab out and took off outside panels to expose what little rust there is.
Its all superficial stuff and we'll clean it up.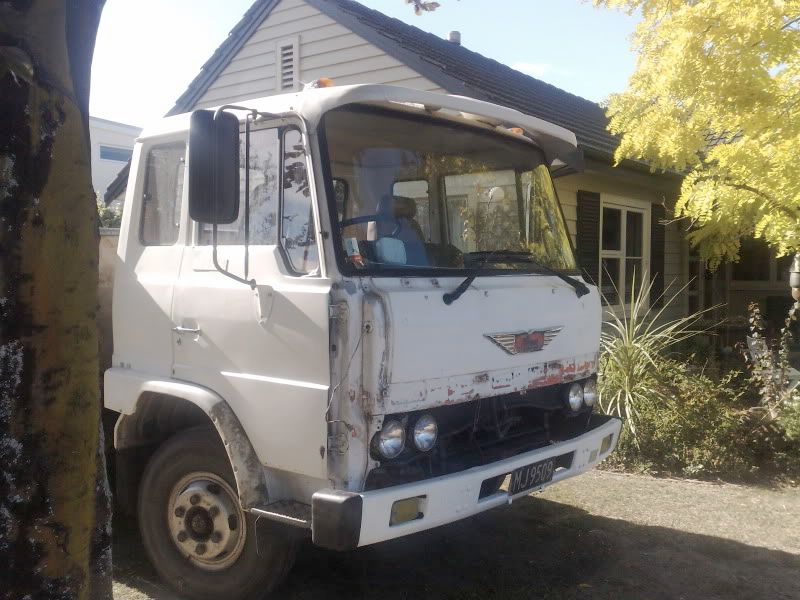 Our container of goodies arrives in Lyttelton next week so we'll have my whole workshop full of tools from England here with welder etc. The spray gun will be out and the cab will get a coat of something pastel and old looking. Anything but white!
Heres the length shot.....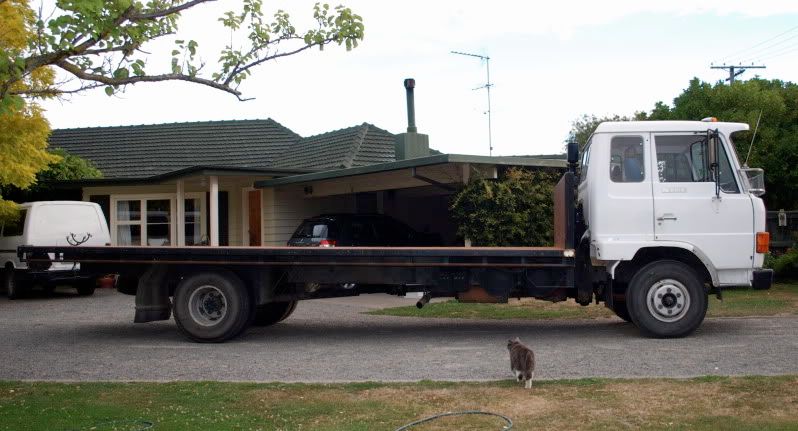 glorious 6.2 litre engine..hmmmmm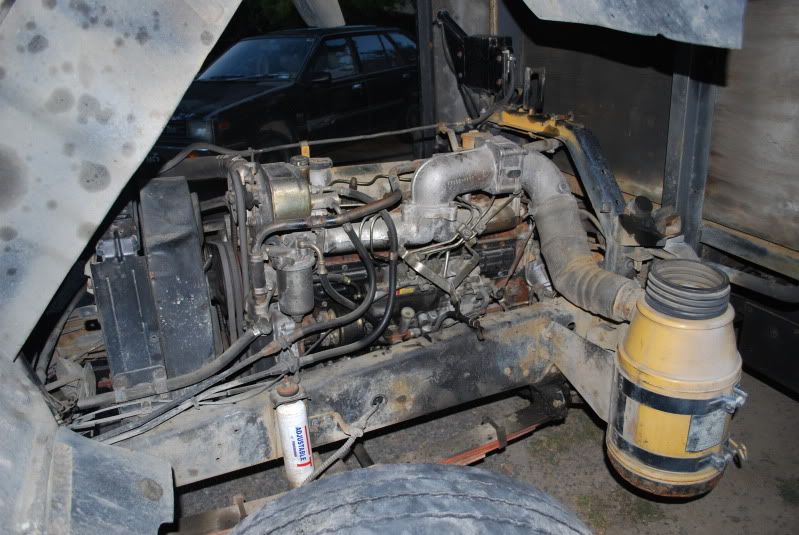 back to work....