I've been meaning to post up a thread about my Imp for a while now. While I'm about it, I'll mention the other cars that I own.
Unfortunately, there aren't really that many pics - I'm poor at taking photos of my car, and in part this thread is an attempt to get me to take more.
Here is my 1975 Hillman Imp, in glorious Chrysler/Talbot/Peugeot Cherry Pink
Currently, it has had a few minor modifications, including a stereo, a Fiesta driver's seat (the foam in the original collapsed), no carpets (the rain gets in), braided brake hoses and a slight tap with the stick. The engine is standard, and getting tired - it burns a pint of oil in 100-ish miles at a steady 70mph,although it's a more reasonable 1pt/200m at 55mph.

It is my only car, was the first car I drove on the road (not counting my driving instructor's corsa

), and has done somewhere around 20,000 miles over the last 5 years.
It was bought by my Dad 5 years ago next Sunday. He bought it partly for me to learn to drive in, and partly to run around in himself. It appeared to be a straight, honest car, with flat paint, that had been standing for a while.
As we drove around in it, of course, things broke regularly. It had a recurring problem where it would lose power suddenly - especially under hard acceleration. The lack of power was caused by grit hiding above the needle valve in the carb. Much fun was had with repeated replacements of brake wheel cylinders and seals - they just kept leaking.
After my A levels, in July 2006, I took a job during my gap year, which was 70 miles drive from my parent's house. I lived in Basingstoke during the week and went home at the weekends - in the Imp of course. This regular use did, of course, cause some issues - the alternator boiled the battery one Monday morning, leaving me smelling Sulphuric acid all day at work

. The work on the car continued apace, with repairs and bodges in equal measure. ;D
During this year, one of the my scariest experiences in a car. I was driving along the A38 at a generous 50mph, in a wooded area, at night, when my headlights decided that they'd had enough, thanks very much, and went out. They took the sidelights and the tail lights with them.
Being plunged into darkness at 50mph is something of a brown trousers moment, although I'm grateful for the fact that the road was empty. Using the main beam flash allowed me to find somewhere safe to stop and investigate - it turned out that the headlight switch just fell apart. Bizzarely, however, I happened to have a spare in the car that night.

In 2007, I started at University, which has resulted in another change in usage patterns - a 135 mile journey roughly 12 times a year, plus a little pottering around. At the end of 2007 my Dad, who had been using the car very little anyway, said that as long as he could use the car when I didn't need it, I could consider it mine. ;D
Last year, I visited the Imp club national for the first time. A great weekend, during which, this picture was taken by Andy Smith: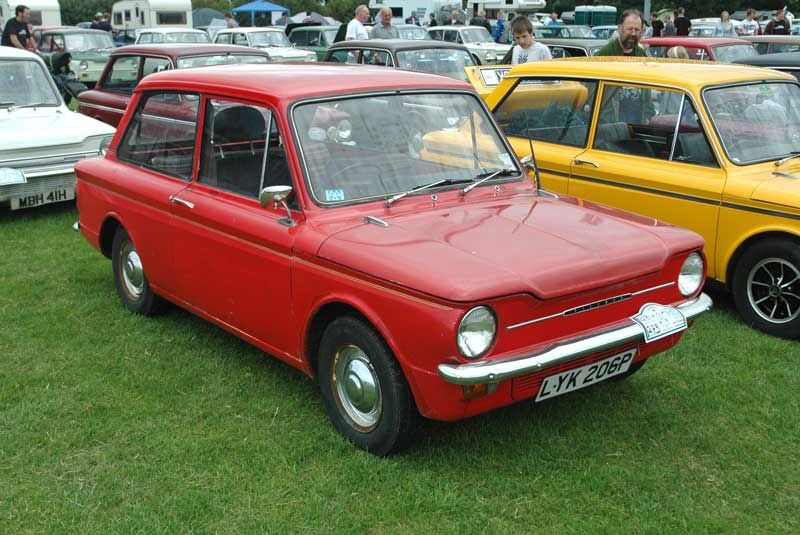 As can be seen, the paint was shiny. Not for long though, oh no! Having washed, cut back, polished and waxed the paint, it was flat again within about 3 weeks

. I gave up on the paint as a hopeless case at that point.
Following the National, I spent some time re-building much of the suspension of the Imp: NOS rear shocks; poly bushes; new steering rack; new UJs; New driveshaft donuts; new rear wheel bearings; new brake shoes all round; and a set of Monte Carlo springs (Chrysler Comps lowering springs, to correct the +ve camber that the front suspension suffers from) .

However, while I was working on the car, I realised that there was some significant rot in the sills. I do have some photos of this:
Mmm, rust!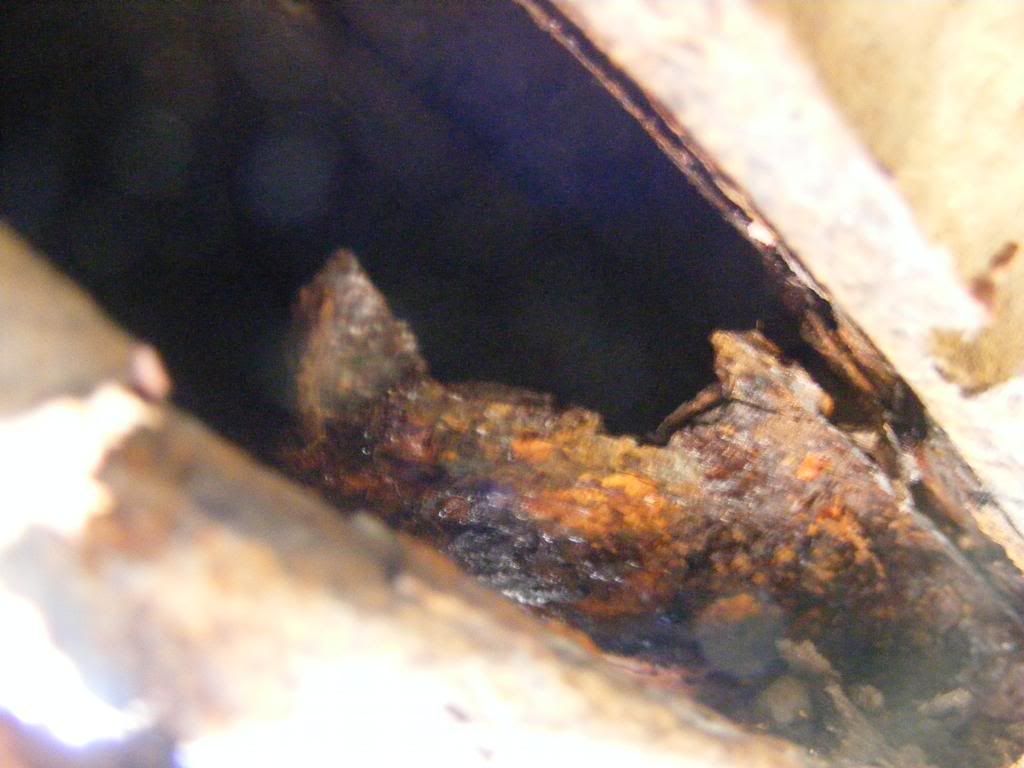 That hole was mostly pushed through by hand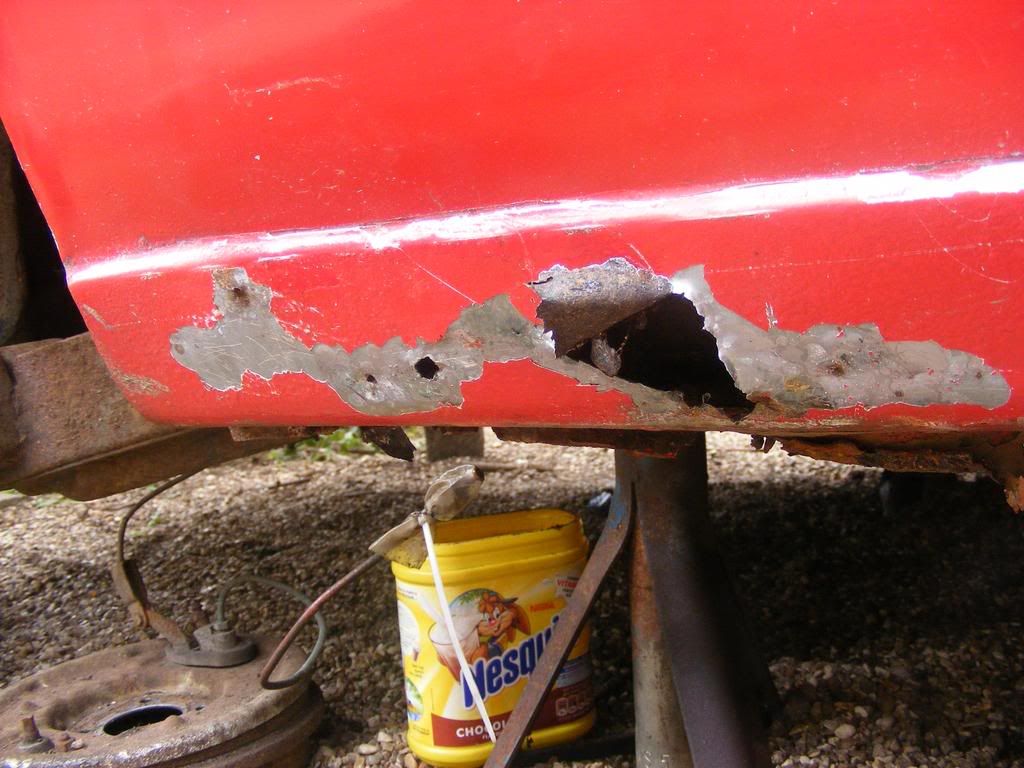 Hole on the other side: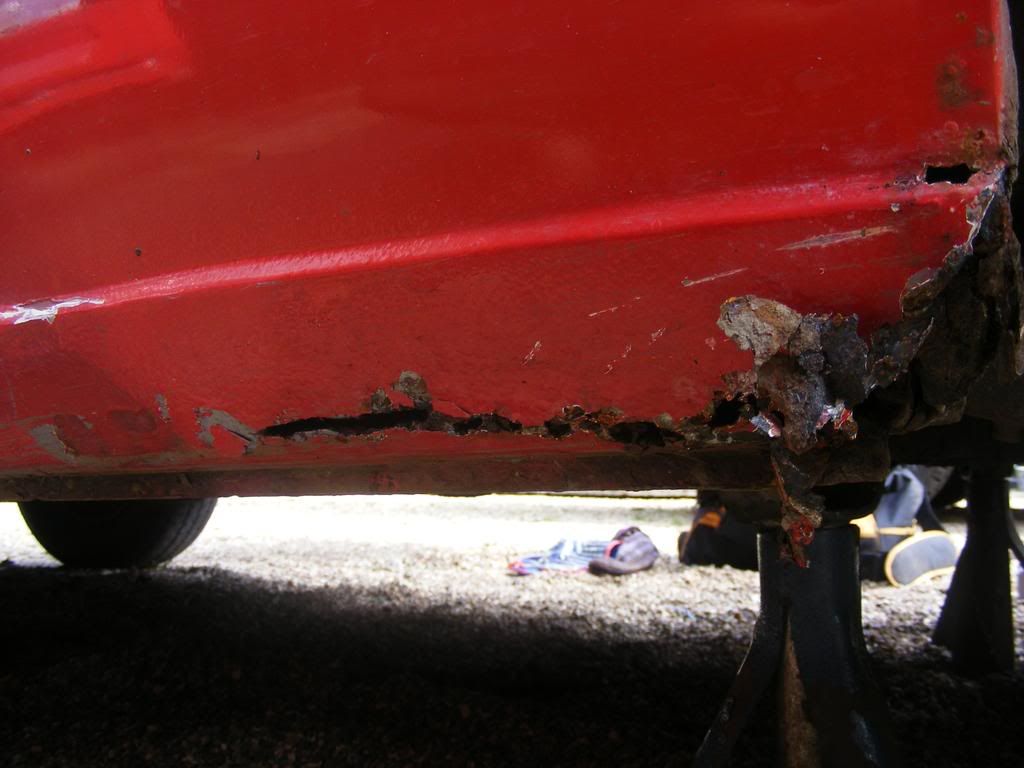 Now, not having the skillz to do the work myself, or be able to pay a professional to do it myself, I didn't have a lot of choice in who did the work. It ended up being done by a small bodywork company close to me, which does a mix of classic car rust repairs and modern accident repair work.
Unfortunately, the result wasn't great - the sills are fitted quite well, it's just a shame that the rest of the car is bent (the doors no longer fit properly). However, the car now feels much more rigid. Next time round I plan to do it myself, and properly.
Since then the car hasn't done a lot other than cart me, myself and my stuff around. Last year it took a group of friends an I down to Upton for the Blues festival - that was a fun trip. I also went to the 2009 Imp national, although only briefly. Unfortunately, my failure to get a summer job has put progress on hold a little.
Photo from this year's Imp National (also by Andy Smith - I do have a couple from this year's national, but they are on my other memory card, which is 135 miles away. Bother.):
I have plans, though - and a little bit of frugal living this year should see some student loan left over for the car. I have a mildly tuned engine that is in the building stages, with twin carbs, Imp sport camshaft, exhaust, dizzy and oil cooler. I have a set of 12" Cobra Superslots for it, which will be fitted with new tyres when funds allow. There is a set of seats from a Honda CRX of all things waiting to go in, along with home-made trim cards. This should all be done by the end of my Easter holidays. Probably.
Here it is on two of the slotmags (I need more wheel nuts), straight off the jack:
A bit more settled:

Longer-term plans include replacing the wheel arches and painting the thing at long last.
Just briefly, my other cars are:
1969 Imp Californian - I was given this after my great Uncle died, back in September 2003. It needs a lot of work - sills, arches (probably wings in reality), floorpan repairs, door skin repairs, paint and a full mechanical overhaul. It will be returned to approximately the state it was in when it was taken off the road in 1989, only with less rust and more shineyness.

Californian:
The headlights (Lucas Halogens) have been 'borrowed' for LYK: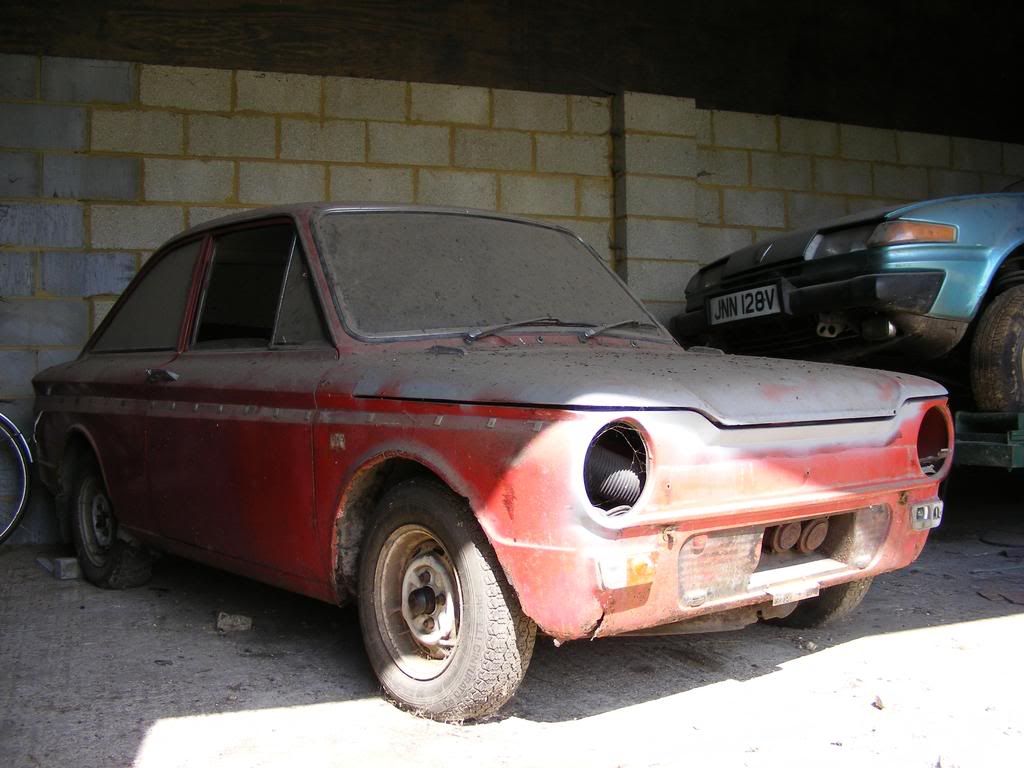 1980 Rover V8-S - I saved this one from a Scrapyard in the Nottingham area. The bodywork is, unusually, very solid. It cost £180 without the engine (a shame, since it was the original engine and supposedly very good - the yard had it running and they said that there were no knocks, rattles or smoke). I bought an engine with the correct auto box for the car a few months later from the bay of e for £225.
There are two probable options for this one: get it running and sell it or get it road legal and sell it. It's unlikely that I'll keep it: my dad has a Vitesse that I could probably use if I wanted to, and the main advantage of the 'S' is rarity. On it's own, rarity doesn't really do much for me, especially as it's mainly a trim level difference. There again, it's probably the best SD1 shell I'll ever be able to buy. I dunno

It depends on storage space and finances as much as anything.
The rope is holding the gearbox up: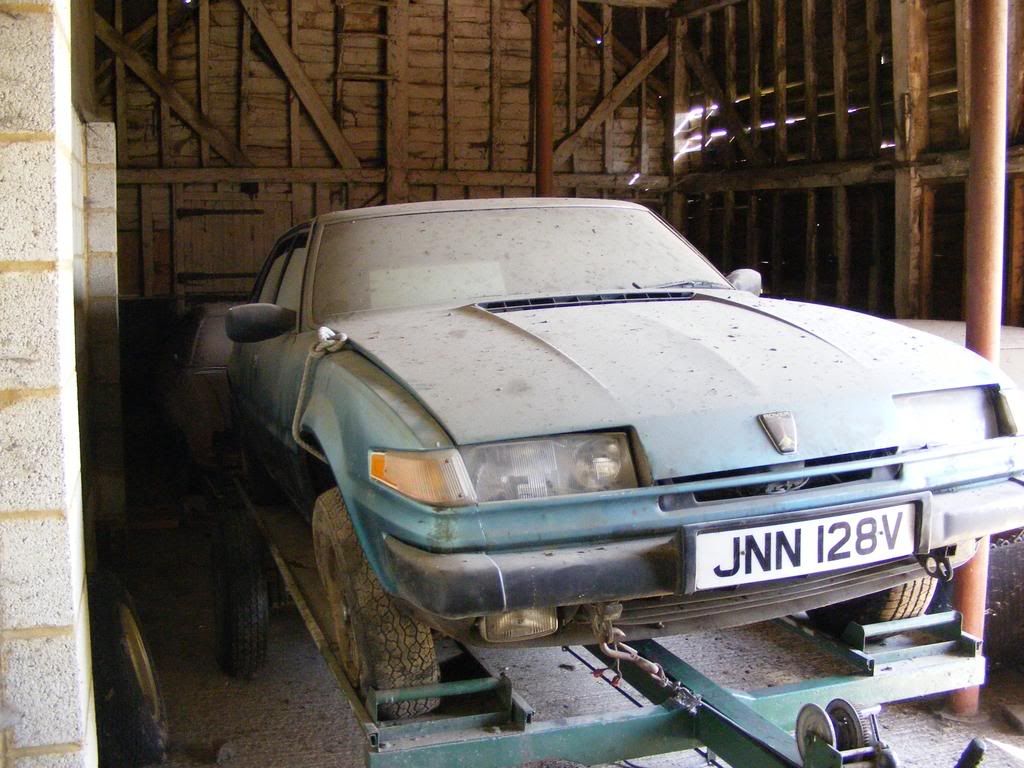 Clean arches: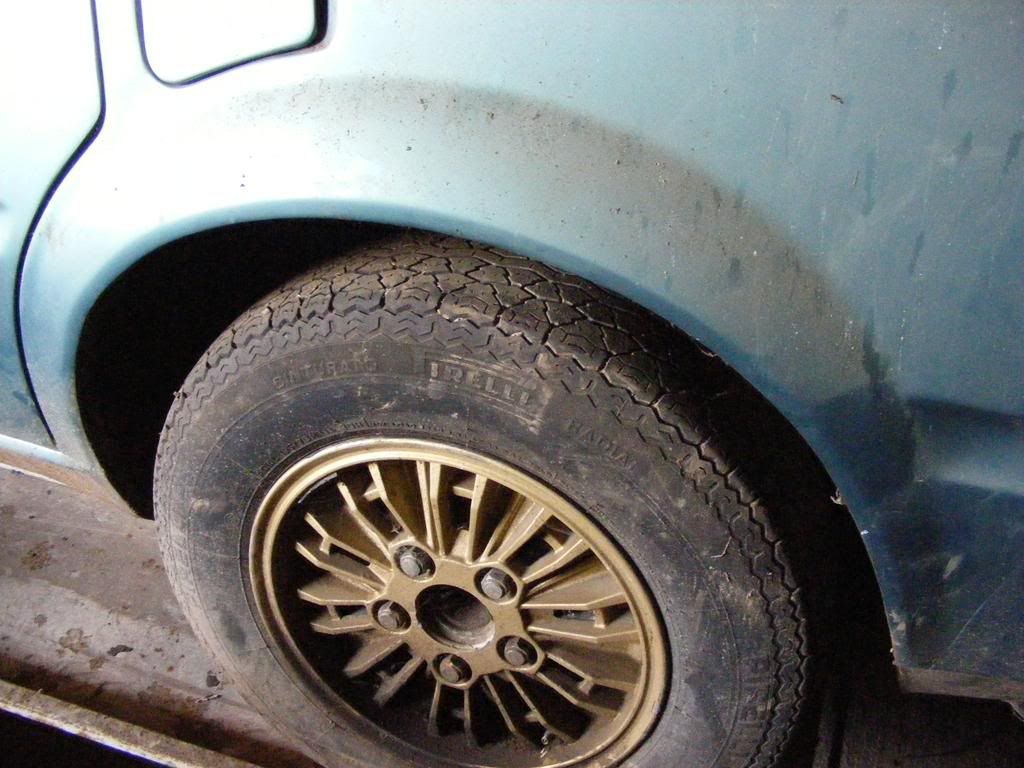 Scruffy, but rare, interior:
I also owned this 1996 Mondeo for a while. I bought it to do a long road trip through europe with my friends, but that didn't happen. I spent a lot of money on this (probably enough to finish the Imp) so that it could do the trip, and only got back what I bought it for when I sold it.
Ahh well - live and learn.
So there it is - a brief overview of my 6 years of car ownership, and the follies and successes therein. I hope you found something of interest.
I'll update the thread as things happen, and start new threads for my other cars when progress happens.
James