Post by jonmsm on Aug 16, 2009 11:08:29 GMT
HI all - A heap of people have asked me to make a thread about my progress so they can keep tags so here goes!
I should explain where this all starts! Well the BMW obsession started with my step dads 840i some years ago as a kid but the current obsession started with this... my second car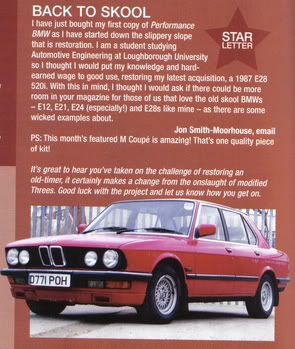 At 19 that was a pretty epic car to have and I have been hooked since and at 24 (nearly 25.. but shh) I have never been without an e28 of some sorts. My signature pic is also me, on the nurburgring with my second M535i which certainly looked the part even if it was full of tin worm: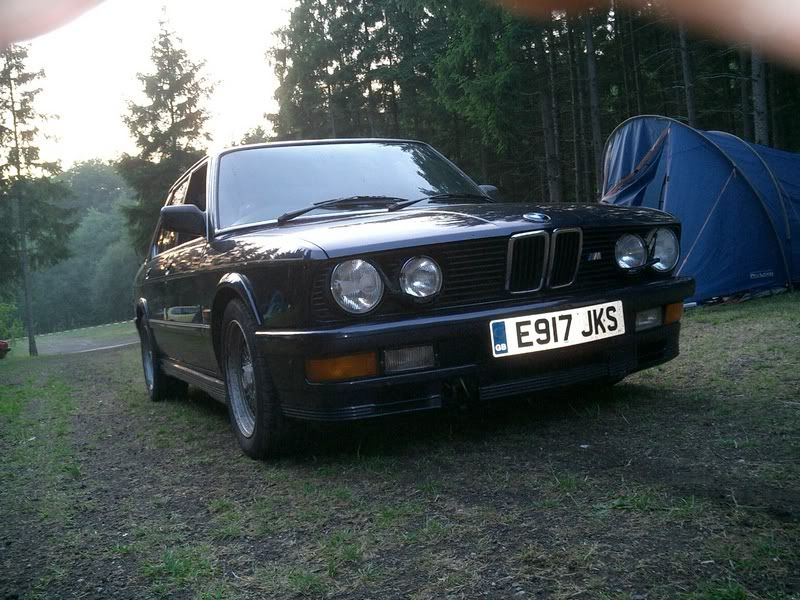 Then when the MOT man condemned it and it was just too much to fix I bought another one (big mistake maybe) for a 'mate' for £150. The guy writes for PPC (Toby Unna if you're a reader) and I picked up a copy of the mag the month after I bought it to see the bonnet up... and lots of steam! PANTS! Anyway, while my life changed alot the car got retired to the corner of a friends yard where it slowly rotted away. After having the wheels nicked and the windscreen smashed it started to look very sorry and I decided to do something with it. The car was by now showing signs of years of bodge repairs and looking more like swish cheese than a BMW. So I set to and stripped a lot out of it with the plan to make it a track car. It's got a dogleg manual gearbox, LSD and 3.5ltr i6 engine so should be good for it! just needs to go on a major diet! I did quite a bit to the car when I decided it would be a good time to take a photo or two. At this point its had a new bumper with alot of metal work removed from it to save weight, new front wing, some paint laid on the bonnet to protect some rust repair work and so on..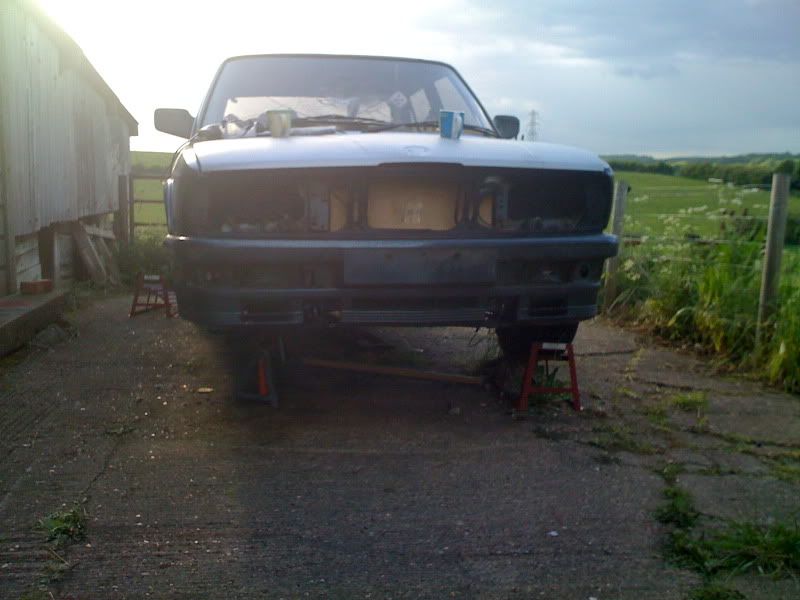 Some new lightweight and basic brackets while I was learning to weld: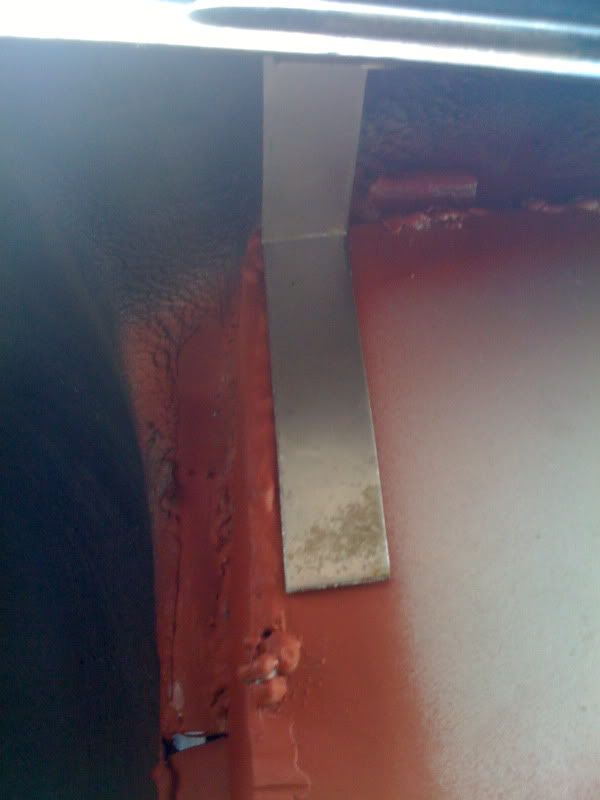 All new lower suspension arms and poly bushes fitted and since then a completely new set of steering arms (centre drag link, tie rods and idler arms)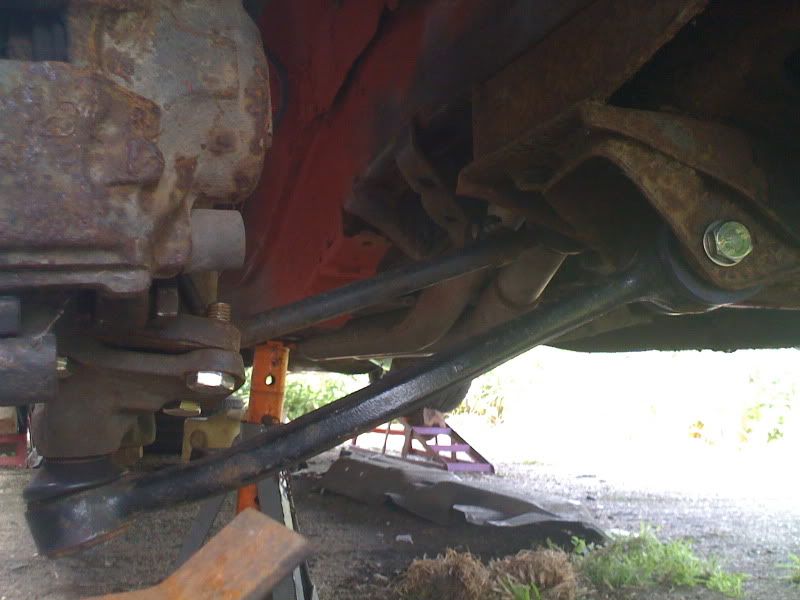 The now very sparse interior filled with all the left over bits of the car!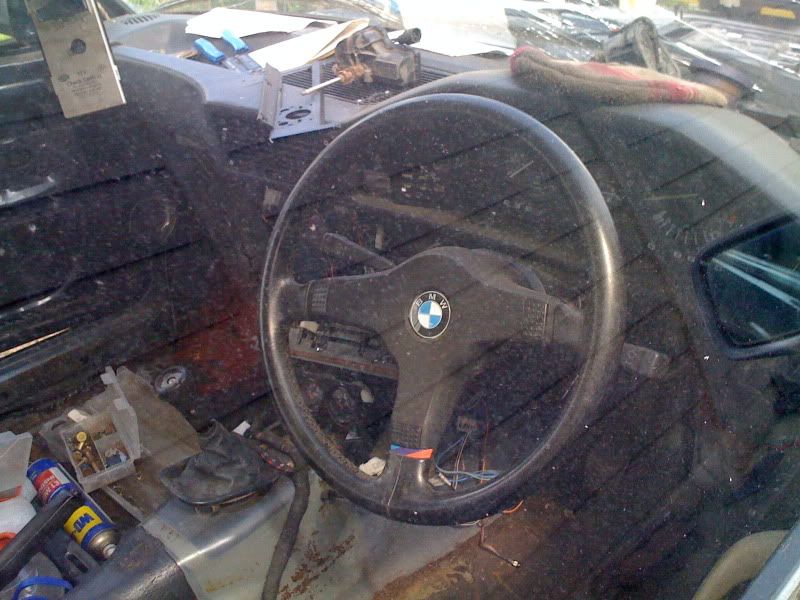 New stainless pipes fitted, powerflow 'big bore' pipes which I used to have on my old m535i and they do sound very nice!
Time to start on the welding. Now I have a few photos of this.. .but not alot! I am going to try to get as many as I can from here on out but there isnt much left to do...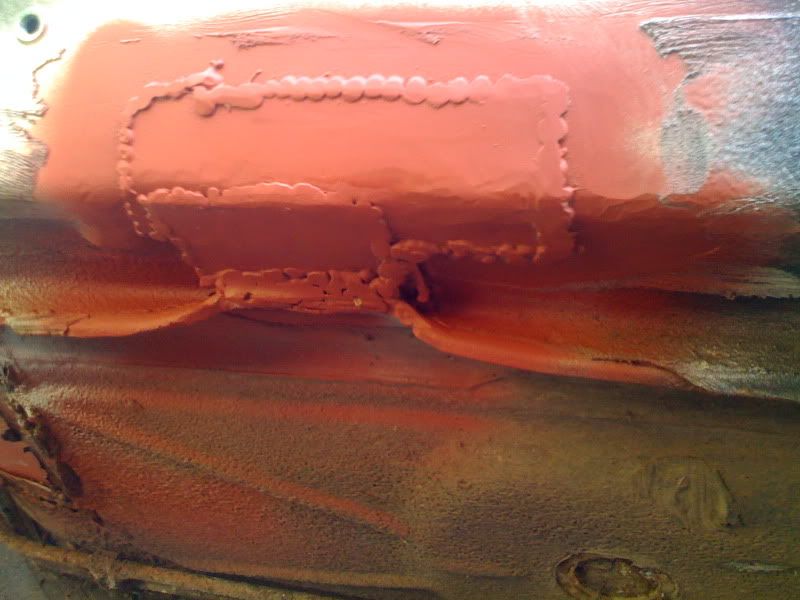 New seats - cost me £70 for a pair after selling the runners I didn't need.. bargain me thinks!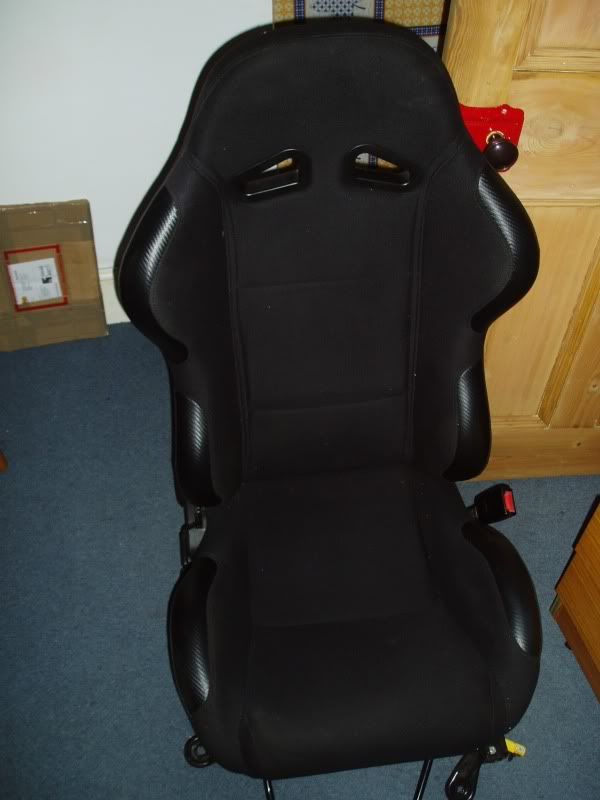 New runners fabricated!
And the new center console taking shape: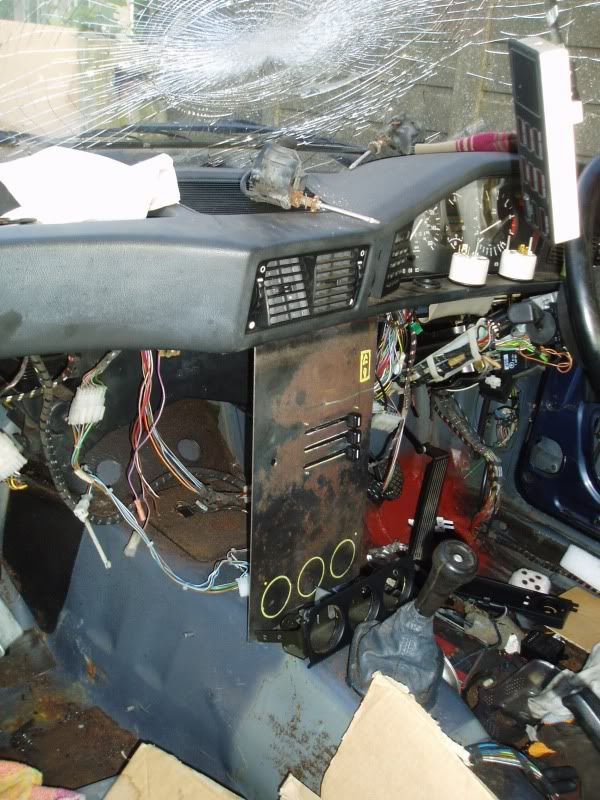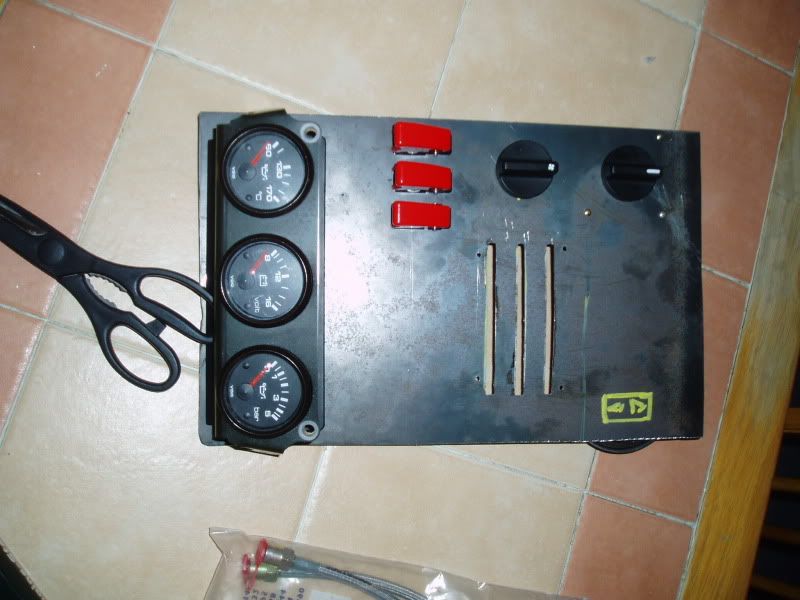 The more astute of you might have spotted the smashed screen - the car was broken into for the new alloys I had stored inside for the car.. f'in chavs! Anyway, new windscreen time came around on a rather rainy day (good planning that hey!) and here is my mate dave pushing the old screen out and looking very pleased with himself!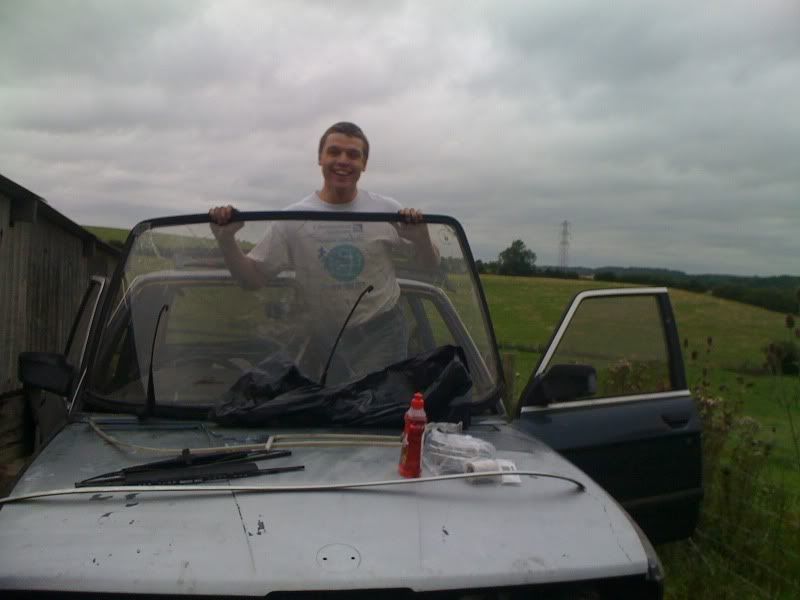 New screen in!! Looks a lot better now!
apart from one cock up with the string..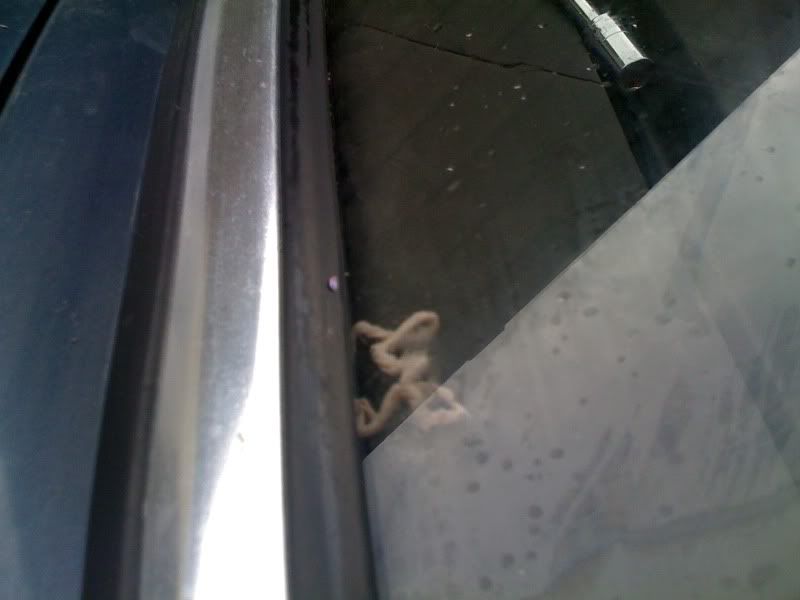 Now on to some body work as a break from the welding!!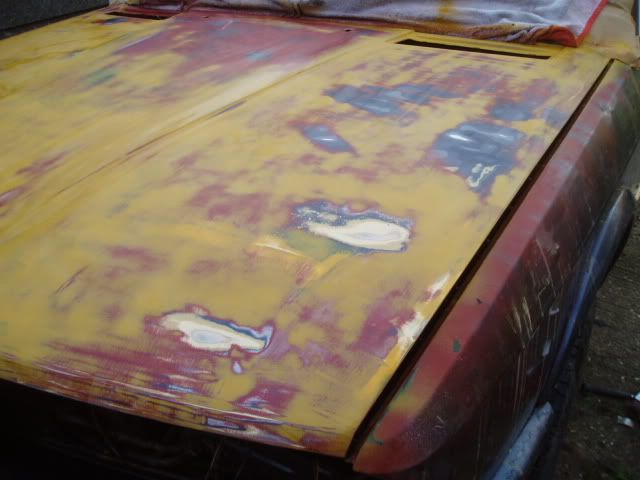 more friends at hand - my friend Chris (podcake to most people that know him!)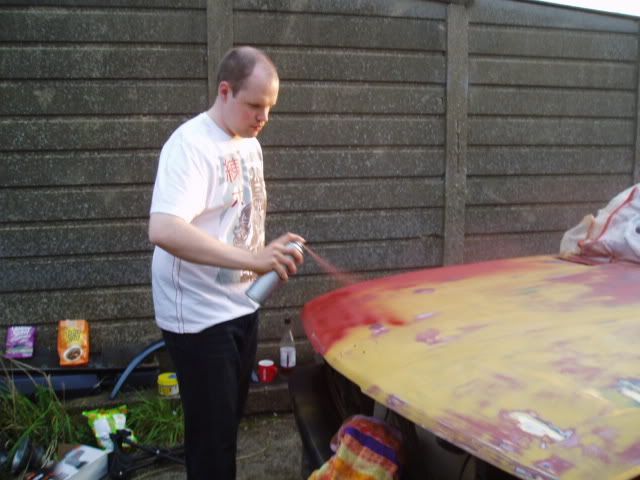 Finally - the first bit looking finished!