Well I wrote this ages ago (probably a year or more) but never finished it. Ive kind of rounded it off and called this bit part 1 for now.
I don't want to hear anymore of these quite frankly stupid arguments from people who know cock all about what they are arguing about so maybe this will help.
Maybe it could do with more pics etc. but for now it will do.

Wheel Fitment 101
One of the most important decisions you make when building cars is which wheels to fit! Now, normally cars have normal wheels and it's all very simple. You buy your wheels, with the correct PCD for your car and then you buy the correct bolts of nuts to fit them on.
BUT
What about those of us that have a car with a strange PCD where cool wheels are not easily available, if at all! What about those of us that have a common car but have the insight to realise that superlights on an escort or ATS classics on a golf is a tad boring and think that ford cloverleaf's on our chevette could just work!!
Well the good news is there are ways and if you know what you're doing it can really be quite easy/cheap and certainly in each case it's worth the effort! So read on.
How wheels are attached
Now forgive me if I'm trying to teach you to suck eggs but it amazes me just how many people don't really understand what holds the wheels to the car in the first place!
Generally you will either use bolts or nuts and studs, some people have a preference as to which is better, (I prefer studs as it makes fitting the wheels easier in a hurry!) but both methods work just fine. If you have bolts and want studs then its easy to convert, the other way is not!
The main function of the stud/bolt or whatever is to hold the wheel against the hub and create friction between the two. This means they must be strong in tension (resist a stretching force). Most people seem to assume the main force on a bolt is 'in shear' (sideways cutting force, like scissors). I think that leads to some of the more common misconceptions about what's safe and what isn't so I think it's important to understand.
The other function of the bolt is to provide some lateral location to ensure when you bolt the wheel up it is central to the axel and runs 'true'. This is normally achieved by the nut or bolt in OEM setups BUT it doesn't have to be!

Types of Nuts and Bolts
There are several types of nuts and bolts available
Taper Seat

The most common are probably tapered seat; usually these have a 60deg taper on them that centres the wheel around the bolt holes when you do them up. The taper is sometimes part of the bolt/nut BUT is also sometimes a washer, this is important as if it's a washer and the washer is not a tight fit on the bolt you effectively could have the same sort of problems you get with a sleeve type nut. (see below!)
With tapered seat bolts there is absolutely NO scope for safely 'stretching' studs or bolts to fit wheels of slightly different PCD, Some people have done it without there wheels falling off but as far as theory goes it's a big NO-NO. As the bolts tighten down on the taper seat there's a huge bending force exerted on them and that's not something you want imo!
The main problems you might encounter with this type are probably mismatched taper sizes. As I said the common taper is 60deg but others exist so make sure you check!
The size of the taper varies wildly so you sometimes end up with bolts that go so far into the taper they bottom out before it clamps the wheel. This is obviously BAD and not always obvious if you 'on the edge' of the problem, so check it! Generally though if the taper on the bolt is too small you will end up with the hex of the bolt chewing up the seat and the bolt holding only on the very end of the taper! This is also BAD. You must make sure the bolt holds on the entire taper in the wheel or else you're asking for the bolts to 'pull through' the wheel and that's only going to lead to your wheels falling off!
Generally you don't get a problem of the taper on the bolt being too big but I guess it can happen so check for that too
The solution to most of these problems is often to get a bolt with a different size taper. It is sometimes possible to change the taper in the wheel, most alloys have a steel insert in them which can be changed for a different size but this is probably not the easiest way! Those alloys that don't have an insert can be enlarged or could have an insert fitted to bring the size down of course.
The classic example is fitting XR2 pepperpots to a mk1 fiesta, both use tapered bolts but the ones on the base model have a smaller taper so when fitting the alloys to the base model you have to use bolts with a bigger taper, simple really.
Radius Seat
Next comes 'radius seat' nuts and bolts. These tend to be more common on newer motors in my experience and I don't really see the point in them! They just make life complicated so unless you have a set of wheels that have radius seats id leave them alone. Incidentally most of what applies to tapered seat bolts applies to radius seat as far as I can see so refer to the above!
Only thing to make sure is that the radius is the right size! There's no scope for having the wrong radius it has to be right to be safe imo.
Sleeve Nuts
The third types are what I call sleeve nuts, generally they are always nuts, ive never seen a wheel being held by bolts without a taper or radius but I suppose it is possible! The main thing to note about them is they don't give you absolute lateral location when you bolt the wheel up as the bolts will always have a clearance and that clearance will always allow the wheels to move around a little! In all honesty so long as you're not talking a clearance of over say 1mm then I can't see much of a problem. It might put the wheel slightly out of balance but the tolerance on the holes in the first place is probably, in most cases much bigger than the size of the clearance anyway!
That said the tolerances could add up so say the tolerance on the hole PCD was 1mm out and then the sleeve nuts had 1mm clearance and say for example the holes in the hub were 1mm out too then you could have 3mm of run out which is a bit more significant.
In summery they are not the best type but so long as you use the right size of bolt for the right hole then you are extremely unlikely have a problem.
Centre Location

So now you know about bolts lets have a look at locating the wheel in other ways. The main 'other way' is centre location. It's a pretty good way of doing it in my books too! Basically the spigot on the hub is always concentric and when your wheels get balanced by the tyre man he will balance them assuming the centre bore of the wheel is.. well, in the centre! so as long as you have a good fit on the centre location you cant really go wrong.
However it's rarely that easy is it! For starters loads of cars have no facility for centre location… they have no spigot! So that's down the pan straight away unless you want to go modding hubs. Also most manufactures use different sized centre bores so there's a big chance you won't have the right size.
If the spigots to big then get the bore in the wheel enlarged, relatively easy hey! If the bores to big then make a sleeve! Also quite easy! Or just use taper bolts, even easier!
Basically the point is you need location so you need either need, taper bolts, radius bolts. very good sleeve bolts or bad sleeve bolts and centre spigot location. A combination is fine BUT contrary to what a lot of people say you defiantly don't need both for it to be 'safe'

PCD and Cheating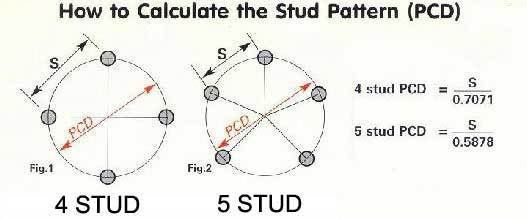 Now here's where it gets a bit more interesting! PCD stands for pitch circle diameter and its how the stud pattern of your wheels will be stated. A typical PCD is 4x100 which basically means if you draw a circle of 100mm diameter and then put 4 equally spaced points on the circle that where your holes/studs will be. 4 and 6 studs are easy to measure because you just measure between the centre of opposite holes but 3 and 5stud pcds require you to measure between 2 adjacent holes and then divide that measurement by a certain 'constant' that will give you your diameter!
Now when it comes to wheels you have the problem that manufactures like to be cocks and change the pcd as much as they can! Some such as ford will keep the same for most of their cars but even then they mysteriously change every now and again. Bigger cars ideally need more studs to cope with more weight etc. etc. so we end up with at least 20odd variations!
If your lucky you will be able to get the wheels you want in the right PCD to match your car but if it was that easy then someone would probably have done it before and then what's the point hey!?? So let's have a look at different ways to cheat.

Stretching studs
Now as I said before about tapered bolts, some people claim that 1 or 2 mm difference wont matter. Now I know people who have 'got away with it' but in my book with taper seats and radius seats it's dangerous. So don't do that!
BUT (and here's another thing where people like to argue)
When using sleeve bolts AND centre location there's no reason why you can open the bolt holes out by 1mm and gain a 2mm 'adjustment' in pcd. If the centre location is there then location can't be wrong so all your bolts need to do is hold the wheel on! Of course there's a limit, you can go drilling the holes out 10mm bigger to fit 4x120s on your golf!
What you could do is make slots! Yet again a lot of people like to preach about how unsafe slotted rims are but in reality there's nothing wrong if the wheel is located on a centre. I wouldn't go trying it with normal bolts; you would have to have special 'big headed' bolts or fancy washers or else you get the 'pulling through' problem again. I believe the much hated 'unilug' system worked in this way and although its become trendy to slag it off there's actually not really any thing wrong with it if your wheels are located on a centre!

Re-drilling
If you have tapered bolts or a massive difference in PCD's or indeed no centre location then there's still hope! One of the easiest ways is to re-drill either the wheels or the hubs.
Re-drilling the wheels is relatively straight forward; most engineering shops should be able to do it. You can do it with big rotary tables, CNC mills or even just a mill with a digital readout! It shouldn't be too pricey either. Unfortunately due to the design of the wheels it might not be possible in a lot of cases. You have to make sure you have enough 'meat' around where you're drilling the holes or you will end up with cracks. A lot of wheels have recesses cast in the back of them where they fit against the hub to save weight and this means there's not enough metal there to do it. Its also worth considering that a extra set of bolts might 'spoil' the design of the wheels and look like a bodge and also that its not easy to go from 4-5stud or vice versa as you will find unless you have a big difference in PCD they will overlap!
If you can't do the wheels then consider the hubs, it's even easier for most machine shops as they are smaller and more manageable and I hardly think having to dismantle the brakes and stuff to get them off is a big chore!
You have the choice of either going for bolts of studs. Generally I would say that if your hubs are thick enough (10-12mm minimum) then drill holes and thread them to use either bolts or screw in studs. If not use press-in studs but bare in mind sometimes they require a bigger hole and that can cause problems if your 'close' to other holes in the hubs for discs etc.
Of course you have to factor in drilling out drums or discs for clearance as well but that's no big deal.

Adaptors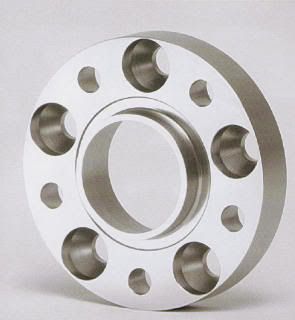 Adaptors are basically a plate that you bolt on to the hub through the original wheel bolt holes/studs that has studs/bolt holes in it that are arranged in your desired PCD! It's a very simple concept that's pretty safe and free from issues apart from one major problem! You always end up with the equivalent of big spacers making your track wider, reducing the size of wheels or offset you can get under your arches and also putting extra load on your bearings and cocking up your King Pin Inclination!
Adaptors are normally made from steel as aluminium ones would have to be even thicker. Making then yourself is possible but if your going thin it pays to have them made out of a sensible grade too rather than just plain mild steel and that gets expensive.
So yeh! Definite downsides with those, you just have to weigh up the pros/cons I guess but personally I don't like them.

Wobble Bolts
Ha this old gem. Il start by saying one thing, Wobble bolts are absolutely fine so long as you have centre location!
Also known as 'PCD adjusting bolts' or 'Shift bolts' they are very simple in concept. You have an insert that sits in the wheel seat with an oversized hole in it. A bolt then goes though the hole and because it is slightly oversize the bolt is free to move side to side slightly and compensate for a slight difference in PCD. It effectively does away with the seat and turns your wheels into wheels that use sleeve nuts!
Generally they come in bolt or nut form and for use with tapered and radius seats (although the latter is rare). Obviously you can't use them with wheels that require sleeve nuts but that's no problem as drilling the holes out in the wheels as I mentioned previously works on exactly the same principle!
2 downsides
Number one is that generally they are only good for a difference of up to 2mm in PCD, ie. Fitting 4x98s on your 4x100 is fine but 4x108s on your 4x114.3 isn't.
And as I mentioned before you need centre location…Why do you need centre location I hear you say?
Well its very very simple, if your holes are oversized then the bolts are incapable of centring the wheel on the hub anymore so you need the location to come from the spigot! For this reason you can't use wobble bolts on cars which don't have a centre spigot.