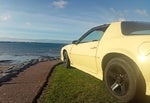 yesterday afternoon after a big push it was looking very promising.
Then it wouldn't go into gear. Could not see any issue but it's a box I'd repaired, so in the evening (by which I mean 8pm to 3am) I changed the box over for another one... with the same issue. Much more fiddling and it turns out it's the shifter linkage, which is fouling by the slightest, merest amount but it's just enough. So, found another linkage that would work. Built all back up again.
Found in my haste that I'd broken a pipe when ripping the box off in middle of night. That's adding insult to injury after I'd realised changing the box was a waste of many hours.
Only access to the said pipe was to remove the servo, bracket and heater matrix. Did all that lying upside down.
Tried to bleed clutch for quite a while. Realised the master cylinder was faulty. Spent 2 hours replacing that. Got it bled - slave cylinder randomly decided to explode inside gearbox. Managed to fish all the parts out of the box via magnets and hopeful thinking. Fitted another one. Couldn't get a gear. Pulled the slave back out (which means dropping the box, every time) and measured it and found the hydraulic pin on it was 4mm shorter than it should be depsite matching part numbers. Figured that was the cause and changed that for yet another one, and bled the system again (almost used the whole gallon of Dot4 now) and it made no difference.
Sitting here at midnight trying to figure out why the clutch will not disengage when the pedal is pressed. Pedal is firm, fluid is bled.
Starting to worry that the new clutch isn't the right one...
Also would like to sleep.
What car is this?
A number of modern cars have a self-adjusting clutch. This is done so as to reduce the effort at the pedal end as the clutch wears , in addition to helping the usable life of the clutch.
When the pressure comes off the clutch now and again completely, the clutch can be left in a position which doesn't give you the means to have full engagement, which can imititate a poorly slave cylinder.
The solution is to reset the pressure plate. There are special tools out there, but there are ways that it can be done without the tools. It can be done on the car, but it's not simple, and it's a box off job.
I'm now on a family call, so I'll be back with what I did this weekend, including:
-NEC Classic Car Show
-Collecting some wheels for the E91 ; some winter wheels
-Collecting another car with a friend.