Hello RR! It's Autumn in the states. With the leaves turning colors and temps finally cooling off, I was just thinking that I need to post on RR, this latest tragedy- I mean latest BUILD...

It's not that bad, but it didn't turn out like I'd hoped. First off, these things are Uuuuugly! They're big, heavy, underpowered and nobody wanted them for years and years. In the last 10yrs or less, they've picked up the pace and why not with the release of the new Grand Wagoneer from Jeep. Nice examples are bringing strong coin, but this- ain't that.

When a company returns to production with an old name plate- it usually brings up the value of the original ones. Like it has done with the Bronco, although the new ones are nothing but a shadow of their former selves. I prefer to think of the new ones as something altogether new, rather than resurrected historic name plates.


Anyway- I saw this truck on marketplace and thought "It's cheap enough, but I need to get it muuuch cheaper" I don't need the frame & axles afterall.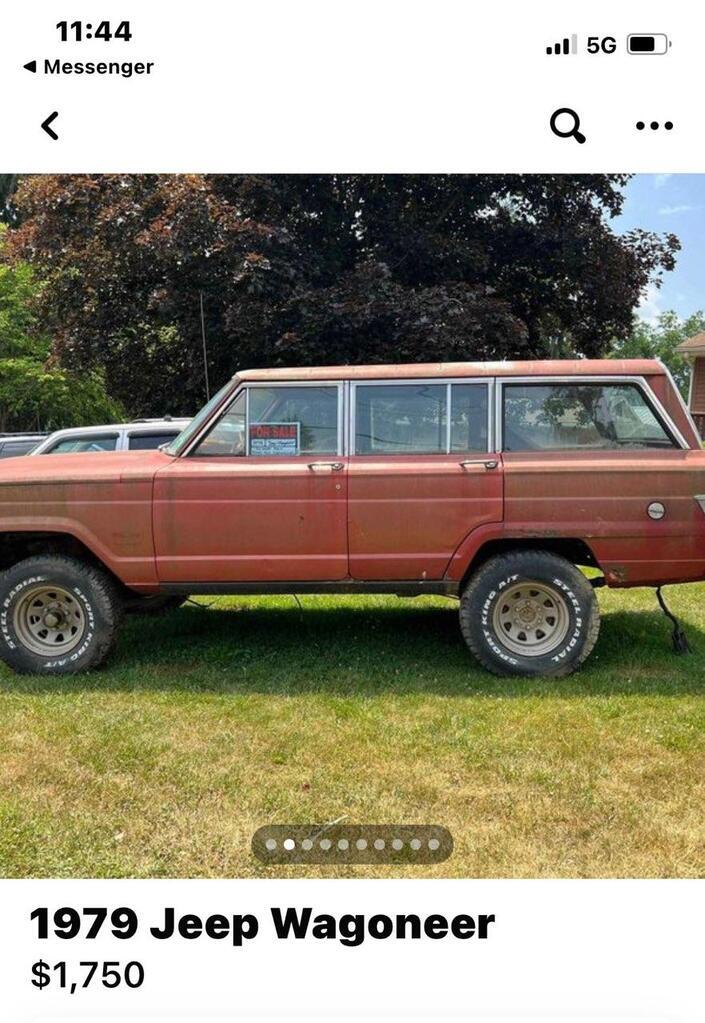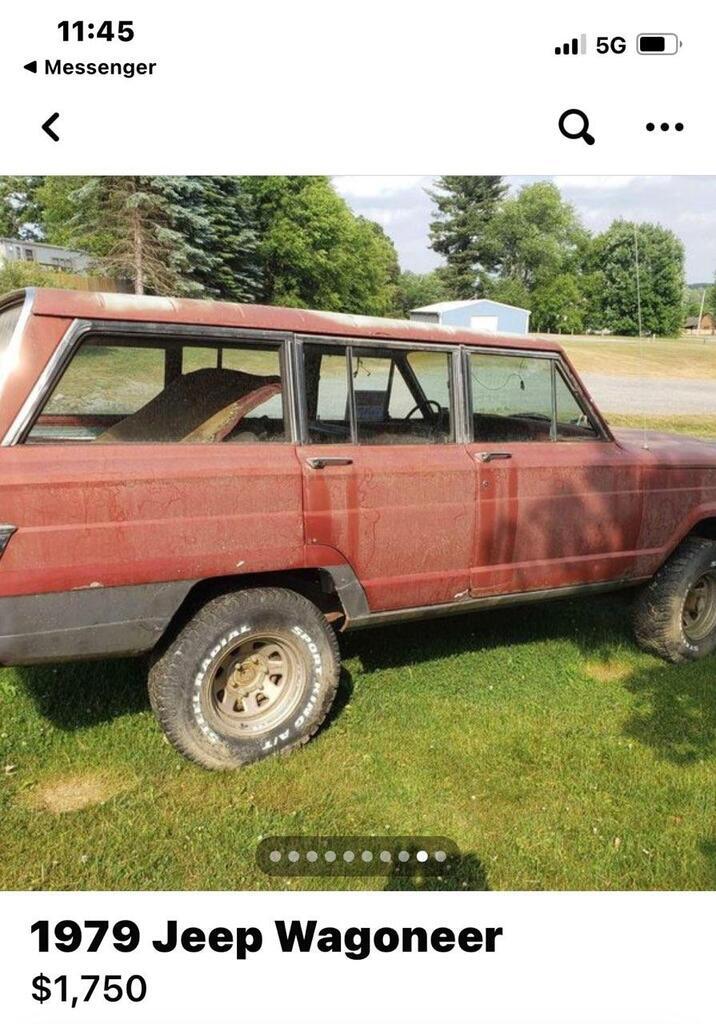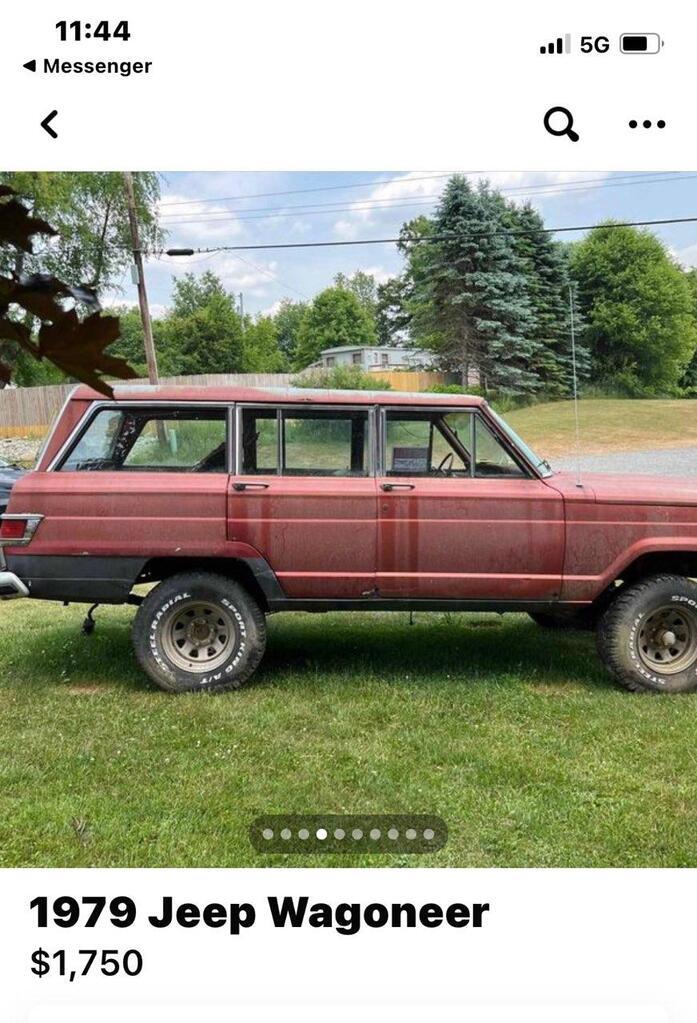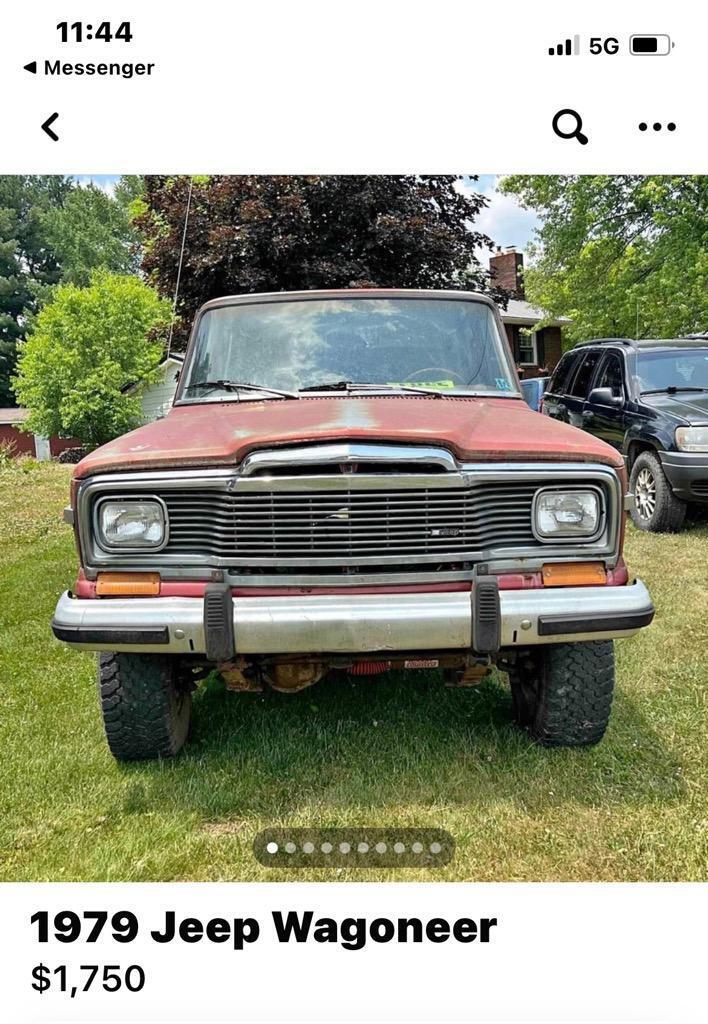 It was listed at 1750 USD with no engine or transmission/transfer case. That's about 1433.37 in GBP.
I went and measured one of these things nearby and I swear I saw 119 inches on the Wagoneer's wheelbase. As it turns out, I'm over 50 now and I wasn't wearing my reading glasses... the tape measure read 110 inches, I thought it was 119.

In my head this thing would be perfect. I watched the guy continue to lower his price and then he posted that he was going to send it to the crusher! I offered him scrap value and he declined. A few more weeks went by...

This wagoneer was also about 500 miles away. I eventually worked a deal where they guy delivered it to me with paperwork, the complete body, trim and interior. He turned up with this giant metal box sat atop a flatbed trailer. No frame, no axles.
It took about 2 hours with floor jacks and cribbing, blocks, rollers & jack stands. We got it on the ground.
I started cleaning out the headlining and rear tailgate- it was full of mouse/vermin/STINK mess. But it didn't look that bad! After all, it had the same wheelbase as a Durango! It was gonna be epic. Or so I thought.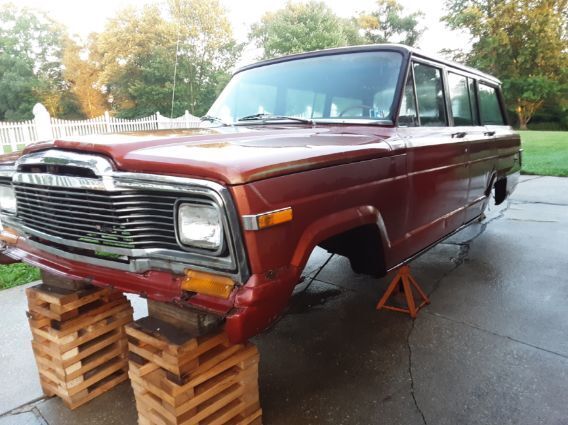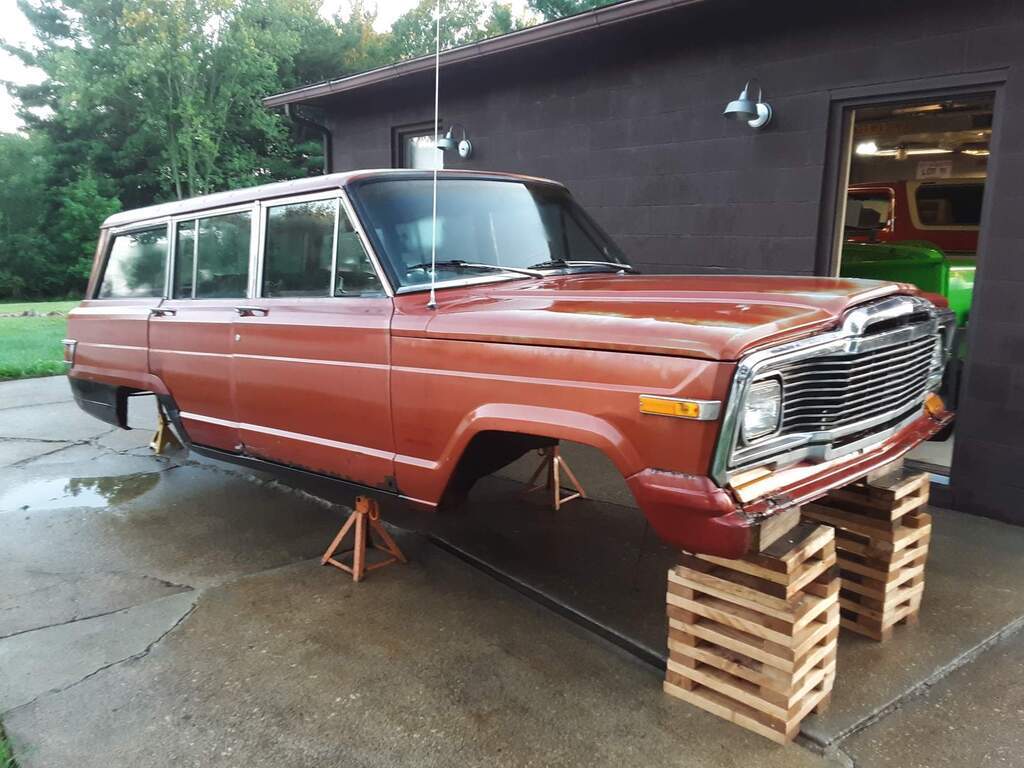 I like to keep a 2004-2009 Hemi powered Durango on hand whenever possible, and I had one already taken down to the floor pan. A really good runner, too!
The next day I got started thinking "This is gonne be great". Delusions of grandeur, apparently.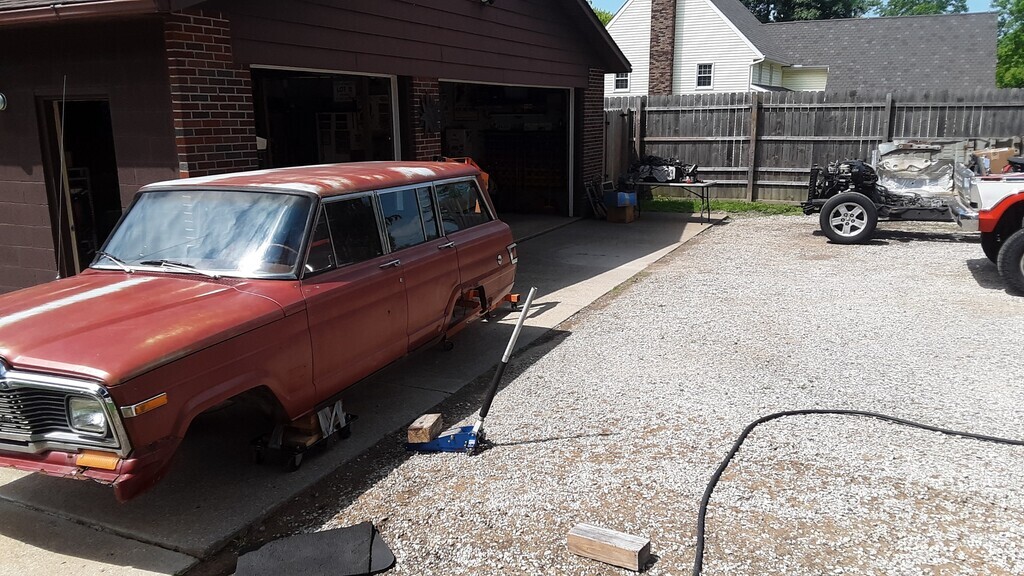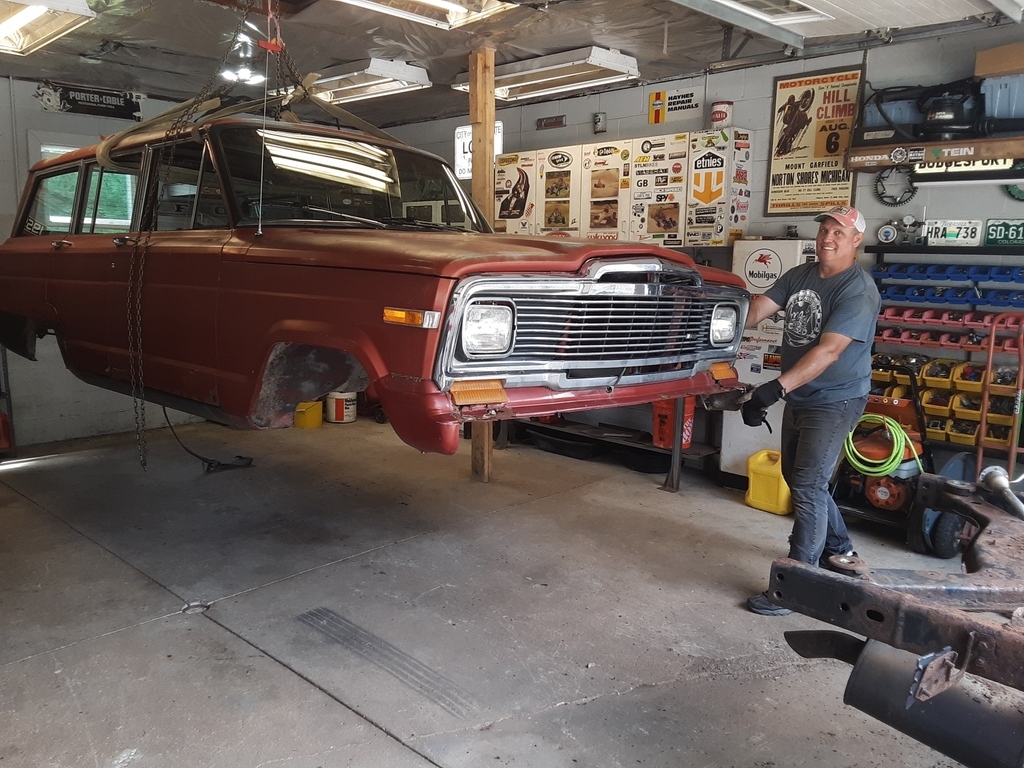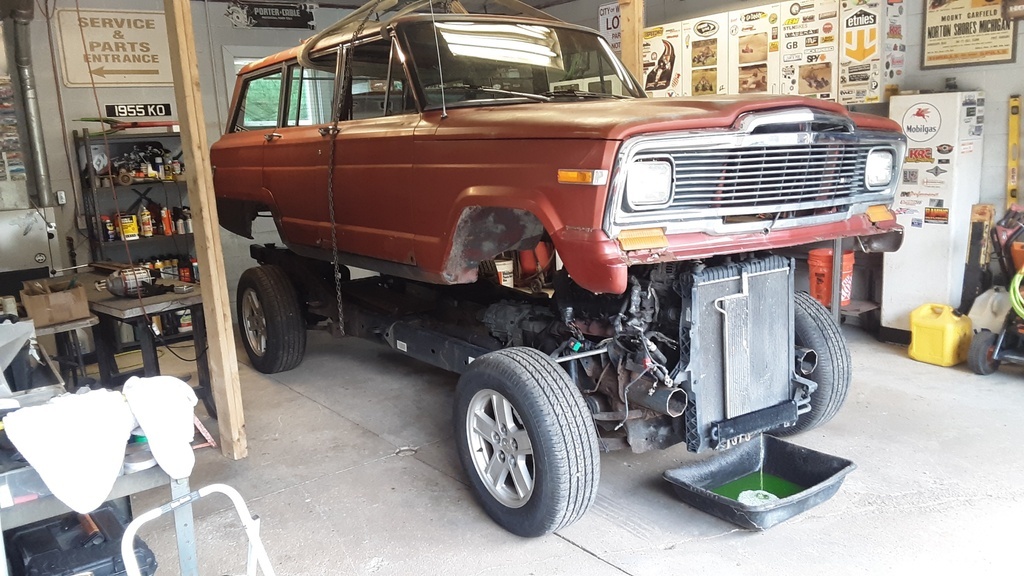 When I lowered that body down on to the chassis- I was deflated. I saw that they weren't even close to a match! I was not happy to say the least. I wrestled with how this could've happened- how could I have made such a mistake! I can usually just look at a car body and see if a Durango would fit on it. This one- took me a few days to figure out how I screwed it up. Darn glasses. Too many beers. Night time with a tape measure and I simply read it wrong.

I wanted it to work so much, that I never checked again until this very moment. I almost scrapped the whole thing. I went inside. Back at it tomorrow. I'll figure something out.

I looked at it for hours, distracting myself with the obvious tasks that needed doing. I ran through design scenarios in my head each time I looked at the awful rear wheel arch. I came up with what I call "well, that's as good as I can get it without sectioning the entire body".

I settled on "I'll just move the wheel arch and try to blend it into a factory body line. Somewhere, somehow."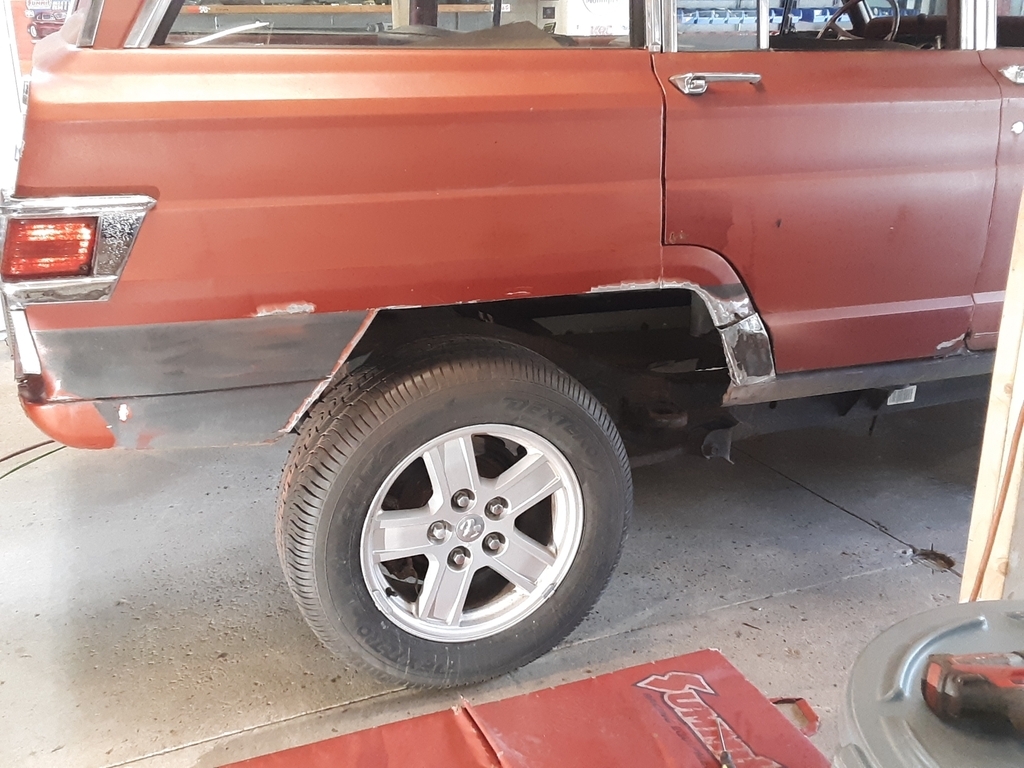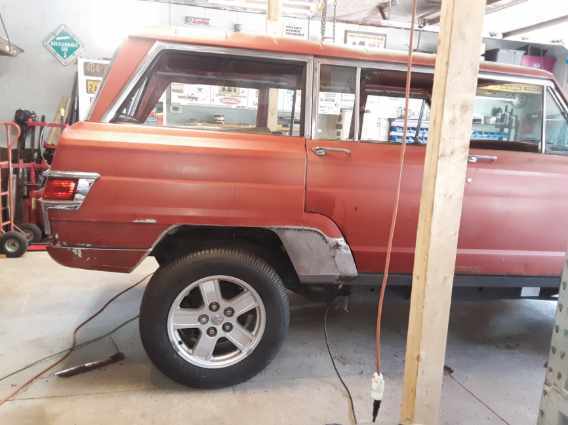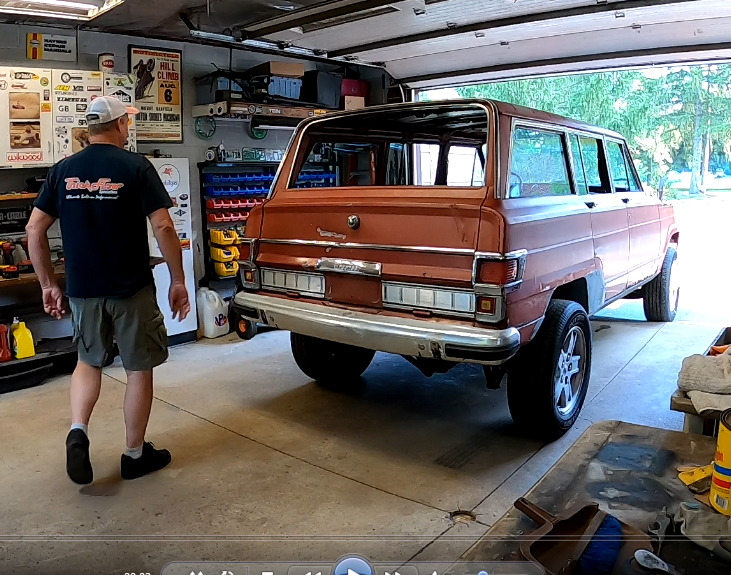 I had done all I could do. I made a pattern of the rear arch and started cutting. I cut the same shape out of the car and made a weld in panel for each side. I made inside wheel arch panels, to keep the "jeeze this is bad" to a minimum.
I then set out to get the steering and pedals done, make the lights work and take it for a test drive.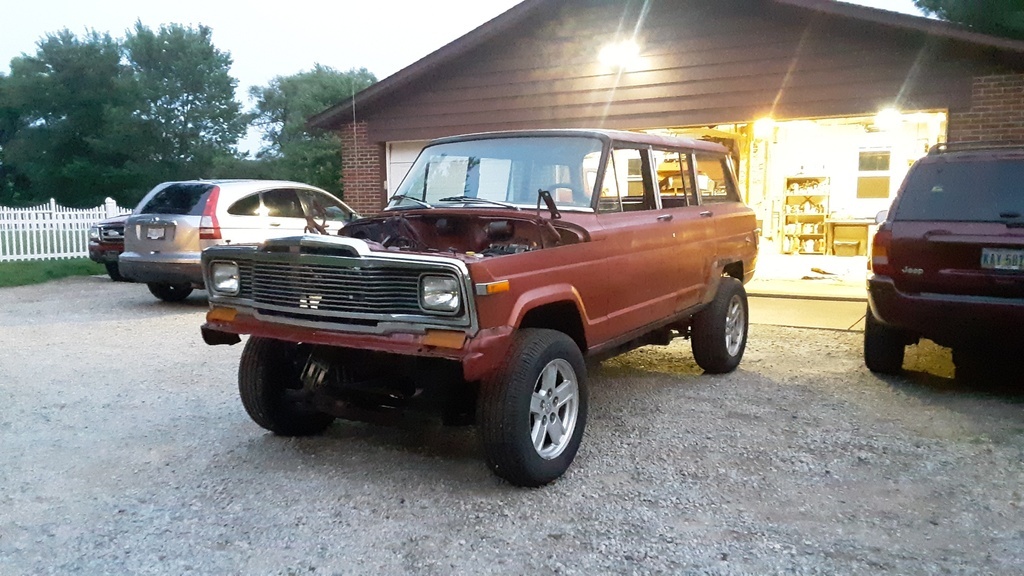 This first ride height- too high. I took it back inside and lowered it as much as I could whilst keeping the steering column useable. Plus- I wanted to keep the original dash intact. It looks so cool and wasn't in bad shape.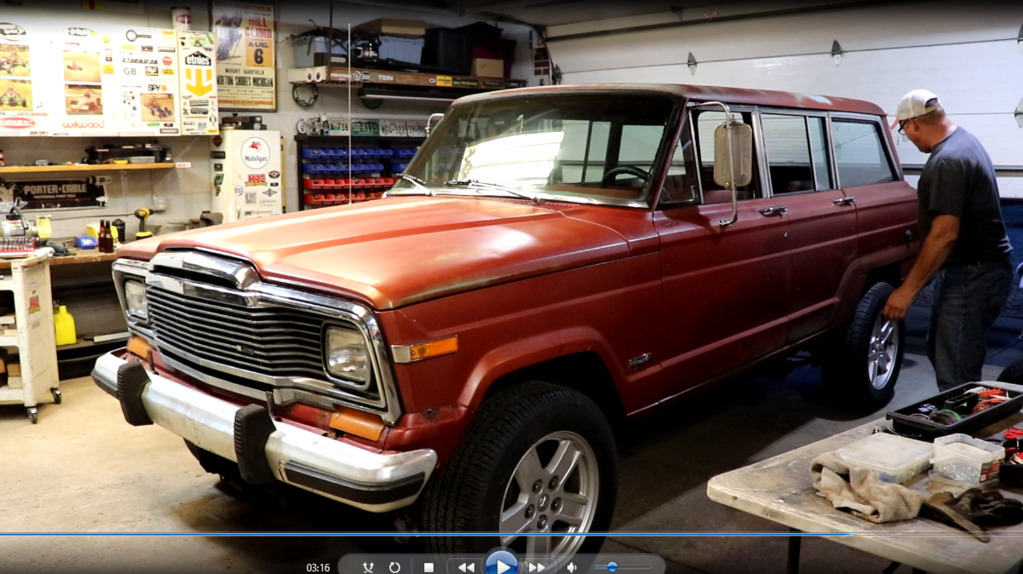 This is how it looks today. Now- after the first few test drives, I noticed a large amount of oil under it...
The oil pan was rusted through. I had to pull the engine and replace the pan.
I set off...
Engine came out, went on a stand and got a full service with several upgrades.