Well... It has certainly been a while since i was on here, or any other forum really!
I used to be into 80s/90s VW's, having had a multitude of mk1/2/3/4 Golfs, couple of Corrados, Passats etc, then followed by slightly more modern Audis, 3.0 V6 SC S4, 3.0 Tdi A7... then I got a promotion and with it came company cars.... not having a Garage at the time, i was solely a modern car kinda guy for a while there!

But, fast forward a few years, bought a house with the wife and my 1 requirement was that it had to have parking for our 2 daily drivers, and a garage for my dream car. We moved in back at the end of March, and ever since i have been checking the savings and scouring ebay! my budget meant a perfect car was not an option, but a decent project was!
On Monday, this was delivered!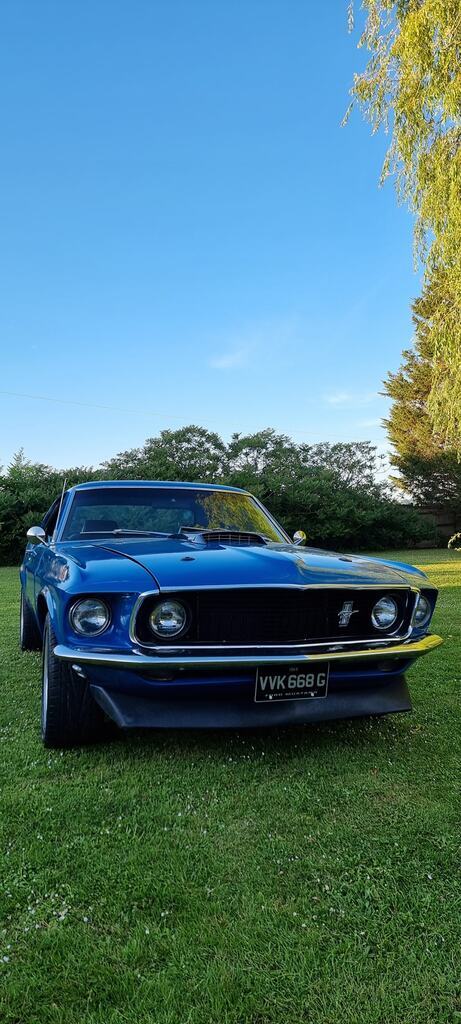 So, first things first - the car -
Originally born a Coupe with Silver Jade paint and a white vinyl roof

and beige interior.
Someone in the last 4 years decided to strip her down and paint her in BMW Laguna Seca blue. Wouldn't be so bad, except it really isn't a great paint job. She is perfectly presentable as a 5 footer though, and until the (very long) list of jobs required/wanted are done, she can stay in BMW blue!
So the good bits:
351 windsor V8.
4spd Manual with 3,25 rear axle.
Edelbrock performer intake.
holley Carb.
MSD electronic ignition.
larger alloy rad.
American racing Shelby style wheels in 17x8".
It runs and (i use this term loosely) drives, but it does need some work to be useable, and safe on the road:
Full weather stripping.
Brakes bleeding.
gear shifter linkage rebuilt and re aligned (its fun trying to find gears currently....) - this may result in a Tremec!
Steering and alignment sorted - may look at a larger pulley or pressure relief valve to try and dull it down, it is very, VERY light presently.
smaller, less dished steering wheel - no fun trying to drive with it literally on my crotch!
Carb clean/rebuild and a minor tune up to make sure she is running well.
Investigate and resolve minor oil leak on front of engine.
then comes all the "minor" jobs....
Seats recovering.
new door cards and associated bits.
Dash needs some fettling.
carpet.
Wiring is original 60's so new wiring loom is a good idea!
New parcel shelf.
various bits of internal trim.
Various bits of external trim.
new tailpipe trims.
Sorting out as many of the interior rattles and shakes as possible.
Full flat and polish to try and make the paint as good as it can be.
And only then, can i start on the "because i want to "bits, like:
Lowering / upgrading the suspension.
Audio of some description.
Wheel spacers.
Tarting up the engine bay.
Boot carpet.
So, while i don't have a totally rotten strip her down and weld her up kinda project, pretty much everything in the above list is A) Expensive and B) time consuming! It has also been a long time since i turned a spanner, and none of my kit is imperial, so plenty of new tools required too

The good thing is, i am in no real rush. I can pick a job, take my time, complete it and then move onto the next bit..... maybe!