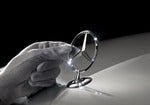 Apparently the throttle has got stuck and his inexperience has caused him to panic…..
But the little fella is ok. That is all that matters.
I am sure George will learn from this awful experience.
This absolutely!
George is physically well and that is the most important outcome! The merc is replacable, lots of them left, You just have to search some more.
If the escort van was involved, the consequences would have surely been much worse. Not only for George, but also after all that work gone in the van!