I like putting engines on things. It's fun.
Years ago, I built a motorized contraption from a kid's stunt scooter and a Suffolk Punch lawnmower engine. Here it is being piloted by a good friend of mine:
It recieved a twin exhaust after that, made from 1" copper plumbing pipe, split 1-2 which gave it a particularly deep note. Pulling the choke at idle made it sound like a much larger motorcycle, so it was nicknamed "Hardly Davidson". Things worthy of note were the Super Silent 80 rear band brake, which would squeal at any given opportunity, and a choke pull from a Vauxhall Nova. Throttle was a thumb-lever from Shimano, and the whole thing was bolted together. If you leaned back too far you got the spark plug up your backside. It would do about 20 mph, and had the most fantastically bad speed wobble due to the front forks having little to no rake. It was however remarkably frugal, returning about 120mpg if you didn't cane it. Total build cost about £30.
Sadly it was stolen, and I lamented the loss.
Fast forward ten years and I come into possession of a wonderfully shonky Huffy Beach Cruiser as repayment for some monies owed.
I ordered some odds and ends for it as an experiment:- a Chinese copy of an old Russian 2-stroke engine with manual clutch, some vintage-ish lights and a leather saddlebag to house the charging circuitry and battery.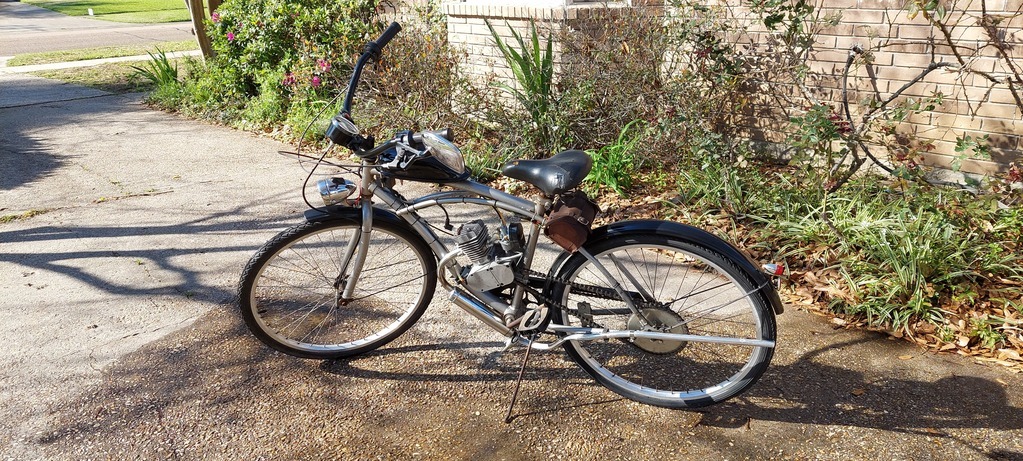 Painted the mudguards and handlebars black to age it a little, and added a length of aluminum tube to bring the exhaust out back and prevent it from oiling the rear wheel so much.
It has that typical 2-stroke noise, firing every other stroke at low RPM and sounding strained at high RPM with no real happy medium. It's got a single, pedal-backwards brake on the rear wheel, the handlebar position was designed by the Marquis De Sade and it desperately needs suspension to be able to go as fast as it does. It'll potter along all day at about 15mph, which is where it is all (mostly) in tune. Averages about 100-130mpg. Smokes like a tramp steamer but I would rather have it oily than seize. Total build cost: About $140 ($105 of that was the engine).
Fun rating: 7/10.
Phil