Contents:
1) Maplin 150W MOSFET amp rebuild starts in this post.
2) Maplin Millennium valve amp rebuild starts
here
3) Mullard two-valve pre-amplifier build starts
here
4) 1000V variable power supply starts
here
5)
Mullard 3-3
BBC Am8/2 3W stereo class A valve amp starts
here
(working properly on page 7)
6) Some kind of Nixie clock display thing
one day
Maplin 150W MOSFET amp:
Back in the 90s when I was a teenager, I used to do house parties and a bit of DJing. It kind of led to my stereo growing into a pretty big soundsystem and I used to do house and hardcore events in pubs and halls. It was all home made kit except for my 12" flight case speakers. Something I built a number of, were these 150W MOSFET amplifiers from Maplin. They were pretty bombproof and would survive no matter who was at the mixer.
The one here is the sole survivor, which I built when I was about 15. I can't remember exactly how many of these I built, but it must have been 6-7. I know I blew up the first one I built, because I remember connecting the power supply backwards during testing and all the caps exploded. There's the stereo pair I'm going to talk about here. There was a pair that I bridged to make a 400W sub amp, using an audio-grade op-amp to invert the signal. Those ones eventually blew. Then, there's a very crusty 47K dual potentiometer in my electronics box which is evidence of another stereo pair which had a volume control. I don't remember that one or what happened to it.
I built it in two cases to keep the noise down - one for the amplifiers and one for the power supply: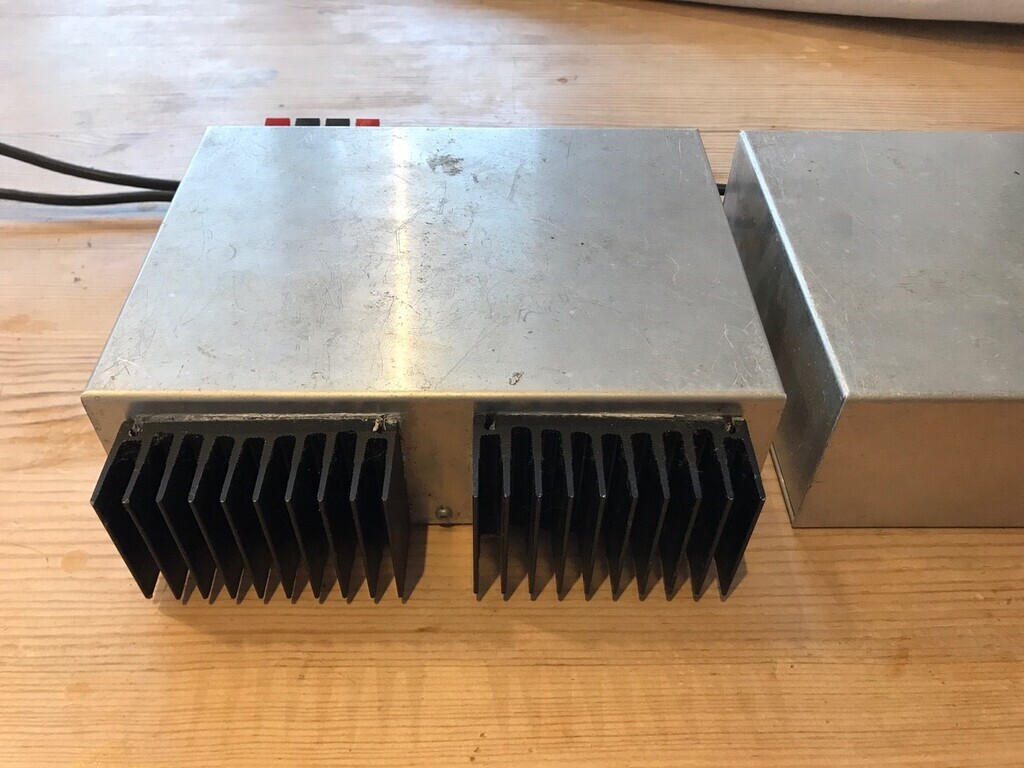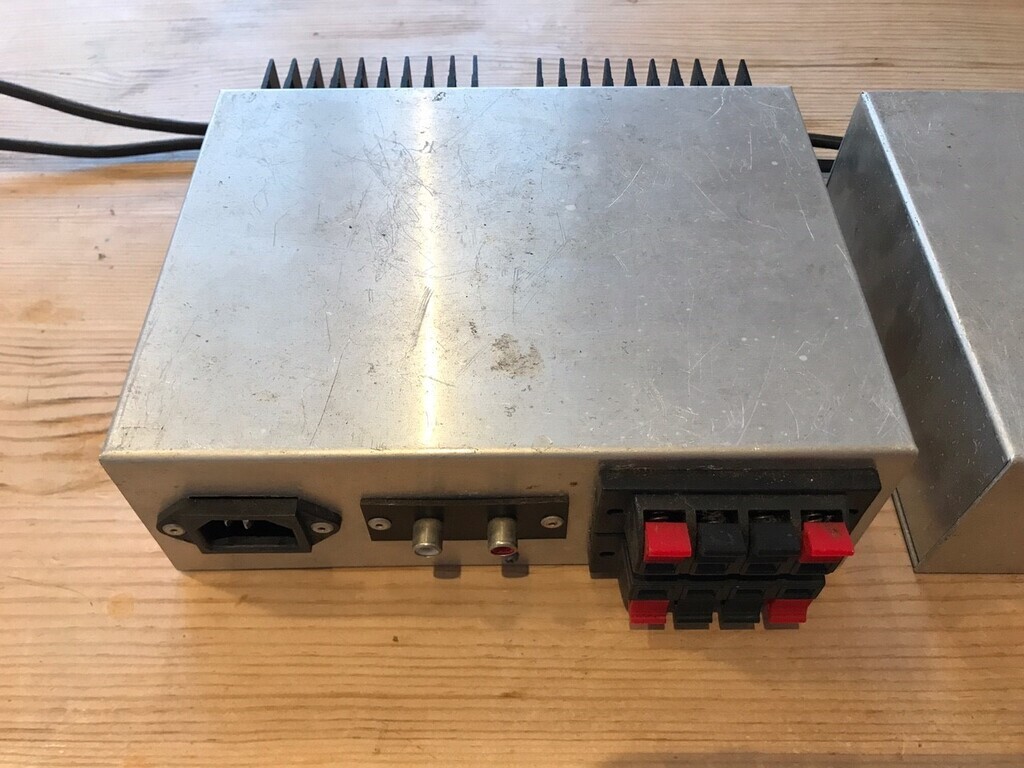 There was no volume control because they were fed directly from my mixer which controlled the individual levels. There were two speaker outputs because these could drive 4 Ohms and I could hook up two sets of 8 Ohm speakers in parallel. +55V/OV/-55V DC was taken from the PSU to the amps by the kettle plug; not ideal, but I couldn't think of a better way to do it at the time and still be able to separate the boxes for easy transport.
Everything was sourced from the Forest Hill Maplin in SE London, which was on the bus route on the way home from school. It was an EXTREMELY rare thing to be near a physical, actual Maplin shop back then and this one was complete with all their books on the shelves, wooden hatch at the back where you asked for components and all the staff were electronics experts (well, to me, anyway). No silly cheap plastic radio controlled cars, no rubbish plastic 100000W PEAK MAX PMPO speakers, just the nerdy electronics stuff.
So bear in mind that I made these around 1993 and as far as I can remember I haven't opened them since I built them. This is what I found inside: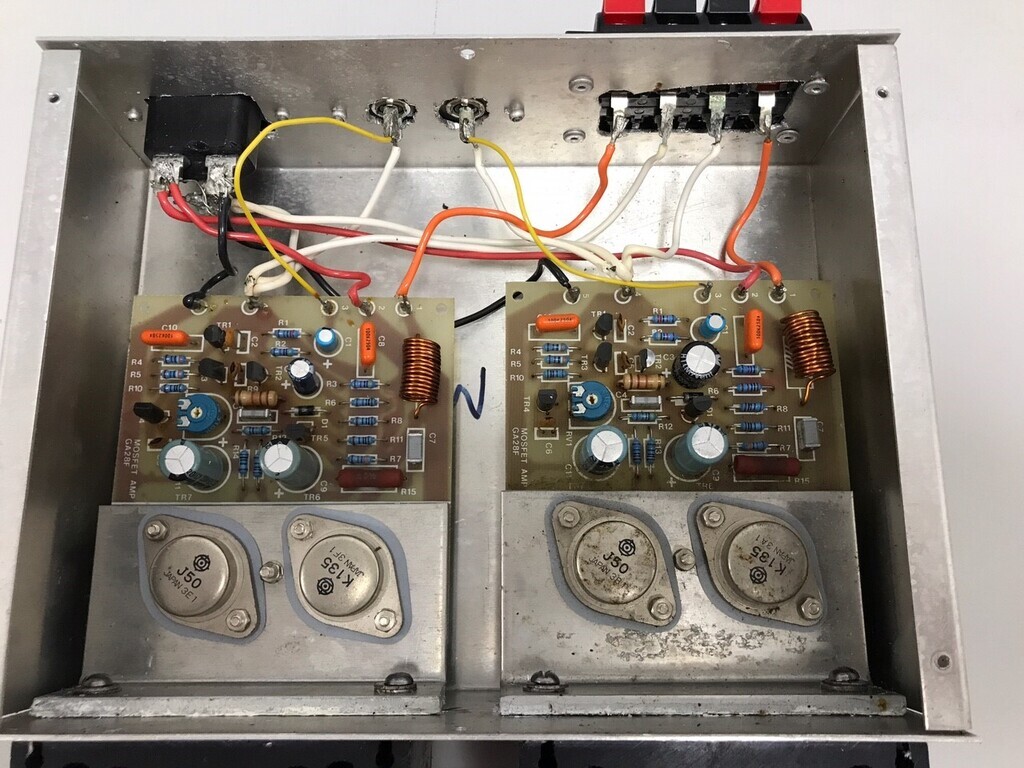 A little bit messier on the wiring than I expected, but I was only 15. Looks like cutting holes wasn't my strong point:
I say that, but I didn't have a small battery drill or sharp drills like I do now. I'd have done this with dad's Black and Decker power drill, chain-drilling with whatever drills he had knocking around and a hacksaw. I don't remember having a file. That was my own pop rivet gun.
The amps I noticed are not the same length or the same height. I assumed this was more of my poor drilling, but both the amps are slightly different. This might have been because I blew the first one up and had to get a replacement, so they might be from different batches. Have a look at the size of the heatsink plates under the MOSFETS and they're slightly different too: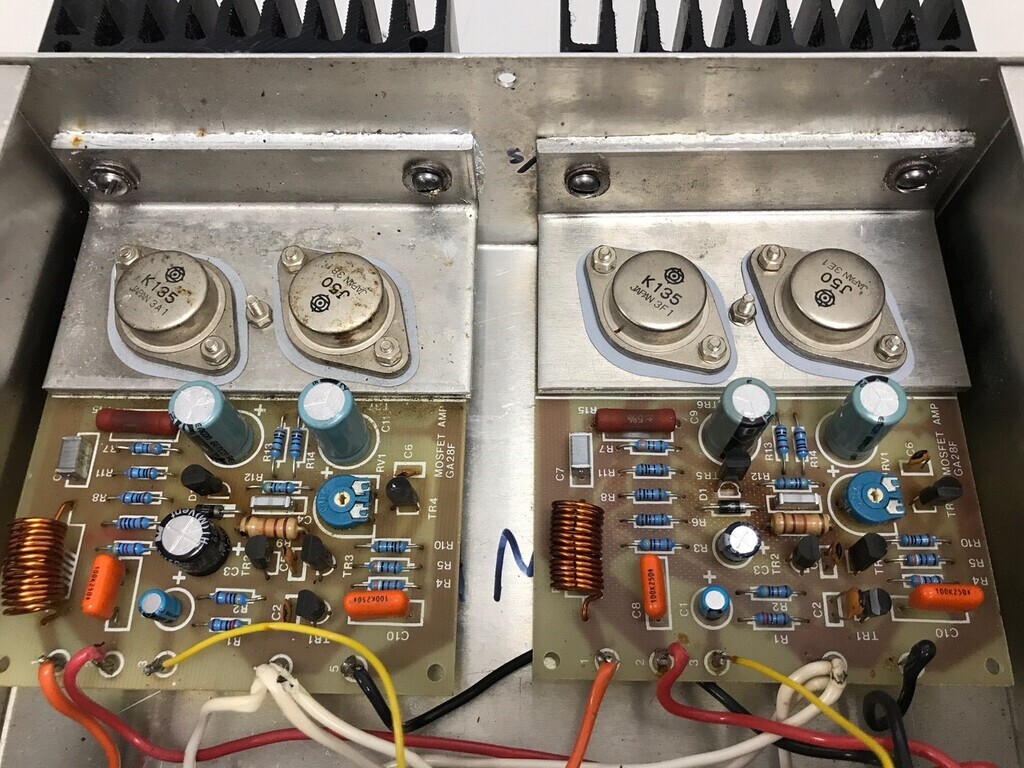 I know I etched a number of circuit boards for the PSUs using photoreactive PCB sheets in a new UV light box my school had bought. I guess I would have printed the circuits onto OHP acetate, slung it into the light box for a couple of minutes, into developer fluid, then in to the etch tank. God knows what chemicals we used with no gloves or safety specs. I was hoping to find one of these in the PSU box, but it's unfortunately just tag-wired together. I am slightly disappointed because I know I made at least two of these and it would have been great to see them again.
The plan. Rebuild. Slightly safer, slightly different layout and with a volume control. Re-use the cases but tidy them up a bit first. One amp module is loose (probably from being dropped and bashed about) so I'm going to come up with a slightly better mounting system. I was thinking of swapping the PSU connections to DIN rail power distribution blocks, but I think it might not be worth it. I've got some old-school tag boards which might be more fitting for the build: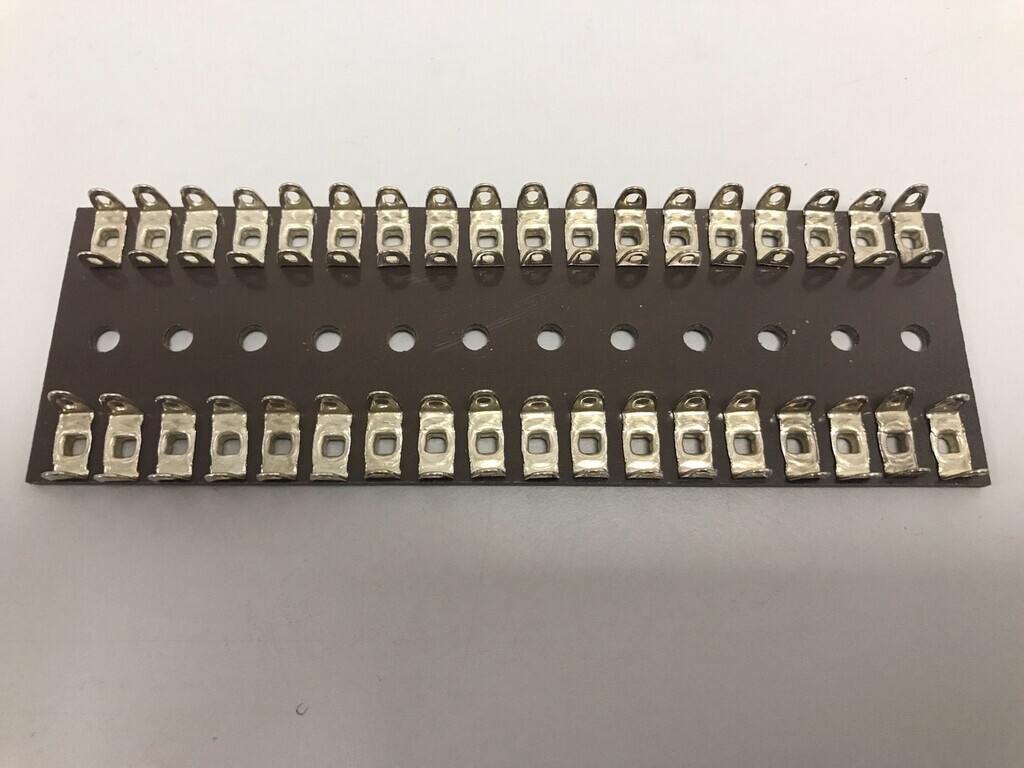 On top of that, they need some new feet which I might 3D print. Some fuses and better earthing might be nice. After that I'll fire them back up and re-set the bias and quiescent current (which I never actually did properly back in the day). Then they're going back into use in the living room with a nice retro knob on the volume control.