Long-term readers might remember when I was on here before I was restoring a red Ford Anglia with
hilarious
69s on the doors. TLDR; I've still got it. Skip to the bottom now if you can't be bothered with chit chat.
Rough timeline:
Summer 2000: bought the car.
2001: engine and box change to hot crossflow and 2000E box.
Mid 2002: replaced rotten sills and significant amount of rotten floor and chassis.
Mid 2004: pulled car apart again to tackle bodywork, found it was very rotten elsewhere and started further structural work.
Mid 2005: started posting on here.
2007: finally painted the car.
Late 2008: car back on the road, initially with very tired hot 1700.
RRG 2009: engine rebuild expired on the M3 on the way, got messed around by an engine builder, replaced with bone-stock 1200 engine to get it back on the road.
RRG 2010 (?): 69s went back on the doors in the RRG camp site at Prescott.
...
insert blank
...
2016: hot 1700 engine build at TAB Weekender (according to Google). Engine didn't last long after poor head work (mentioned above) reared its ugly face. Engine changed to the FromKevFromWalesButWasOriginallyRmad'sDad's 1500cc "guaranteed good" engine after much pressure from KFW and rmad to fit it.
May 2016: photo shoot at Brooklands and feature in Retro Ford magazine.
Mid 2017: KFW engine had indeed been very good but I'd done a million miles on it on my new long commute and it was getting tired. Simple hone, rings and bearings rebuild. Still good.
September 2018: car was not being used much and needed a few things doing so I popped it in the garage
for the winter
to keep it out the weather.
July 2020: still in the garage: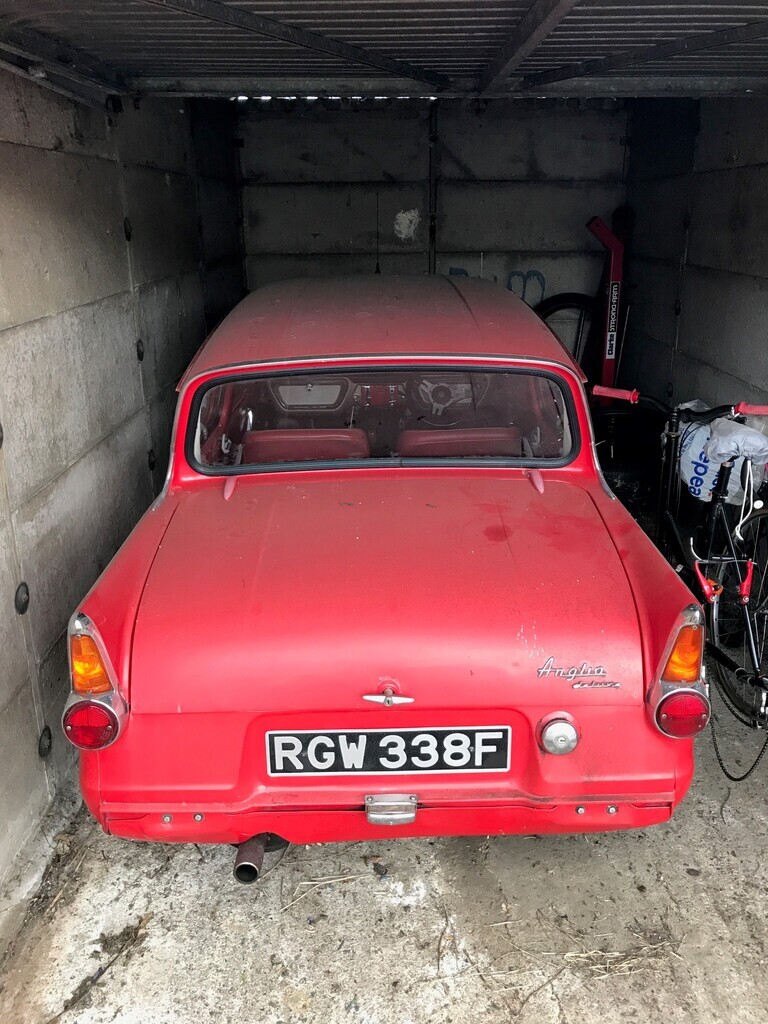 July 2021: no change to above
Ok, so it's coming up to 3 years and the car hasn't moved. I think it was a sensible move to put it in the garage even though I haven't used it. The garage is not watertight, but it's mostly weatherproof and, apart from being filthy, I don't think the car has deteriorated too much. I've got to the point where I feel it's time to pull it out again. However, I took that pic above as a prompt to pull it out the garage and that means another year has slipped past.
So then, plans:
Get some air in the tyres
Roll the car out into the daylight so I can have a better look at it
Make a new list

It's been standing a long time so it's going to need a few things dealing with before I can use it again. I did have a list of maintenance that needed addressing, which was partly the reason I put it in the garage originally. I think I can remember what most of those were. On top of that, I'm expecting some other things due to standing long-term: the engine is probably stuck and will need freeing; brakes are off but probably well seized up; tank of fuel is probably now slime; coolant probably the same; brake fluid was quite new so that might be ok; battery is off but is long-dead (RIP SWEET HALFORDS PRINCE).