In my seemingly never ending quest to push my wife further towards leaving me I "accidentally" procured this very fine example of everything that is great about Belgian automotive engineering - a 1998 Holden Vectra CD with the 2.5 V6 engine.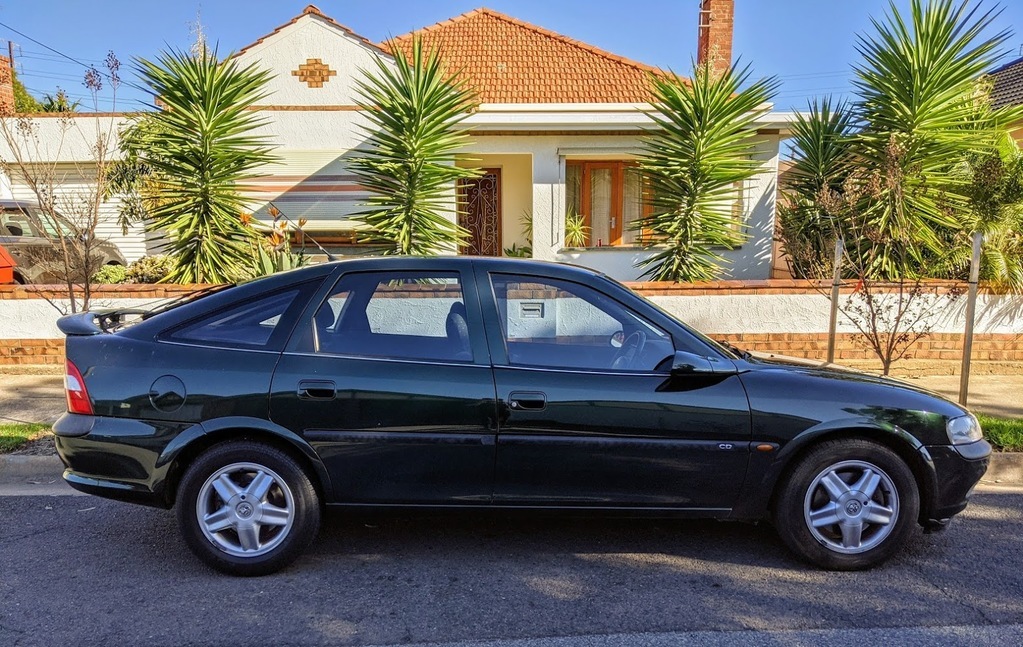 It's essentially a Vauxhall Vectra but imported and rebadged by Holden with a few trim changes for the local market. They initially only offered the 2.0 and 2.5 V6 engines, and the latter was only available in CD trim. Holden did briefly manufacture them locally at which point they offered a 2.2 Holden engine instead of the 2.0 but for operational reasons they reverted back to importing them after only a couple of years. The CD is fully loaded with air con, cruise control, alloys, electric windows, CD changer etc. Just like everything else sold out here, most of them are autos - mine included.
Yeah I know they're pretty much universally hated but I've long had a soft spot for the Veccy since my parents bought one in 2001 to replace our aging 1987 Granada. Theirs was also a 1998 model but a slightly lowlier GLS with the 2.0 engine. It was a three year old ex-fleet car when they bought it and by far the youngest car we'd ever had as a family. It felt so much more solid and refined than all of the other 10+ year old stuff we'd had before and 20 year old me even got to borrow it every now and again which, seeing as my car at the time was a 1991 Fiat Uno, made me feel like the Aga bl
oo
dy Khan: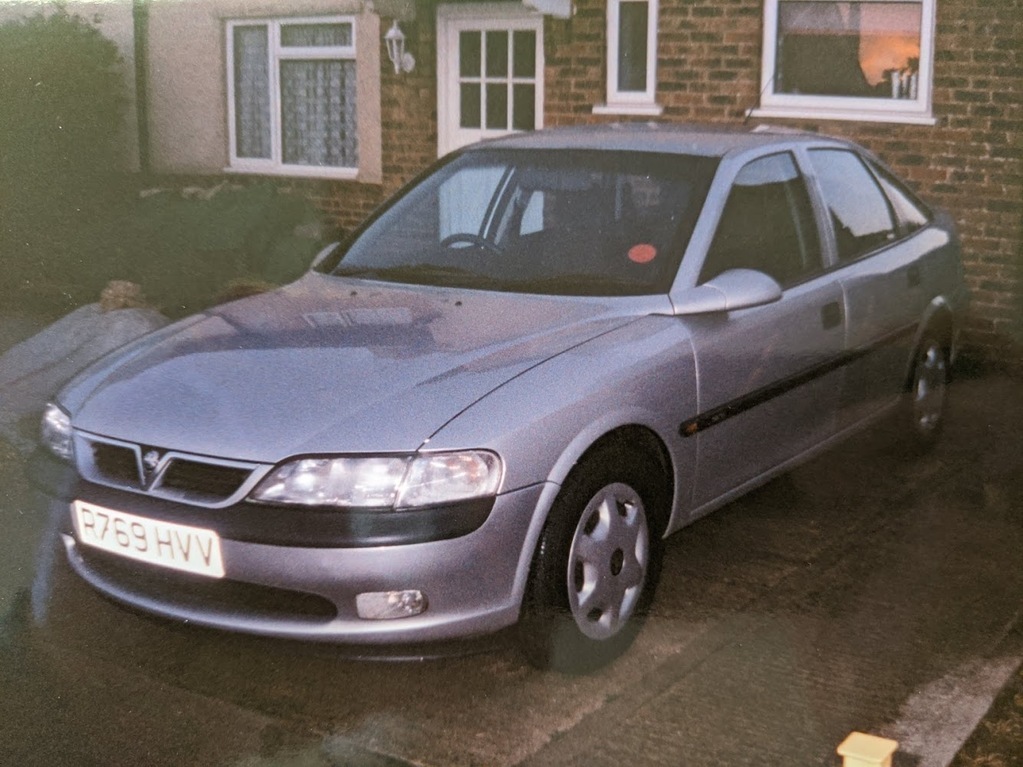 Here she is sitting behind the (presumably slightly miffed) Granny that she'd replaced: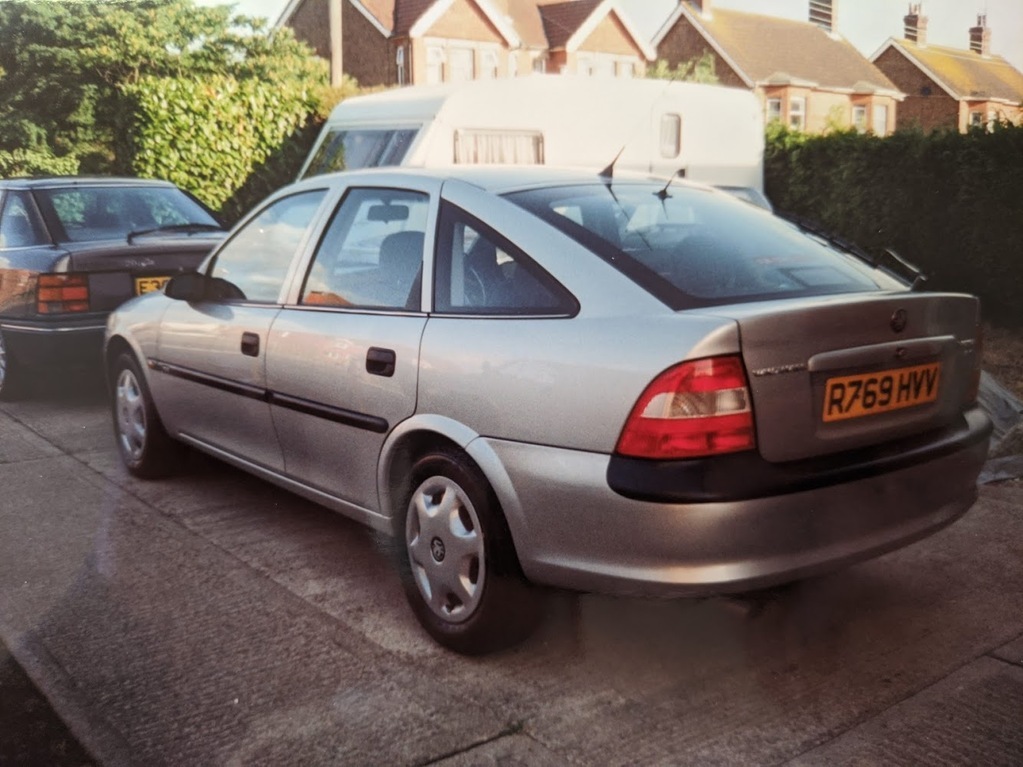 Being absent from the DVLA register that old beast is probably now in her 10th incarnation as tin cans. RIP R769 HVV.
So, fast forward 20 years and somehow I find I'm 40 years old, slightly squidgy, and blatantly going through a mid-life crisis as I've become obsessed with recreating my youth in any way possible. I've got numerous Gumtree alerts set up for cars from my past 'just in case' and lo and behold a few weeks ago I got pinged for a Vectra that was up for sale near me. I'm in Adelaide, South Australia now by the way - so cars from my past are pretty hard to find out here as we could never afford anything Japanese back when I were a lad.
It was a truly
s
hit advert - the kind with only three pictures attached to it, all of which being blurred close-ups of random areas of the car. I think there was a wheel arch, an interior door card and a rear light cluster. Usually that's a sure-fire sign the car's so sh
a
gged that the only way the seller can hope for any enquiries is to not actually let anyone see it. I therefore successfully ignored it for a couple of weeks hoping some other poor s
o
d would buy it so I could carry on about my daily business. But something kept niggling away at my mind as amidst the very short description of the car were the phrases 'old age forces sale' and 'always garaged' so there was a small chance it was a real gem. I did my best to stay strong but eventually I caved in and arranged to go and see it after work - just out of curiosity of course. I definitely wasn't going to buy it.
So I rocked up at this little old lady's house and there on the driveway was her Vectra that looked like it rolled out of the factory a couple of years ago. It's in better condition than my parents' 3 year old one was when we bought it in 2001. Oh bollock
s.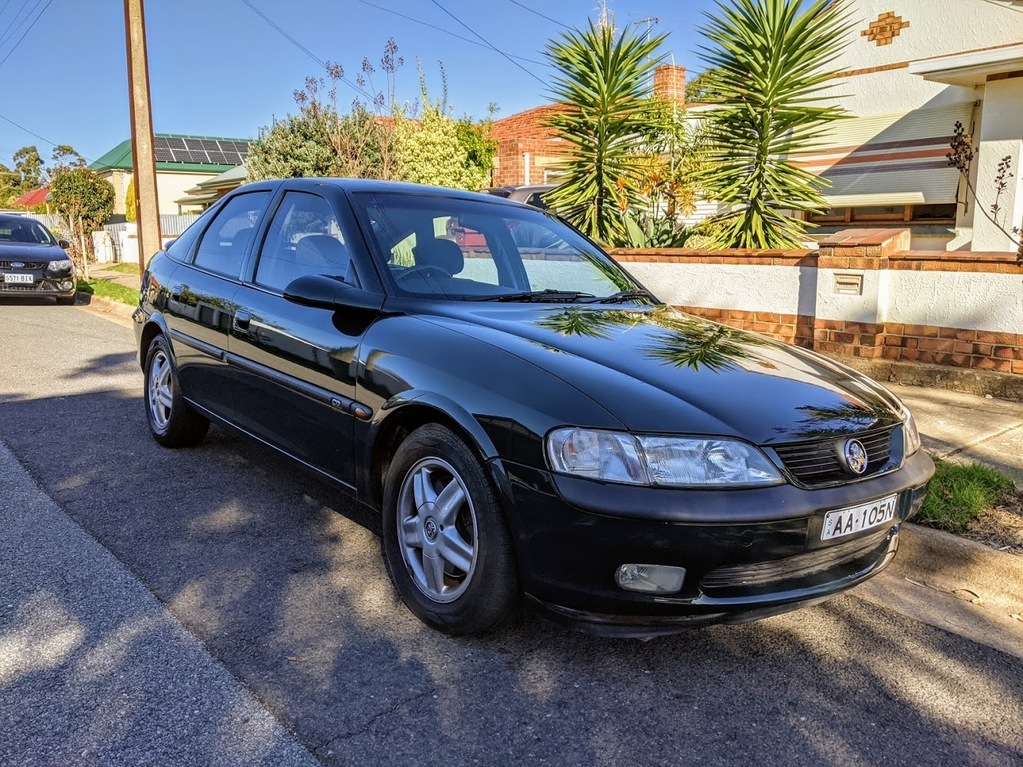 Body wise it's almost perfect - it has a small scuff on one corner of the front bumper and another one on a corner of the rear bumper. The plastic valance trim under the front bumper has started to come away and there's a small amount of lacquer peel on the rear spoiler. Other than that the paint's pretty much flawless - the South Aussie climate is very dry and as such is very kind to cars. There's no rust that I can see anywhere.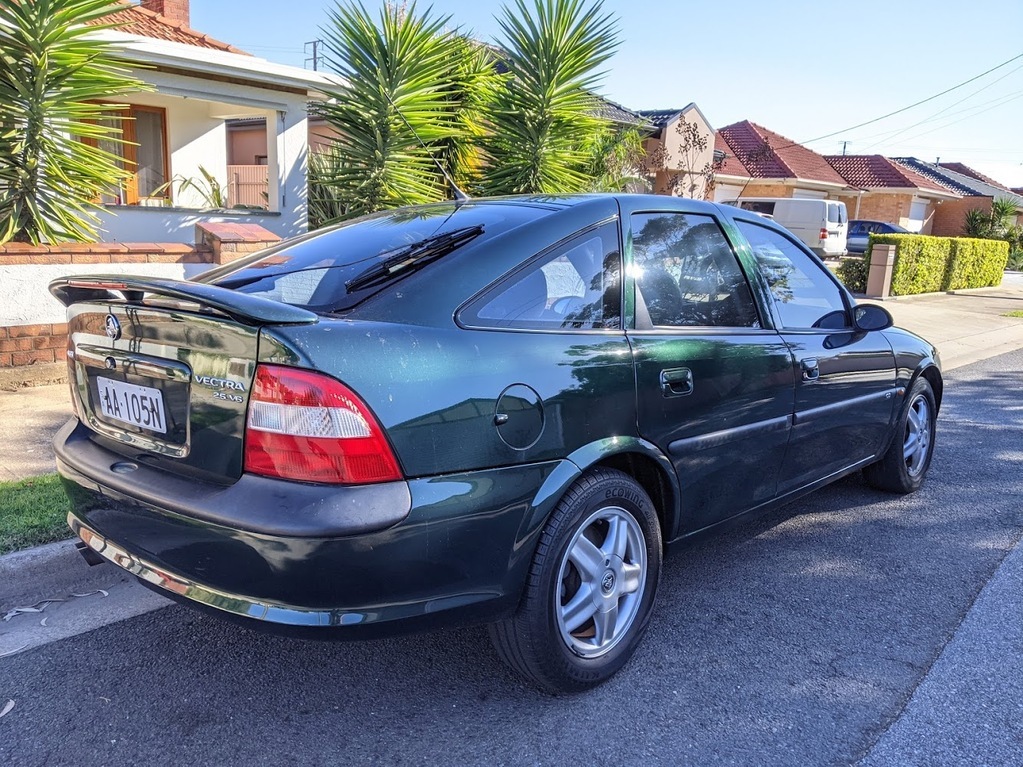 The alloys are almost immaculate with a very small amount of kerbing damage on the front N/S only and thanks to being garaged for most of its life there's no yellowing of the headlights which is quite common out here.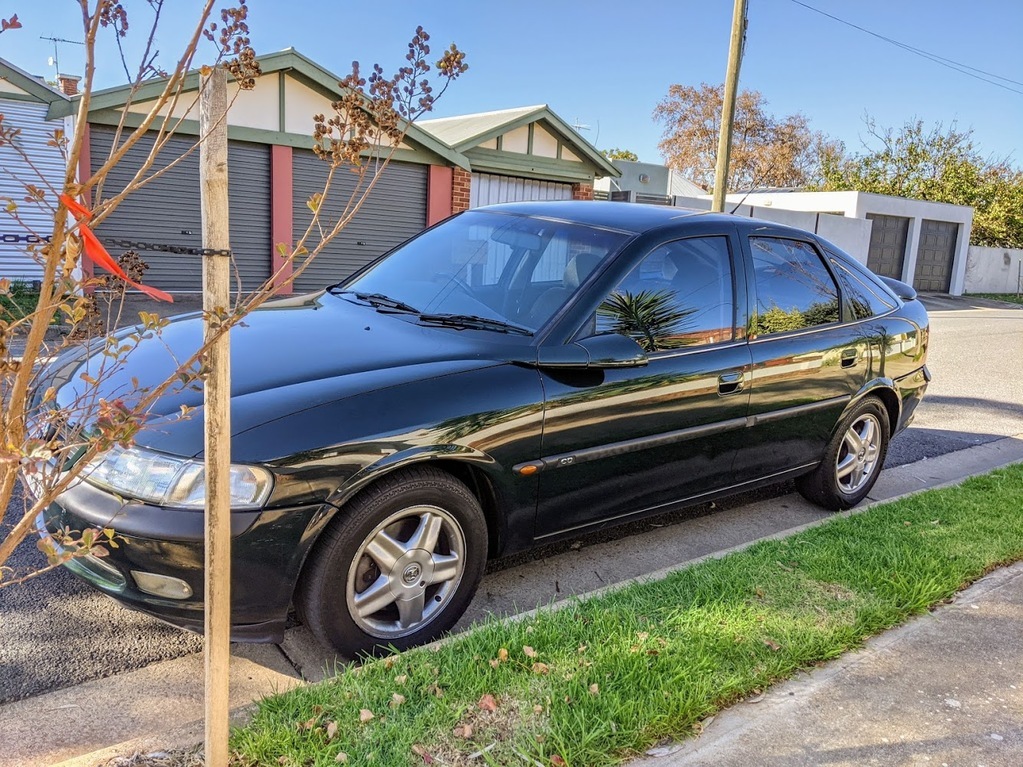 Inside it's the same story - it hardly looks like it's been used at all. It's even still got that new Vectra smell that I remember from my parents' car...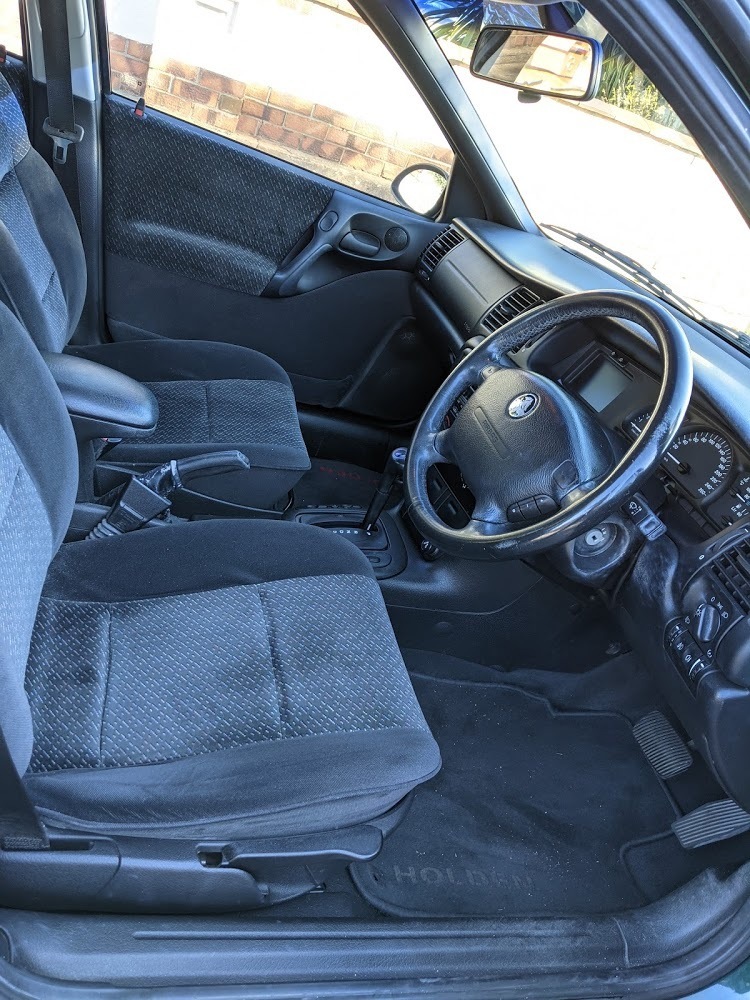 The seats aren't worn or dirty...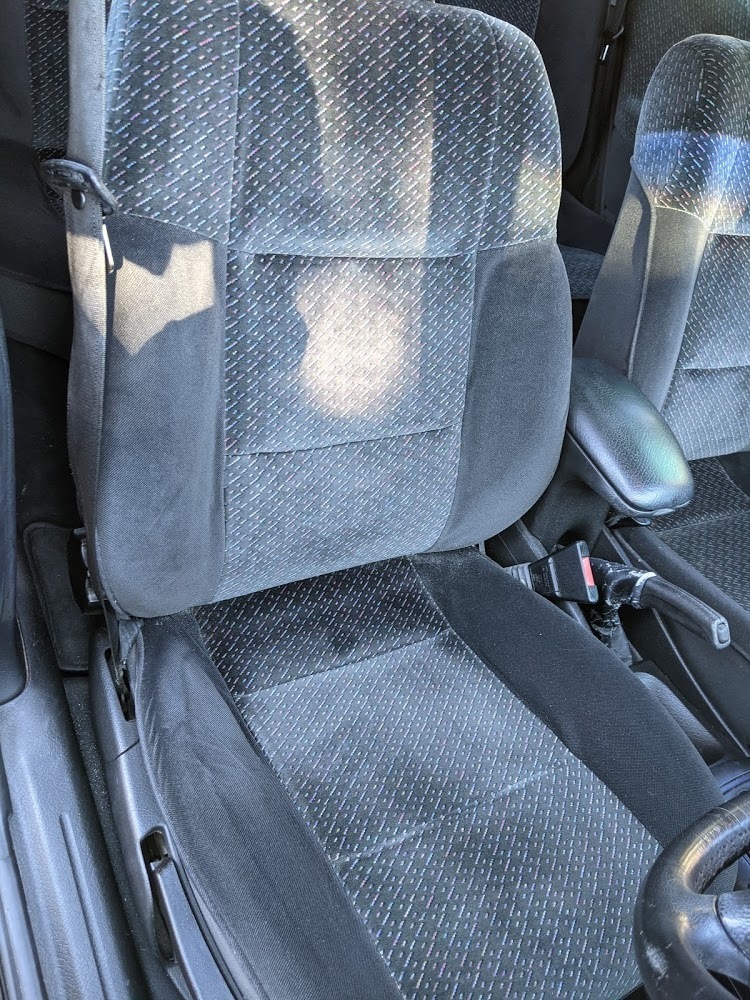 Especially in the back...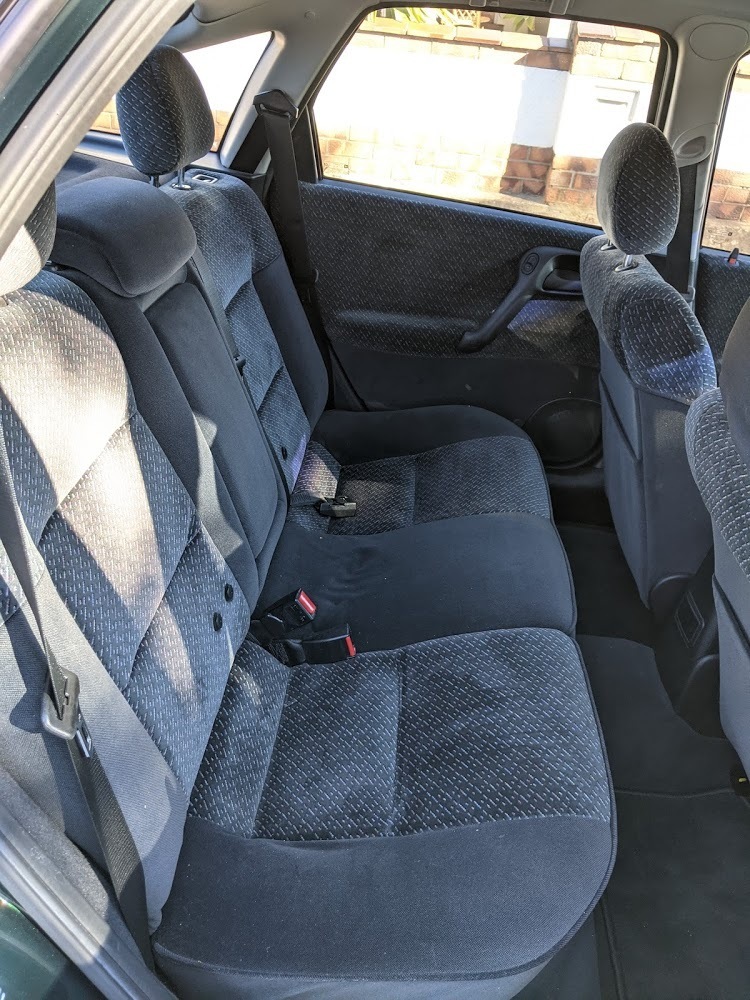 The dash is uncracked and unmolested...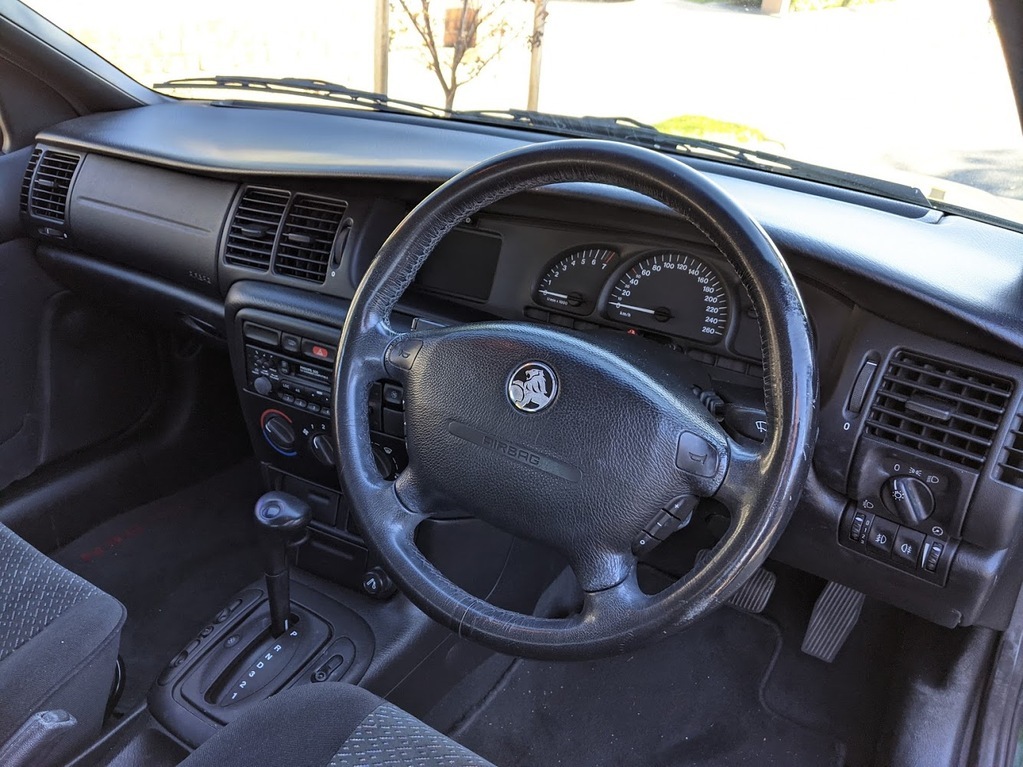 Even the dash display has no missing pixels and still illuminates correctly...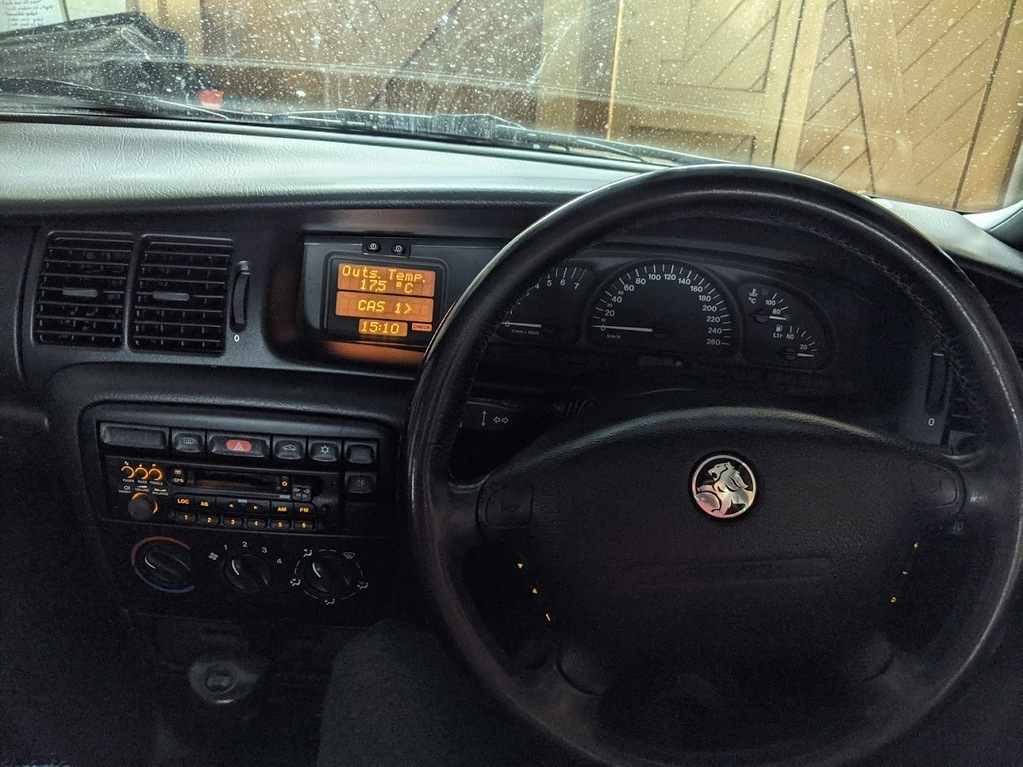 The boot's as clean as a whistle and looks like it's never been used for anything more abrasive than a weekly food shop. There's barely a scratch on the loading lip...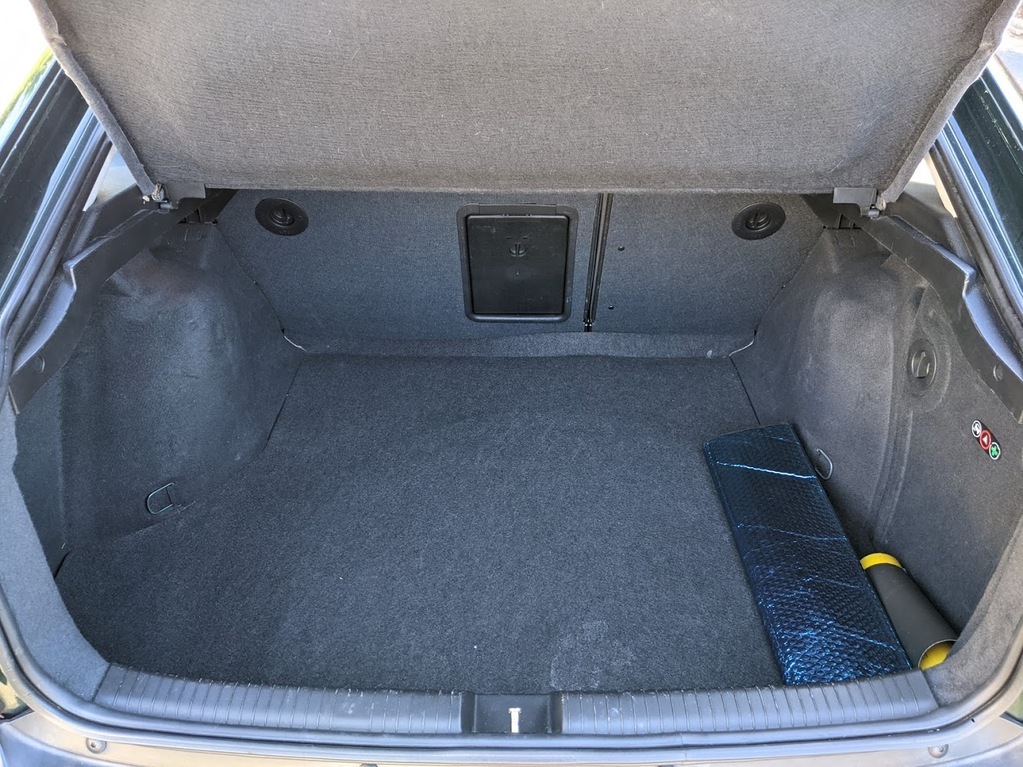 The odometer shows 114,000km (70,000 miles) and it has a full main dealer service history for the first 80,000km (50,000 miles) which was all done in the first three years of the car's life. The (now) old lady had owned it for 15 years and had done just a few thousand miles in it each year - I think it was barely driven at all in the last few years due to her age.
As such it needs a bit of a light recommissioning and has some issues which will need to be addressed. The tyres are all dated 2011 and whilst they are half decent Kumhos with almost full tread they're starting to perish and will need to be replaced before it's used in anger. I've got no history on the timing belt and the seller wasn't sure if or when it had been done but as these need to be replaced along with their tensioners every 60,000km (40,000 miles) or every 4 years that job will need to be done as if this one's not overdue on the mileage then it certainly will be on age. By all accounts they *will* fail if you don't change them on time so that's right at the top of my priority list.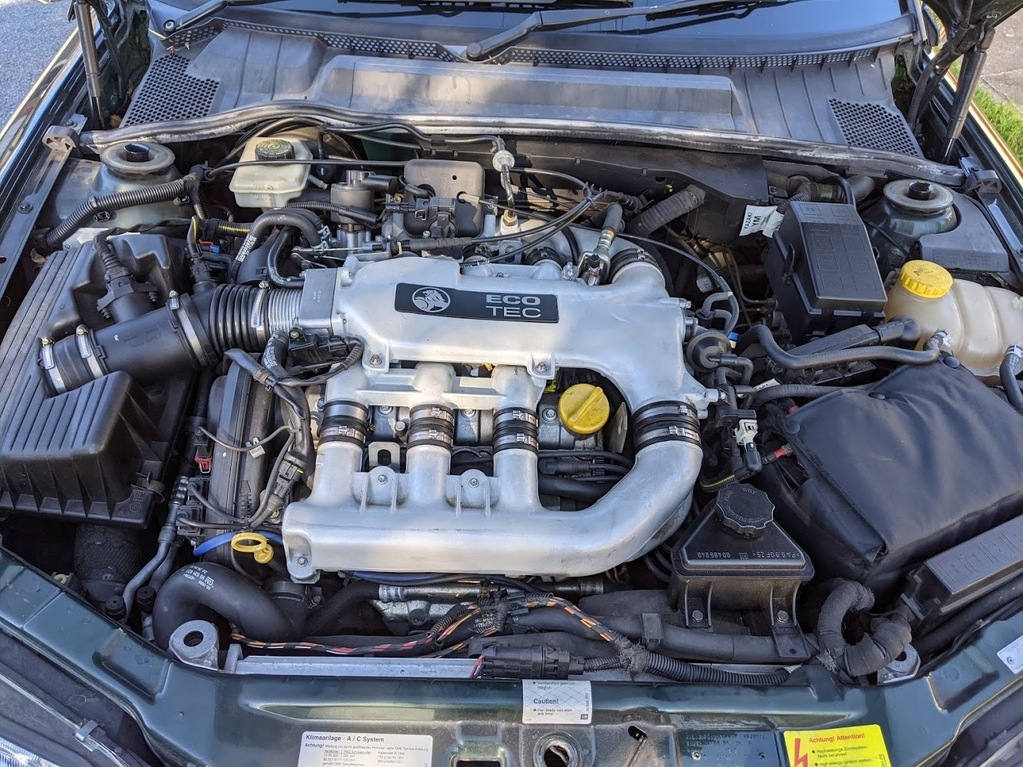 The auxillary drive belt is making a very graunchy noise so I think the tensioner pulley bearing has gone bad - probably dried up due to lack of use. Oh, and it's pi
ss
ing out oil from the cam cover gaskets - it's a common problem on the V6 and usually caused by a combination of hardened seals and blocked engine breathers which should be cleaned out regularly but often aren't.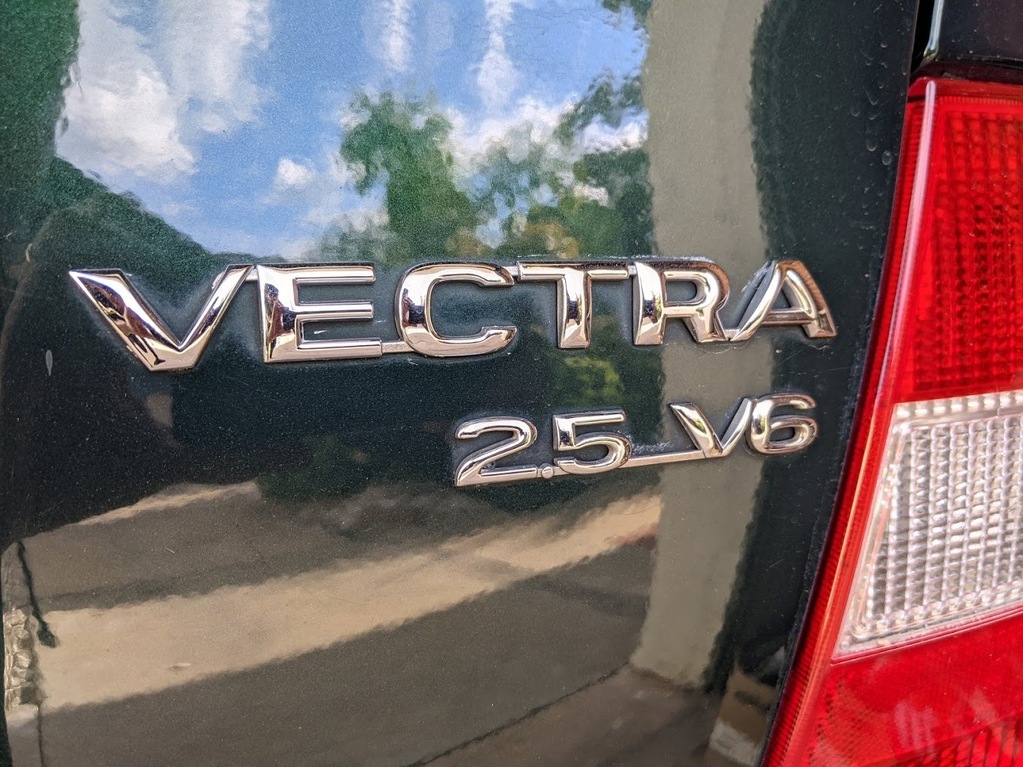 The car was up for $3000 - which was very optimistic seeing as people hate them out here even more than they do in the UK. They're seen as a European import - a lesser Holden - and with a premium attached to parts and servicing. As much as my head was telling me I couldn't afford the car, nor did I have the time or space for it I put in an offer at $1900 which was accepted. Used cars hold their value much more than they do in the UK by the way - a 10 year old family car can still fetch $10,000 or so - whereas that figure would be in the hundreds back home (although granted rust is a big devaluer back there).
In hindsight $1900 was still probably too much but I didn't want to short-change a nice old lady and I'd already made my mind up that I really, really wanted it for no good reason.
I'm not in any way blind to the fact that it's going to be an expensive and time consuming project for a not particularly exciting or valuable outcome. The V6 is notoriously a pig to work on in general as everything's so stuffed into the engine bay that there's no room to work. Even an engine mount has to come off just to change the auxillary belt. The timing belt kit costs a good few hundred dollars (even if I import one from the UK) and I'll need to pick up a proper cam/crank locking kit to do it accurately.
Still, it will be a labour of love and I'm in no particular rush to get it finished. I can just chip away at it as and when time (and the wife) allow.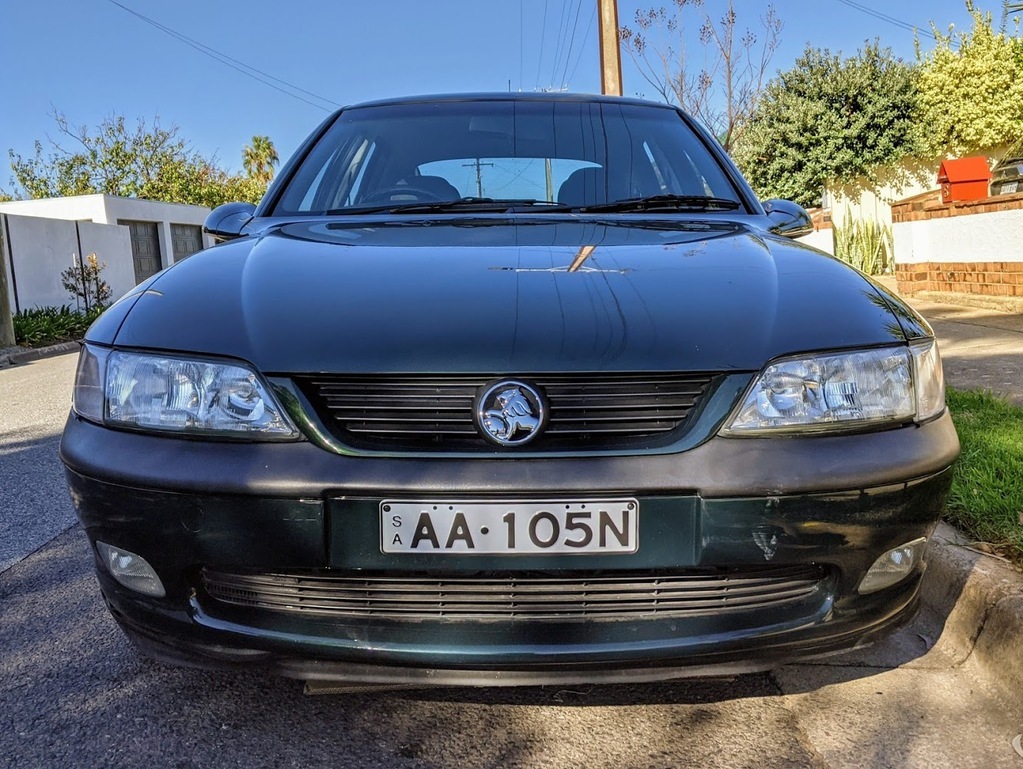 Medium-term plans, if I keep it, would be to get the rear spoiler and front bumper resprayed and potentially to look into importing a set of the GSi style alloy wheels from the UK: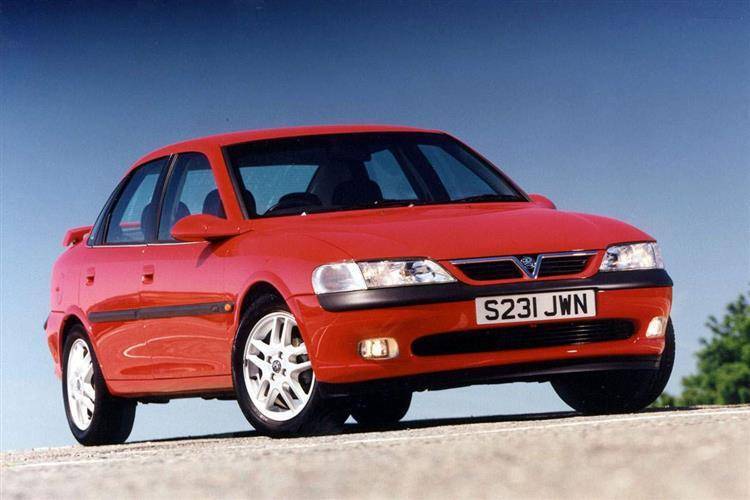 I'm also contemplating rebadging it as a Vauxhall for the full youth-recreation experience. In addition to the alloy wheel centres, that would only need the boot lid emblem and Vauxhall badge, the steering wheel emblem and a replacement V style grille insert.
Even if I don't go through the full rebadging I might still keep a look out for a Holden V style grille. They weren't used on the Aussie models but for some reason were used on the early New Zealand imports so I might see if I can find one over there.
In the short term I'm just looking forward to getting stuck in and driving this old beast.