Alright then, next bike in line to get sorted out was the Vengeance.
I had sent it off for painting but he must have been drunk when he did it.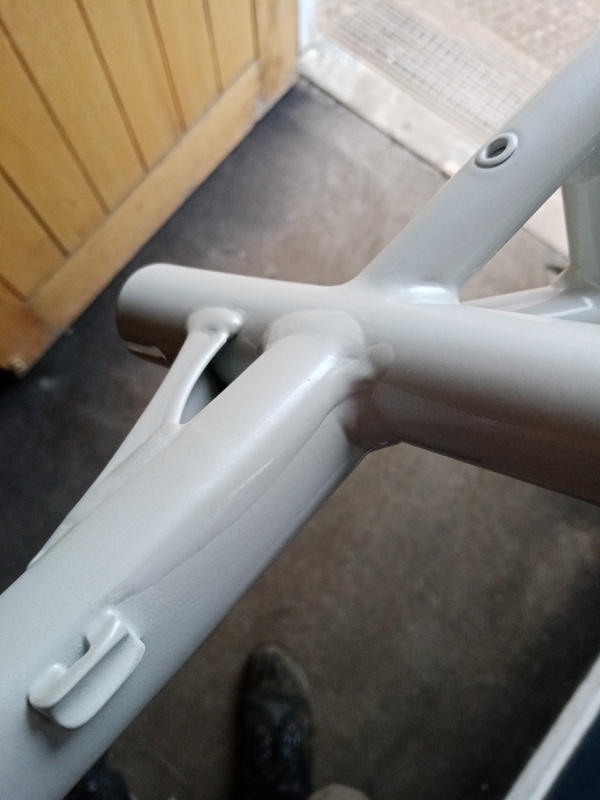 It was terrible. At least half a dozen flaws I spotted immediately. I was considering just doing it myself and not paying for it but in the end I rang him and he was fine about it, said he would do it again, do it better, and would have it ready in 2 days. So I sent it back over to him and twiddled my thumbs waiting for it.
But I remembered that first I had to sort out all my gear.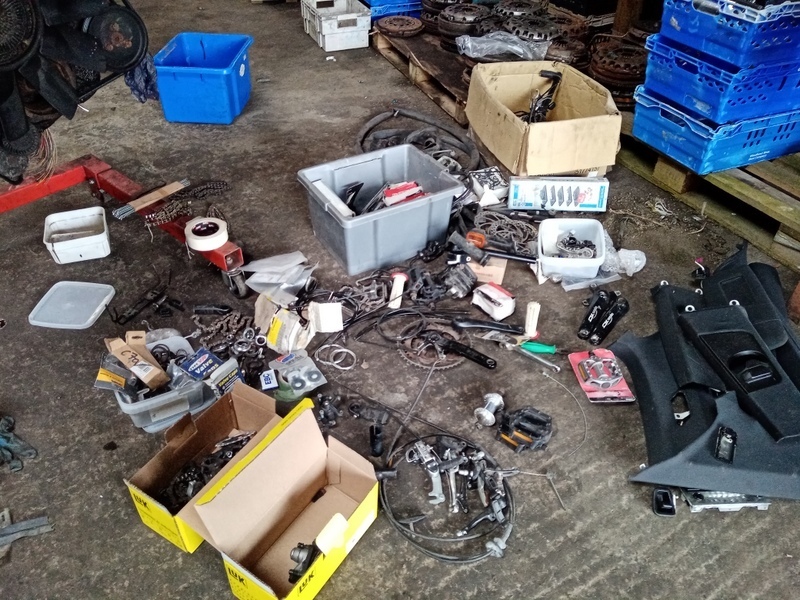 This is the result of gathering up parts from broken bikes over the years and hoarding it - a lot of good stuff actually, and even some new parts.
I sorted that out into what I could use on MTBs, and put the BMX and Racer parts in another box and stuck them out of the way.
And the frame came back... Perfect! It's a nice pearl white, and the paintwork is almost flawless this time.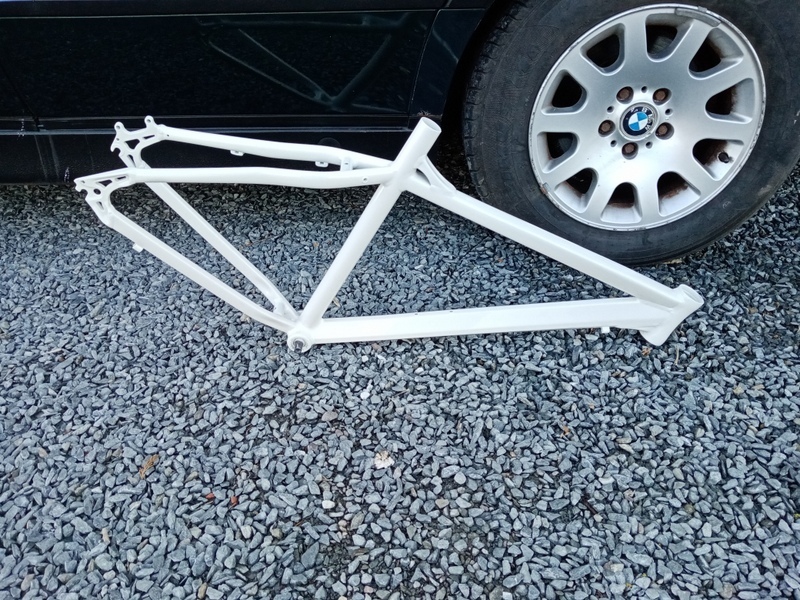 The RST forks were liberated from the broken Kinesis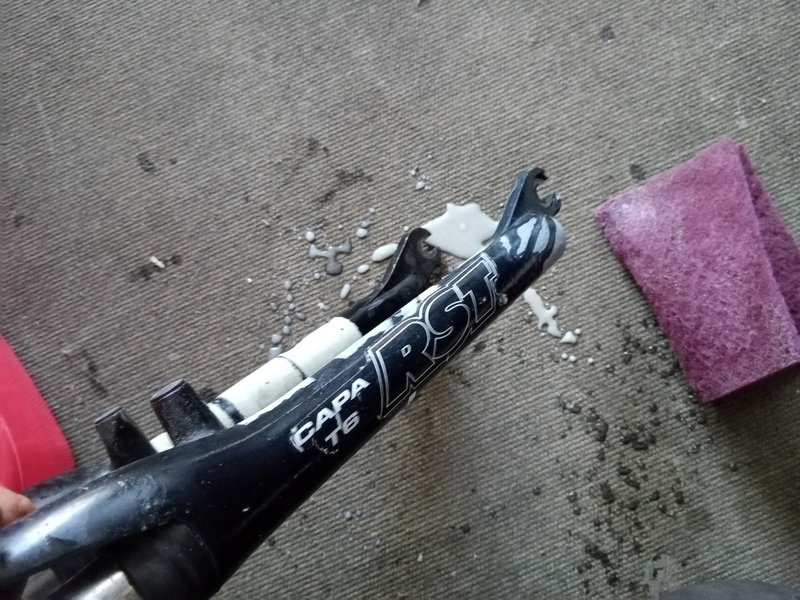 And fitted to the Vengeance, in the middle of the night, on top of my receptionist's workstation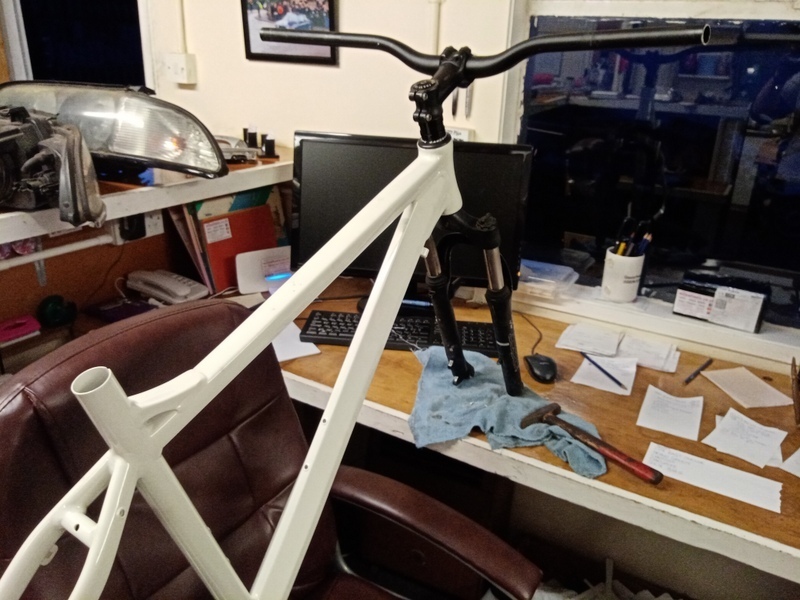 That took ages because I had to try and put a headset together out of spares. The one that came off the frame was very messed up indeed but I found the races from the Carrera Vulcan I had years ago (identified by the white paint flakes on it - it was also one I resprayed white) and once I'd found decent bearings we were good to go.
The bike came with 27" handlebars which were just way too big and I hunted around until I found some narrower Tioga ones - also from the white Vulcan. They are 25" across but that also meant I had to run the Tioga stem to suit them as I only had stems for larger diameter bars. The 27" bars just felt too wide at the shoulders for a woman and I figured the 25" ones would be a good fit for her narrower frame.
Next step was the driveline and that came off pretty much complete from the Marin. 8 speed Shimano Alivio gear in reasonable order except for the rear mech which was pretty awful.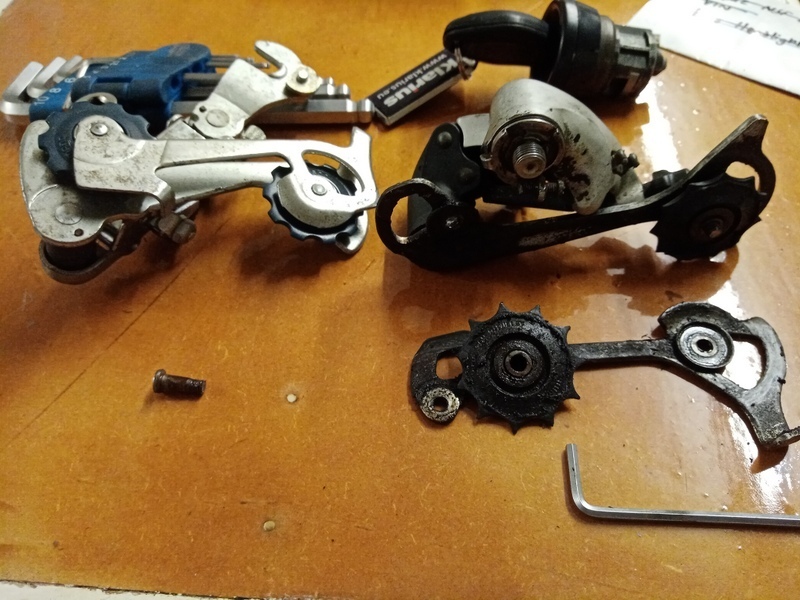 The hanging part of it was a bit twisted but I pulled it somewhat straighter. The plastic cogs were very very worn but out of my box of spares I pulled a basic Shimano Tourney mech and ripped it apart for the gearwheels which were the same size but just slightly fatter, but they still fitted in so that was a win, and the Alivio 8 spd mech was back in action.
I pulled the one remaining brake disc and the combination shifter/brake levers off the Marin as well - it was looking pretty dead at this point...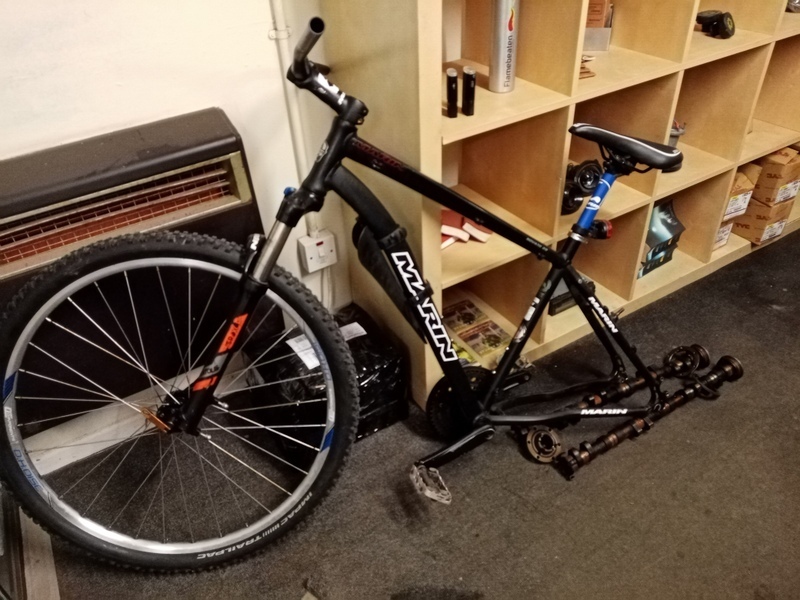 I tried to remove the cranks from it also but someone had already been there and stripped the threads on the drive-side so I left them alone grudgingly. So the spares box was raided again and some Suntour XCRs were located and mish-mashed with the best gear cogs from the original set on this bike. The cranks themselves had to be replaced as they are really beat up and wouldn't look presentable enough to go on this (what is becoming a) really nice bike.
Leaving me only to make some new cables up and attach all the pieces together and get the Vengeance to look almost like a bike...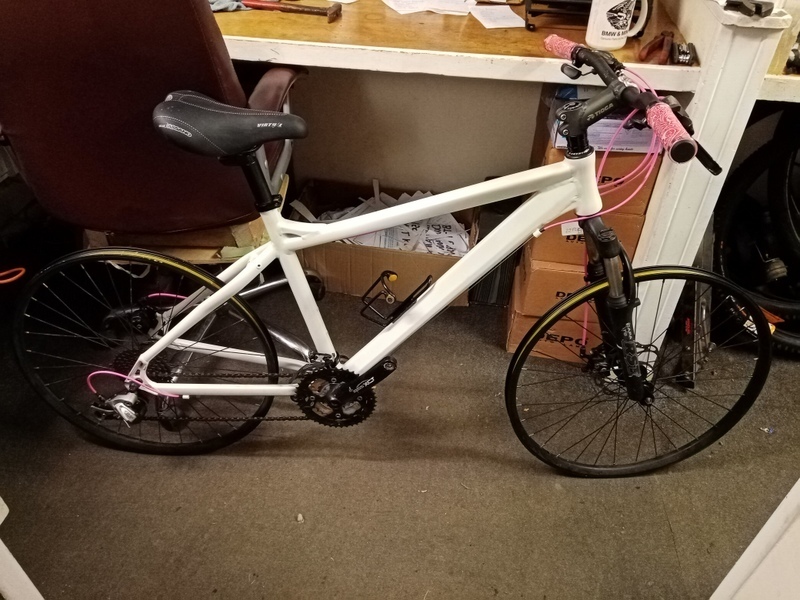 I (well we, I got my buddy to help with the last few bits) took the tyres off the black Hardrock - a pair of Continentals, one half worn and the other fairly good - and popped them onto the original wheels. When cleaning the wheels up I could see the sticker residue where they used to say Carrera on them but I cleaned them off better so that isn't so visible now. Put the other wavy disc from the Marin on and took one off the Hardrock too.
And some pedals, some air in the tyres, some cable clips.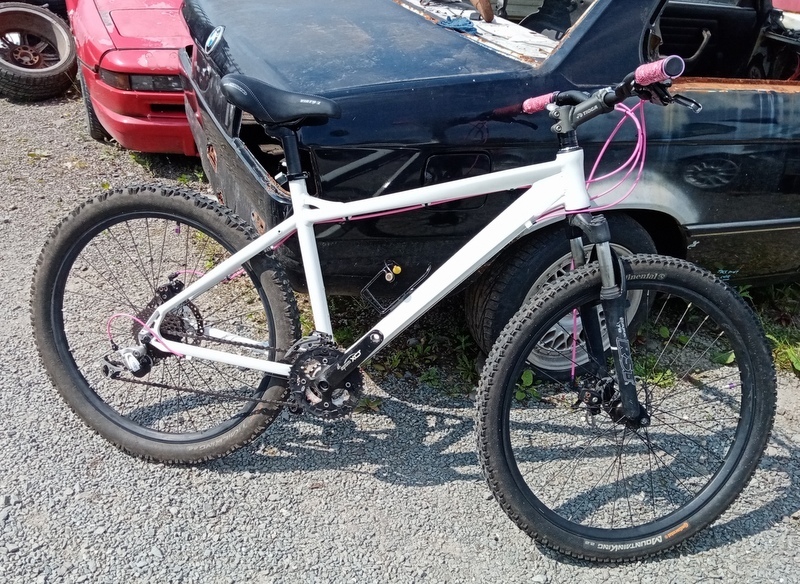 I am really pleased with it. I found a gel saddle in my spares, and that's the original seatpost for the bike. The brakes are cable disc Tektro Io that I had in spares also, with good pads, and I'd already bought a lovely set of floral pattern pink lock-on grips.
I gave it to my buddy to do the set up as he's not too busy this week and I have some purple anodised bolts and bottle cage ordered, and after that just some stickers for the tubing to just add the finishing touch, and we have to figure out some overly elaborate way to give it to her now.
I'm for hiding it in the forest and "stealing" it for her when we're next out, but suggestions are welcome, not on a postcard though as this is happening soon!