Hi Everyone, first time posting but been on the forum for a couple of years now.
The purpose of this thread is to show my garage and hopefully get some advice on how to improve it.
So, in 2018 my girlfriend and I bought our first house. I am currently doing a PhD, and after 4 years of living in student houses we had decided it was time to get somewhere of our own. This was particularly poignant after the last houseshare I had, where both the landlords and tenants were a complete pain. So, we started looking at places to rent, but any we found that we both liked were ridiculously expensive.
Jokingly, I suggested we buy a house instead, and we started looking at houses too. This quickly led to the realisation that this was the way to go! A monthly mortgage payment was significantly less than renting, however we had concerns about the application as I was not technically employed. After consulting a mortgage broker we found a lender who was able to accommodate my PhD stipend, and the mortgage payments were less than half what we'd be paying to rent somewhere half the size!
We found somewhere convenient for both our jobs, and something we could move into quickly, with the intention of only staying here for the duration of our PhD's and then move to wherever our subsequent jobs would take us. House sales move quickly here so we shouldn't have any issues selling on.
After missing out on a couple of properties we found our house, and much to my delight it was the one with two garages!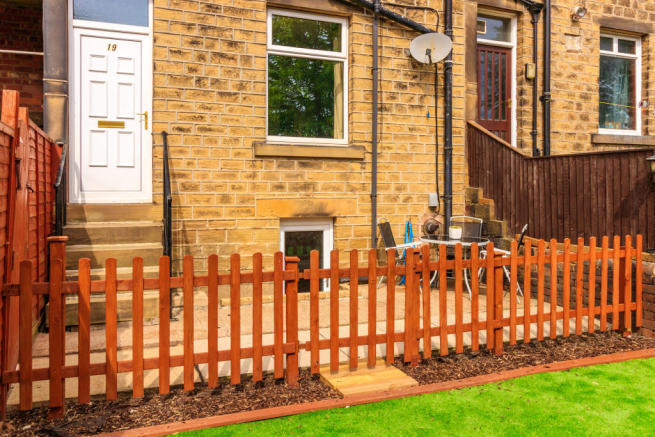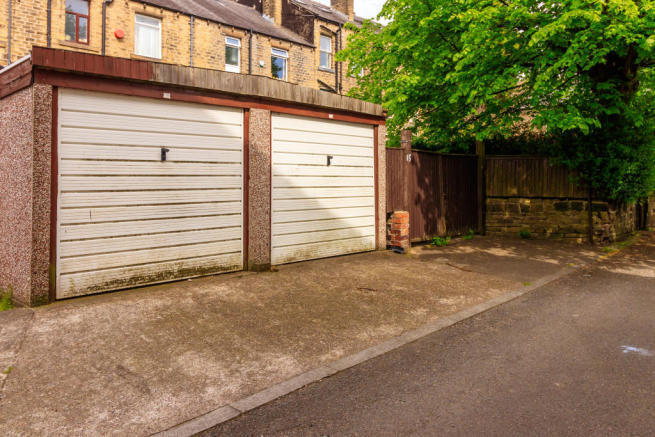 We moved in in December 2018 and after doing some redecorating in the house, I could start thinking about the garages.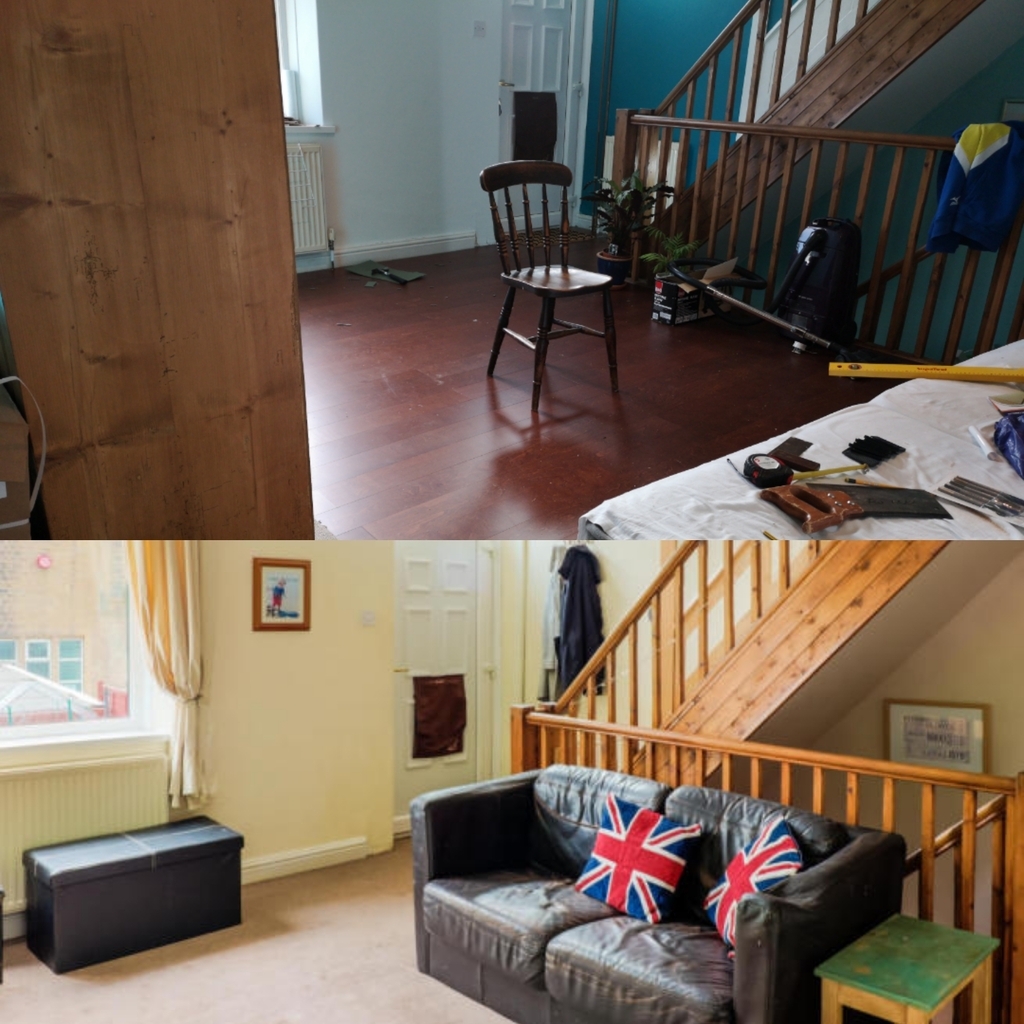 Before (bottom) and after (top) of the living room. We removed something like six layers of wallpaper on some walls.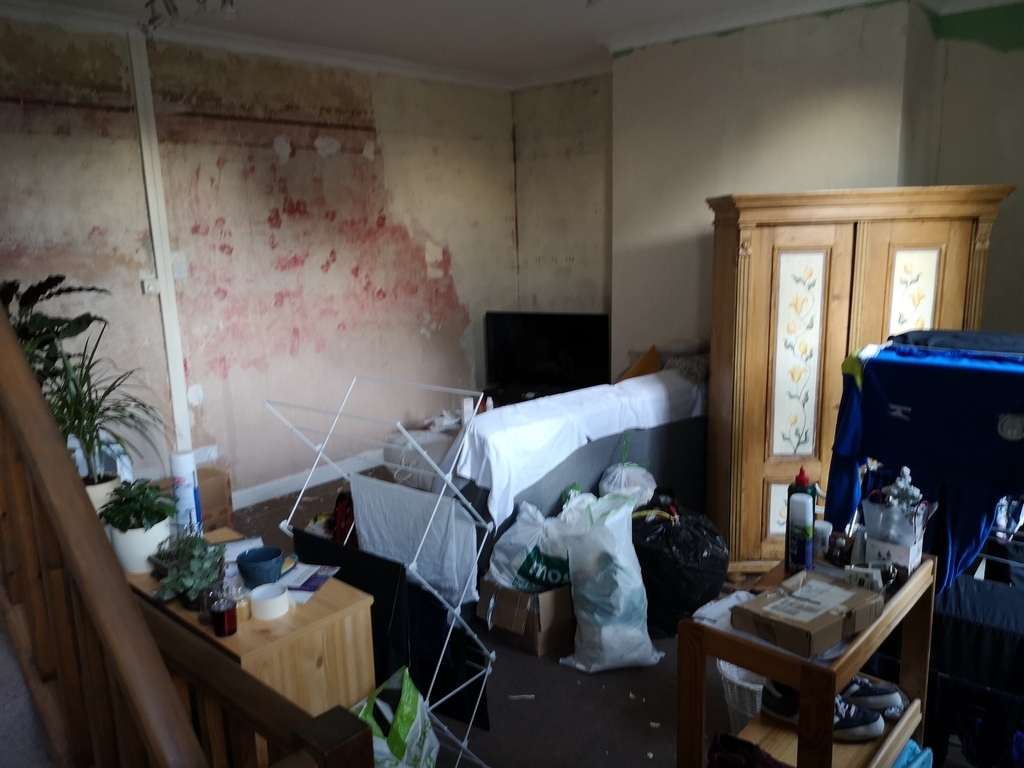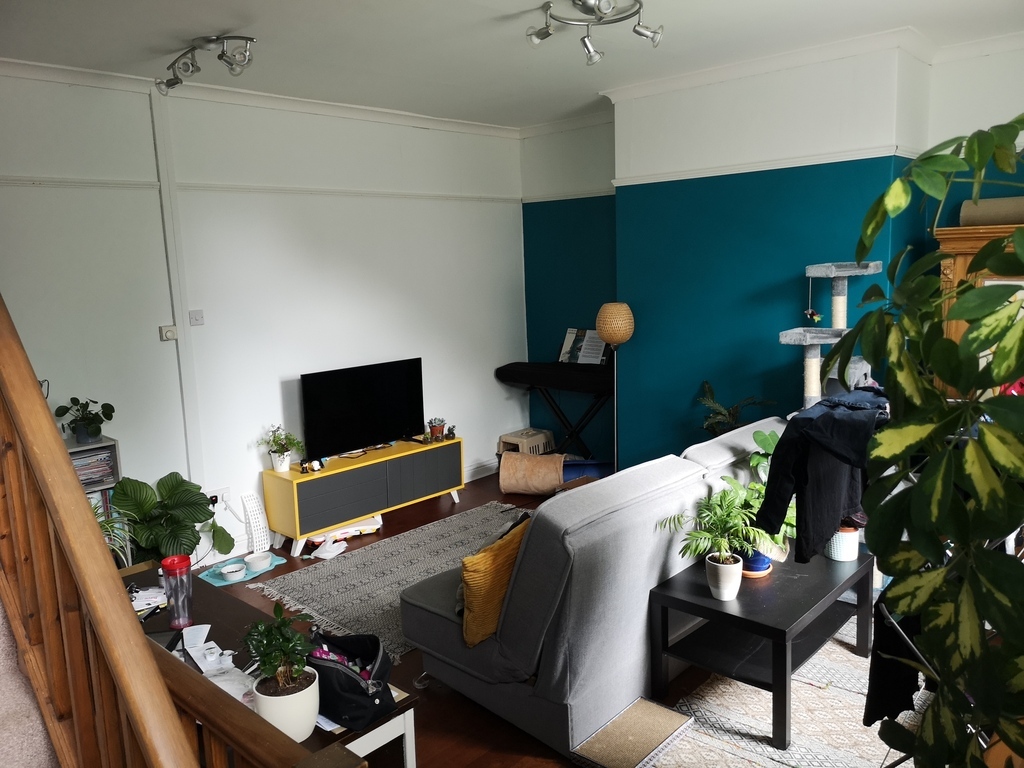 My plan for the garage was to make a bit of a workshop for diy projects, and to eventually house my recently acquired project car; unfortunately thanks to the pandemic, it still lives near my parents' house, maybe one day it will get here.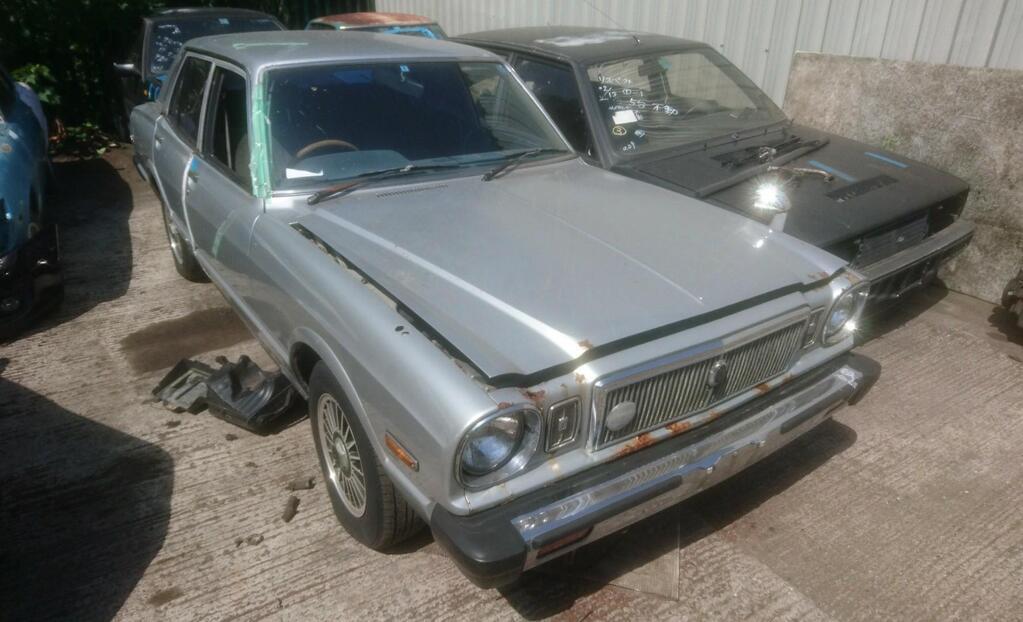 I'll eventually get a thread going for the Cressida, though progress is very slow as I rarely have time to visit.


Back to the garage.

Pros – Two garages!
Cons – Your typical poorly built concrete prefab garage
Parking pretty much anything wider than a mini (classic, we tried with my girlfriend's newer R50) would mean having to exit via the boot, so one garage became storage and the other became my workshop while the ideas started growing.
After examining the garages, I decided it would be fairly straightforward to remove the centre panels. This wouldn't be too difficult, the mastic between the panels has shrunk and all that was holding them together were some large bolts. I'd have to retain the first and last panels, as they were part of the external wall, but that would make it possible to drive a car into the middle of the garage, and give space to jack it up if needed.
Complications started when figuring out what to do about the roof. The garage has the original corrugated concrete/asbestos roof, attached to a frame which is supported by the side and centre panels. So that idea went on hold for a while.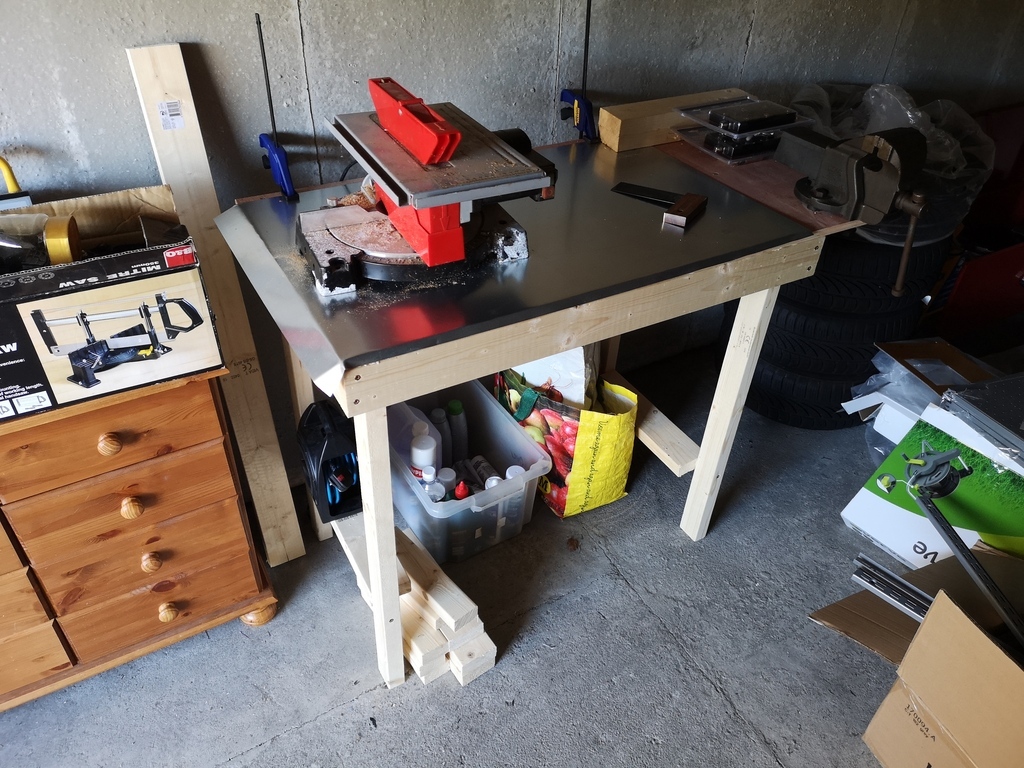 Collected a bunch of cheap tools and storage from Facebook and Ebay, and built myself a workbench. Kept thinking about how I could remove the centre wall and several different approaches were considered, however they'd all require more than one pair of hands and other things took priority.

Meanwhile, I had other issues to tackle. One winter in and damp was very obviously an issue. The roof had a significant amount of moss on it, which held the water resulting in a lot of water coming through. That wasn't the only place, poorly maintained guttering/drains also meant water was coming through the sides as well.
After one especially stormy night, I woke up to find the bargeboards and roof caps in pieces in the neighbour's garden. The PVC caps had disintegrated and the wooden boards were completely rotten, only attached to the frame by a few long screws. So, I bought some planks and fence paint, and some plastic coated metal caps and got to work. Used coach bolts bolted through the boards and roof frame and added timber along the top of the concrete panels and screwed into the boards for extra reinforcement.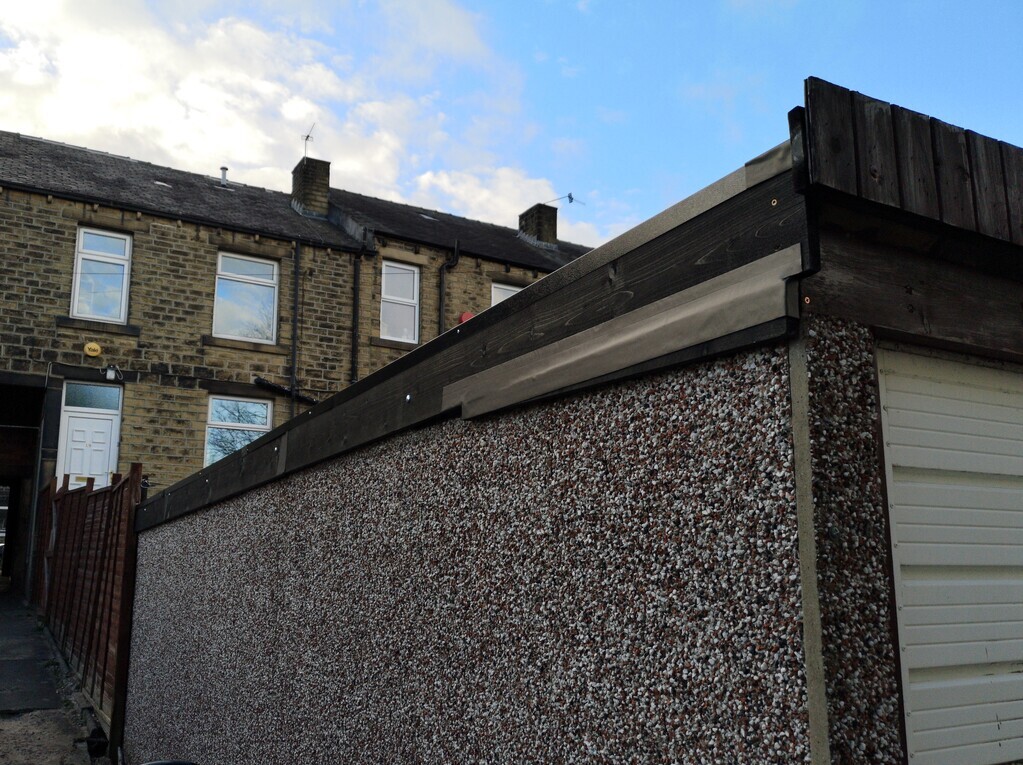 Started with the sides.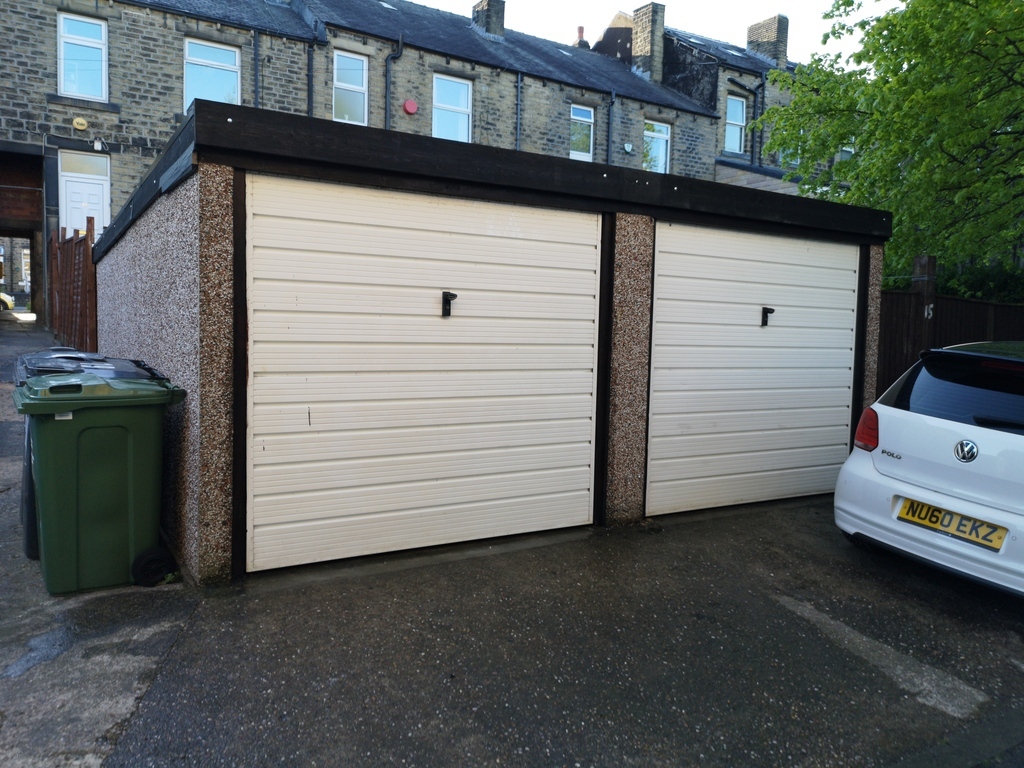 Front finished.
The end result made the garage look so much better, and I had the reassurance from doing it myself that it wasn't going to break anytime soon.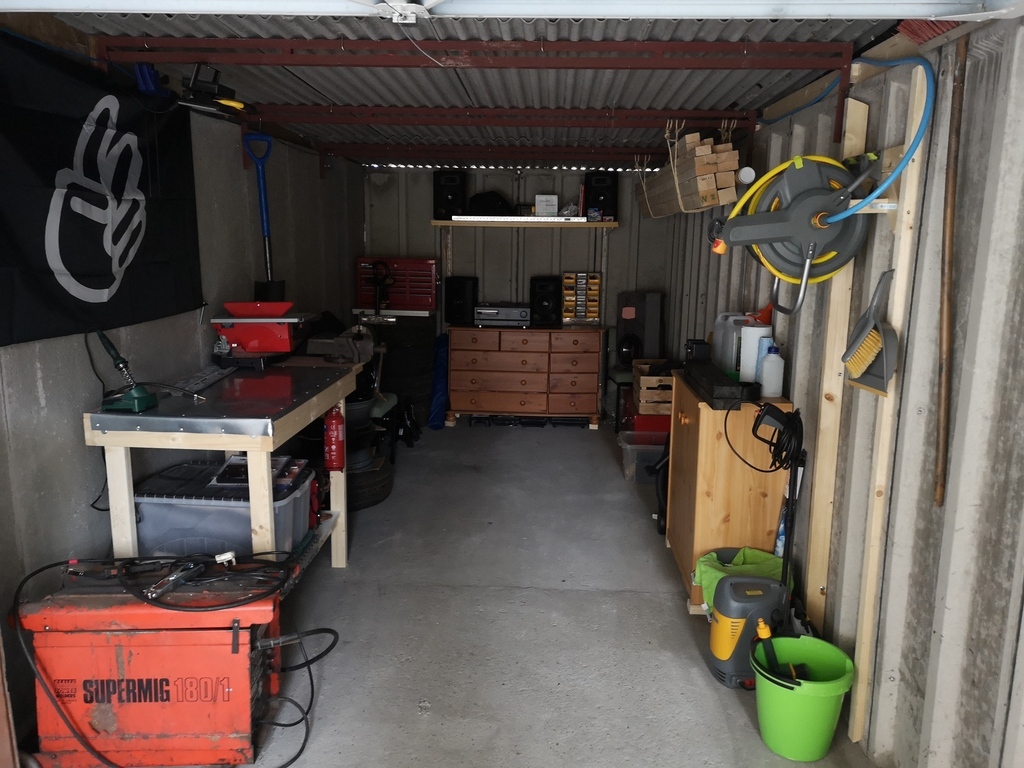 Started building up more of a workshop. Got an old mig welder to practice with. Used some rope to suspend timber from the roof frame to stop it from getting wet. Shortly after built a shelf to hold more materials.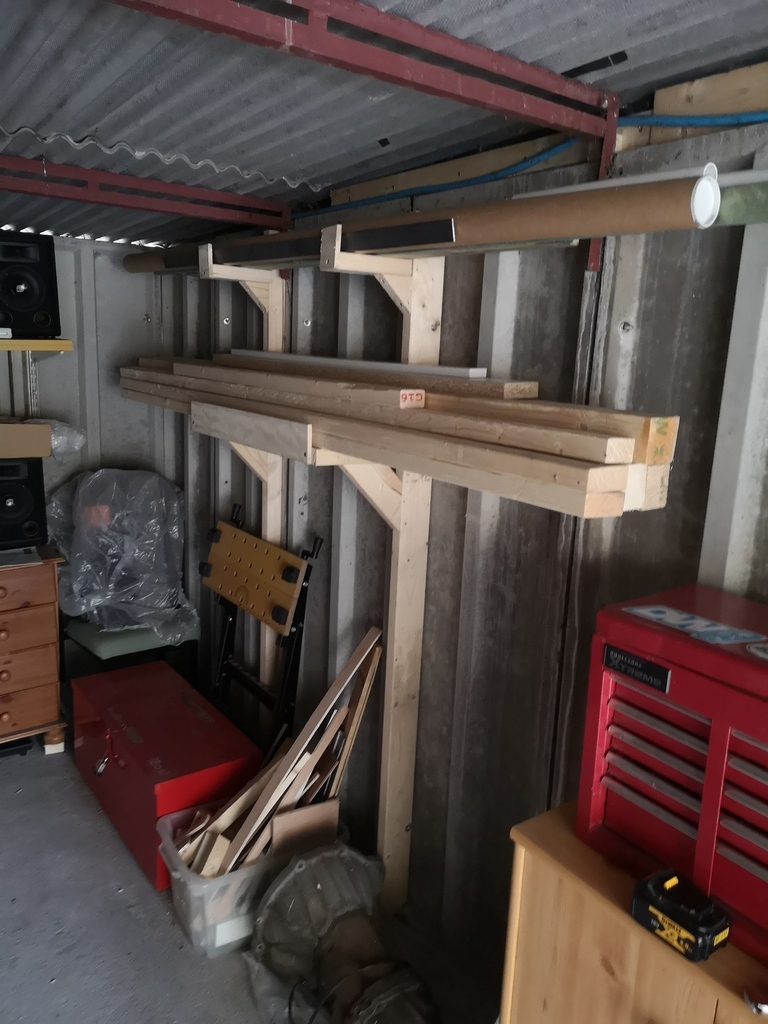 My next plan was to try and stop water from soaking in through the base. I know this is an impossible battle, but there was water standing inside the garage. This also coincided with us starting to work on the garden, for which we had quite ambitious plans!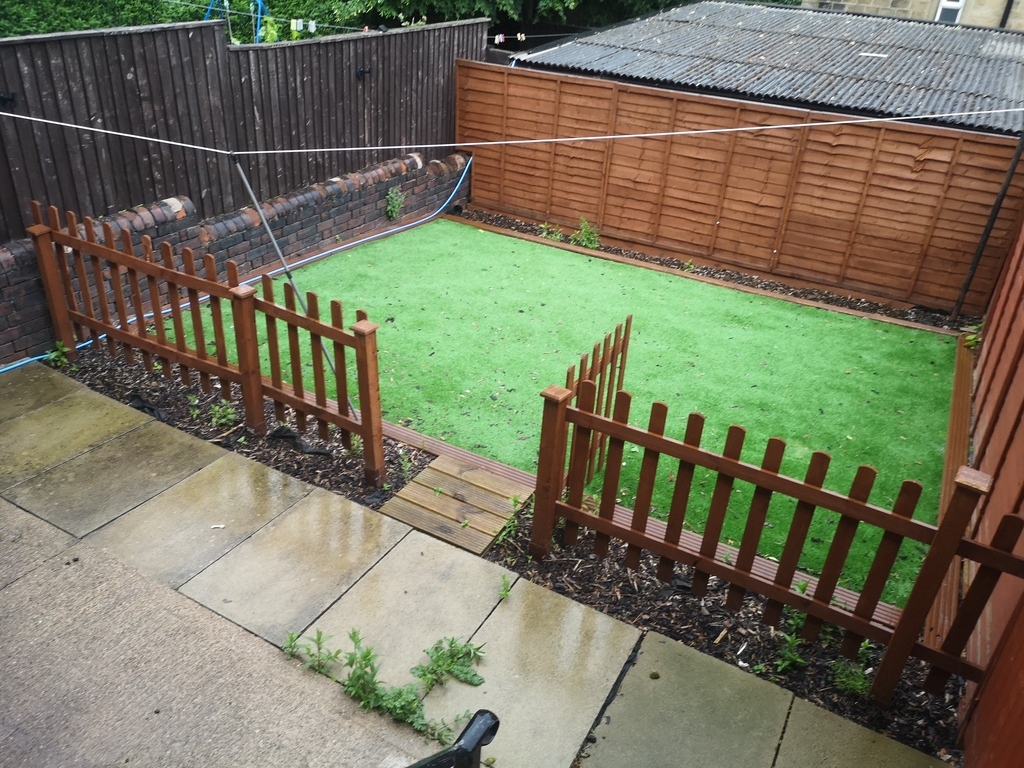 The previous owners kept the garden very simple but didn't really do much maintenance. Hiding behind the fence was a nightmare.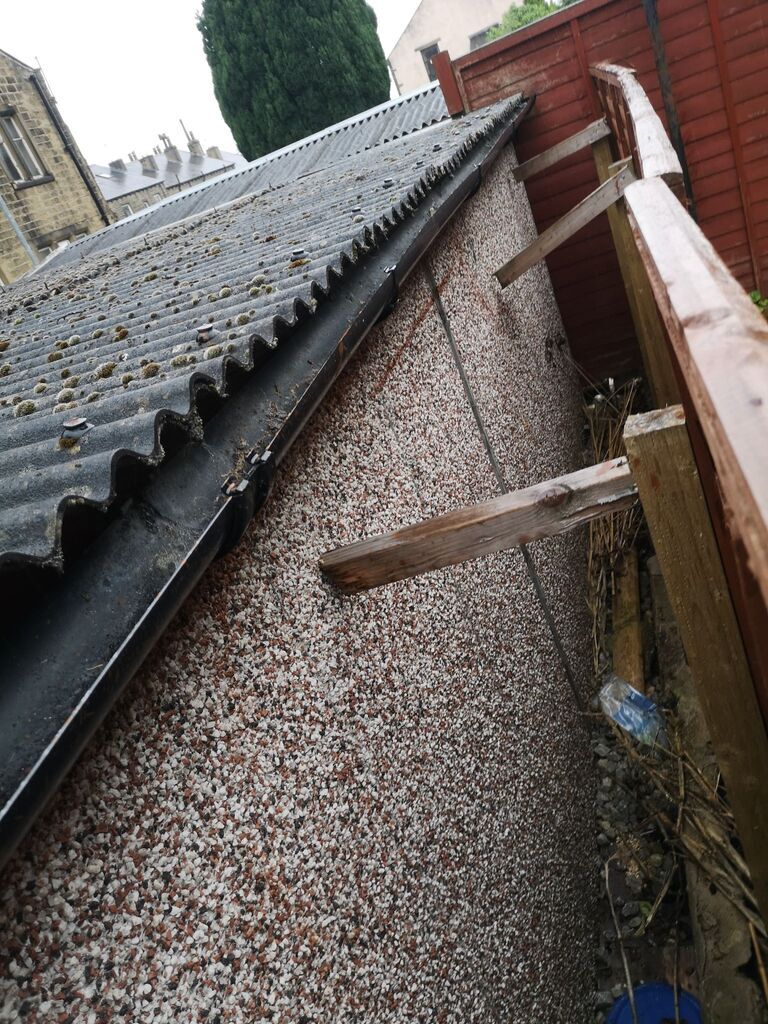 What I discovered was what I can only describe as an attempt at a French drain. About a foot of thick black mud mixed with rubbish and pea gravel. Under this I uncovered an open drain, which I think was meant to drain around and down the sides of the garage, unfortunately these do not slope away from the back so any amount of gravel or leaves will trap water back there.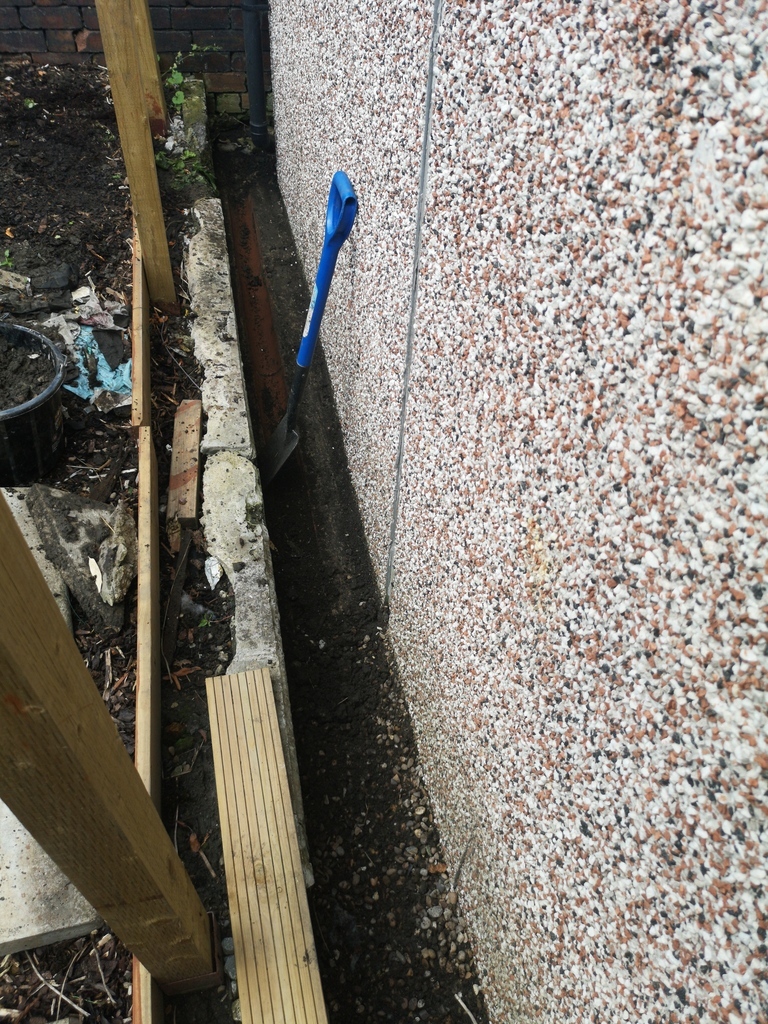 Still, much better cleaned out than when it was full of rubbish. And although there is still damp seeping through, at least there aren't any pools of water inside the garage now. This is around Autumn 2019.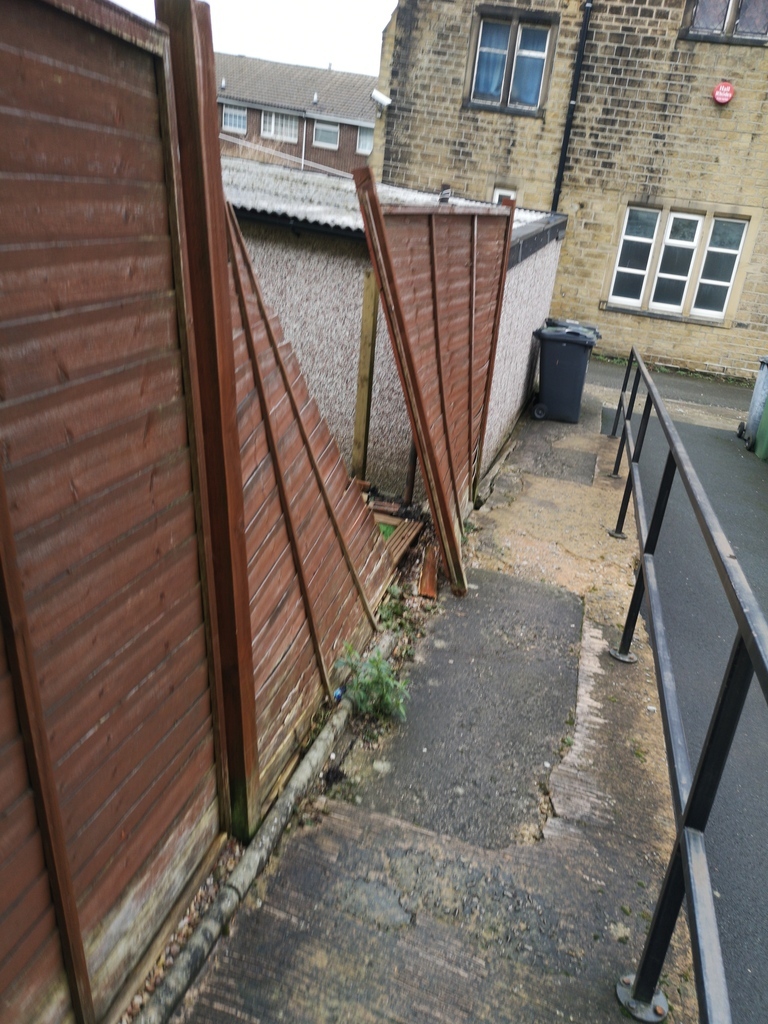 February, big storm blew down the fence, so new fence was ordered. Bodged the old one back together in the dark and sideways rain, somehow its still standing now!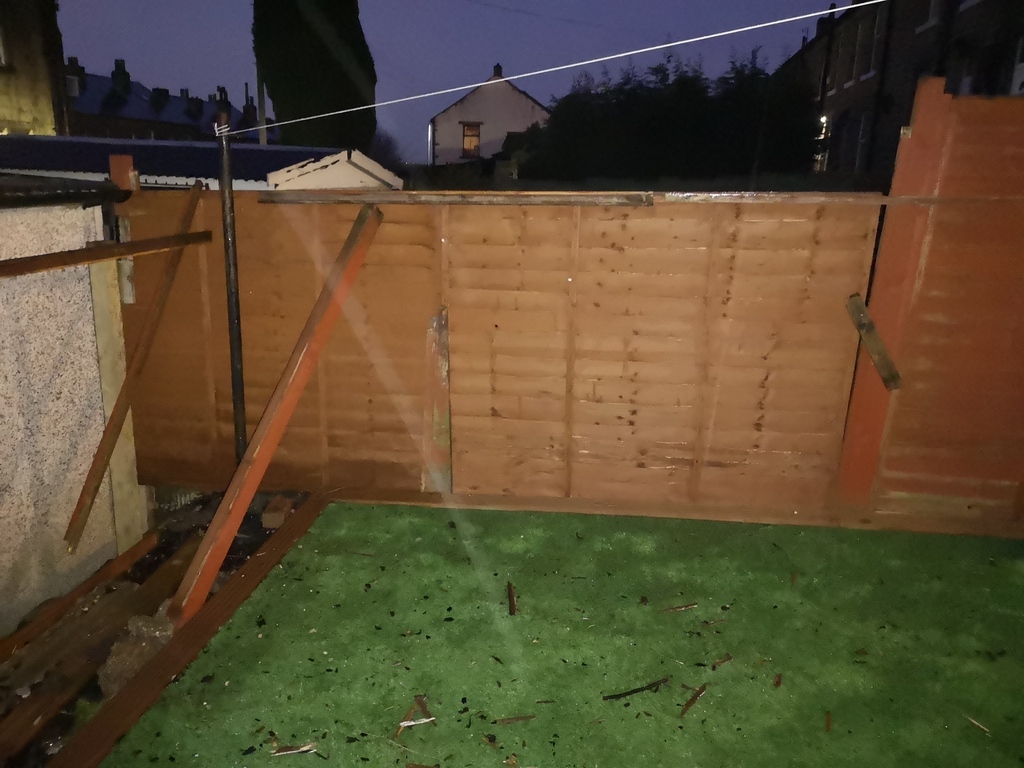 Fast forward to summer 2020, stuck at home and bored out our minds we started on the garden. Up came the astroturf and in came 7 tonnes of stone (by hand because the truck arm couldn't reach the garden over the garage) No news on fence.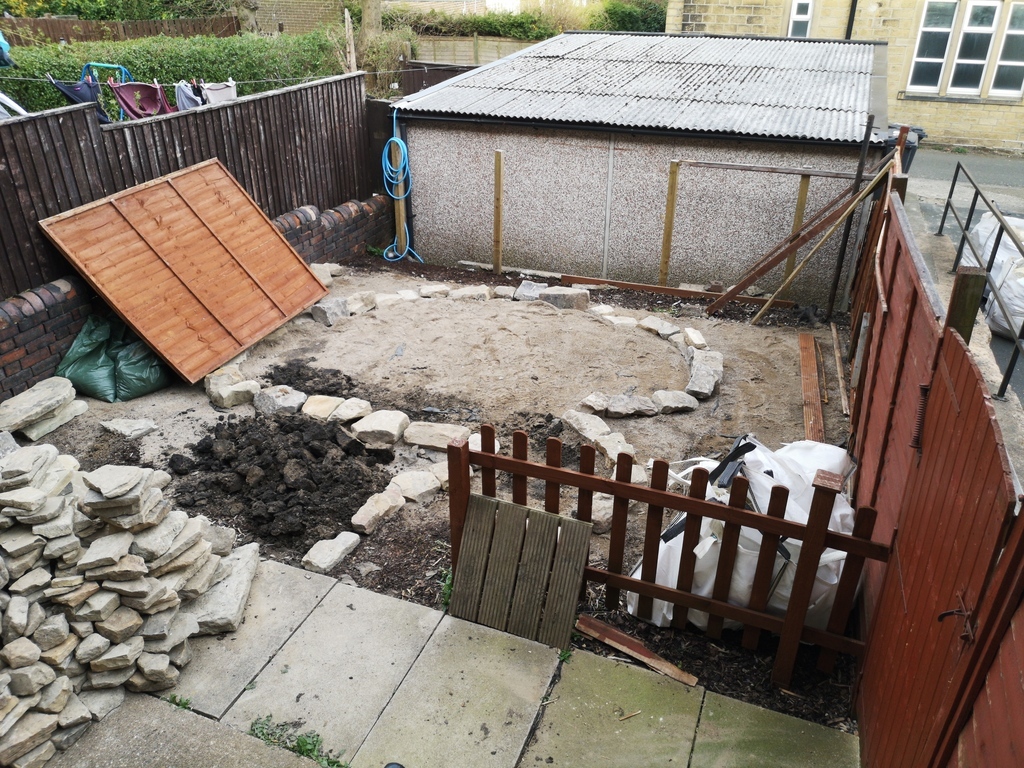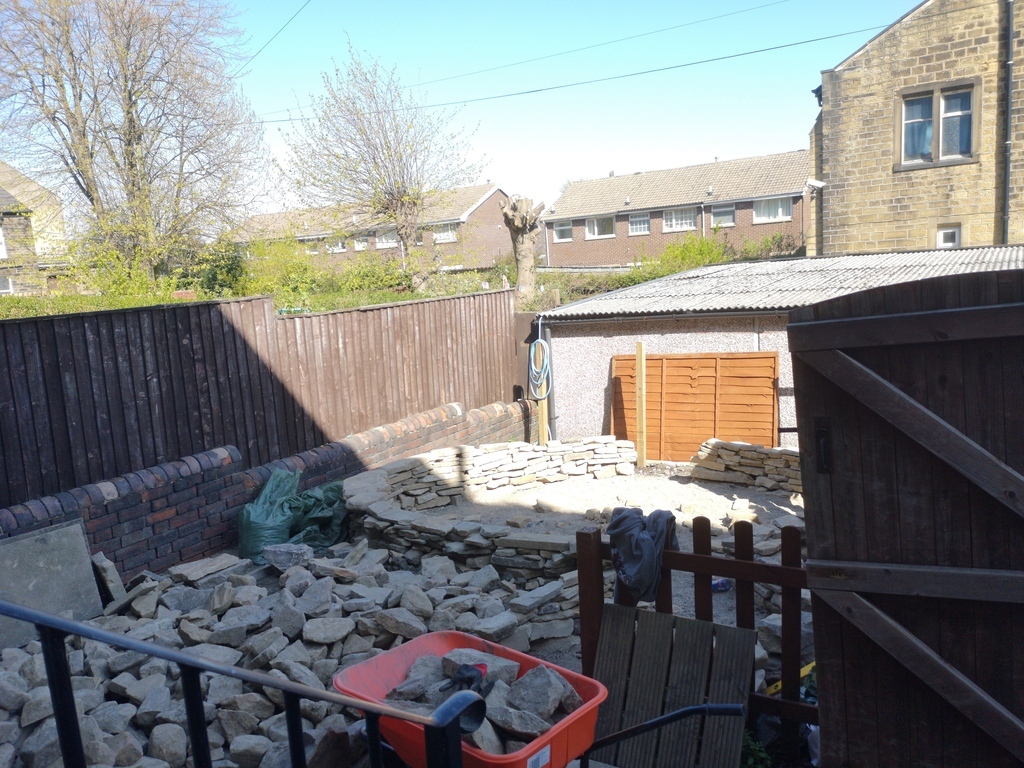 The plan (still in progress) is to surround the stone wall with topsoil and plant grasses and shrubs in it, patio to go in the middle. There's a small wall holding the garden up from the garage. The breeze blocks are old and a bit crumbly, and would take a lot of work to replace, so my plan is to add railway sleepers on top of the wall to hold the extra topsoil back.
I also pressure washed as much of the moss off as possible, was really hard work but definitely helped with the leaks. The neighbours have also recently cut their tree down so hopefully it won't grow back anytime soon. You can see in these pictures (before and halfway through removing the moss) quite how much water is retained by the moss!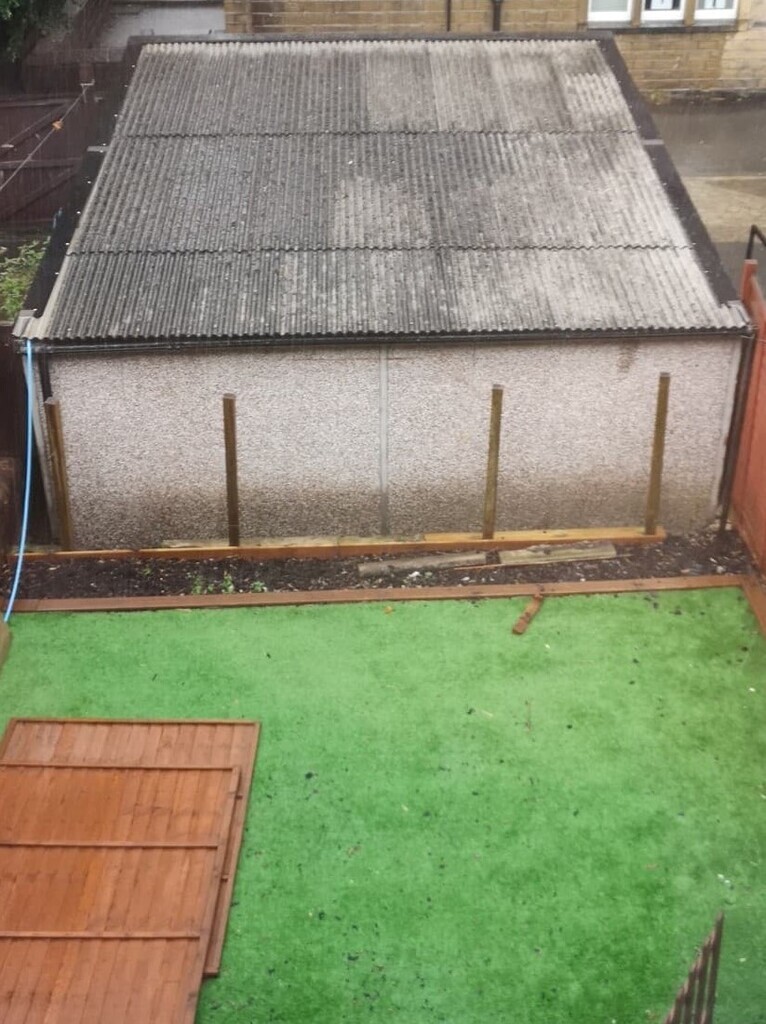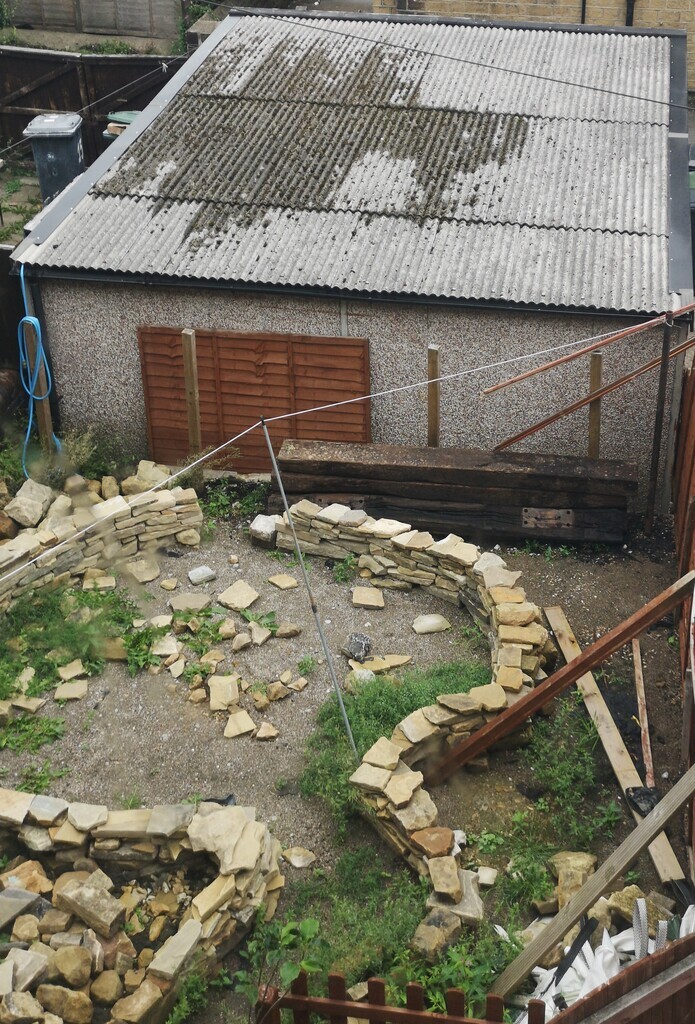 Thanks to Brexit and Lockdown, Fence posts and panels turned up at the end of November, many months after the already delayed supposed delivery date.
Disaster struck again! Of course right when I was trying to set off somewhere. The garage doors wouldn't close, I found the wires had come off the reels and completely tangled. After a lot of swearing and messing with vice grips, I managed to get them closed. Spoke to a couple of repair companies, and was told it was not repairable, and that I needed to new doors at a cost of £1500!!!
A bit of research and £40 later, I replaced the reels and wire myself and the doors were working again. Not completely fixed, I still have to be quite careful when opening them but at least they function.
Finally had good enough weather in February to paint the fence panels, hope to have them up and get the rest of the garden sorted by this Summer.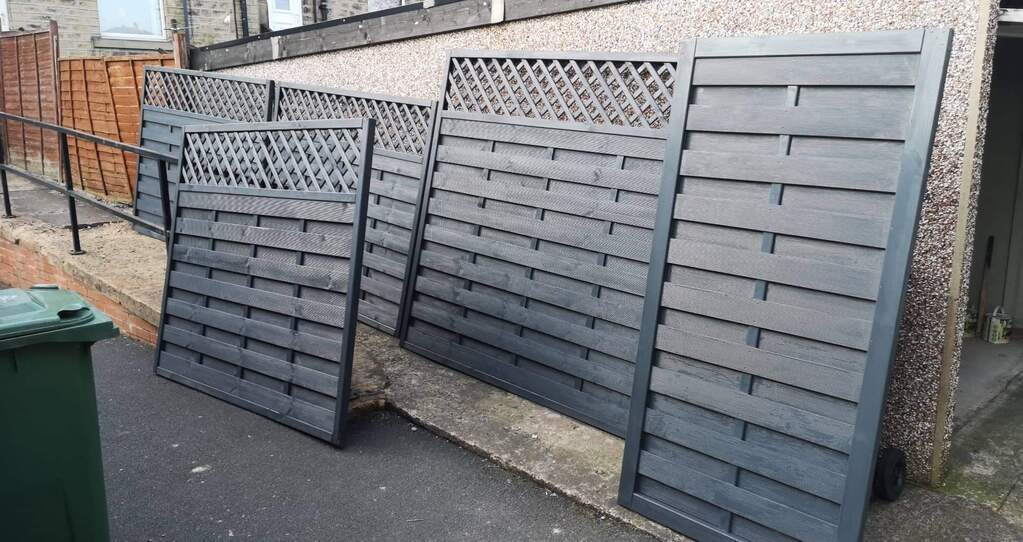 So that's the garage/garden up to date; another post to follow very soon with details of the plans for the garage, and some questions someone can hopefully answer