I'm more of a pro-level lurker than a regular contributor but RR is probably my most visited site. A few threads over the past few days have been mulling over in my head, and wary of posting a non-retro thread and having to think about creating an awesome one as penance I'm hoping that this can sneak under as relevant for events.
The three threads I'd seen were:
Restaurant Refit
Time to jump off
Retro rides or interesting rides
The thing that came out of those threads to me were twofold; one - people are here for interesting cars, but mostly for the community that RR is. Secondly, people within that community have businesses, thirdly we can get out and drive again soon. I hope he won't mind me using him as an example, but geordie has two cafes that are 4 hours away from me. I'm not going to pop in on a day-to-day basis. However, I could combine a road trip and a visit to an RR member business.
The cafes are both close to the North York Moors. A quick search throws up this site with the
best driving roads in Yorkshire
. Crudely plotted you get this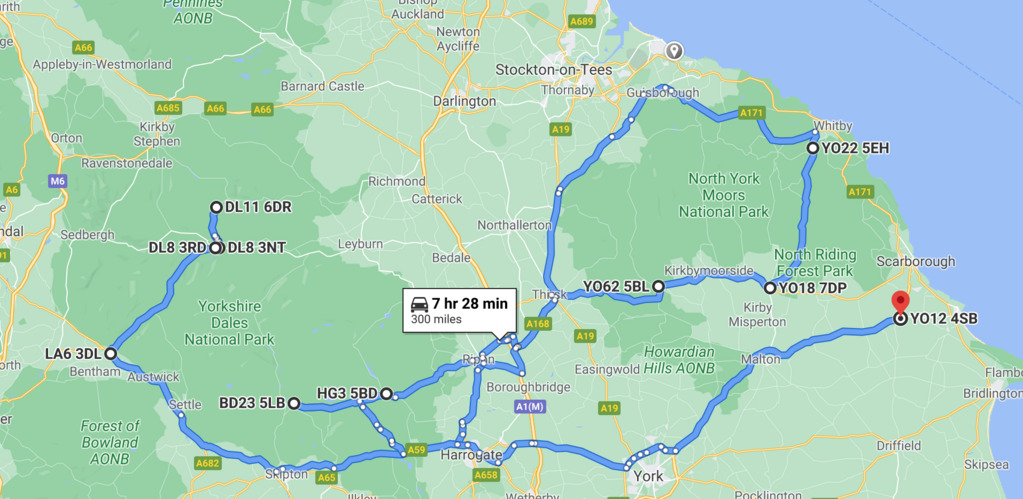 I look at that and I can see two figure of eights waiting to be mapped out.
I would potentially go up there for a road trip and as a bonus of support an RR member. I could plot that out to make two figure of eights and either leave it as that so that if anyone is in the area there's a driving route mapped out.
And/or, if there's a set route it could be taken a step further and say on the XXth of June there's a concerted group effort to complete the loop and stop by the cafe(s). The bonus being you'd probably seem some other interesting cars along the way as everyone is doing the same route on the same day, but its not an event as such with organisation just a 'if you want to drive this route you'll probably bump into others on the way' sort of thing.
I saw merryck's restaurant refurb thread too - he's in Folkestone on the Kent Downs so the same thing could be done there too.
Just thought I'd put it out there and see if there was any interest? If so I could put a route together from the picture above and release it. I don't have anything to promote, and hopefully geordie and merryck don't mind me mentioning them - I just happened to see their threads on the same day.