So...err...I may have bought another thing. You can never have too many projects, right? That's how the saying goes...
...back at our place, after an hourish drive back from Midhurst.
It's a mk1 Triumph 2000 that was pulled out of a shed a couple of years back but someone in Club Triumph. Here it was when it was found:
From what I've heard, the plan was to strip it for parts but on closer inspection the actual structure of the car is pretty solid. So instead he clearcoated over the rust and did some recommissioning. Not sure which of the POs did the engine work, but it's now got a 2500 engine on carbs in it.
The chap I bought it from had a bit of tuning work done and it rolling roaded at 113bhp/152b-ft which isn't bad at all really, considering the graph stopped at 4100rpm. However, that was without any air filters on. From mucking about with bikes I know SU-style carbs are really sensitive to pressure changes ahead of the venturi, and although it pulled nicely at full chat it was pretty hesitant on part throttle. I can't see anything in the receipt for tuning that mentions new needles so I'm assuming they haven't been changed, meaning it's probably running a bit lean low down. For now I've stuck the filters back on, which has improved the low-speed running immensely but it now won't really pull past 3000rpm. Fine, and hopefully a bit safer, for pottering around but will need fixing.
We've had a quick check over for bits to fix before I headed over to the GF's in Margate (about an hour and a half drive). First of which was that the fuel pipe to the rear carb was chafing on the strut tower so put some old fuel ine around it in the absence of the right sized copper pipe to make another.
Also fixed the wipers by crimping up the terminals up a bit (they're rubbish btw), got the lights working through the same method (they're catastrophic), and tightened up the front OS strut top nut as it wasn't even finger tight! :S quite nice to work on really, and my mate's 106 was short enough I could even poke the nose in the garage to do it!
The plan is for now to drive it about, tinkering with bits to get it running alright and sorting little bits and pieces ike wrapping up the snakes-nest of oose wires all 60s car designers thought was acceptable. The rust on the outside is clearcoated, but everything else is just open so I'll try and exorcise it piecemeal so it won't fall apart before its time comes on the project rota.
Then, the ultimate plan will be...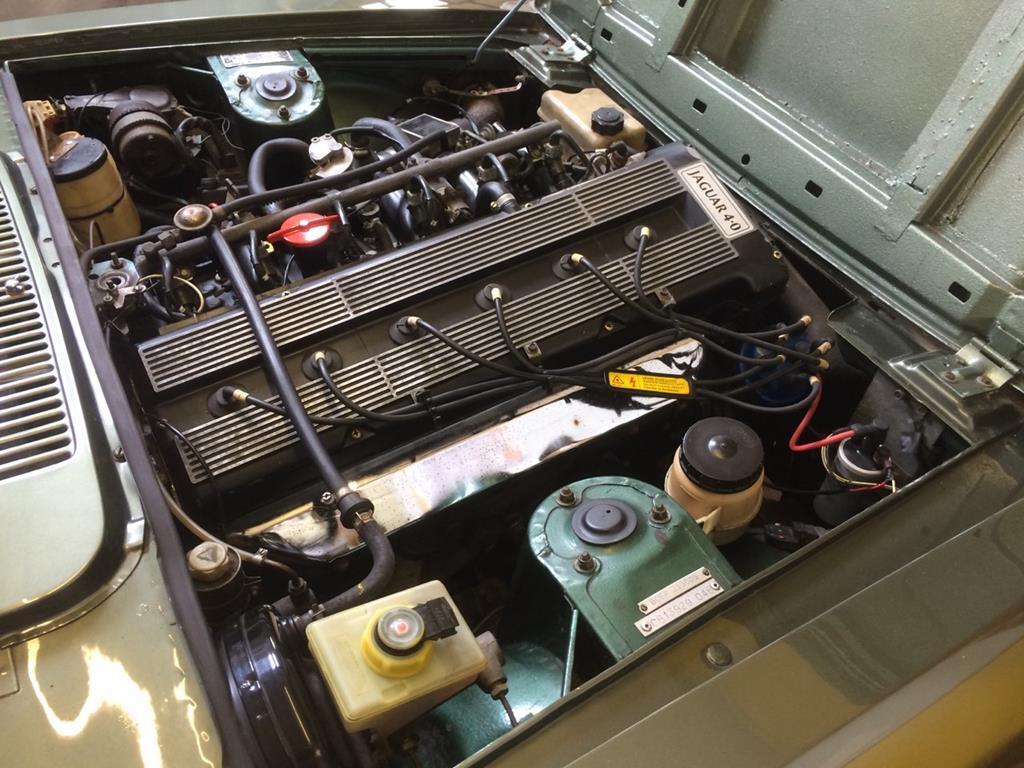 I happen to have a 4.0l AJ6 and 5-speed that have come out of the XJ40, looking for a home. Looks like it'll fit...just