I´ve always had a bit of a thing for mopeds. I used to have Kreidler Florett some years ago and it was great, but I ended up not really using it and sold it eventually.
Feeling a renewed urge to actually build something lately and my thoughts turned to something fun and small cc that I could ride to work on when it was sunny (ha ha....remember commuting?).
Mopeds fall into three categories in the normal run of things, if you include scooters, though they´re their own thing really. The other two being 50cc sports mopeds - so things like the Fizzy, SS50, Kreidler and a million flavours of Italian bikes from the 1950s and 60s, (which all look amazing, until you realise that they´re a) built for skinny Italian teenagers and are therefore b) tiny in real life and that c) I´d look absurd riding one) Fizzys are stupidly expensive and you just try finding parts for a 1966 Moto Morini Corsarino. Also the whole pretend sports bike thing is a bit iffy as a concept. If it looks fast, but really isn´t, it´s a bit laughable. Then there´s your typical moped style mopeds, which suffer from small wheels and an open frame - two things that shout "small girls bicycle" quite loudly. Not that those things can´t be fixed but even so, it´s not really what I wanted. But looking online one evening, I stumbled across a picture of a Motobecane Poney and knew I´d found what I was looking for. The Poney and Motoconfort Scout (identical aside from the badge) seem to have been another of those post war attempts at getting France mobile again, much like the 2CV. Simple and light, with big diameter wheels, for ropey rural roads. This was more like it. The bike actually looks vintage enough that you don´t look like an idiot going at mopedly slow speeds on it. I thought I´d try and get hold of one.
Like this....only not so nice....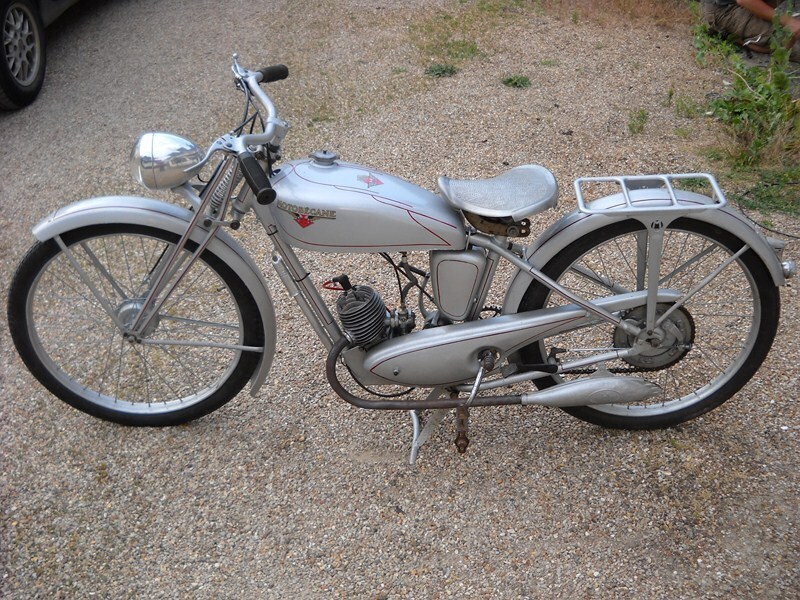 Searching on Leboncoin and planning a trip to Germany last summer, between lockdowns, I managed to find one more or less en route and collected it, in bits, in the back of the car. I knew it was going to be a bit ropey, but as I didn´t plan on using the original driveline, that didn´t really matter. Prices of these things aren´t really much. I could have (probably should have) just bought a nice restored one for 1500 euros, or a frame and forks and started there, but hey ho...that was never the plan. The bike had the seemingly normal French farmer style repairs - a home made looking rack and foot guards and odd bits of gas welding on it.
I pulled the original motor out and the separate 2 speed gearbox....parts of the casing of which stayed in the frame.....yeah it was pretty bushed. Three paint jobs on it, the last of which looked like it had been done by a kid with a yard brush. It really had been ridden into the ground.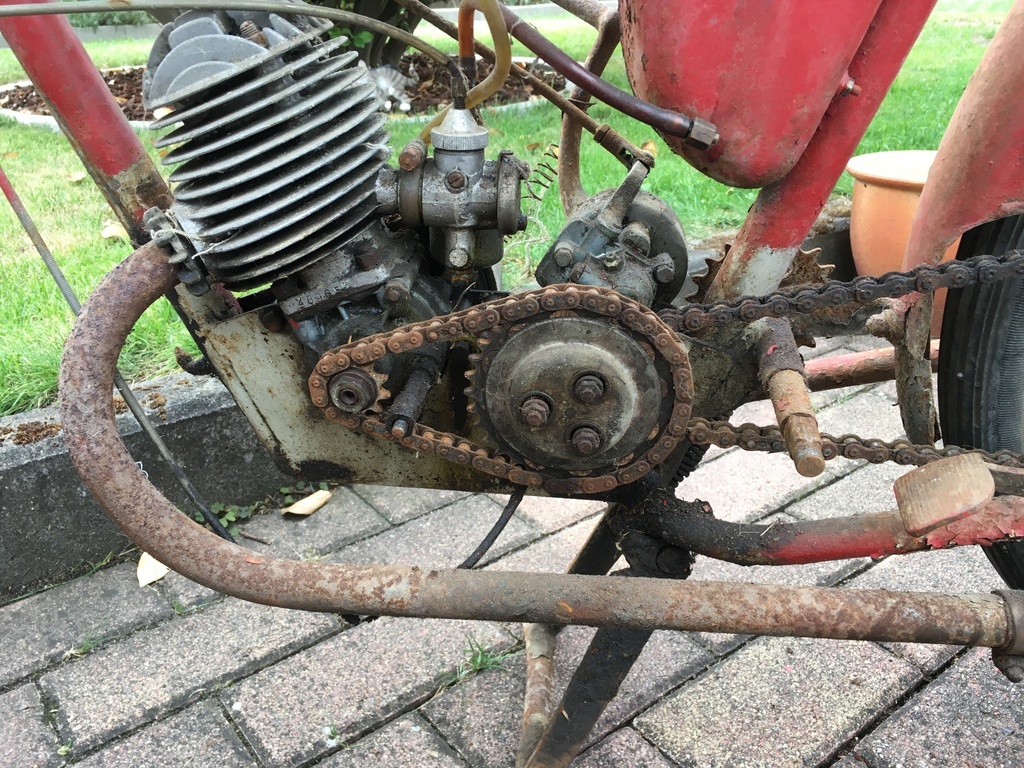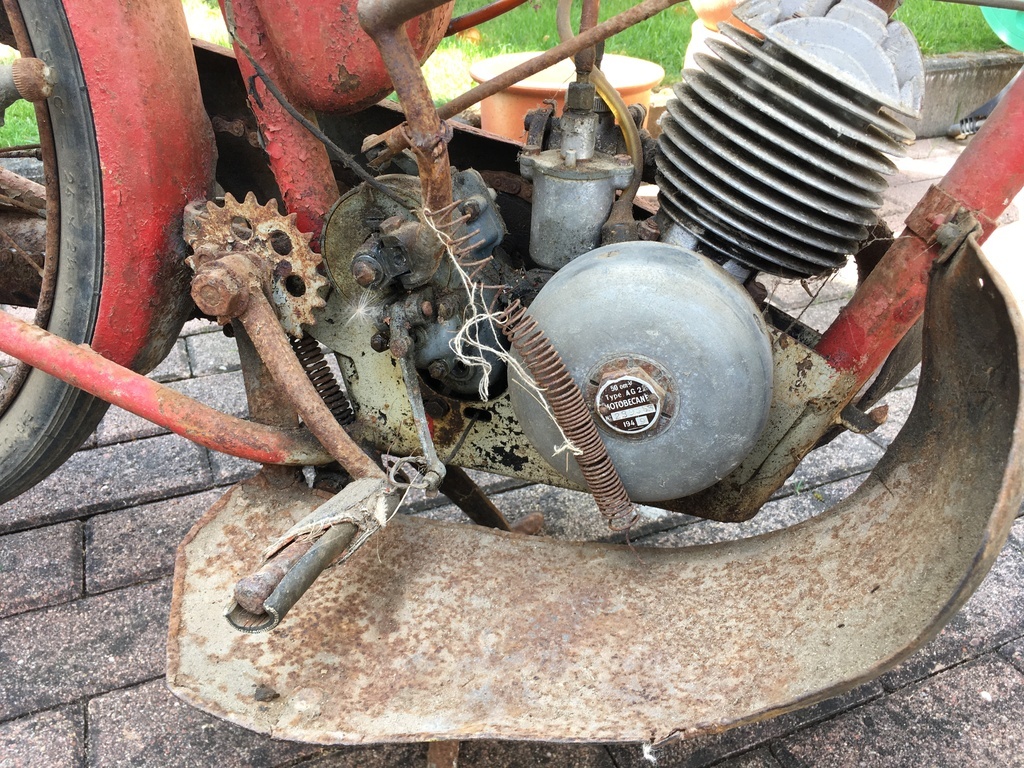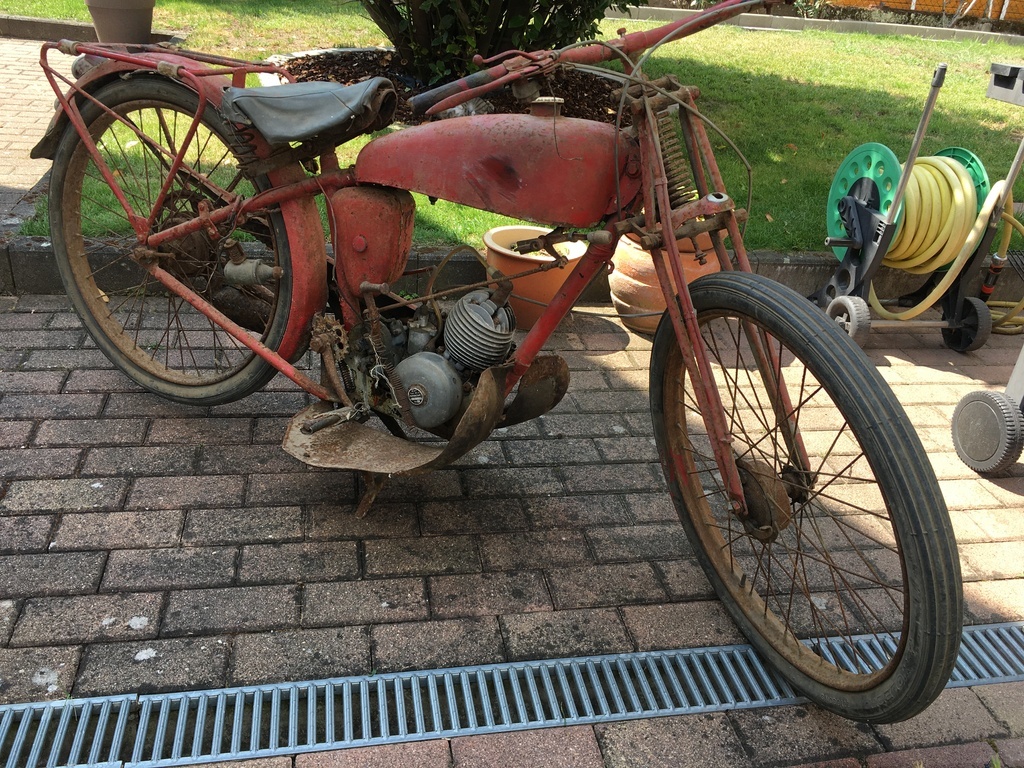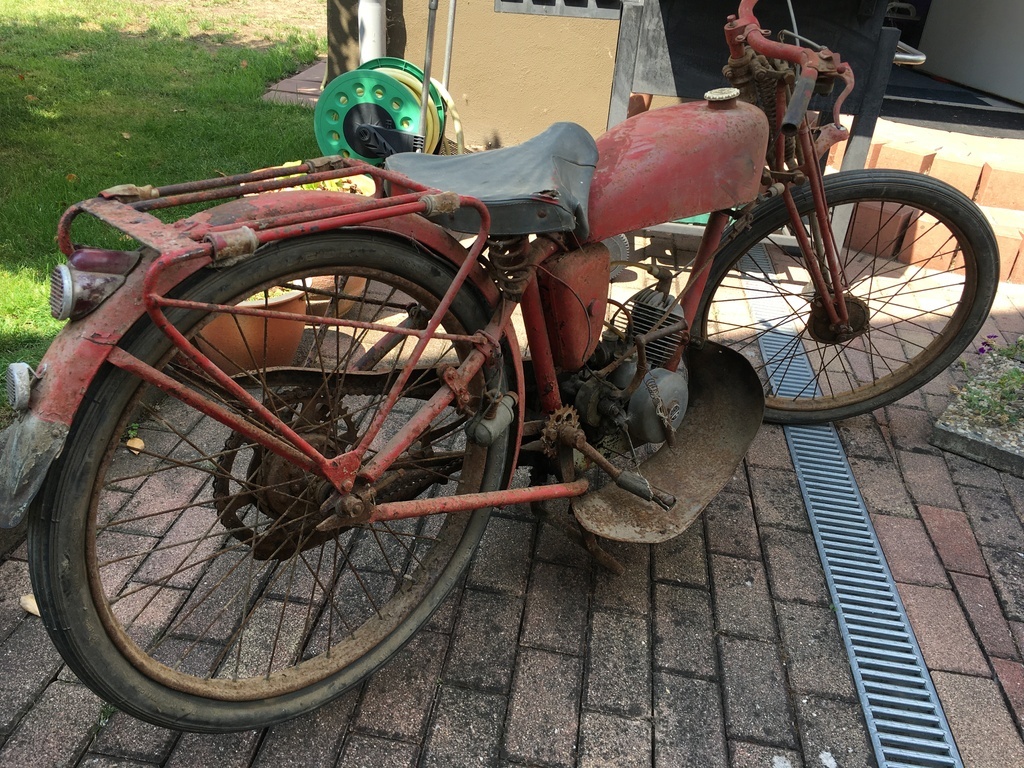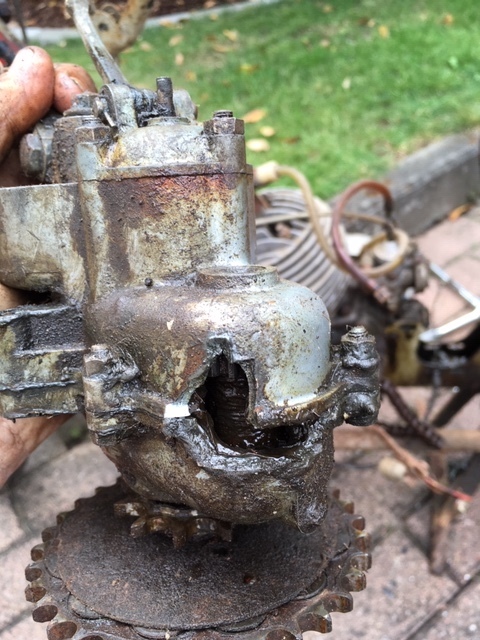 So....how to fix it? I didn´t fancy scouring France for original parts, to end up with something very very slow indeed, so the idea is to fit a much more modern MBK (ie Motobecane) AV10 motor from an MBK51, so I was at least keeping it in the family. This is the typical 1980s/90s French moped engine. They must have made millions of these things and there´s still a huge market for spares and tuning parts. The AV10 was the last of the line of these sorts of motors, with the intake going into the case instead of the barrel and reed valves too. Eventually I decided to just buy a complete, new motor for it. I could have pieced one together I guess, but as a cheap and hopefully reliable motor, to get me started, this seemed like the best plan. 320 euros for a new motor is pretty persuasive also. I can tune it after I work out how to fit it in the frame.
The second problem was going to be the wheels. As is the way of all things French, the bike has some strange sized rims - 600A, which is only really regularly still used on wheelchairs as far as I can discover. I reasoned that I´d be better off with 26" rims and tyres, as that´s what most ebikes seem to use. They´re a little bigger, but they clear everything, even with fat tyres. Managed to find some hefty alloy delivery bike rims and a new rear hub and rather ancient front drum brake hub that seemed like they´d work. I even calculated the dishing I needed and laced them up myself, which is a good workout for the fingers, with the chunky thick stainless spokes to weave together. Never done it before, but it came out pretty well.
Size comparison, 26" and the old 600A...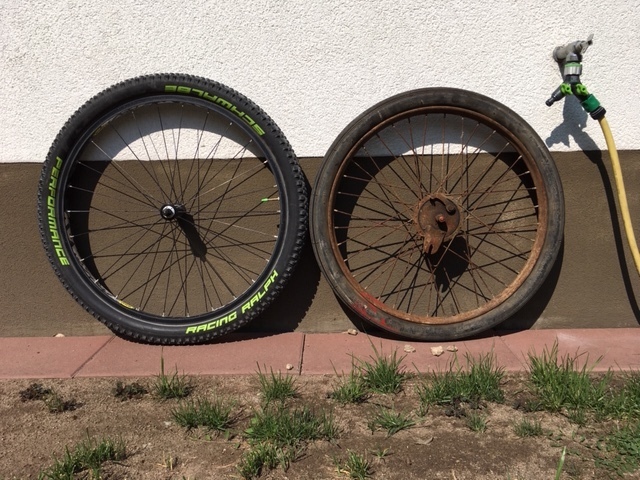 The other big problem is the lack of a gearbox. One of the nice things about the later French mopeds is that they use a variateur, or a variable size pulley, to act as a somewhat limited infinitely variable gearbox. You can do without, but it helps on hills and getting off the line. Unlike other mopeds, in order to allow for the pulley changing size, they let the motor swing back and forth against a big spring. This is going to take some thinking about and I´m not there yet. The motors hang from the frame on late 'peds, but i can´t do that without it looking very ugly indeed, so I´ll probably try and make it pivot from below. The variateur is connected via a fan belt to a step down pulley. Being as how the bike didn´t have one of these originally, I need to engineer a mount for that too, carefully aligned so that the chain doesn´t rub the tyre. I ended up having to cut a couple of frame tubes out of the rear triangle, in order to make room for the pulley, as the curved tubing meant that there was nowhere to put the thing. Had that Tig welded, just to be safe and as I need to relearn welding before doing that kind of thing.
This curved corner, at the lower left of the pulley...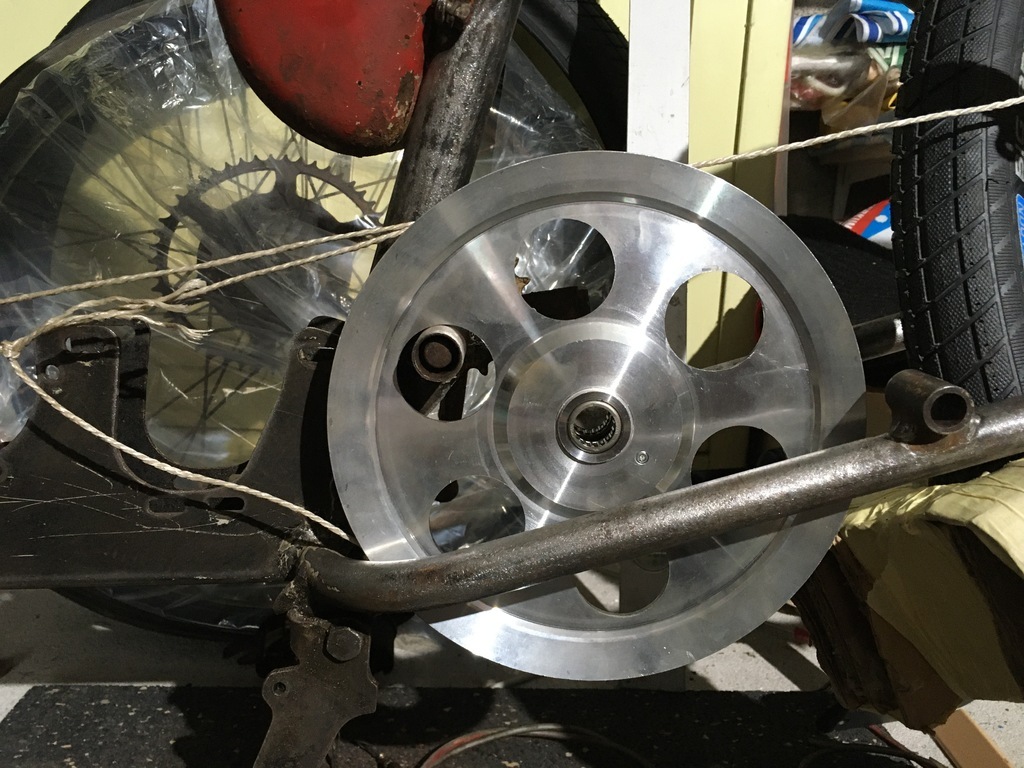 Needed to make way for this square one....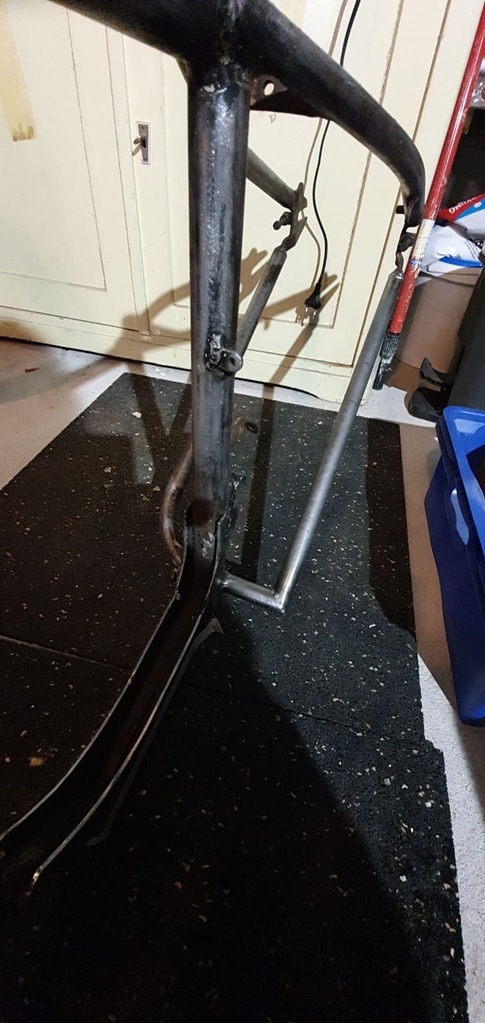 And this is about where I am now. Just mocked up the motor and pulley to see what needs to go where....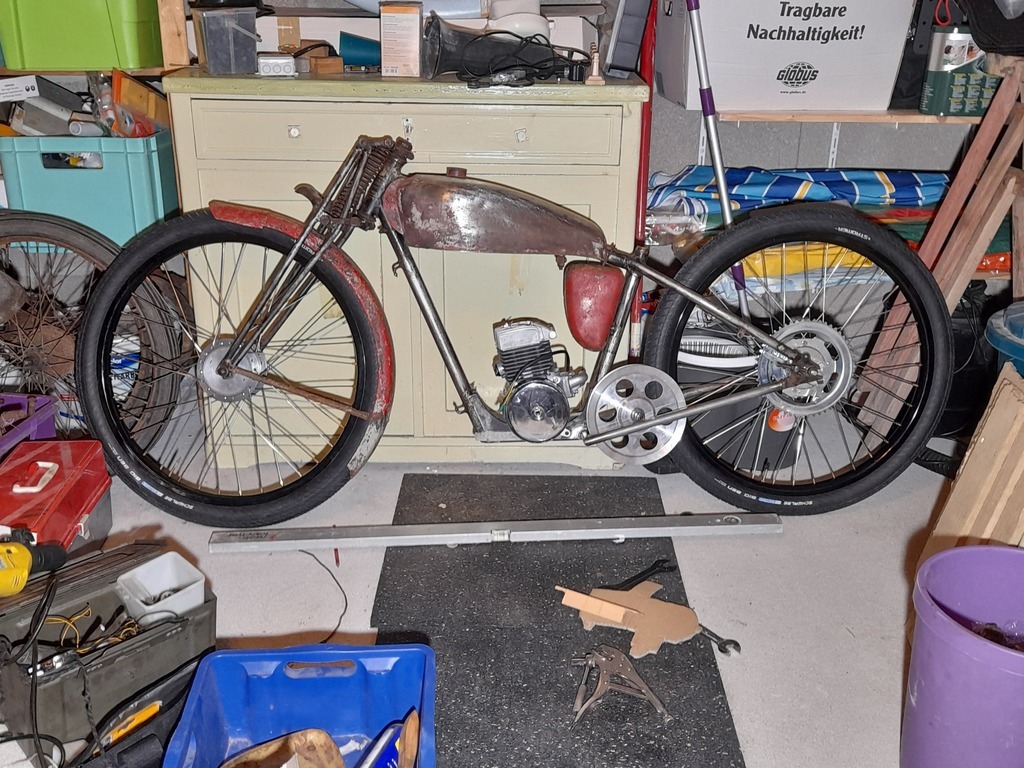 Next on the list is to buy an exhaust and a carb, so I know how much room I have to allow for those. I may have to lose the little toolbox to make room for the carb.